Chocolate and Pear Cake Recipe aka. Schoko-Birnen Kuchen
One of the things I love about German baking is how they mix fruit and cake so easily. (Maybe it's to lessen the 'guilt' of eating cake? You can honestly say you are getting your daily allotment of fruits too.) The first time I saw this Chocolate and Pear cake I thought… hmmm, it looks like a version of a traditional apple cake, only someone ran out of apples and substituted pears. Then someone else came along and said "you know what's really yummy? Chocolate". And "ta da!" a new cake was born!  Still, since Chocolate and Pears go well together it's no surprise that this Schoko-Birnen Kuchen / Chocolate and Pear Cake Recipe absolutely works.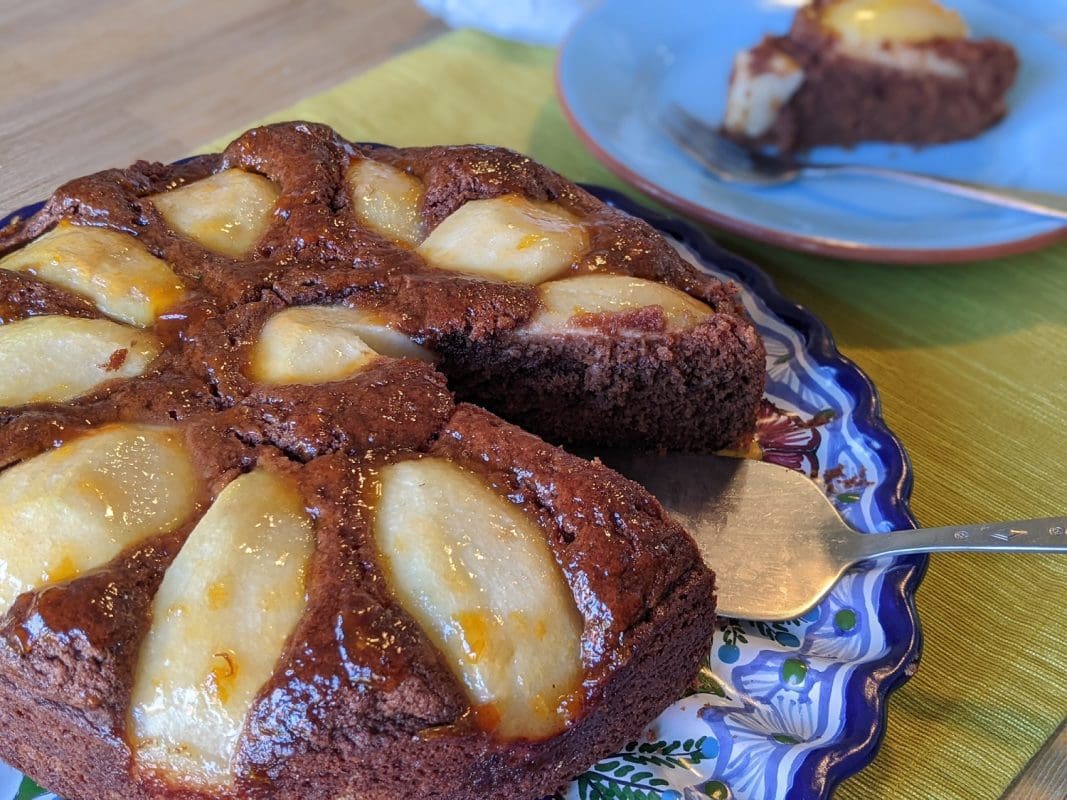 Chocolate and Pear cake looks pretty on the table without a lot of decoration. You can fancy it up with a dusting of powdered sugar… but why bother? The sunflower shape of the pears is lovely. Like most German cakes, the chocolate isn't overly sweet. I love that the juiciness of the pears keeps the cake moist, and the Apricot jam gives the pears a tang. Top each slice with a Schlag of un-sweetened, or very lightly sweetened whipped cream, and you will have everyone coming back for seconds (got to get in that daily fruit allowance).
Some of you are possibly thinking "this isn't a traditional German cake", and honestly, you may be right. Out of the 20 or so German cookbooks on my shelves, the recipe is only in 3, but there are several sources online who claim "my Oma made this one" (to be fair, not everyone's Oma was born in 1913…there are plenty of post-war Omas around these days!).  I can't find a history of the cake anywhere (yes, I do go looking for that kind of information). Still, the basis is a simple Rührteig (cake batter of Flour, Sugar, Butter, Eggs), like we've all made in other German cakes. I do wonder that Ahorn Sirip (Maple Syrup) shows up in a few recipes…but maybe that's a modern addition? (I've tried the cake both ways, and can't taste a difference).
Schoko-Birnen Kuchen Chocolate and Pear Cake Recipe
Chocolate and Pear Cake Recipe - Schoko-Birnen Kuchen
This Chocolate Pear Cake / Schoko-Birnen Kuchen Rezept is a simple cake made with Rührteig and an addition of chocolate and pears. It's easy enough for midweek, but nice enough for a party. 
Ingredients
3

Ripe Pears

I used D'Anjou

2

Tablespoons

Lemon Juice

2

Tablespoons

Maple Syrup

optional

4

ounces

113 g Semi-Sweet Chocolate (100gr is ok)

1/2

cup

plus 2 Tablespoon

150 g Softened Butter

1/2

cup

100 g Sugar

2

Eggs

1 1/2

cup

plus 1 teaspoon

250 g Flour

2

teaspoons

Baking Powder

3/4

cup

175 ml Heavy Cream

2 -3

Tablespoons

Apricot Jam
Instructions
Peel the Pears, slice them into quarters, then cut out the stem and seed parts.

Place the pear quarters in a bowl, pour the lemon juice and (optional) maple syrup over them, stir to coat, then place in the refrigerator while getting the rest of the cake ready.

Preheat the oven to 350 °F

Prepare a 24 cm Springform pan- Grease it, and line the bottom with parchment paper. Set aside.

Melt the chocolate over a double boiler, or in a microwave, and set aside to cool.

In a mixing bowl, combine the butter and eggs. Beat for 3-4 minutes until light. Add eggs one at a time. Beat until combined.

Add the melted chocolate, and beat on medium until combined.

Scrape the sides and bottom of the bowl to make sure you got everything.

Combine the flour and baking powder. Add to the mixture, alternating with the cream. Beat at medium, scrape the sides and bottom, then beat until combined.

Fill the prepared cake pan with the batter. It will feel a little stiff. Smooth it a bit.

Now top the batter with pear slices. I like the sunflower pattern.

Use the fattest one for the center (you can cut off part and eat it to make it fit)

(If your pears are really fat, like mine were, you may have a few leftover pieces. Eat them)

Bake for 55 minutes.

When you take the cake out of the oven, warm up the apricot jam. (If it's chunky, strain the bits out)

Use a pastry brush to paint the cake with the warm, fluid jam.

Let cool

Serve
Notes
Make sure your butter is soft, and the eggs are at room temperature. It makes mixing it all together easier. 
Like this Recipe? Check out my Cookbook – the Easy German Cookbook: 80 Classic Recipes made Simple
The book is loaded with recipes you may remember from home, or from your favorite German restaurant
Easy German Cookbook: 80 Classic Recipes Made Simple

Chocolate and Pear Cake Recipe – Steps…
Mix the batter, then spread it evenly in a prepared pan. Use a spatula… it may be a bit stiff.
Don't force it to the edge, it will spread there.
Place the pear quarters on the chocolate batter. I like to lay them in a flower pattern,
but you can toss them on in any pattern you like.

Bake 55 minutes, then place on a wire cooling rack
While the cake is still warm, heat up apricot jam until it goes liquid.
Spread the melted jam on top of the warm cake.

Let the cake cool

Remove from the pan and serve