Authentic German Apple Cake Recipe- Versunkener Apfelkuchen
I would argue that the most baked cake in Germany is an Apple Cake. You find them in every Cafe, there is one at any Kaffee Klatsch with more than two cakes, and it's the cake many German home-bakers learn first. In the same way that there is a Potato Salad recipe for every region (and for every Oma) in Germany, there are a hundreds of different recipes for Apfel Kuchen. Some people (me) love Streusel…. some (my mother) like it with Raisins or nuts. There is Apple Cake covered up (Gedeckter Apfelkuchen) and Apple Cake with a glaze. So what is the Traditional German Apple Cake Recipe? The Versunkener Apfelkuchen (Sunken Apple Cake) is a strong contender (I'm not giving an absolute here… when I use words like "best", "ultimate" and "only" I get WAY too many emails pointing out the error of my ways). This Authentic German Apple Cake Recipe is easy to make, and looks "rafiniert" (refined) enough for a Sunday Coffee… AND (most importantly) it's the one my Oma made.
I hope you like it too.
Traditional German Apple Cake Recipe
Every German Recipe I have ever seen calls for too many apples. For a long time, I thought I had the wrong baking pan (or my ability to Tetris the apples into place was broken). Turns out, it's the SIZE of the apples. Here in California the stores sell apples that are generally HUGE compared to German ones. But what it comes down to is this… have an extra apple on hand… but don't peel and slice it until you know you need it. If you have small apples, GREAT… you can spread them around and the cake is prettier.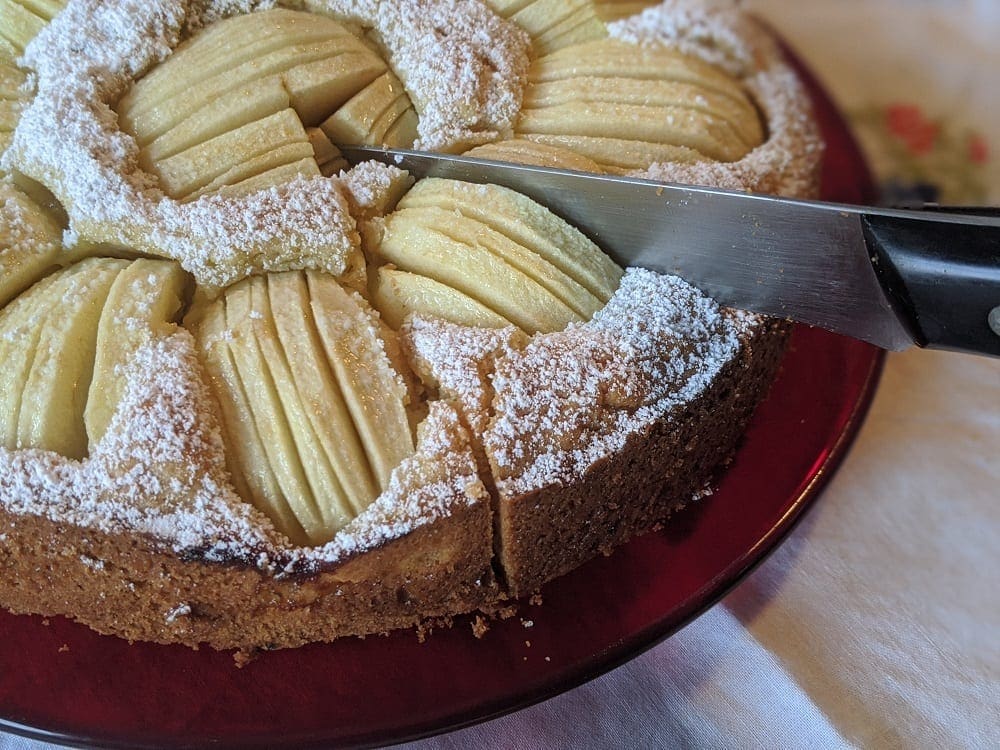 I like topping this cake with a simple dusting of powdered sugar, but a sprinkling of sliced Almonds is nice too. (And looks like you made an extra effort). Serve as it with a Schlag of Sahne (big heaping spoonful of whipped cream).
Traditional German Apple Cake Recipe
An Apple Cake turns up often in German households. This Sunken Apple Cake is easy, but looks "fancy". 
Serve with Whipped Cream.
Ingredients
3-4

Apples

1

small Lemon

you will want the juice and the Zest

10

Tbl Butter

approx 125 gr

3/4

cup

Granulated Sugar

approx 150 gr

1

generous tsp Vanilla extract (1 packet Vanilla Zucker)

3

Eggs

2

tsp.

Baking Powder

1 1/2

cup

Flour

approx 200 gr

2

Tbl Milk

Powdered Sugar
Instructions
Preheat the oven to 350 degrees Fahrenheit

Grease a Springform Pan (Oma's rubbed the inside of the butter wrapper on the pan)
For the Apples:
Wash and Peel the Apples

Slice in 1/2 Vertically (from stem to bottom)

Then cut them vertically in quarters.

Remove the core and seeds

CAREFULLY... score the apple on the curved side. (Don't panic if you slice though, it happens)

Put all prepared apples in a bowl and sprinkle with the lemon juice.
Cake Batter:
In a mixer, combine the butter, sugar and Lemon Zest. Let beat until light and fluffy (5 minutes... keep checking on it, scrape the sides and bottom occasionally)

Add Vanilla

Add the Eggs, one at a time, beating between each one.

Combine the Flour and Baking Powder, and add it slowly to the batter alternating with the milk. Beat to combine.

Scrape down the bowl one more time (including under the beater), and make sure everything is combined.

Spread the batter in the Springform Pan

Lay the Apple quarters on top of the batter- maybe one in the center, the others in a circle around it.

(You can try wedging more apples in around and in the empty spaces, but it might look messy...)

Bake 40 -45 min at 350

Let sit on a cooling rack until completely cool

Sprinkle with Powdered Sugar just before serving.

(tip- If you sprinkle the powdered sugar early, it may vanish or dissolve into the cake... no problem, you can sprinkle on more)
Notes
Apples vary in size... If they are small, you need more. If you don't want to fret about how the cake looks, you can squeeze in more. 
Like this Recipe? Find more great recipes in my Easy German Cookbook!
Filled with 80 Classic German recipes, written for the American Kitchen!
Easy German Cookbook: 80 Classic Recipes Made Simple

Do you Eat Warm Cake?
One of the most confusing rules that my Oma SWORE by is… You do NOT eat cake while it is still warm.
Why?
That's when it's the best…
I can see how it's a problem if you are frosting the cake, but warm apple cake is divine. (Of course, the powder sugar vanishes, and the whipped cream melts all soggy).
Anyone else have this rule?
(I think she just wanted to keep my fingers off her cake…)
Step By Step Instructions for Traditional German Apple Cake
Peel, core and slice the apples
Sprinkle them with Lemon Juice to keep them from going brown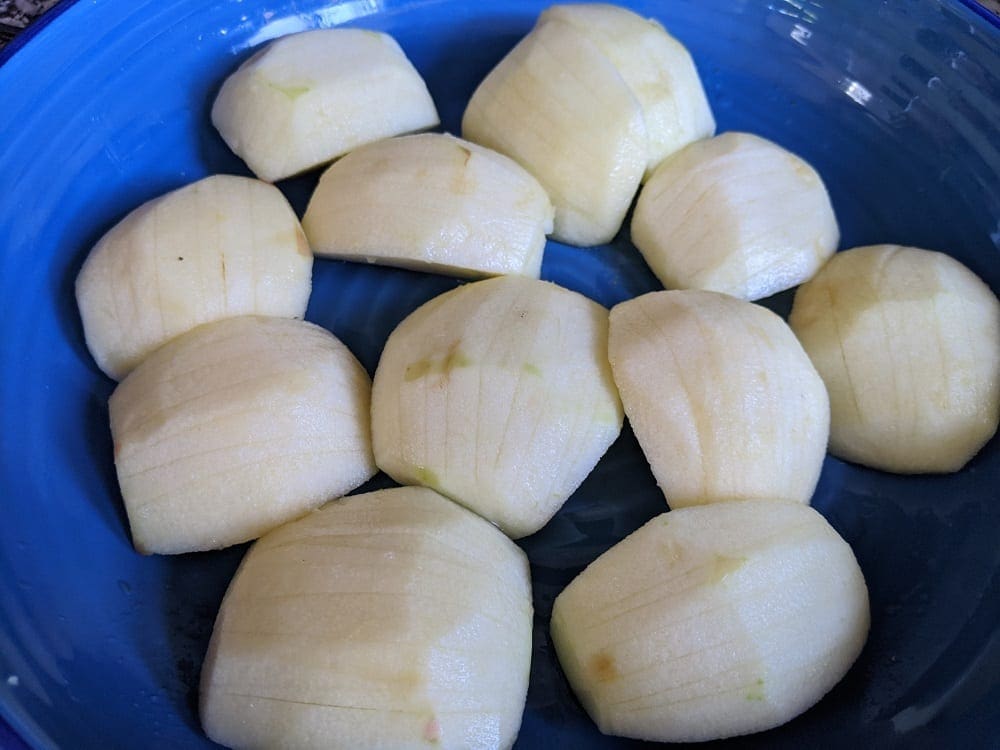 Spread the batter in a prepared Springform pan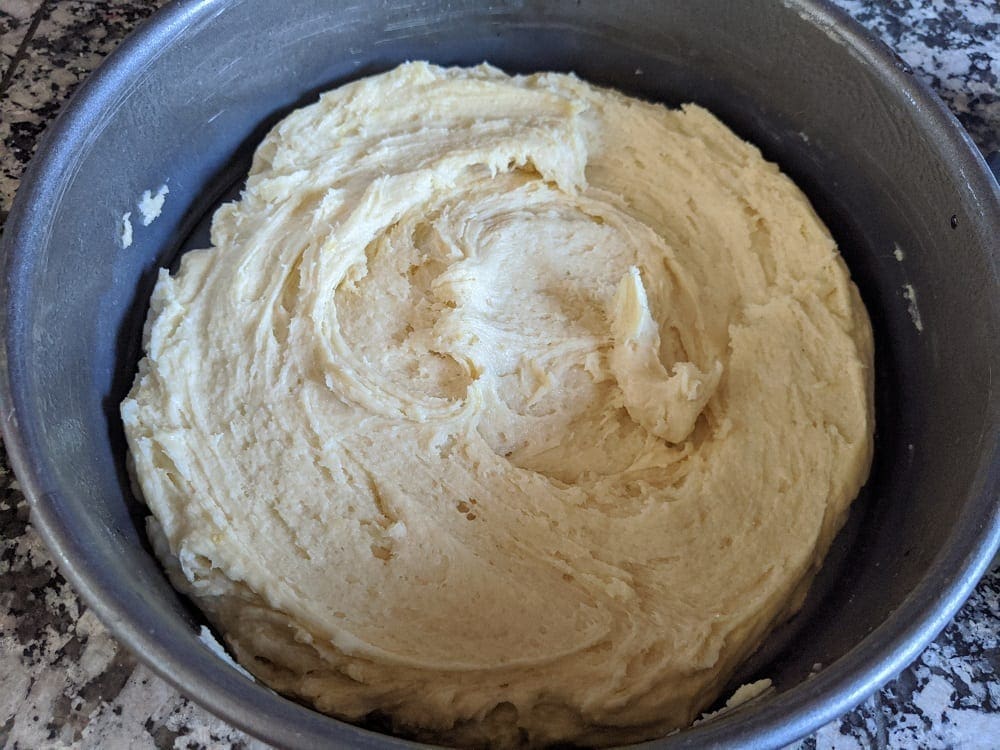 Arrange the Apples on the batter

Bake 40 minutes… check… you want golden
Let cool on a rack
When cooled completely, sprinkle with powdered sugar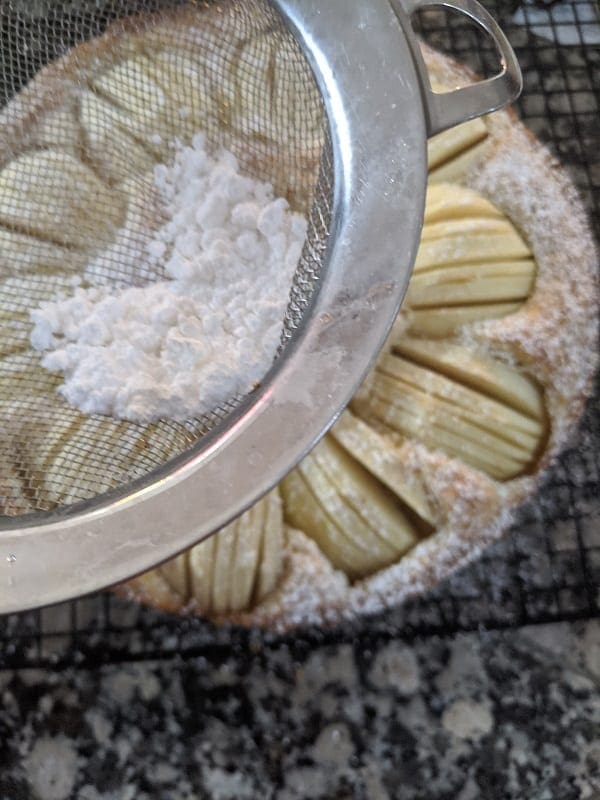 Slice and Serve