The Passion Play of Oberammergau
The Passion Play of Oberammergau holds a special place in German history. Part Pilgrimage part spectacle, every 10 years this amazing event brings over 450,000 visitors to the small mountain town of Oberammergau in Bavaria. Over four months, the locals (and yes, it's only locals, not professional actors) stage 103 Performances that last over 5 hours!. But what is the Passion Play of Oberammergau? And how did it get started? And how can you get tickets for the Oberammergau Passion Play?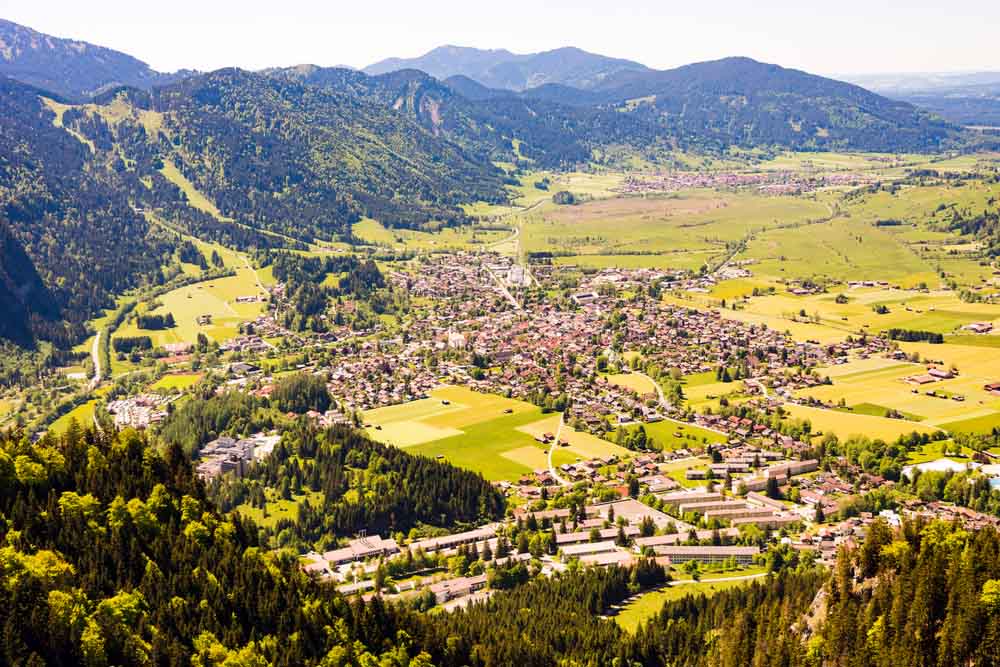 What is the Oberammergau Passion Play
Let's start with the basics… a Passion Play is a reenactment of the final days of the life of Jesus Christ. The word "passion" refers to his suffering, death, and Resurrection. It begins with his arrival in Jerusalem, and follows Jesus and his disciples while they navigate the Last Supper, his arrest, trial, condemnation, and crucifixion. Passion Plays are performed all over the world, so they are nothing unusual… but the Passion Play of Oberammergau has taken on special meaning to many people because of how it got started, and how long it has been performed.
In Oberammergau, the play lasts 5 hours, and is broken up into two halves, with a meal break in the middle. The whole town is involved… 2000 locals work on the performance itself as actors, singers, or stagehands. Between scenes of the play there are Tableau Vivant, basically, live "paintings" or still reenactments of Biblical events. Even children and live animals are involved. At times there will be over 100 beings on the stage. The rest of the village participates as well. Hotel owners, restaurateurs, and gift shops also focus on the play during the Season. Everyone puts their focus on the Play, and the hundreds of thousands of guests who arrive in their town for these months.



Oberammergau Passion Play History
But how did the town of Oberammergau decide to perform the passion play? And why continue every 10 years?  During the Thirty Years War (1618-1648), the Bubonic Plague broke out in Bavaria. Villages were devastated. According to oral history, the sickness reached Oberammergau in 1633, when a worker brought it home. Legend has it that 81 people died in just over a month, said to be half of the village population! On October 28, the villagers made a vow to God. If he would spare them from further plague, they would perform a Passion Play every 10 years.
No one else in the village died.
The Villagers kept their word, and in 1634, the first Passion Play was performed in the parish church. There was one performance, and it was staged for the citizens of Oberammergau. But very early on, the locals had the idea of inviting outsiders to come and see their show. (I imagine it was because everyone in town was already a part of the show).  After a number of years, the audience outgrew the church, and a stage was built in the adjacent cemetery. Pilgrims made journeys to attend the shows. And the show moved to a stage in large field.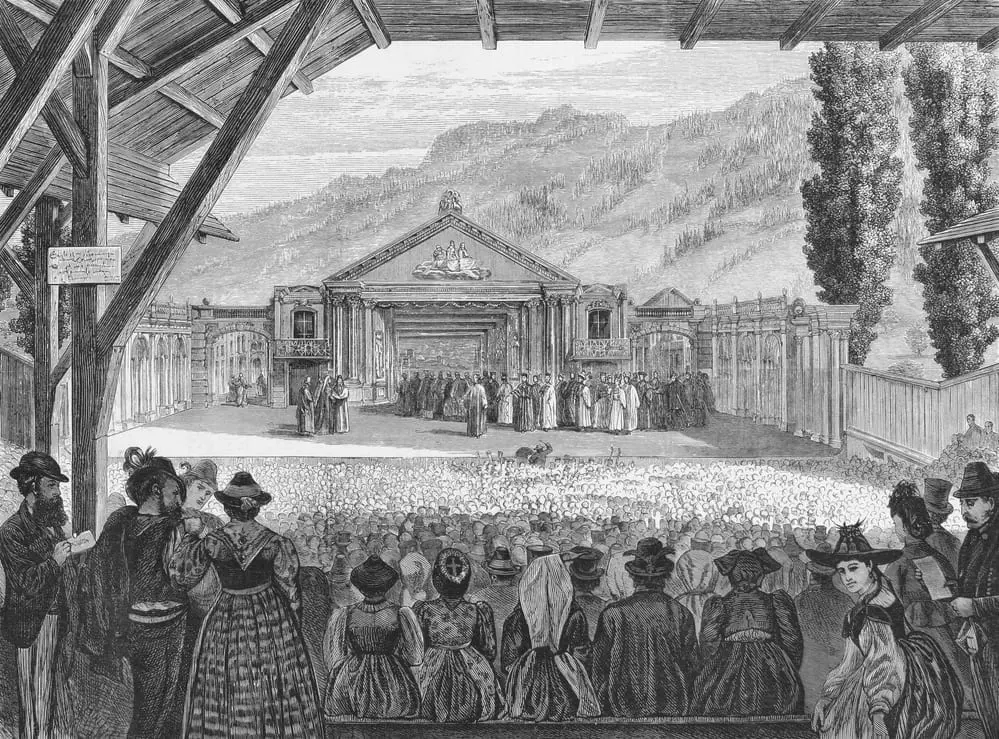 By the end of the 1800s, a permanent open-air theater was built. Then in 1900, Germany's first fully electric railway brought spectators to Oberammergau. Wealthy celebrities and dignitaries came from all over the world… Kings, Presidents, and wealthy industrialists like Ferdinand Graf von Zeppelin, JD Rockefeller, and Henry Ford. This first theater was enlarged and modernized over the years. Today it accommodates close to 5000 spectators under a roof (to protect from sun and rain)… and has a stage large enough for 100s of actors and animals. The stage itself is open to the sky. When you watch, you can enjoy the spectacle on stage, and enjoy the mountains peaking up behind the stage.
When is the Oberammergau Passion Play Performed
The first Oberammergau Passion Play was performed in 1634. Since the promise was to perform it every 10 years, they shifted the dates to perform in years ending in zero. In 2020, the decision was made to delay until 2022 because of Covid-19. But 2020 isn't the first time a performance was delayed or cancelled. In 1770, Elector Maximillian III of the Holy Roman Empire decreed that religion was not "theater", and the show was cancelled. By 1780, it was back, and on schedule until the 20th century. The only other cancellation was in 1940, due to WWII. Interestingly, the last delayed performance was 100 years ago. The 1920 show was pushed to 1922 because of post WWI economic issues.
There have also been extra performances! In 1934 and 1984, Oberammergau staged extra shows to celebrate the 300th and 350th anniversaries of the Passion Play.
Today the Passion Play runs from mid-May to the beginning of October, 5 days a week (the theater is dark Monday and Wednesday). The 5 hour show starts at 2:30 and runs until 5pm, when everyone takes a 3 hour dinner break (audience members and cast). The second act begins at 8pm, and runs until 10:30pm. (For those of you with older memories, the Play used to begin in the morning, and break at mid-day for the meal. In 2000 it was changed to afternoon/evening).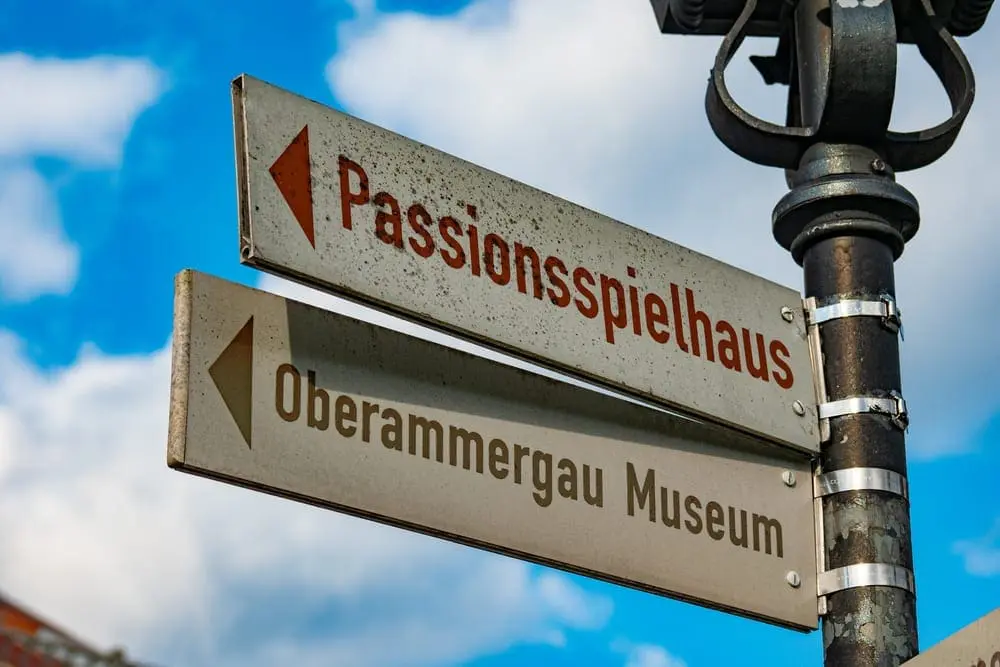 Passion Play Oberammergau Takes OVER the Town
Beginning a year before play season casting decisions are announced. Locals stop shaving and getting hair cuts to get into character. In order to take part in the Passion Play, you MUST be a born local. And don't plan on moving to Oberammergau so you can be in the show… residents must have lived in town for at least 20 years. But that is part of what makes the show so impressive. These aren't professional actors, professional singers, or famous musicians they are local residents who are showing their devotion to a promise made years ago.
Around 5200 people live in Oberammergau, and 2000 are directly involved in the performance (including the Choir and Orchestra) or staging of the show. And most of the rest of the village is devoted to supporting the Passion Play. Hotels, Bed and Breakfasts, Restaurants, Gift Shops, even the Parking Enforcement.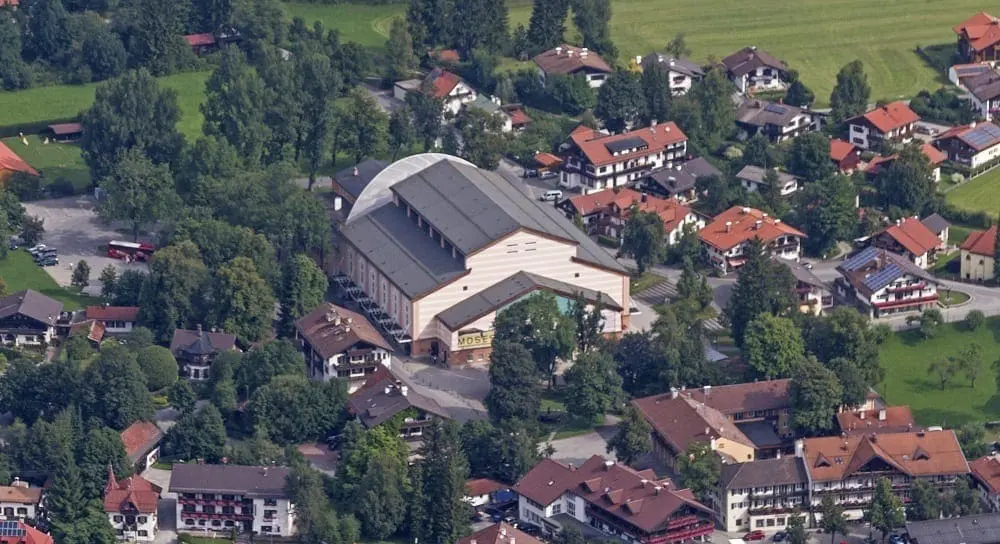 The Passion Play Theater from Above
Oberammergau Packages and Passion Play Tours
If you want to see the Passion Play in Oberammergau you need to do a bit of advanced planning. Tickets sell out fast, and hotels fill up quickly. (You can't really just wake up in Munich one morning in June, and drive down to Oberammergau expecting to get tickets and a hotel room, much less, a parking space.)
Your best bet is to sign on to a package tour or cruise. Then all of the details like tickets, parking and the mid-show meal are handled for you. All you have to do is enjoy the show!
Packages come in different grades, and include seats, hotel, and dining. Obviously, if you pay more, you get a central hotel and more expensive restaurant. Keep in mind, there are no "bad" seats, and there aren't any bad restaurants in town.
Buy tickets here–> Oberammergau Passion Play tickets
 The 2020 the Passion Play in Oberammergau  was postponed until 2022.
Brenda Pence from Cruise Partners can help you find the perfect tour or cruise
with companies like Cosmos, Avalon and Globus to fit your lifestyle and budget.
Contact Brenda to book your Travel Package to see the performance Here
Passion Play as a Cruise Excursions
8 DAYS FROM NUREMBERG TO BUDAPEST
Uniworld is pleased to announce a new pre-cruise extension on select sailings of S.S. Beatrice's Delightful Danube itinerary in celebration of the 42nd production of Oberammergau's world-famous Passion Play. Guests who book this four-day pre-cruise extension will experience a morning of leisure in Oberammergau, followed by the Passion Play. During the show's break, they'll also be treated to a three-course dinner. This exclusive package includes a hotel transfer from Munich Airport, a one-night stay in Munich, a two-night stay in the heart of Oberammergau, premium reserved seating to the Passion Play, two dinners, transportation to and from the show and more.
Click for more Information 
Passion Play Pilgrimage Tours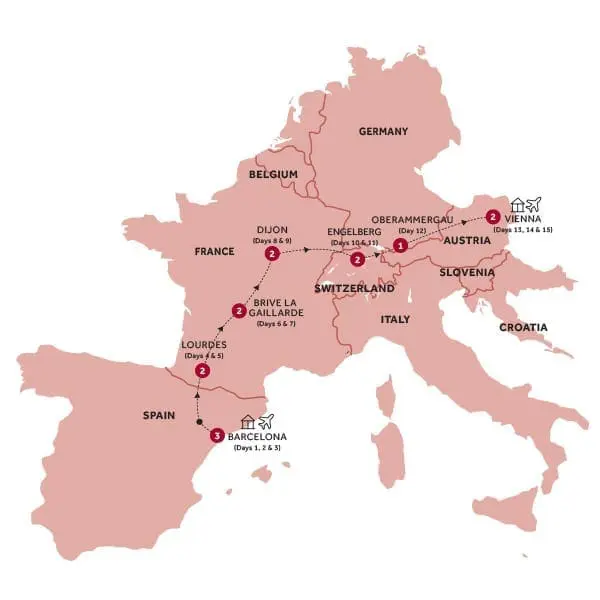 This Insight Tours Pilgrimage Tour includes visits to Lourdes for the evening Rosary, the Convent of St Gildard in Nevers to walk in the footsteps of St Bernadette, the "Basilica Real" to view the mystical Black Madonna, Sagrada Familia in Barcelona , and a package to the world famous Passion Play in Oberammergau, including one night's accommodation and category 1 tickets
Click for more Information
Tips for the attending the Oberammergau Passion Play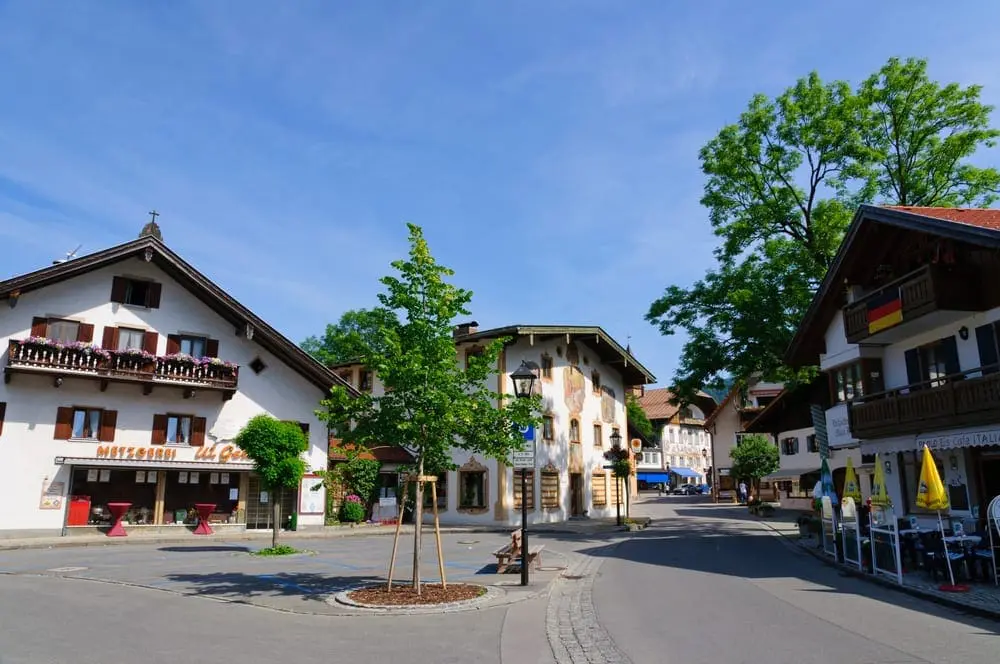 "Downtown" Oberammergau… enjoy the Luftmalerai
–The Passion Play is performed in German, but like Opera, you can easily follow the story. It is possible to buy an English text of the performance to follow along. (You might want to pack a small pen-light to read along when the sun goes down).
–Everything about the Play is VERY ORGANIZED. It starts on time! So be there and in your seat early.
–There are six categories of tickets, priced from 30€ to 180€.
–When booking a package, or buying tickets yourself, you buy a category. You won't get your seat number until you arrive. All seats have good views of the stage, but obviously closer is better.
–If you buy your own tickets, you have to find your own restaurant.
–The audience is seated under a roof which protects from both sun and rain. Remember that Oberammergau is in the mountains, and can get chilly. Bring a jacket, especially for the evening portion.
–Do not bring large bags.
–No filming is allowed, and be respectful about taking photos with your phone.
–Since the show ends at 10:30, it's a good idea to plan to stay in town or nearby. You could even stay the night before the show, so you have time to wander Oberammergau and enjoy the Luftmalerei and Gift Shops.
Above all… Enjoy… Savor the experience…
after all, it only comes along once every 10 years.