Recipe for Apple Streusel Cake -A German Style Cake in an American Pan
This recipe for Apple Streusel Cake is a family favorite, and is the recipe I'm asked for most frequently. It has everything a good German Apple Streusel Cake Recipe should have… Apples, Streusel, it's not too sweet, and it's fabulous with whipped cream. I call it a hybrid. This recipe is one of my go-to recipes when I need to bring a dessert, but want to bring something besides brownies, and it's a good "everyday" cake (plus, it's a big seller at school bake sales!). Despite it's simplicity, you can serve the apple filled squares on fine china to your Kaffee Klatsch guests.
And if there is any left over, my kids love to eat it for breakfast.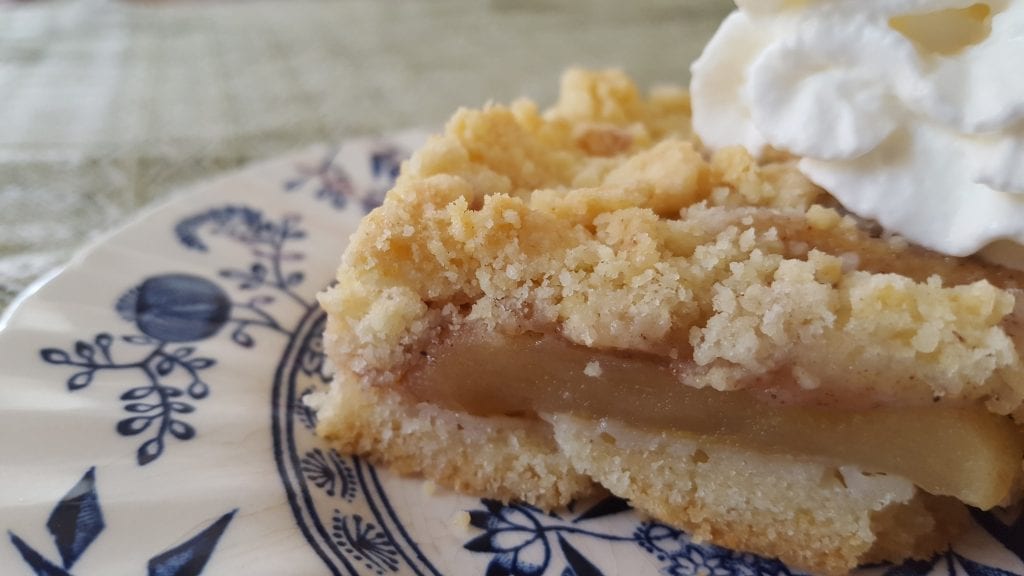 German Apple Streusel Cake Recipe
Instead of a round cake form, it's baked in the same pan you use for American bar cookies or brownies. It is sweeter than most German cakes (but still not overly sweet), and you add a bit of cinnamon to the apples.   Also, because it's just a flour, sugar, butter, & eggs dough… do NOT substitute margarine. Use the butter. Believe me, it makes a difference.
Recipe for Apple Streusel Cake
Ingredients
2

cups

unbleached flour

1/2

cup

sugar

1/2

tsp.

baking powder

1

cup

butter

1

slightly beaten egg

4

med apples- peeled

cored and sliced (4 cups)

1/2

cup

sugar

1/4

cup

unbleached flour

1

tsp.

ground cinnamon
If Desired:
1

cup

sifted powdered sugar

few tsp milk
Instructions
Preheat oven 350 F

Grease a 9 x 13 inch baking pan
Prepare the Apples:
-In a large bowl, mix the 1/2 cup sugar, 1/4 cup flour and the cinnamon.

Add the Apples, toss to combine thoroughly . Set aside while you make the crust.
Prepare the Crust:
-In medium bowl stir together 2 cups flour, 1/2 cup sugar, and baking powder.

Stir in beaten egg with fork.

(note, you can also do this with a Food Processor... just don't over process it! Pulse till you have sand, then a few more pulses after adding the egg)

Dump about 2/3 of the dough into the baking pan. Press evenly and firmly into pan.

Lay the apple slices over the crust. Spend a few minutes, lay to them out neatly. I make long rows down the length of the pan... keeps it looking nice, and makes slicing a lot easier.

(Sprinkle any remaining flour/sugar/cinnamon stuff from the bowl over the apples)

Take the other 1/3 of the dough and crumble it over the apples. I grab it in my fist and sprinkle it through my fingers, making small and big lumps evenly over the apples. This makes the Streusel.

Bake 45 minutes.. until beginning to brown

Cool on rack for 1 hour.
Now you get to choose:
You can sprinkle powdered sugar over the cake and serve it...

Or

You can make a thick glaze by combining the powdered sugar and a few spoonfuls of milk... make sure it's not too thin... less milk is better...pour the glaze over the cake, let sit a bit, cut and serve

Or

You can eat it plain.

No matter which you choose, it will be delicious! Top it with whipped cream and it's bliss.
Notes
This recipe makes bar type apple streusel cake squares... Use a 9 x 12 inch Brownie Pan.
And it travels fairly well!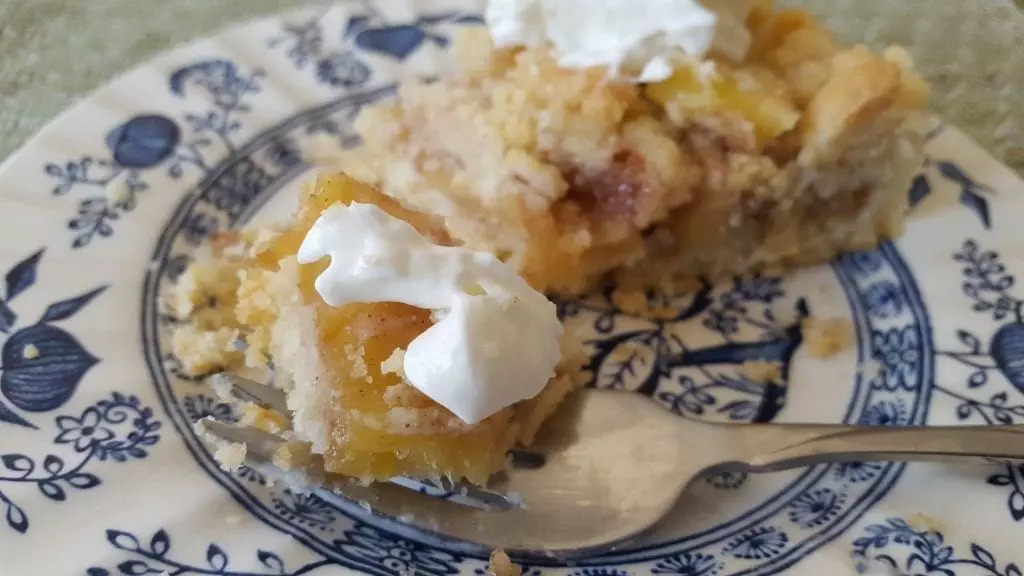 Step by Step Apple Streusel Sheet Cake
This Apple Streusel Cake Recipe is a SNAP to Make!
Pat 2/3 of the dough into the bottom of a greased brownie type pan (9×12)
Line up the sliced apples in rows down the length of the pan… overlap them a bit. If you have extras, squish them in. More apples is better!
Then top with the other 1/3 of the dough… crumble it over the apple slices
Bake for 45 minutes … until it begins to brown a bit.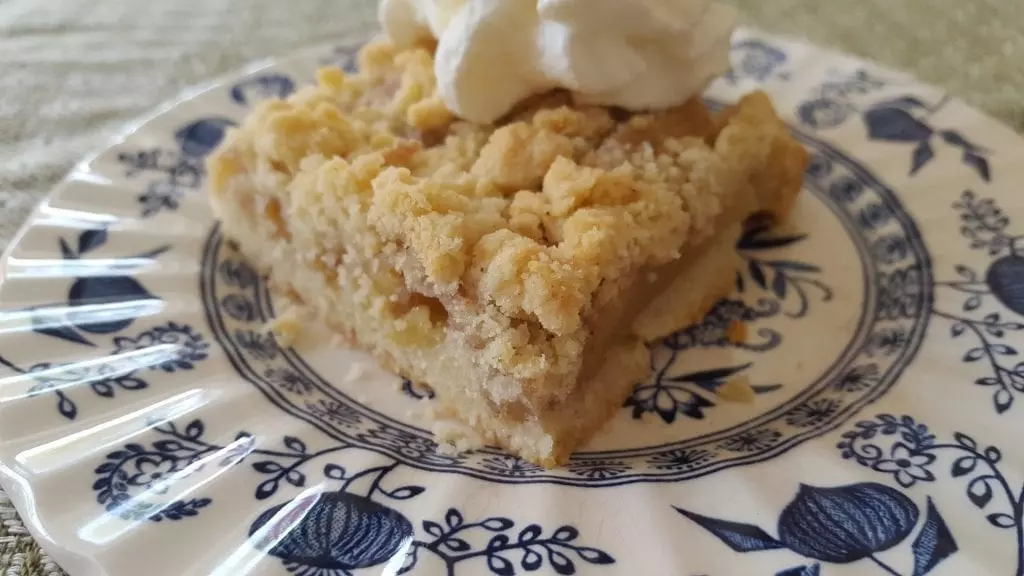 Cut yourself a slice…. top with whipped cream (home made!)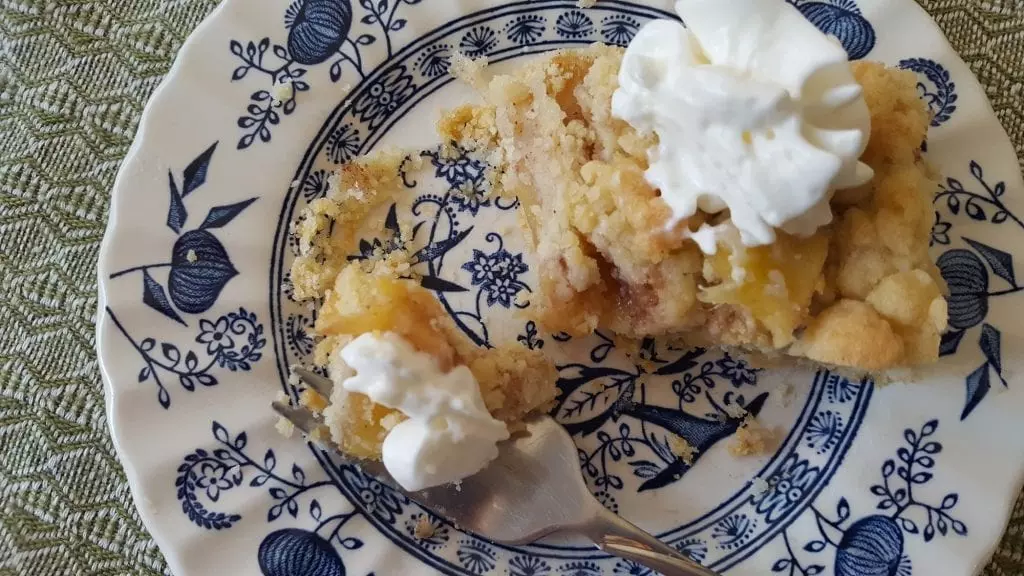 ENJOY!