German Easter Nest Tradition- From Germany to Texas
My friend Chuck grew up in Yorktown, Texas, about an 1 ½ hours south of New Braunfels (the heart of German Texas), where his great great grandfather Johann Jost settled in 1848 after leaving Womelsdorf, Germany. Much of his family is still there. Because of the pandemic stay-at-home order, his sister is sorting through Afflerbach family history, and recently came across a story about Easter Nests that he remembered making as a child.  He sent me an email that shared the story she found,  and asked, "are Easter nests a German Easter Tradition"?
Germans brought so many of their traditions with them when the emigrated to America. Most commonly, Christmas Trees, but they also brought many Easter Traditions with them, like the Easter Bunny, and the less well known Easter nest.
German Easter Traditions in Texas
This story was written by the Granddaughter of Johann Heinrich (a distant cousin). He was born in 1824 about two miles away from Womelsdorf, and emigrated to Texas in 1856.
"German children celebrated Easter not by hunting eggs, but by making Easter nests, a tradition which goes back at least five generations in our family, and is still observed by my niece and nephew. A hoe is used to scrape a depression in the ground which is then lined with fresh new hackberry or pecan leaves. Various colors of wild flowers are then carefully arranged in decorative rings to make a round "nest". The nest is then sprinkled with water to keep it fresh,and covered with an upside down washtub.
On Easter morning the tub is removed by the excited children and and the colorful dyed eggs left by the "bunny" are revealed. In the early days the eggs were dyed by the women who sewed each egg tightly inside a piece of bright printed cloth.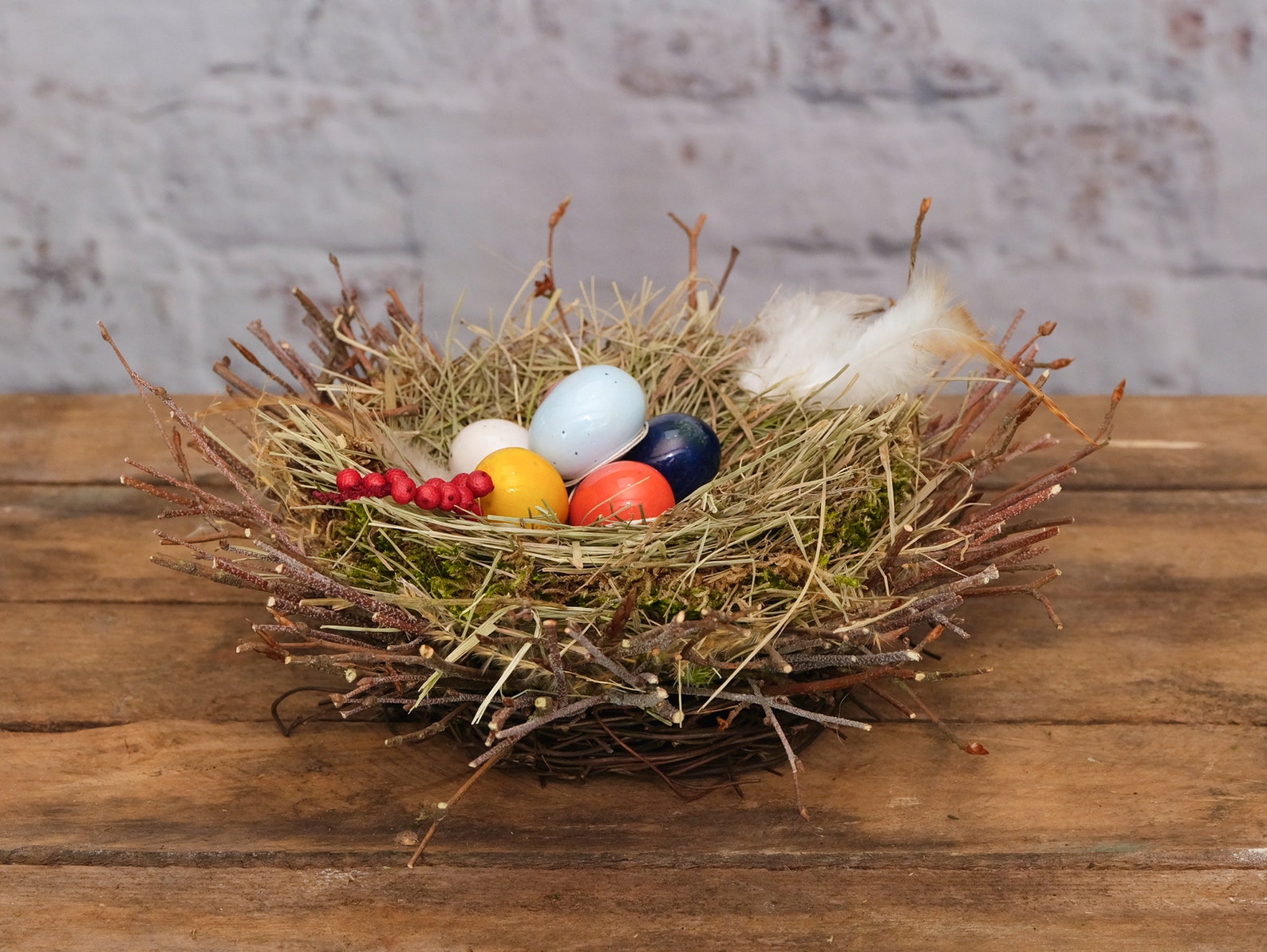 Easter nest, nest, bird nest, Easter decoration, handmade

The whole thing was then boiled in water and the pattern on the cloth was transferred to the egg. "
Where does the Easter Nest Tradition Come From?
The Easter nests come from the story of the Easter Bunny's origins. Hundreds of years ago, Duchess Rosilinda von Lindenberg went into hiding with her children and servants in a remote village. For saving her life, she thanked the people who protected her by bringing them chickens who laid eggs. She wanted to make it extra special for the children, so she had them build little nests. Secretly she colored some of the eggs and hid them in the nests. When the kids discovered the colored eggs, they were excited… and a little confused when a rabbit bounded out of the bushes. The kids presumed the BUNNY had brought the eggs.
And the story stuck, and eventually, traveled all the way to Texas with early German settlers. 
Chuck tells me, "Even as late as the 1960s, when I was a kid, our dad would take us out in the country on the Saturday before Easter to pick wildflowers.  Everything was in bloom, and they had colorful names like bluebonnets, buttercups, Indian paintbrush, and Mexican hat.  We would take them home and decorate "nests " in our Easter baskets inside the front door of our home.  In the morning the nests would be filled with candy."

Egg nests, colored eggs, fresh flowers are all part of German Easter Tradition. Traditions that held on in the United States for over 150 years!
When I was growing up, we didn't make nests like this, but we did have Easter Egg hunts when we woke up in the morning. My parents learned pretty quickly that it was best for the Easter Bunny to hide things INDOORS in Southern California, to prevent the chocolates from melting in the warm California sunshine! Our breakfast table would be set with the good china, and naturally, there would be fresh flowers on the table. Mom would set up an Osterbaum on the sideboard hung with beautiful painted eggs. After church, we'd celebrate with other German Families. Kaffee und Kuchen, maybe another Easter hunt. All of us in our finest Easter clothes (my GOODNESS those stockings itched!)
Thanks Chuck for sharing those Easter Memories with us.
What memories of Easter do you have?