German Green Bean Salad Recipe – Grüner Bohnensalat
I think my mother must have prepared this Green Bean Salad Recipe (Grüner Bohnensalat) at least a few times a month… and maybe even weekly during the summer. Come to think of it, these green beans arrived on the table at Oma's house quite often too. Why? It's a simple recipe that tastes good. Better yet, you can easily make adjustments depending on whether your beans are fresh or canned. Just toss the cooked beans in a simple vinaigrette with some onion… throw in a few herbs if you like… and DONE.
The recipe I wrote includes directions for cooking fresh green beans. If all you have is canned beans (either from your own garden efforts, or from the can at the grocery store), just skip the cooking part, drain the can/jar, and go right to "toss the beans with the dressing" step. The recipe goes from can to table in under 5 minutes! Perfect for those rushed nights when you need to get veggies into people, but have no time. (I've been known to serve the Bohnensalat recipe with take out pizza… and for the most part, my kids have learned not to argue).
And for those of you who dislike or have trouble digesting raw onion, substituting dehydrated onion adds nice flavor without that onion bite. Yes, you can even sprinkle on Onion powder instead of raw onion or dehydrated onion. Just know that if you leave it out entirely, a heavenly host of Omas will give you the look. I'm kidding (mostly), but if you don't add onion, the flavor does change.
Choose whether you want to add chopped fresh parsley and/or dill. I say go for it, if you have it, so you get extra flavor and vitamins. (And it looks like you made an effort to be fancy).
The Green Bean Salad keeps in your refrigerator for several days if stored in an airtight container. Make a batch at the beginning of the week, and take some to lunch every day! Or add it to a Salatteller with a Green Salad, Beet Salad, and Sellariesalat (Celery Root Salad).
German Green Bean Salad Recipe – Grüner Bohnensalat Recipe
German Green Bean Salad Recipe
German Green Bean Salat  or Grüner Bohnensalat comes together easily without a lot of fuss. It's best when prepared with fresh beans, but canned or jarred beans will work just fine (and it's MUCH quicker!). Serve alone, or as part of a Salatteller.
Ingredients
1

pound

Green Beans

1

Tbl. salt for cooking water

3

Tbl. Oil

vegetable oil or olive oil

3

Tbl. White Wine or Red Wine Vinegar

1/2

cup

Diced Onion

alternatively, 2 Tbl. Dehydrated Onion

1

tsp

Salt

1

tsp.

Pepper

Optional- 2 teaspoons of chopped herbs

Parsley, Dill
Instructions
Trim the ends of the washed green beans, and cut into pieces 1 to 1 1/2 inches long.

Place the green bean pieces into a medium large saucepan, add water until the beans are covered by 1inch of water. Add a tablespoon of Salt.

Bring the water to a boil, then reduce to simmer. Cook until the beans are soft. (5 - 7 minutes)
While the beans are cooking:
In a mixing bowl, combine the Oil, Vinegar, Salt, Pepper, and diced Onion (or dehydrated onion). Stir to bring it together.

When the beans are soft, drain them, rinse for 30 seconds in cold water, then add them to the dressing in the mixing bowl.

Stir to coat the beans

Place in the the refrigerator until cooled. Stir every now and then to insure that the beans are properly coated.

Taste and correct salt and pepper before serving.
Notes
Follow the recipe if using Fresh Green Beans. You will have to wait for the beans to cool before eating. Just set the bowl in the refrigerator, and stir occasionally as it cools. 
If using Canned or Jarred Green Beans.... Drain the beans and rinse. Then add to the dressing, and stir. Taste and correct for seasoning. The longer it sits, the better the flavor. 
Like this Recipe? You will LOVE my Easy German Cookbook: 80 Classic Recipes Made Simple
Easy German Cookbook: 80 Classic Recipes Made Simple

Just in case… Here are some step-by-step Photos of German Green Bean Salad being made.
Cut the ends off of the beans, then cut the beans into 1 to 1 1/2 inch pieces
Cook the beans until soft (around 5 -6 minutes) then drain. Rinse in cool water fora bit to stop the cooking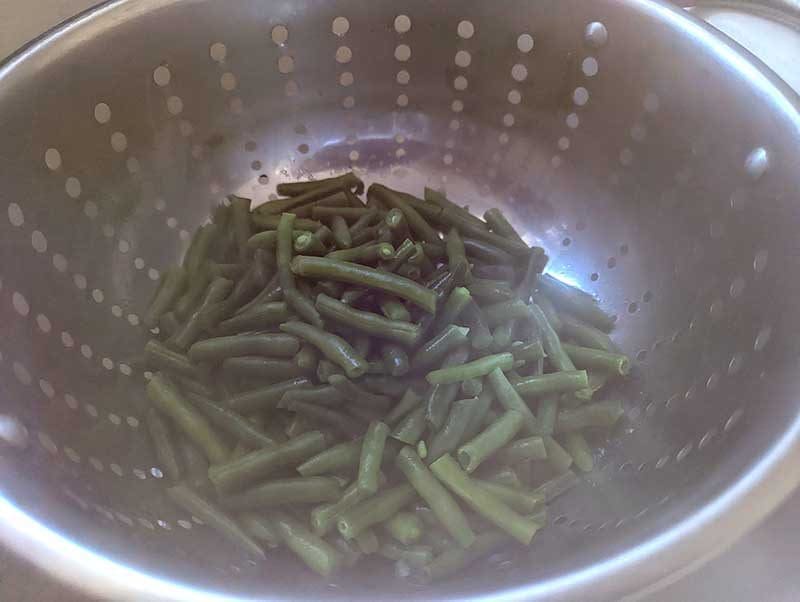 Make the marinade in a bowl, add onions, then add the warm beans and stir to coat
Let Cool, then serve
Store the in an Airtight Container to make it last several days
I LOVE these Glass Storage Containers!
If you are like me, you have a cabinet or drawer filled with storage containers for leftovers. The problem is, finding the lids that GO with the containers is always an adventure, and the round shapes waste space. I just switched to these Glass Containers. They are airtight to keep food fresh… and glass so I can see what's inside. Mostly I love that they are square and rectangular. They stack easily, and don't waste refrigerator or cabinet space.
18 Piece Glass Food Storage Containers with Lids, Glass Meal Prep Containers, Glass Containers for Food Storage with Lids, BPA Free & Leak Proof (9 lids & 9 Containers)