Oma's Simple Salad with Creamy German Salad Dressing
My Oma often served a side salad of Feld Salat with her Creamy German Salad Dressing as a side dish to the warm midday meal. The dressing may seem unusual, since it contains heavy cream and sugar, but somehow the combination with oil, vinegar, and diced onion works. When I was a rotten child I picked out the onions and tried to hide them. Failed every time. Now I appreciate the flavor they add to the simple lettuce salad. Occasionally she'd slice tomatoes or radishes to accompany the salad. But the lettuce and dressing were the focus of the plate.
First she washed and dried the greens. An onion got a fine dice. Sometimes she added a small handful of fresh chopped herbs from the garden. Parsley, chives, dill… whatever came in with her. Finally, out came her little yellow plastic bowl and a small whisk. Oil, vinegar, heavy cream, a bit of salt, and a spoonful of sugar all went into the bowl without measuring. She just KNEW how much to add. In went the onion and herbs before the final stir. The salad didn't get tossed until the last possible second. The lettuce leaves wilted quickly, so it went…. Toss, plate on individual salad plates, EAT.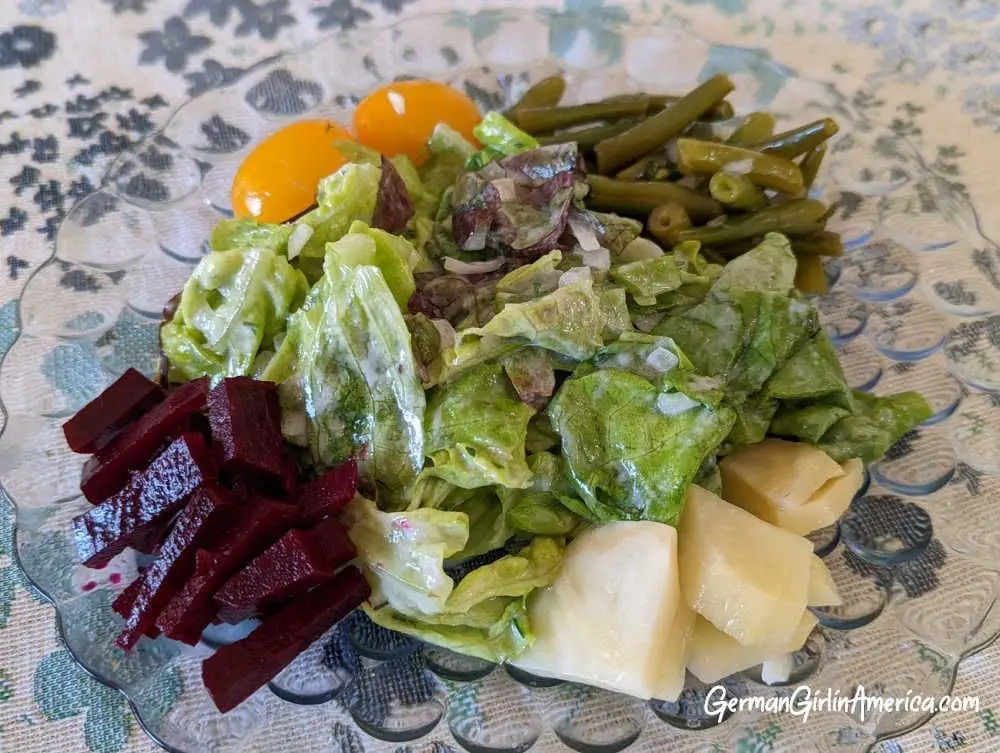 The Salad also makes a nice anchor for a Salatteller with different other salads. Shown here with Bean Salad, Beet Salad, and Celeriac Salad, find the recipes here-Green Bean Salad
Beet Salad
Tomato Salad
Cucumber Salad
Creamy Cucumber Salad
Sellerie Salad
Feltsalat goes by the name Lamb Lettuce or Mache or Corn Salad or even Rapunzel Lettuce in the USA. (Yes. Rapunzel's mother craved salad so much, that she sent her husband to an enchantresses garden to steal some. The enchantress traded the lettuce for the child, named her Rapunzel and locked her in a tower. Pregnancy cravings are no joke!). The thing is, this kind of lettuce really isn't something you find in every grocery store. For those of you with a green thumb and space, you can get seeds to grow it yourself. But, for people like me (brown thumb, and in constant battle with snails), I find that Butter Lettuce makes a decent substitute. (No, it's NOT the same…but since we aren't using my Oma's little yellow plastic bowl, nothing is exactly the same).
When you make the dressing, TASTE it before tossing it over the lettuce. Adjust the salt/sugar level to your liking. Oma always made the dressing sweet (I lean more salty), and she was heavier handed with the cream, so feel free to add more. As for the herbs, you can't go wrong with dill and/or parsley. And chives go in everything at my house lately. You could even add some German Salad herbs from a packet. See how you like it best.
Oma's Simple Salad with Creamy German Salad Dressing
This simple salad with a creamy semi-sweet dressing was a standard on Oma's table. She used Feldsalat, but you can easily substitute Butter Lettuce.
Ingredients
2

Tbl Vegetable Oil

olive oil is fine

1

Tbl White Wine Vinegar

½

tsp

Salt

1

tsp.

Sugar

2

Tbl Heavy Cream

or plain yogurt, but be aware that it will be tarter

½

cup

diced Yellow Onion

you can add more or less, depending on your love of onion

1-2

tsp

finely chopped fresh herbs

Parsley, Chives, Dill, Lovage

1

head Butter Lettuce

Or Rapunzel Lettuce/ Mache/Lambs Lettuce
Instructions
Wash and dry the lettuce. If using butter lettuce, tear into smaller pieces. Set aside while you make the dressing

In a small bowl, combine the oil and vinegar, salt and sugar. Whisk until the salt and sugar dissolve.

Add the cream and whisk until smooth. Note! It will look curdled at first, just keep whisking.

Add the diced onion and herbs.

When you are ready to serve, toss with Lettuce until coated. Then plate on small salad plates.
Notes
Because I generally serve this on small plates, I use a standard mixing bowl to prepare the salad, not a nice salad bowl. But you decide for your home.
Butter Lettuce wilts fairly quickly, so once the salad is dressed, don't linger... eat!!


Find more Delicious German Recipes in my Cookbook
Easy German Cookbook: 80 Classic Recipes Made Simple
Easy German Cookbook: 80 Classic Recipes Made Simple

How to make my Oma's Creamy German Salad Dressing
Finely dice the onion and chop the herbs if using.
Wash and dry the Lettuce
Combine the Oil, Vinegar, Salt and Sugar. Then whisk in the Cream
Whisk in the onion and herbs if using
Toss the Salad just before Plating
Enjoy