Honey and Dried Fruit Cake Recipe- Honigkuchen mit Trockenobst
When I was a child, baskets or plates of dried fruit would show up in our house at the beginning of the holidays. They still do. This Honey and Dried Fruit Cake Honigkuchen mit Trockenobst makes a great way to use them up. This is not your average Kaffeeklatsch cake. The recipe feels very old fashioned, since you load it up with honey, rum, lots of spices, and dried dates and figs, and walnuts. Similar to an old fashioned (properly made) fruitcake or think of it as a third cousin to a Hutzelbrot. The crumb is moist from all the honey and dates, but it's not stodgy!
You will definitely get the flavors of Fall and Winter. Cloves, ginger, cinnamon. Even better, like most dried fruit cakes, the cake tastes better the next day (and the day after that). And I can assure you from personal experience, it holds up well in your bag when you travel (my daughter points out that I must have been the only one on the plane with Purse Cake… I think everyone else was jealous).

Since this one is lighter than most fruit cakes, feel free to give it a rum glaze and serve it with cinnamon whipped cream. (A small slice does go a long way!)
And, if you need a snack for later, slide an extra piece into your purse.
Honey and Dried Fruit Cake- Honigkuchen mit Trockenobst
If you rough chop your fruit, you get a lot of nice big pieces in your cake slice, along with the crunch of the fig seeds, and the chewiness of the dates. If you prefer, you can chop the fruit very small. The fruit gets spread out that way without "chunks". Totally up to you, it's good both ways.
I also like to add rum to my dried fruit to soak up some extra flavor and moisture. If you prefer, go ahead and use some apple juice instead.
As for the glaze, you can use Eierlikoer if you have it… an alternative it what I have here in the recipe, just a mixture of milk and rum. If you would rather go alcohol free, use plain milk, or add a touch of cinnamon.
Honey and Dried Fruit Cake- Honigkuchen mit Trockenobst
This old fashioned Honey and Dried Fruit cake is loaded with flavor from honey, rum and spices, so it's perfect for Fall and Winter baking. And although it's packed with dried fruit and nuts, it's not a stodgy Fruit Cake.
Ingredients
Dried Fruits
1

cup

(approximate) Dried Figs

150 gram

1

cup

(approximate) Dried Dates

150 gram

1

cup

(approximate) Dried Apricots

150 gram

3

ounce

Rum

90 ml
Cake Batter
1 ¼

cup

Honey

400 gram

1

cup

Sugar

250 gram

2

Tbl.

Vanilla Extract

6

Tbl

Milk

10 ½

Tbl

Butter

150 gram

4

cups

Flour

500 gram

3

tsp.

Ground Cinnamon

1

tsp.

Ground Ginger

1

tsp.

Ground Cardamom

1/2

tsp.

Ground Nutmeg

2

Tbl.

Baking Powder

1

ounce

Rum

30 ml4

3

Eggs

1

cup

Chopped Walnuts

150 gram
Icing
3

cups

Powdered sugar

350 gram (approximate)

2

Tbl

Milk

maybe more

2

Tbl

Rum

maybe more
Instructions
Dried Fruit
Chop the dried fruits. You can chop them fine or rough... it's a matter of personal preference. Put into a bowl, add the rum.

Set aside, but stir occasionally to make sure all the fruit gets some flavor.
Cake Batter
In a medium saucepan- combine the honey, sugar, vanilla, milk, and butter. Stir over medium heat until the sugar is melted, and the butter is liquid.

Set aside to cool. (You can speed this up by setting the bottom of the medium saucepan in a bowl with ice water. Stir until the mixture cools)

Combine the flour, cinnamon, ginger, cardamom, cloves, and nutmeg. Add the baking powder. Stir to combine.

When the honey mixture is cool, pour it into a mixing bowl. With the mixer on low, add the eggs 1 at a time.

Add the Rum

Slowly add the flour mixture, beat until everything is combined. Scrape the sides and bottom to make sure you have it all.

Add the soaked dried fruit (go ahead and add any residual rum from the bowl...it can't hurt), and then add the walnuts. Beat on low to just combine.

GENEROUSLY butter a Bundt pan. (This batter wants to stick, don't cut corners here)

Add the batter to the prepared pan. Smooth the top

Bake at 325°F for 65 minutes. Check with a toothpick, it should come out clean. You will probably need an additional 5 minutes.

Cool in pan on a cooling rack for 5 minutes, then turn the cake out of the pan. Let cool completely before icing.
Icing
Combine Powdered Sugar, milk, and rum to a thick consistency. Add more powdered sugar if it's too thin. More milk or rum if too stiff.

Pour over cake and let sit until it's set
Notes
If you don't want to use rum, leave it out. You can soak the fruit in orange juice instead. And use just milk in the icing (or add a touch of cinnamon powder).
Add powdered sugar and a little cinnamon to the whipped cream to serve if you like. Plain whipped cream is tasty too.
Easy German Cookbook
Looking for more easy German Recipes? Try my Easy German Cookbook! It's packed with 80 traditional recipes made simple for the American Kitchen.
Order from Amazon… or order a signed copy from my online shop.
Easy German Cookbook: 80 Classic Recipes Made Simple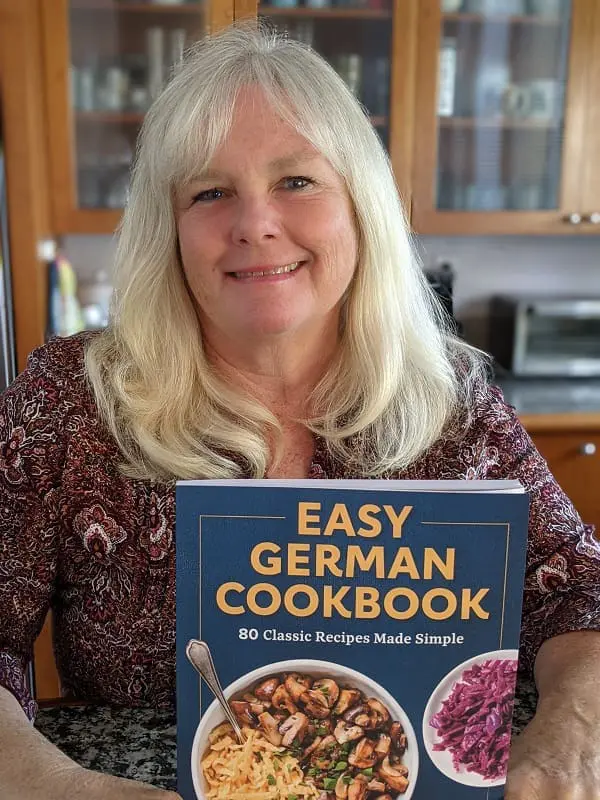 Easy German Cookbook SIGNEDGermanGirl Shop
How to Make Honey and Dried Fruit Cake- Honigkuchen mit Trockenobst
Chop and soak your dried fruit. Larger pieces are nice, but smaller pieces work well.
Use rum or apple juice
Once it's all together you will have a thick and sticky batter.
DO NOT SCRIMP ON BUTTERING YOUR BAKING PAN!!
When baked, let it sit 5 minutes in the baking pan, then flip out.
See… I used lots of butter, and it popped right out.
Top with a simple glaze made from powdered sugar, milk, and rum.
You want it to be fairly thick, or it will all run off. 
Best with a big spoonful of cinnamon spiced whipped cream