How to Make Choco Crossies at Home with My Choco Crossie Recipe
My daughter loves Choco Crossies. I mean REALLY LOVES Choco Crossies. (To be fair, so do I) Whenever I bring them home from Germany, no matter how many boxes I stuff into the suitcase, they vanish within the week. To keep her happy (and to lighten the load in my suitcase) I learned How to Make Choco Crossies (aka Schoko Crossies) here at home. I know, it seems like it should be easy… chocolate, flakes and almonds. But getting the flavor and texture right just needs a few tweaks.
How to Make Choco Crossies (Shoko Crossies) at Home
As much as I just wanted to melt a bunch of semi-sweet chocolate chips and be done with it, it just wasn't right. You need to mix in a bit of milk chocolate to sweeten up the flavor. Also, because chocolate chips don't have enough fat in them… you have to add some. I found shortening to be the easiest, but i understand you can add butter or coconut oil.
This recipe makes about 30 of the Cookie Sized treats. You can make them smaller… or make fewer GIANT SIZED Crossies. (MEGA-CROSSIE!) And if you want to be fancy, serve them up in Cupcake Liners. (This also keeps them from melting together.)
Choco Crossies Recipe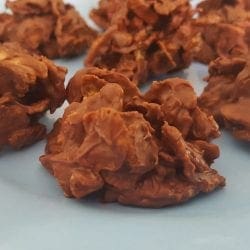 How to Make Choco Crossies (Schoko Crossies) at Home
Ingredients
125

gr.

3/4 cup Semi-Sweet Chocolate Chips

125

gr.

3/4 cup Milk Chocolate Chips

20

gr.

1 Tbl. Shortening

60

gr.

2 cups Cornflakes

60

gr.

1/2 cup Slivered Almonds (if you have nut allergies in your world, substitute 30 gr. Cornflakes for the Almonds)
Instructions
Prepare a work space by covering a cookie sheet with parchment paper. (You can use foil) This keeps the choco crossie from sticking.

If you are in a warm area (or in a hurry) make sure there is a space in the refrigerator to place the cookie sheet of choco crossies.

Measure out the Chocolates

Measure out the Shortening

Measure out the Cornflakes and Almond Slivers

Melt the chocolates and shortening, and stir until smooth. I used a microwave to melt the chocolate (go 30 seconds, then stir... then 30 seconds and stir... until the chocolate is smooth), If you prefer, you can use a double boiler.

Either way, be sure not to get ANY WATER into the chocolate.

Add the Cornflakes and the slivered Almonds into the melted chocolate.

Stir with a spatula until the nuts and flakes are COMPLETELY COATED.

Use 2 Spoons to scoop and shape the crossies into a sort of cookie/mound shape. Place on the parchment paper.

Let harden on the counter or in the refrigerator.

In the unlikely event that they aren't all eaten immediately, store in an airtight container.
Actually, the most difficult part of making Schoko Crossies is waiting for them to set.
Store them in airtight containers! Yu can put waxed paper or the used parchment paper to separate the layers so they don't melt or stick together. If it's hot where you live, store them in the refrigerator. Keep in mind that the extra fat that makes the chocolate smooth also makes it melty.
MORE Schoko Crossies Flavors!
Want to try some Variations?
Use 250 gr DARK CHOCOLATE instead of the mix
Use 250 gr WHITE CHOCOLATE instead of the mix
Add Coconut Flakes
Add Cranberries or other dried fruit bits
Step by Step Instructions for Choco Crossies
Try making Choco Crossies instead of cookies some time. You don't have to turn on the oven, and I guarantee they will vanish moments after you put out the plate…
Have your ingredients ready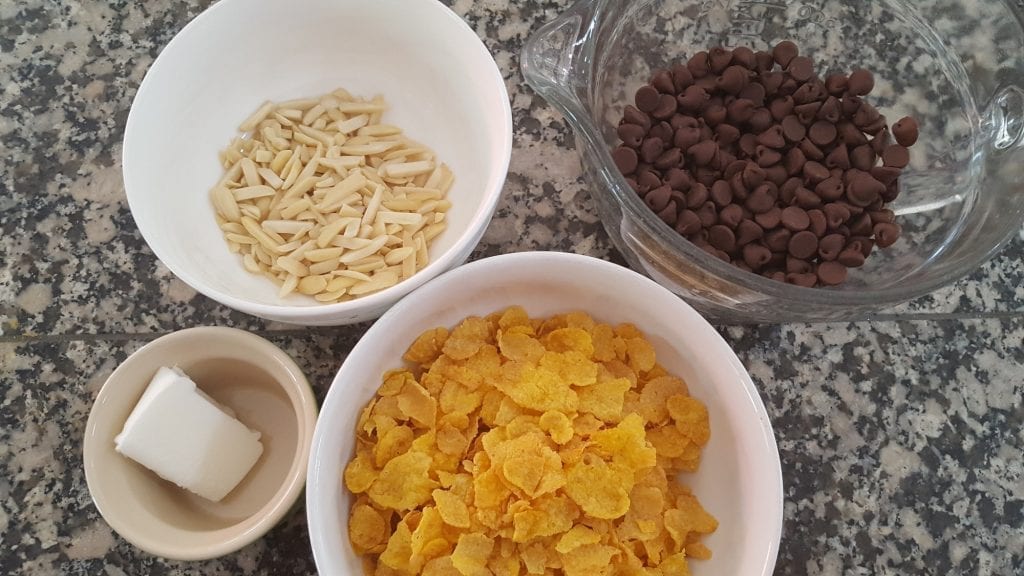 While the Chocolate is Melting with the Shortening, Put the Almonds and Corn Flakes in a larger bowl.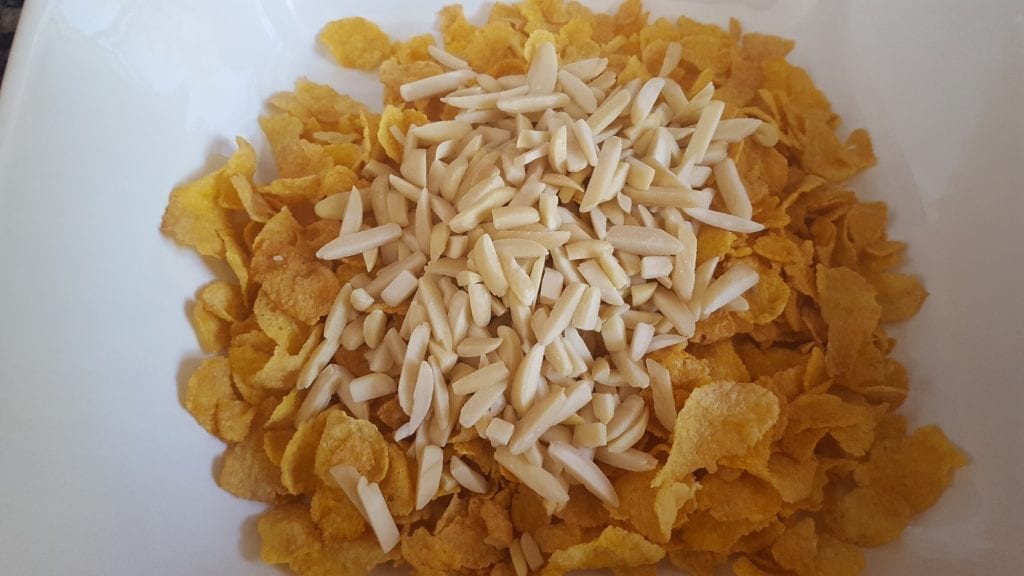 Pour the Melted Chocolate Over the Corn Flakes and Almonds
Stir the chocolate with a spatula so that no corn flake is showing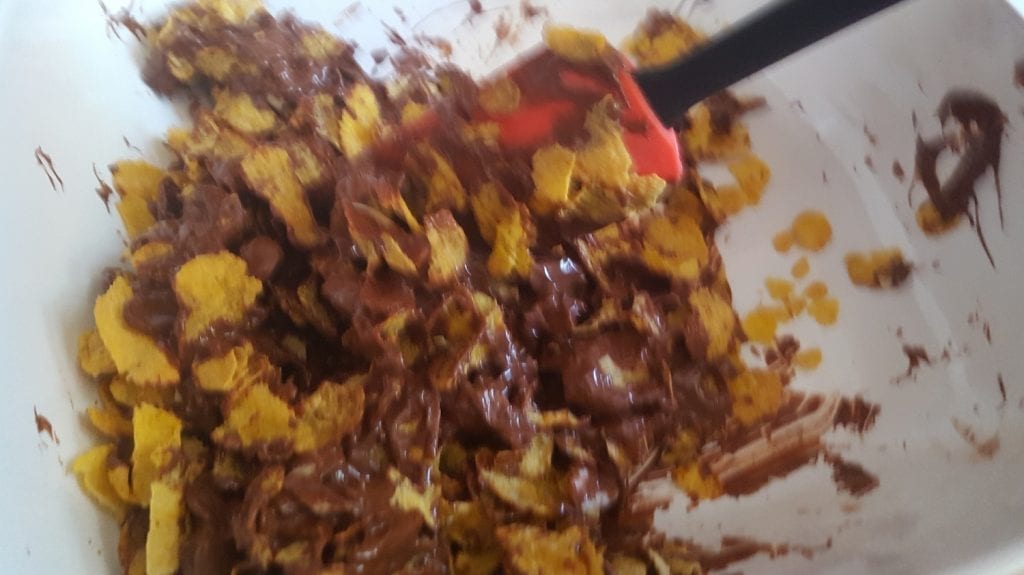 Like this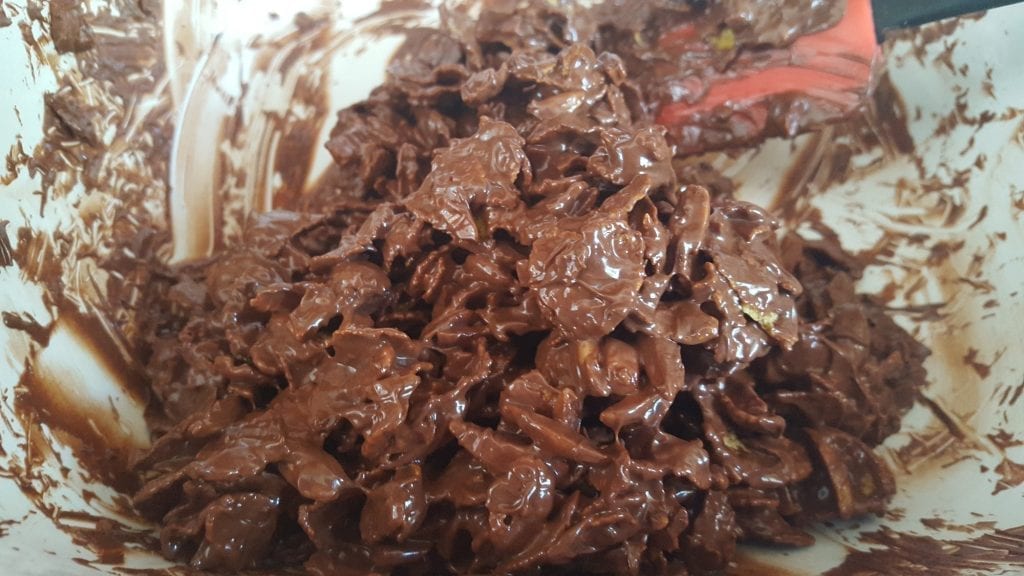 Use Two Spoons to scoop up and shape the mix into clumps
Put the lumps on a prepared Cookie Sheet (I used parchment paper)
Repeat until you have used all the mixture up
Leave alone until the chocolate sets… you can hurry this in the refrigerator
Eat
Like making Candy? Why not try making RUM BALLS! Find the Recipe here–> Rum Balls/Rumkugel
Too Much Work? Buy Them HERE
Nestle Choco Crossies Classic 150g

Nestle Choco Crossies Feinherb 160g

Nestlé Choco Crossies White 160g