German Rum Balls Recipe- a Christmas Indulgence
Rumkugeln, German Rum Balls,  have always been my favorites. Just the smell makes me all weak in the knees! When I was a child, my mother would only make them at Christmas. Just one batch. And I would watch and wait for the chance to lick the bowl and the spoon. (I think part of the appeal was the Rum… we all got silly and pretended that the alcohol actually affected us.) They were doled out a few at a time on the BunterTeller… and on plates we filled for friends and neighbors. And I savored the ones I got.
Now, for some reason, Mom never gave me the German Rum Balls Recipe. She always had an excuse… "too busy", "can't find it right now" and the worst, "you could just look it up". Well… I think she wanted to keep it her secret… just so I would keep coming back (like some sort of back alley Rumkugeln dealer…. and I was addicted!)
Thanks to Angela at All Tastes German and her "German Christmas Treats Book" (which is sadly out of print)… I am set with a wonderful German Rum Balls Recipe! And I may be moving up to the next size of Jeans by the day after tomorrow. (Although ironically, my mom came to visit… and TOOK THE BOOK WITH HER! I am crafty though, I copied the recipe out before she came!)
German Rum Balls Recipe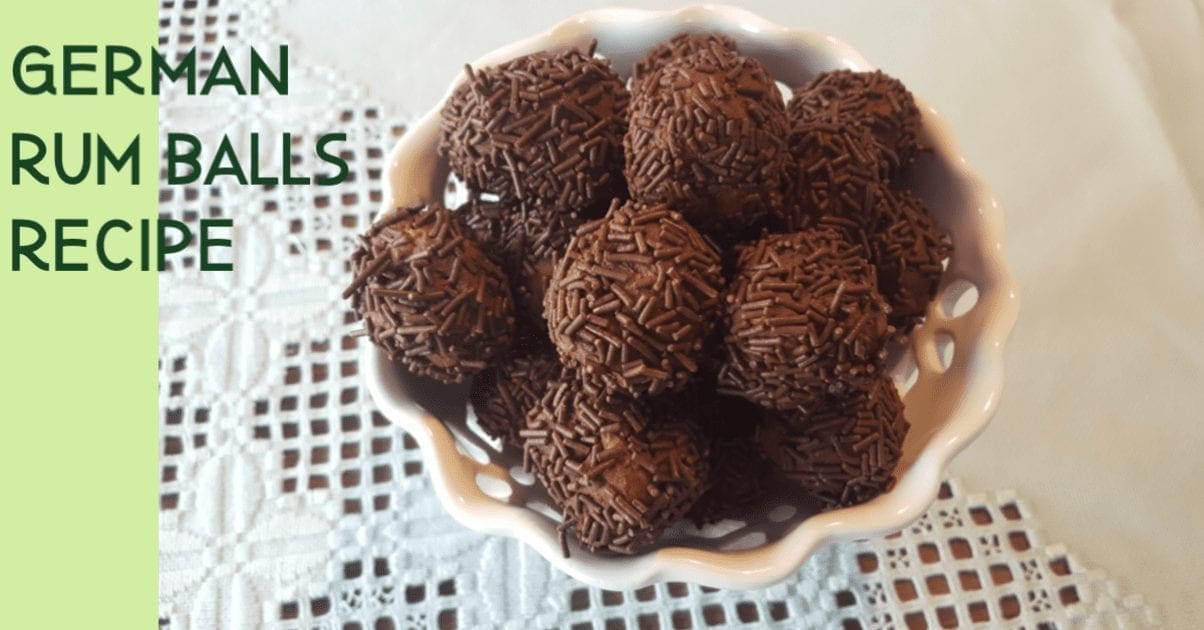 German Rum Balls Recipe from All Tastes German
Ingredients
1/2

cup

Butter

room Temperature

3/4

cup

Powdered Sugar

7

oz

Semi Sweet Chocolate

I used Chocolate Chips

3.5

oz

Dark Chocolate

I used some Dove Dark Chocolates left over from the last Holiday

4

TBL Dark Rum

I have a big collection of Rum, and many will work. Just don't use Coconut or Spiced Rum, unless you want to totally change the flavor

Cocoa Powder or Chocolate Sprinkles to Coat
Instructions
Melt the chocolates together, either in a double boiler, or carefully in the microwave. Do not let any water get into the melted chocolate or it will seize (freeze up in a grainy way) and be useless). Set aside to cool.

In a mixer, beat the butter until light and fluffy.

Sift the Powdered Sugar into the butter and beat until fluffy. (Yes, you do have to sift the powdered sugar, otherwise you get hard little greeble bits.)

When the chocolate is cooled to room temperature, add it to the butter/sugar mix, also add the rum... beat until smooth.

Scrape under the beater and down the sides

Then Beat again... you want SMOOTH... no streaks!

Scrape the chocolate mixture into a bowl, cover with plastic wrap, and place in the refrigerator for around 30 minutes.

(Go ahead and lick the beaters and mixing bowl)

Set up your work station.

Cover a cookie sheet with waxed paper.

Put the chocolate sprinkles or cocoa into a small bowl next to it. (My mother always used sprinkles, so I do too. Cocoa is definitely more sophisticated and has a nice deep flavor.)

Take the chocolate mix out of the fridge

Scoop some of the chocolate into a ball... about the size of a melon ball? Or small walnut? I used a melon scoop...

Then roll the chocolate between your hands to make it round. (Did I need to remind you to wash your hands first?)

Drop the ball into the bowl with sprinkles or cocoa... toss it around to coat.

Then place the coated ball on the waxed paper to set.

Repeat 30-40 times. (It depends on how big your Rumkugeln are, and how much you eat while making them).

I pile them in a bowl to serve... or you can place each in a small paper cup to look fancy.
How to Shape your German Rum Balls
Set up your Work Station….
Bowl of Chocolate Mixture, bowl of sprinkles, tray covered with waxed paper.
Scoop up some of the Chocolate Mixture
Shape it to a ball, and drop it in the sprinkles to coat


Line the Coated German Rum Balls on the Waxed Paper covered Tray
You can put them back in the refrigerator to finish setting… but I think they are delicious RIGHT AWAY