A Visit to Miniature Wonderland, Hamburg
I arrived in Hamburg on a Tuesday evening around 6pm after a long day of flights, delayed trains, and a harrowing drive, before I could check into my hotel. It was too early for bed, and I needed to do SOMETHING to off jet lag and sleepiness. After a quick double check for opening times, and I headed of to explore Miniature Wonderland Hamburg! Like many people, I've seen video and snapshots of the museum, and I was excited to see it for myself. Because… who doesn't love watching model trains? Ahhhh… But Miniature Wonderland is MORE than just a giant train set! It's a whole world in constant motion (just very tiny!). I forgot all about my travel exhaustion, and the kid in me spent a few hours happily exploring!
Miniature Wonderland Hamburg
When I was young, I had a train set that ran round and round in on an oval track. Over time I added a cut off track and some buildings. This simple set provided hours of entertainment (and glued fingers from putting the models together.) Miniature Wonderland made my little train set seem laughable.  This is more than just a big model train. With 15,400 meters (over 9 1/2 MILES) of track, it's the LARGEST train set in the world! You get to visit 7 different countries, and over 280,000 little people figures!!! The museum has multiple rooms on several floors.  It's easy to get lost in the details of this fabulous little museum. Kids and adults were captivated by the different set ups.
Where is Miniature Wonderland?
You will find Miniature Wonderland is in an old warehouse in the Speicherstadt in Hamburg (next to the very scary Hamburg Dungeon). It doesn't look that exciting from the outside. (In fact, I sort of thought I had gone in the wrong door). You enter the museum on the 3rd floor (2 Etage) of the building. And the first place the stairway past the ticket booth takes you is into workshops. You see, Miniature Wonderland isn't "finished", they are always adding and repairing. In fact it's not unusual to see a guy walking across the tracks (in his socks) to make adjustments (and everyone watches very closely to make sure he doesn't step on anything!).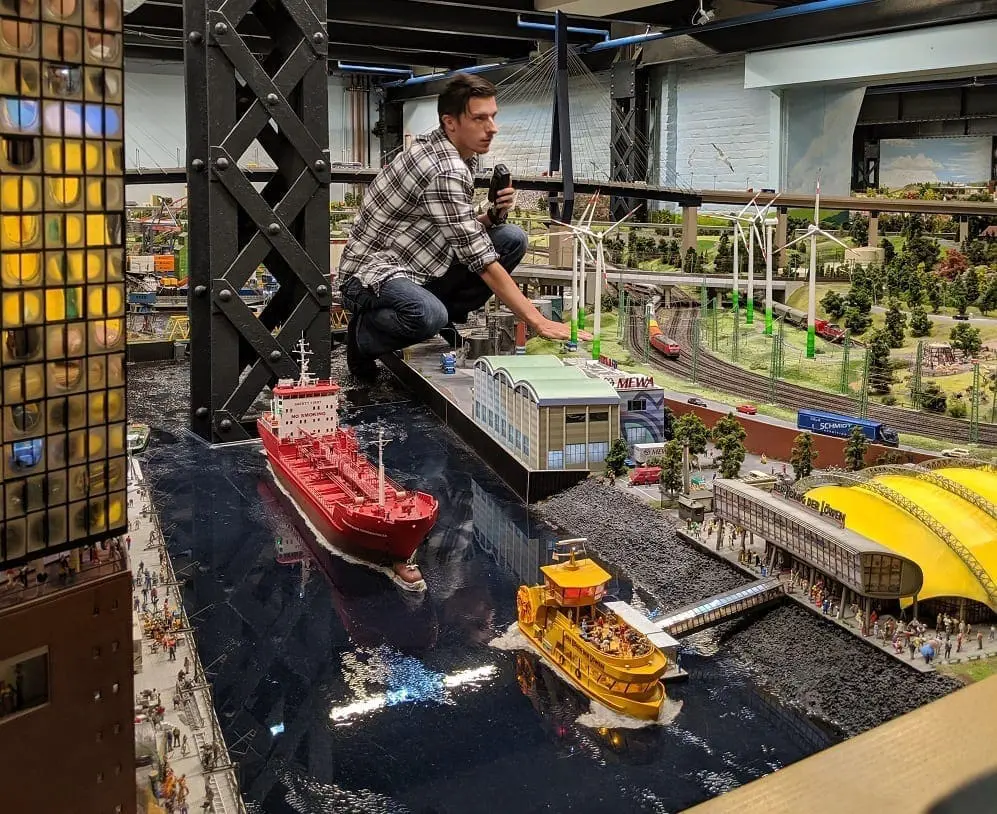 Miniature Wonderland is NOT a slick museum where the nuts and bolts are hidden behind carefully placed walls. It has the feel of a train set in someone's basement… only BIGGER. And maybe, that's part of the appeal?
Tiny details make it extra special
The flow of Miniature Wonderland was not what I expected. For some reason I thought it would be one big room. Instead, you are handed a "Reiseführer" (Travel Guide) when you enter, containing a "world map" of the miniature world you are visiting. It starts with the workshops where the new models are being built, and old models repaired.
Then you move on to Italy and Switzerland with stops in Venice and the Alps
The top floor is mostly about Germany. Hamburg (naturally) has a huge display, including the Speicherstadt and Hafen, complete with the new Elbephiharmonie that opened up to reveal musicians playing "Peter and the Wolf" to the tiny audience.
The rest of the floor is split up between Bavaria, Middle Germany, Austria, Scandinavia, and a MASSIVE Airport scene with planes taxiing on the runways.
Neuschwanstein towered above a Bavarian Village…
Neuschwanstein  from the Other Side
look hard, and you will find the unicorn!
There were some fun and unexpected surprises! Mostly in the details (like spotting the tiny case of beer next to a house). Then every 10 minutes the museum house lights would dim, and lights in all the models would flick on. You got to see the colorful nighttime view of all the exhibits.
The Carnival Midway by night
An Equestrian Event!
Patagonia!
This year Miniature Wonderland opened a new land… Patagonia! See the Perito Moreno Glacier, a storm over Drake's Passage, and PENGUINS! Looks like it's time for me to return….
Who will Enjoy Miniature Wonderland?
Miniature Wonderland was designed for maximum enjoyment. All around each exhibit were rails for leaning (to get a little closer) and steps for the smaller people to stand on for a better look.
I saw grown ups AND kids (even Teenagers) enjoying the museum. There was something new around every corner, and I'd hear people young and old saying "LOOK" or OHHHHH!
Before you go! 
Reserve tickets online. Miniature Wonderland only allows a set number of people in at a time! The line outside can run 1 1/2 hours to get in if you just drop by mid-day in the summertime. (You can check their website for a fairly accurate wait time).  Also, keep in mind that it stays open until 10 PM during the summer (WOW). Reserve your tickets HERE
Miniature Wonderland DOES have a cafe, so you can eat, and go back to enjoying the sights.
And of course, they have a gift shop… so you can indulge in your train building fantasy when you get home.
More things to do in Hamburg