Moist Rhubarb Cake Recipe – Almost like my Oma's!
The first cake I ever baked in my Oma's Kitchen was a Rhubarb Cake… Rhabarbarkuchen. It was Oma's Doppelkopp day, and the ladies would all be coming over for cards, cake and gossip… so she let my cousin and I bake the cake (all these years later, and I'm still STUNNED that she turned over such an important job to us!). Of course, with her watching over us, there was little chance that we would mess it up. There were no shortcuts! And holding that Hand Mixer for 10 minutes was excruciating (luckily we could trade off).
When the cake was made and presented, the ladies loved it. We got to go into the room, say hello, take a small bow… then we were sent BACK OUTSIDE. (Where we waited for leftovers!)
The Moist Rhubarb Cake Recipe
When I got home, I wanted a repeat of that proud feeling of having made something so delicious. The problem is, German Cake recipes tend to be less sweet than American recipes, and Americans (raised on cake mix) like the cakes to be very moist or frosted. Oma's recipe, so perfect for the German palate, was not a hit here. I ended up playing with it a bit. Separating the eggs (to whip the whites) then adding 2/3 cup of plain Greek yogurt to her recipe worked beautifully The result is not only a GERMAN Rhubarb cake recipe, but it a very moist Rhubarb Cake Recipe that is a hit with everyone who ever tried it.
I'm sure my Oma would approve.
Rhubarb Bundt Cake - Rhabarbar Kuchen
Ingredients
2

cup

300 gr. Rhubarb- sliced to 1 inch pieces

1

cup

Butter

227 gr. Butter - room temperature

3/4

cup

180 gr. Sugar + 2 Tablespoons Sugar

1

tsp.

Vanilla extract

or 1 package Vanilla Sugar

4

Eggs - Separated

2

cup

280 gr. All purpose Flour

1

TBL Baking Powder

2/3

cup

150 ml Plain Greek Yogurt

Powdered Sugar for Dusting
Instructions
Preheat Oven to 325 degrees Fahrenheit

Grease a Bundt Pan (I like to use the butter wrapper like my Oma taught me)

Cut the Rhubarb into 1 Inch pieces, toss in a bowl with the 2 Tablespoons of sugar.

(Because you need to whip up egg whites, I find it easier to do that before making the batter. This way I don't have to clean my mixing bowl half way. I can just use the egg white mixing bowl for the rest of the batter. But if you have 2 mixing bowls, or a hand mixer, you don't have to worry about it.)

Separate the eggs, and set the yolks aside.

Beat the egg whites until they are at a medium peak. The peak should stay when you pull up the beater, but it shouldn't be dried out.

Now scrape the egg white into a bowl, and set aside for a bit.

Combine butter and sugar in the mixer, and beat for 5 minutes on medium. Scrape down the sides and bottom from time to time.

Add Vanilla (or Vanilla Sugar)

Add egg yolks one at a time .. beat

Combine flour with baking powder ... with mixer on low, slowly add the flour mix to the batter. Alternating with the yogurt.

Scrape the sides again

Carefully fold 1/4 of the egg white into the batter. Once it is combined, fold in another 1/2 of the remaining egg white. Then fold in the rest. The object is to not over-beat the batter. You want to keep as much air in the egg white as possible.

Add the Rhubarb pieces, and mix until combined.

Put the cake batter into your prepared pan.

Bake the cake for 1 hour, until a toothpick comes out clean.

Let cool in the cake pan for 5 minutes on a rack.

Loosen the edges with a knife if needed... and flip the cake over

Let cool completely

Dust with Powdered Sugar

(Put a spoonful of powdered sugar in a sieve, then shake it over the cake for even distribution).
Find MORE Great Recipes in my Easy German Cookbook!
It's loaded with 80 classic German Recipes, written for the America Kitchen.
You can even order a signed copy here!
Easy German Cookbook: 80 Classic Recipes Made Simple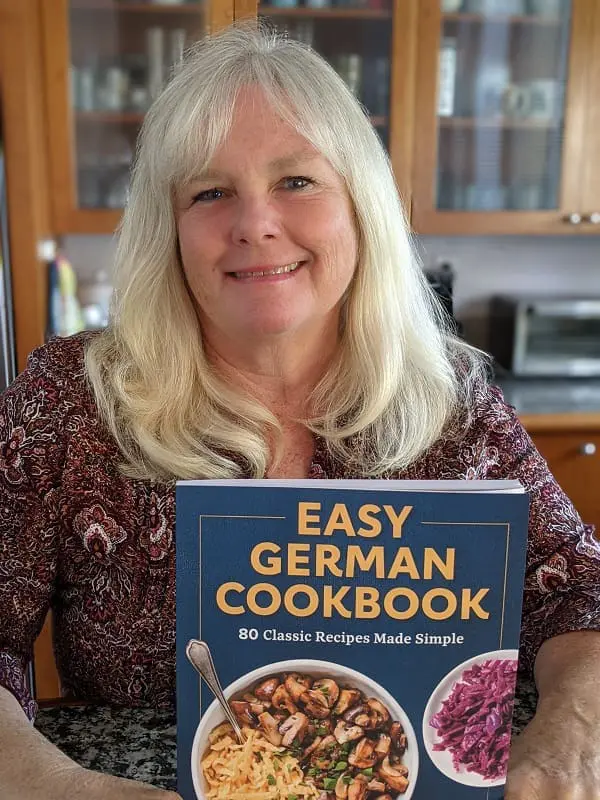 Easy German Cookbook SIGNEDGermanGirl Shop
Rhubarb…
Biggest difference between Germany and America? Most of the time when I buy Rhubarb in my corner of America, the checker has no idea what it is, or what to do with it. (No, it's not celery. No, you don't just bite into the stalks. And NO! do not eat the leaves).
 Kitchen Tools to Help Bake German Cakes
German recipes are in metric, I posted the above recipe in metric and cups, but it's really a good idea to have a kitchen scale if you want to bake German recipes (Besides, the scale is more accurate. Don't believe me? Measure out 2 cups of flour by pouring, then by scooping, then let someone else do it. Weigh all three…. it most likely will give you 3 different weights).
Soehnle Roma Silver Digital Kitchen Scales, Scales, Food Preparation Scales, 65856

And of course, you need a baking pan. Oma used a Gugelhopf… but I used a plain Bundt pan (they are more common in kitchens here. A real Gugelhopf pan will be taller and thinner, so the cake takes less time to bake.
Nordic Ware 50342 ProForm Bundt Pan with Handles, 12 Cup

Fox Run 4467 Kugelhopf Pan, 8.5-Inch, Preferred Non-Stick

Baking This Moist Rhubarb Cake Recipe…
Chop the Rhubarb into 1 inch pieces, then mix the pieces in a bowl with 2 Tablespoons of Sugar
Batter goes into the prepared pan (you can wipe the spills away)
Bake at 325 degrees F for 1 hour
At about 50 minutes, check to make sure it's not baking too fast (my oven has a hot spot, so I have to rotate the cakes)
Put in a toothpick to see if it comes out clean. If the cake is browning, and the toothpick is clean, you can take it out a little early.
Cool on a rack for 5 minutes
Flip the cake out onto the rack, and let it cool the rest of the way.
(My Oma always told me that we would get a stomach ache if we ate warm cake… but I wonder if she didn't just want to keep our fingers off the cake…)
Dust with powdered sugar…

Slice and serve… plain or with Whipped Cream