German Kitchen Tools from My Oma's Kitchen- Who Remembers These?
The world is changing all the time, and "improvements" in home appliances have made cooking faster and easier. Still … somehow, despite all the technological advances, are any of our meals as memorable as the ones made by our Omas on these simpler German kitchen tools? My Oma never had a microwave, or  a food processor… she didn't use much in the way of "instant" foods…yet, somehow she managed to make the most delicious meals that I miss to this day. I still keep some of these around… hoping to channel her abilities.
Oma's German Kitchen Tools
Oma didn't live completely in the past, but when they built their house in the 60s, the Kitchen was stocked with what it needed… and there were not a whole lot of changes. If it still worked… it stayed.
Messbecher
Antique Luchs Messbecher 
It seems like every German Kitchen had a cone shaped Messbecher. These funky measuring cups look more like trophies for good cooking than an actual tool, but they are an incredible time-saver. Because German recipes measure by weight instead of volume, you would have to pull out the scale every time you wanted to bake something… This special measuring cup has marks on the inside that pre-measured some of the more common ingredients like flour, sugar, semolina, cocoa and salt.
Get a new one HERE–> Messbecher
Looking for an antique? –>Luchs Messbecher
Kitchen Scale
Because German Baking is done by weight, and not by cups, a kitchen scale is essential when you want to be absolutely precise. Sure, you can use the Messbecher… but Oma always had a scale to measure anything that needed it, from meat to tomatoes. The bowl on top made it easy to hold all of the items… and the no-nonsense face told her at a glance what the weight was. (No digital for my Oma)
Get a Scale for your kitchen here–> Vintage Style Kitchen Scale
Canning Jar Opener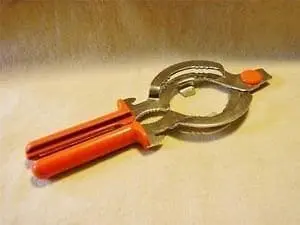 My Oma canned every extra vegetable and piece of fruit from her vast garden. Sometimes, the vacuum seal on the Weck jars would be so tight, that pulling on the rubber ring wouldn't open it back up again. This handy gadget… a Jar Opener… insured that we could get those cherries back out of their vacuum sealed home! Just squeeze it around the top of the jar, and SNAP the lid would pop open. ( So you know… if it doesn't POP open, and it smells even a little bit funky… it's best to let those green beans go.)
Get one HERE–>Canning Jar Opener
And of course… Weck Jars…
Weck 760 Mini Mold Jar, 5.4 Ounce – 12 Jars

Weck 744 1/2L Tulip Jar Set of Six – 16.9 Ounce

Weck Canning Jars 743

Hand Grinder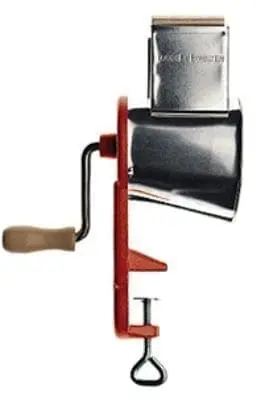 Nothing was wasted in the German Kitchen, not even stale bread… so once a week, the hand grinder was fastened to the table or counter top, and a child would be put to work making breadcrumbs. The grinder is actually perfect for grinding nuts, since it never goes too far and makes mush (like my food processor does when I'm not paying attention.) I loved having this job as a child… I would spin the handle REALLY FAST… then really slow…. and make giant mounds of crumbs on the plate.
Click HERE to Order–> Hand Grinder
Looking for one like Oma's?–>Vintage Hand Grinder
Baeren-Marke Dosenmilch Offner
Because when you drink your Kaffee, you add Baeren-Marke Dosenmilch... Condensed milk that comes in a can. Using this little opener you make a big V on one side to get the milk out, and a little v on the other side of the top, to let air in (or the milk won't come out.) Generally, the milk was transferred from the can to a nice little serving pitcher… unless we were eating in the kitchen, then it might go straight from the fridge into the coffee from the can.
You can still ger Bärenmarke Milch for your Coffee–> Bärenmarke Can  Bärenmarke Bottle
Get a Can Opener Here–> Can Tapper/Bottle Opener
Nutmeg Grater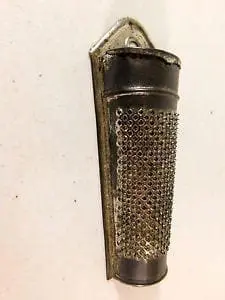 To me, the Nutmeg Grater looked like a doll's toy (or an angry thimble), so I loved playing around with it, but it was a useful tool. In my Oma's kitchen, Nutmeg didn't come pre-ground in a jar… it came as a big seed. Whenever she needed nutmeg in her recipe, she'd pull the seed from the jar, and grate it directly into the food (measuring? HAHA!). Naturally, there was a hole for hanging, so the grater was always in easy reach. (Unless I was busy playing with it… in which case she had to go looking for it).
Get a Nutmeg Grater HERE–> Nutmeg Grater
Hand Beater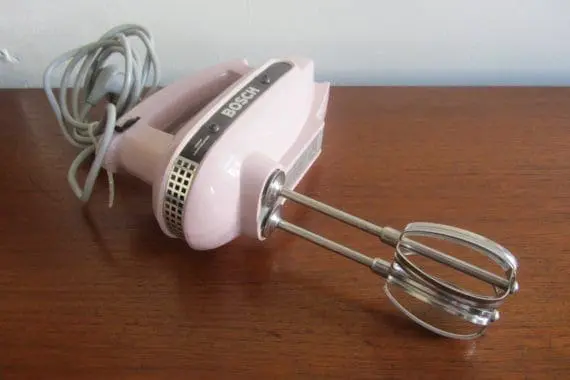 What is a piece of Kuchen without Schlagsahne? And how did that cream get whipped? with this electric Hand Beater! The great part is that you could use it in any bowl… so there is no need to pull out a special mixer and bowl. Just pop the beaters in and go! The hard part came when we wanted to bake a cake, holding that hand beater for the LONG 10 minutes she insisted on beating the butter and sugar together was pure agony! Of course, the best part was lihttps://amzn.to/2Lm8Idrcking the beaters after she was done using them (even better if she turned the machine off first! ) (wink)
Order your Hand Mixer Here–> Braun Hand Mixer  or here Müller Hand Mixer with storage case
Cherry Pitter
Oma canned cherries every year… and, since it was kind of unpleasant to pull cherry pits out of your mouth every time you had a slice of Kirschkuchen (Cherry Cake), not to mention the dangers to your teeth, she ran them through a pitter first. This was usually an all day event, since she pitted crates of cherries every year. The cherry pitter made it easier (although it did make the kitchen look like a war zone!). Bang Bang Bang… hours on end. Hers was counter mounted, and you fed the cherries into a tube. It was a good idea to stay away from the kitchen on Cherry Pitting day, or you might be put to work.
Order your Cherry Pitter here–> Cherry Pitter
Egg Slicer
This is one of my favorite German Kitchen Tools…There is something extraordinarily satisfying about slicing eggs with an Egg Slicer. I know, you can use a knife, but it never does quite make those perfectly even slices. It's like a tiny multi-blade guillotine! As a child, I never got tired of sticking hard boiled eggs into the groove and slicing them up (I was less excited about eating them, but that's another story). You could even rotate the slices 90 degrees, and slice again, making the perfect diced egg for Kartoffel Salat (Potato Salad)!
Order an Egg Slicer HERE– Egg Slicer
Roladen Klammer (Rouladen Clips)
I know, I know, you can bind Rouladen with Kitchen Twine, or even with a Toothpick… but my Oma was nothing, if not practical and efficient, so she preferred Rouladenklammer (Rouladen Clips). Just squeeze them open, and pop them on! Super quick, super easy. The spring loaded mechanism made them hold on tight (and they were so fun to play with! my cousin and I loved pinching each other with them)  Since you could wash and re-use them over and over again, there was no waste!
Find Rouladen Clips HERE–> Rouladen Clips
Slicing Machine
Oma NEVER bought sliced bread. It would get stale too fast! She would slice her bread for every meal with an electric Slicing Machine. (Luckily she upgraded to electric from the old hand crank machine) And not just bread! Sausage like Gelbwurst, Cervelat Wurst  and Blutwurst would be bought by the piece, and sliced hauchdunn (nice and thin) for Abend Brot. Everything stayed much fresher that way. As a child I always gave the slicer plenty of room (I liked having all my fingers)… but I most certainly enjoyed the things she cut with it! Today, my kitchen wouldn't feel complete without one.
Order a Slicing Machine HERE–> Slicing Machine
Knives and Spoons
Wooden Spoons
The wooden spoon might be the LEAST flashy gadget of all, but it was in constant use. This sturdy tool stirred soups, mixed batters, disciplined children, and pointed out directions when she cooked (gib mir das da! –>). Fun fact, during WWII, the government tried to ban the use of wooden spoons in cooking, because it was thought they absorbed the fats from the soup that were necessary to nourish people. (I doubt my Oma paid attention to that directive). Today we have loads of plastic substitutes, but give me a wooden spoon any day. (They won't scratch your pans!)
Get a German Made Wooden Spoon here–> Wooden Spoon
German Knives
Sharp, well made German knives will last forever. I should know… my Oma's knives are still in use today (although, the blades are smaller from use). Paring knives, and a chef's knife… a few tomato knives and a bread knife. They can be sharpened and cared for. Honestly, it's cheaper than replacing "bargain" knives, and safer than using dull knives. Opa took Oma's knives to his workshop to sharpen the blades and care for the  wooden handles (the old paring knives would rust!) But she never slipped, and I never saw a band-aid on her fingers.
Buy a good German Knife set here–> Zwilling knives
Calendar Dish Towel
Ok, I admit, a Calendar Dish Towel is nor REALLY a tool… but there certainly weren't many German Kitchens that didn't have one, so I'm including it here. My Oma had a dish towel rack on the wall, and the current calendar dish towel would hang in front of the others, like a curtain, to keep things looking neat. I don't know how useful it was as a calendar… but it was certainly colorful.
Find an assortment of German Calendar Dish Towels Here–> Calendar Dish Towels
More German Kitchen Tools
You can find more German Kitchen Tools on Amazon..