My Oma's Schoko-Nusskuchen Recipe- A Nut-lover's Favorite
My cousin Linda absolutely made my day when she sent me our Oma's recipe for Schoko-Nusskuchen along with the note "this is the cake Oma always baked for our Birthdays". This simple little cake may not be a fancy Torte, but flavorwise, it packs an amazing punch…reminding me a lot of my favorite mid-day pick me up treat, a Hanuta. It's Hazelnuts and Chocolate, so think Nutella flavor, but with crunchy nuts, semi-sweet chocolate, all baked into a moist cake. This cake will even convert the kids who claim they "don't like nuts". And those in your world who do like nuts will absolutely love this cake.
And yes, it may look humble, but serve with a schlag of whipped cream, and this simple looking cake can hold it's own on any Kaffeeklatsch table.
Schoko-Nusskuchen Recipe
I did Americanize the cake recipe just a bit for you. You'll notice that the measurements are in metric weights, as well as cups… honestly, memorizing the recipe in metric would be a snap! 300gr. 300gr. 300gr. (sort of the nutty version of a pound cake). Also, the original recipe calls for 2 100gr chocolate bars, one milk, one bittersweet, then chopped with a knife. I took the short cut of using Semi-Sweet chocolate and pulsing them in the food processor. Feel free to go back to the original.
The recipe calls for Hazelnuts, and since my grocery store sells them in the bulk bin, that's what I used. I imagine you can substitute walnuts if you can't find Hazelnuts. (If you try that, please let me know).
I sprinkle powdered sugar over the top to "decorate", because that's what Oma did.  For even coverage,  spoon the powdered sugar into a sieve, then shake the sieve over the cake. Want to dress it up a bit? Try drizzling the Schoko-Nusskuchen with a chocolate glaze, and sprinkle with a few chopped nuts.
Schoko-Nusskuchen
Ingredients
1

cup

plus 5 Tablespoons

300 gr Butter, room temperature

1 1/4

cup

300 gr Granulated Sugar

5

Eggs

1

teaspoon

Vanilla Extract

2

cups

300 gr All Purpose Flour

4

teaspoons

Baking Powder

2

cups

300 gr ground Hazelnuts

1 1/3

cup

200 gr Semi-Sweet Chocolate chips, chopped small or ground

2 to 3

Tablespoons

Powdered Sugar
Instructions
Preheat oven to 325 º F

Butter and Flour a standard sized Bundt Pan... set aside

In a mixing bowl, beat the butter and sugar at medium high speed until light and fluffy, around 4 to 5 minutes. Lower the mixing speed, then add the eggs, one at a time. Beat between each one. Scrape down the bowl. Add Vanilla extract, beat in.

Combine the flour and baking powder, then, with mixer on low, add to the butter mixture. Scrape down the sides of the bowl, and continue to beat until the flour is completely mixed in.

Either by hand with a spatula, or with a stand mixer on low, add the ground hazelnuts and chocolate. Stir until combined. (Don't miss the pockets of nuts at the bottom, you want to mix it all together evenly).

Fill the prepared Bundt pan with the cake batter. It will be a little stiff, this is right. Smooth the top.

Bake for 55 to 60 minutes.

Check at 55 by sticking a toothpick in, it should come out clean (except for a possible smear of melted chocolate)

Remove the cake from the oven and leave to rest on a cooling rack for 10 minutes. This is important, it MUST sit for 10 minutes before inverting, or it will stick)

Flip the cake out of the pan, then let cool completely

Sprinkle with powdered sugar for serving.
Notes
The Nuts- I ground whole Hazelnuts in my food processor. Some of it ended up rather fine, and the rest was still course. This way the cake had texture. You can go finer, but it IS a nut cake, so texture is nice.
Chocolate- In the original recipe, my Oma would take a block of chocolate, and chop it with a knife. I used a food processor and pulsed chocolate chips until they were chopped up. Some of it was fine, there were still small pieces.
This isn't a Chocolate cake, it's a nut cake with chocolate bits in it. You can experiment by adding 2 Tablespoons of cocoa powder and 2 Tablespoons of milk to the batter (when adding the flour) if you want more chocolate. But try it the written way first... it is fairly chocolately.
Prepare Schoko-Nusskuchen
Chop the nuts and chocolate. I pulse them in a food processor until they are chopped up.
Most of it is finely chopped, but I do leave some larger bits because I like the texture.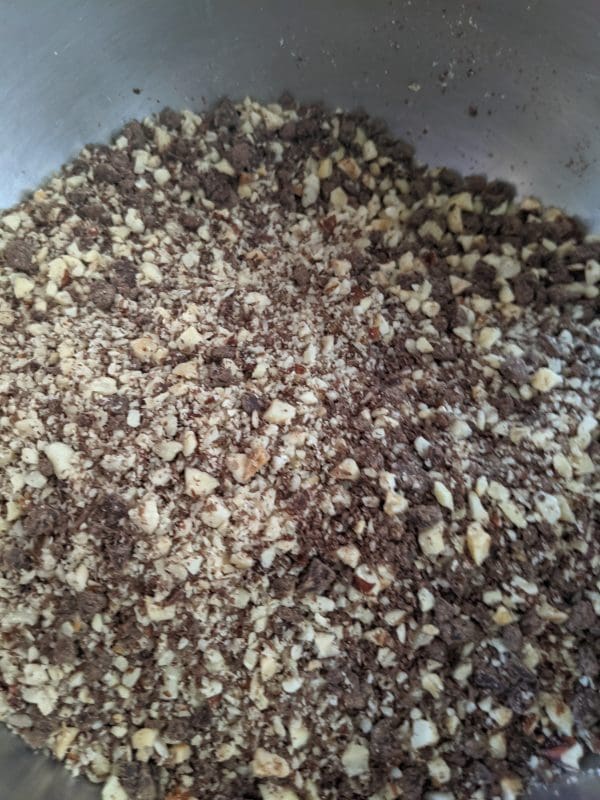 Spread the prepared batter into a Bundt pan that has been buttered and floured.
(My Oma would butter pans using the inside of the butter wrapper… works like a dream)
Leave the cake in the pan on a cooling rack for 10 minutes before turning out. (Seriously, don't try sooner!)
Even after 10 minutes I had a little bit stick… no problem, I patched it up.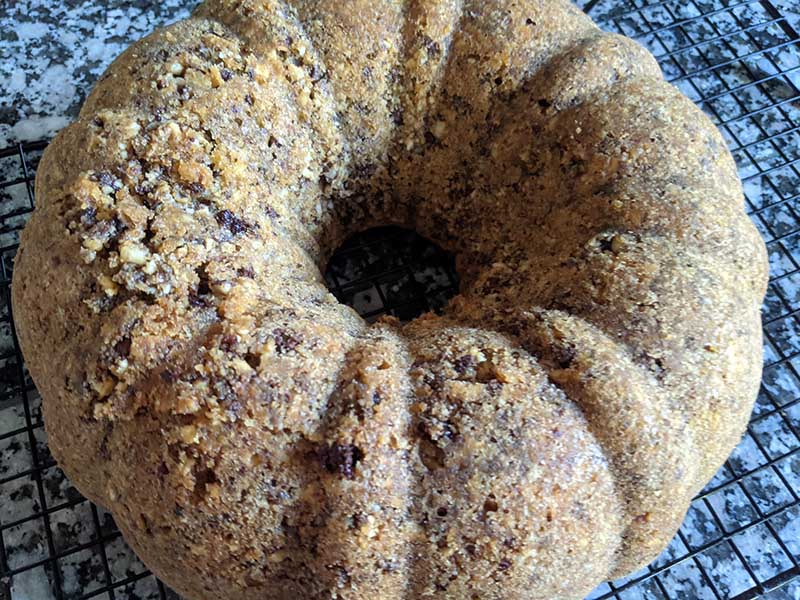 Sprinkle with powdered sugar and serve
This cake slices really well
I saved a piece for you!