What is a Volksmarsch? Walking for Fun, Friendship and Fitness
Germans love to walk. Maybe a short walk to aid digestion, or walking instead of driving to the local market to pick something up, and of course, a Sonntagsspaziergang (Sunday Walk) was a weekly thing, generally through a botanical garden or local scenic area. Germans also love to be organized. That's why it really comes as no surprise to me that Germans created an organization that turned a scenic walk into a sort of "non-competitive" sport called a Volksmarsch. What is a Volksmarsch? Literally it means "people's march". Walks are ORGAINIZED, but still fun and casual. Best of all, it's not about speed, and it's not really about distance. Mostly, a Volksmarsch is a motivation to get out and do what Germans like to do anyway…. WALK.
What is a Volksmarsch?
Think of a Volksmarsch, also called a Volkswanderung (people's hike) or Volkswalk (people's walk) as a non-competitive fitness walking. A Volksmarsch group will organize a route on a predetermined trail or path. People in the group check in at the beginning, get a map and go. There are usually a few routes of varying distance, maybe 5 K (3.1 miles) and 10 K ( 6.21 mile), with checkpoints along the way. At the checkpoints you get your paper signed, maybe have a snack (in Germany, you might even get a beer) and continue on to the end. No one is timing you, and the checkpoints are just there to make sure you don't go off-path.
At the end of the nice walk, you get your paperwork signed, and a note about the mileage in your official log book. Some Volksmarches (especially in Germany) have little "prizes", like pins or things you may purchase to commemorate your walk (but you only get them if you hit all the checkpoints… no catching a bus along the way to get that pin) In Germany you might get a Stocknagel (badge) to nail onto your walking stick.
And that's it.
Or is it?
As you get deeper in to Volksmarching, the miles start to add up. While it is non-competitive, there are some Volksmarchers who put in SERIOUS mileage (you will know them by their fitness, and possibly their cool hats and vests covered with pins and patches).
Volksmarch History
In 1968, the Internationaler Volksportverband or IVV (International Federation of Popular Sports) was founded in Germany, Switzerland, Austria and Lichtenstein, with headquarters situated centrally in Altötting, Germany (why Altötting? this will make total sense in a moment). While most people who participate in the IVV walk, other sponsored activities include snow-shoeing, biking, and swimming. The movement spread worldwide. Today there are Volksportverbands all over the world with 10,000,000 members participating in over 7,500 events a year!
(Naturally, during the Covid-19 pandemic, many of the regular events have been cancelled or postponed. Any events still open are subject to strict local rules set by health authorities)
But how did the German's love for walking get to this point?
1336 gave us the first written record of someone just wandering. Two Italian men went up Mount Ventroux just for the sake of going up to the top. In those days, people didn't just walk around for no reason. (I'm sure they got a lot of strange looks in the local Tavern when they told their friends what they had done…) Wandering around with no purpose in the woods left you vulnerable to robbers and highwaymen.
Then along came the Enlightenment (mid 1700s) when people  found themselves interested in the natural world (not peasants, presumably they spent too much time in the natural world to be awed by the shape of a daisy). By the Romantic Period (end of the 1700s, beginning of the 1800s), writers and artists were wandering off on hikes to find solitude in nature and admire the cosmos. Hiking became a symbol of freedom from the constraints of everyday life for the middle and upper classes (again, probably not for the peasants, who were still walking to work, and probably weren't interested in taking a long walk to admire the cosmos on their day off).
Artists sought out beauty in Harz, the Black Forest, in the Swiss Alps, and painted or sketched what they saw. Their work made certain areas famous (the fame of the Black Forest Bollenhut comes from artists of the time), and more artists flocked to the areas. Then those who saw or purchased their works wanted to see the beauty for themselves, and nature tourism began.
In 1841, Carl Spitzweg's Biedermeier era painting,  "Der Sonntagsspaziergang", cemented the Sunday walk into the rhythm of German life. Germans walked… for pleasure, for health, for the joy of getting outside.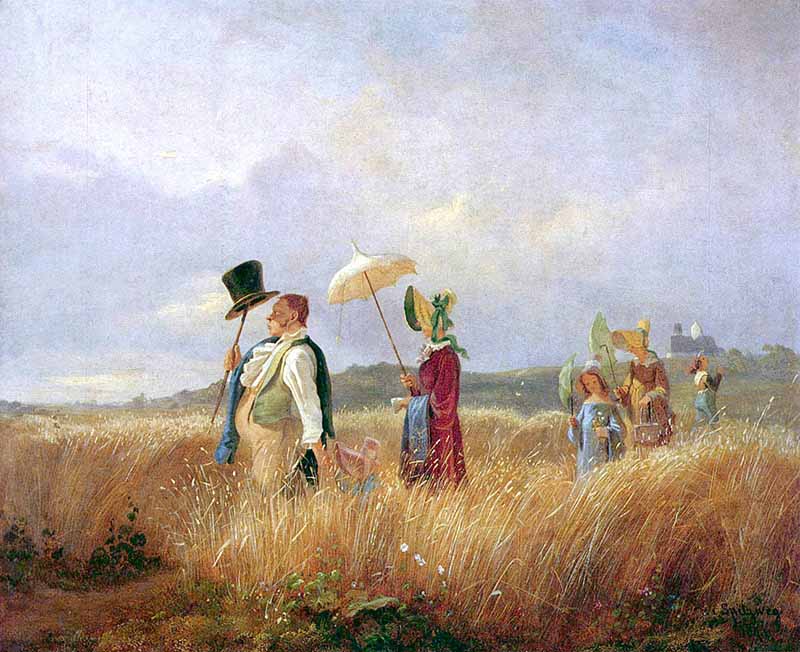 Carl Spitzweg, Public domain, via Wikimedia Commons
Walking get Institutionalized
There is a running joke, "Get 3 Germans together, and you end up with 5 clubs" (naturally, one of those will be about Fitness)
Walking organizations like the Deutsche Wanderverband and the NatureFreunde were established in the late 1800s, to help organize Nature lovers. And by the early 1900s special train routes carried Nature Tourists to marked wandering areas outside of cities. Special "Wanderwege" (Hiking trails) were set, and "Aussichtsturme" (Observation Towers) and "Schützhütten" (Protection Huts) built to maximize the walking experience. People walked for the sake of walking. Whether it was a simple stroll… or a walk with fitness intent, Germans made wandering a part of their routine.
To encourage public health through non-competitive physical activities in a natural setting.
To provide opportunities for social engagement, voluntarism, and community leadership
To contribute toward peace and understanding among people and nations by fostering international friendship.
Basically, they want people to GET OUTSIDE and have fun. Move, stay fit and healthy, and meet likeminded people.
(Wondering why Altötting, Germany chosen for the headquarters? For over 500 years, this "Lourdes of Germany" has been an important pilgrimage spot. The Chapel contains a venerated statue of the Virgin Mary AND the heart of King Ludwig II, as well as the hearts from his father and grandfather. People have been walking there for years!)
Today there are Volksmarching groups all over 40 Countries! Even though it is my habit to walk every day, I was delighted to find a local group to sign on with. The American Volksport Association or AVA hosts loads of events across the Country, and there are plenty of local chapters to join.
Why join a Volksmarch group?
ANYONE can participate in a Volksmarch group, even people with physical disabilities! That means the whole family can join (and there is usually a family discount for registration). For years, my kids did Saturday Sports, and I spent weekends driving to fields and events… then I'd sit and watch. With a Volksmarch, EVERYONE gets to walk, and no one is just a spectator.
You don't need fancy equipment, just good walking shoes, and maybe a walking stick (and my dermatologist would say a Hat). Take it fast, take it slow… collect your miles… let the kids collect miles (Kids really love the pins and other swag).
And finish the day with a beer and an Eis… and maybe some new friends.
Find a Walking Group HERE