How to Make a Rumtopf- A Delicious Way to Preserve Summer Fruits!
Sometimes, when we were kids, my cousins and I got to have boozy fruit on our pudding (those must have been days that Oma REALLY needed a bit of rest). The big stone crock, would come up from the Keller, and when Oma opened it up we would peek inside to see the soaking fruits. mmmmmmmm. Germans don't like waste, so fruit that wasn't eaten or turned into jam or stuck in the deep freeze might have ended up in there. Strawberries, Cherries, peach slices, and more…all macerating in sugar and rum. Learning how to make a Rumtopf is EASY!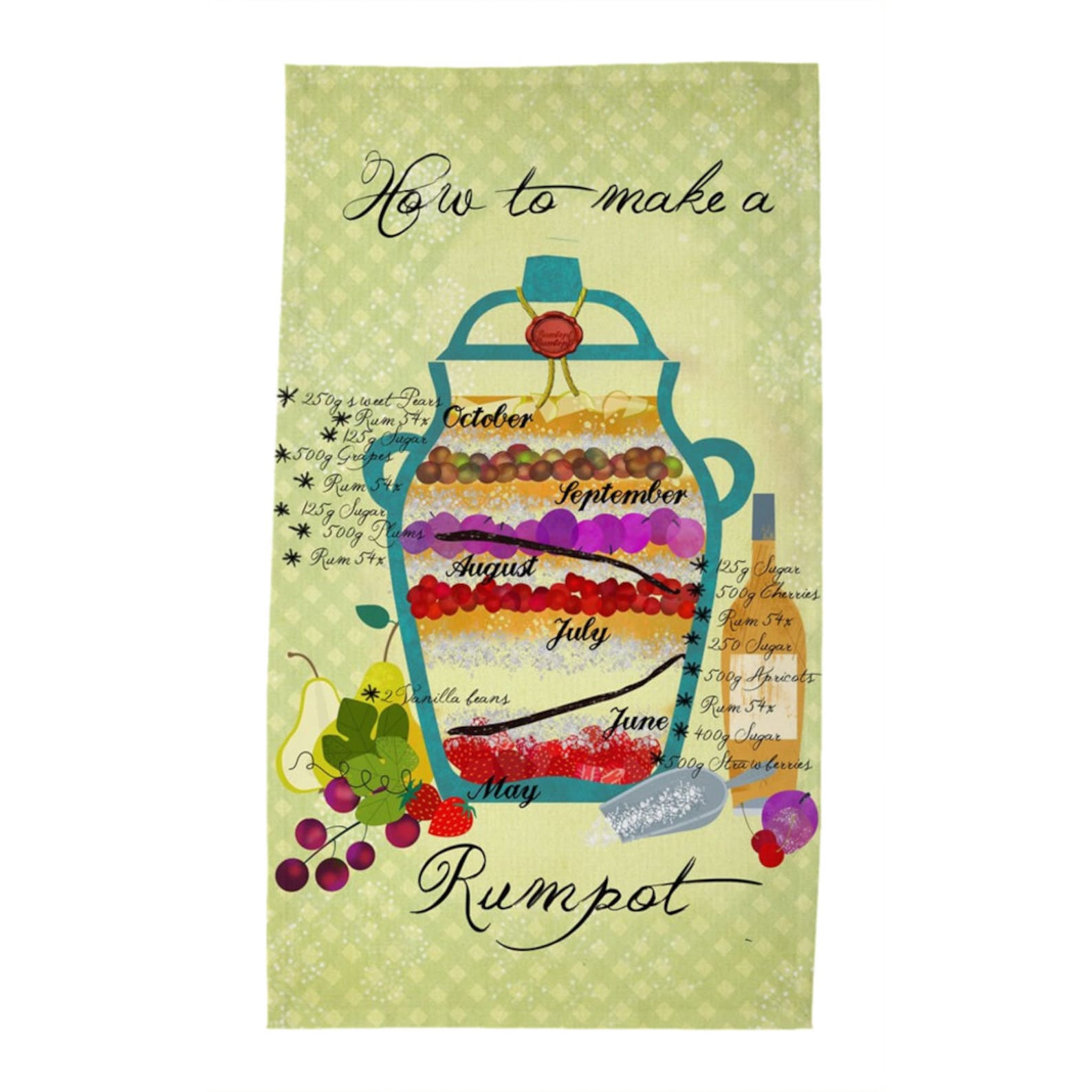 Cotton Illustrated Tea Towel With Rum Pot Recipe illustrated by Elisandra Quirky Tea Towel GiftQuirky Tea Towel Gift

Want to know how to make a Rumtopf?
A Rumtopf is a clay jar (or sometimes glass) that gets filled with fruit, sugar and then RUM. The whole mass sits for 4-6 weeks, and then you can enjoy the augmented fruits on your puddings, ice cream… or just straight out of a dish. It is a delicious way to preserve fresh fruit.
Traditionally, you start preserving the fruits in summer time, to be enjoyed during the holidays. You can go ahead and start a Rumtopf in May or June with fresh Strawberries… then keep adding more fruits as they ripen. Or stick with just one fruit (maybe make a few Rumtopf to get different flavors.)
Thanks to the abundance of fresh fruits in our Grocery Stores and Farmer's Markets, it is never really too late (or too early) to start a Rumtopf. That way, even on the dreariest days of Winter, there is a bit of sunshine in your dessert. Just make sure your fruit is RIPE. It really does taste better if the fruits are at the peak of sweetness.
How to Make a Rumtopf- A Delicious Way to Preserve Summer Fruits!
Ingredients
You need a Stoneware Pot with a Lid

Fresh Fruit

Sugar

1/2 pound for each pound of fruit

100-110

proof Rum

not spiced or flavored
Instructions
Put the fruit in the Pot with the sugar. For each pound of fruit you want to add ½ pound of sugar.

Add enough Rum to the pot to cover the fruit by 1 inch.

(You can add the fruit all at once, or add layers of fruit as you get them… even weeks later. Just remember to add more sugar and more rum to cover.  Remember, if you add more later, you get to add 4 more weeks. )

Cover the pot with plastic wrap (to prevent evaporation) then top with the lid.

Store in a cool dark place… the refrigerator is ok.

Wait 4 -6 weeks for the flavors to ripen (yes, it's ok to taste from time to time to see how it's coming along)

Eat!
Notes
**Note- The best Rum to use is 100 -110 proof, but this can difficult to find. Most places carry the 80 proof or 151. It's ok to use the 80, just test from time to time, if you feel it is starting to ferment (extra bubbles forming) add some 151 to stop it. 151 alone is too strong. 
Best Fruits for Rumtopf
Cherries
Grapes
Strawberries
Raspberries
Red Currants
Gooseberries
Pineapple chunks
Pear Slices
Nectarine and Peach slices
Plum and Apricot halves.
Peaches are best without the peel, but don't worry about peeling apricots and plums
Remember to remove stems and pits before adding fruit to the pot!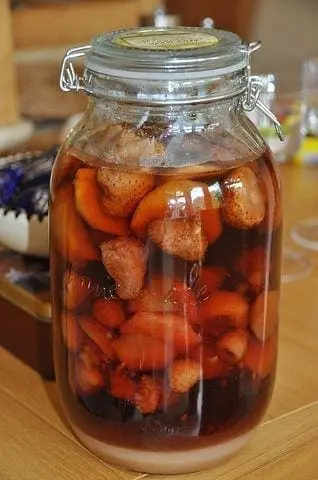 Don't Use these Fruits in your Rumtopf
Apples (they get a funny texture),
Melon (too watery)
Rhubarb (sour)
Black or Blue berries (will turn everything purple)
Citrus (too sour)
and especially… NO BANANAS (mushy yucky).
Serve your fruits over ice cream, pudding for Nachtisch, on waffles or even as a side dish for game.
Buy  Vintage German Rumtopf Pots…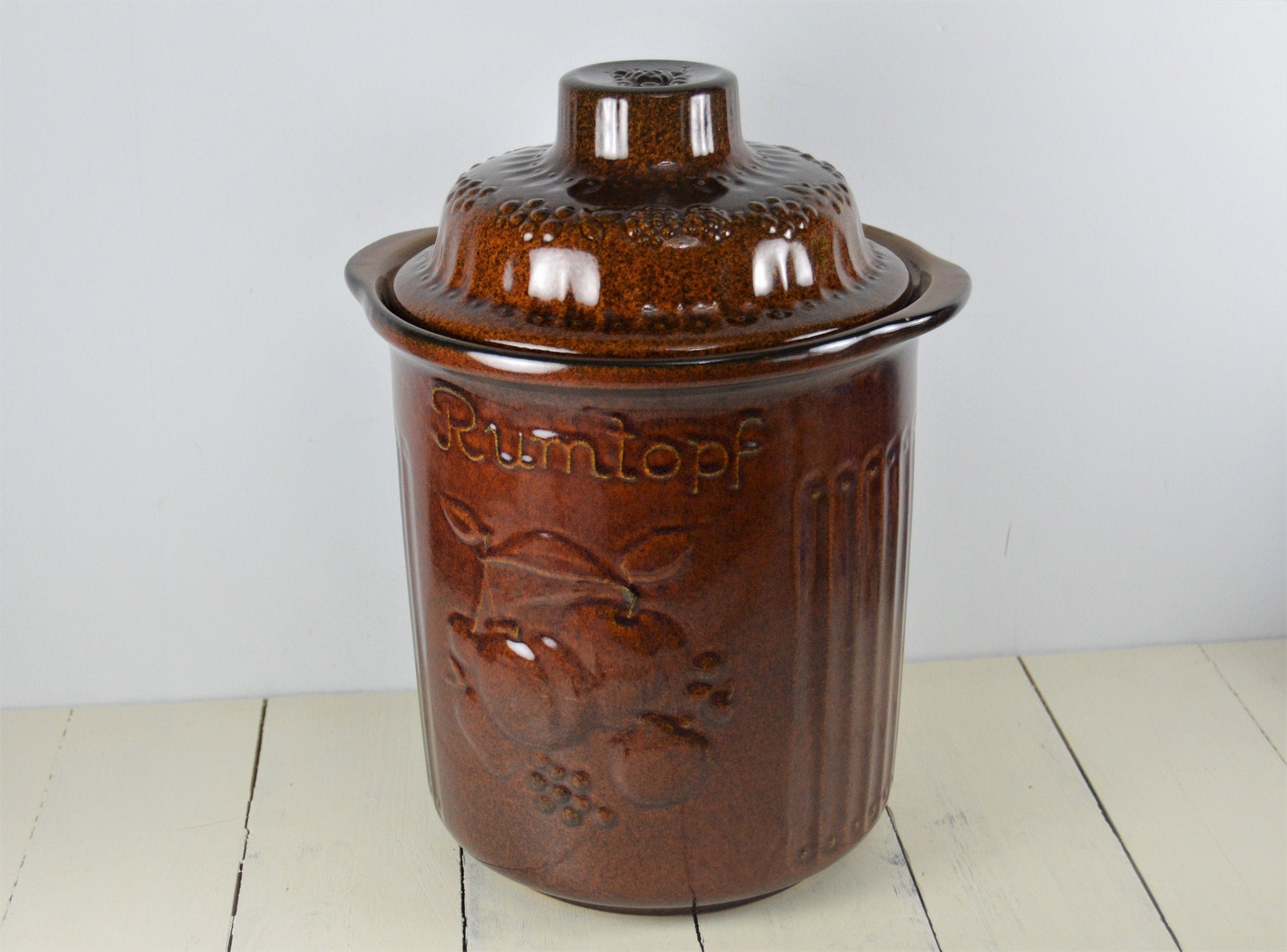 West Germany RUMTOPF Crock Jar with Lid, Fruit Rum Pot, Canister Cookie Jar, 11.5″, Handles, Embossed Raised Fruit Design, Brown, 829-29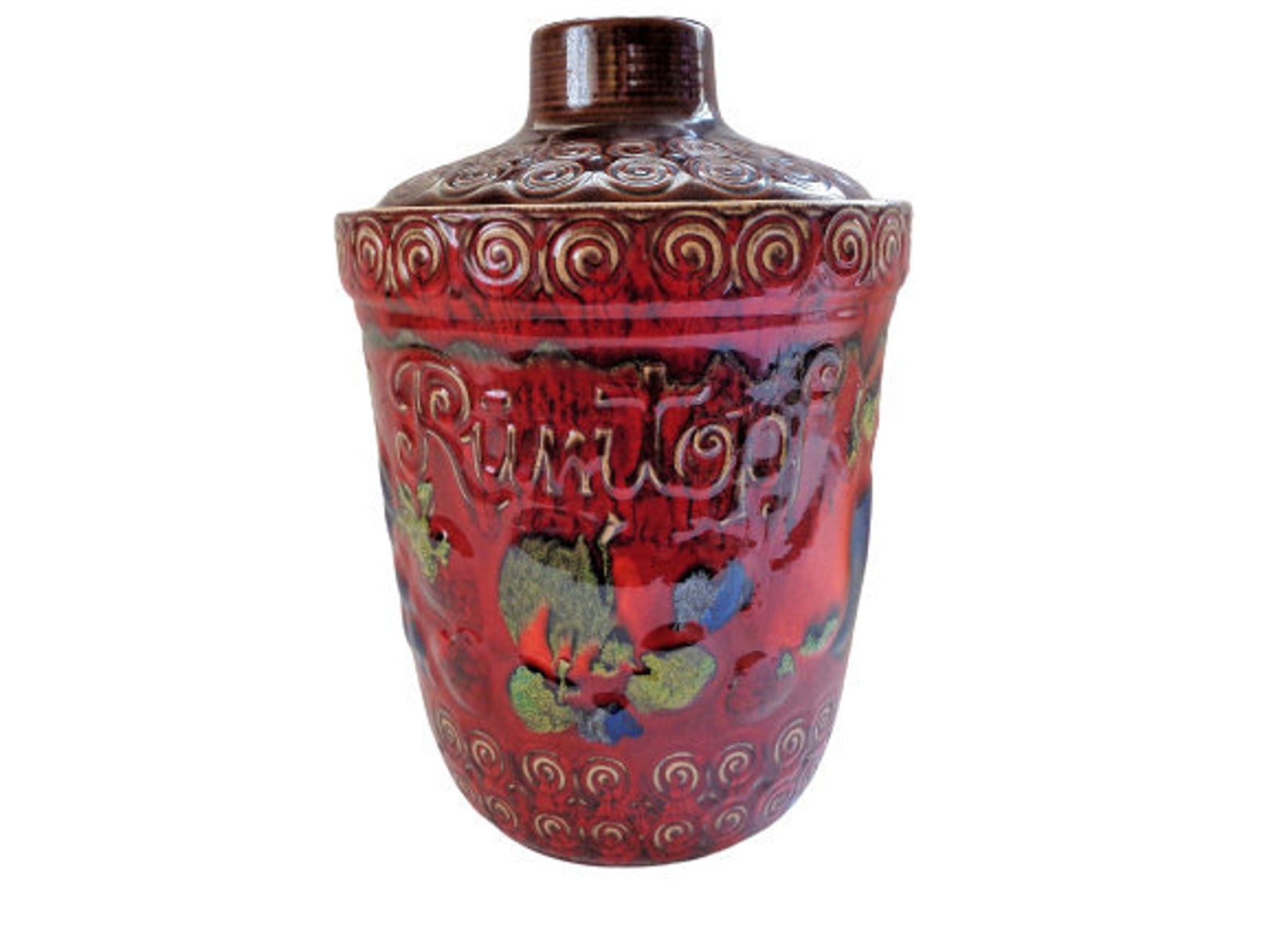 German Rumtopf, Large Pottery Rum Crock Pot, Fruits Jar, Fermenting Crock with Lid, Made in West Germany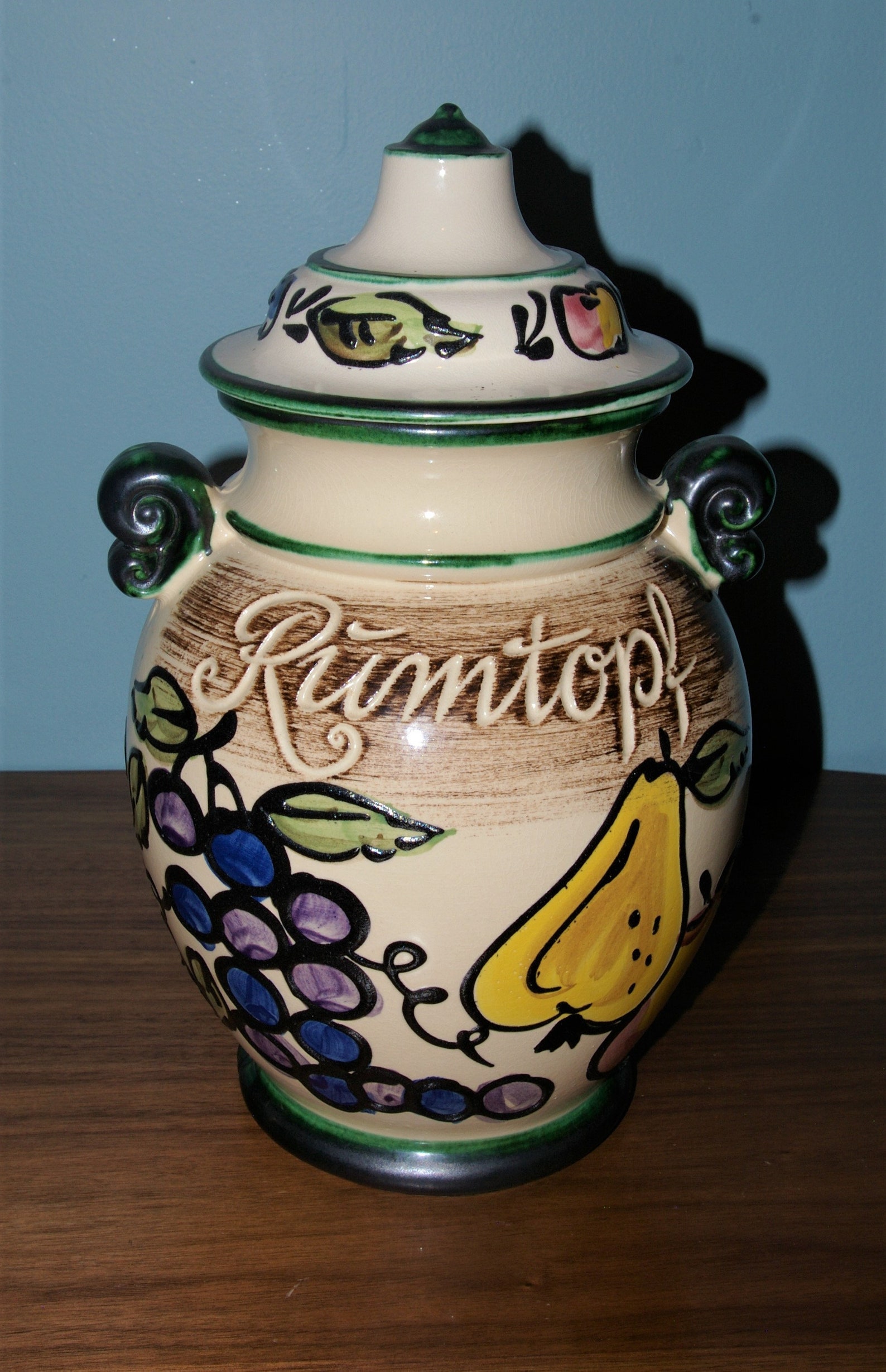 Rumtopf Cookie Jar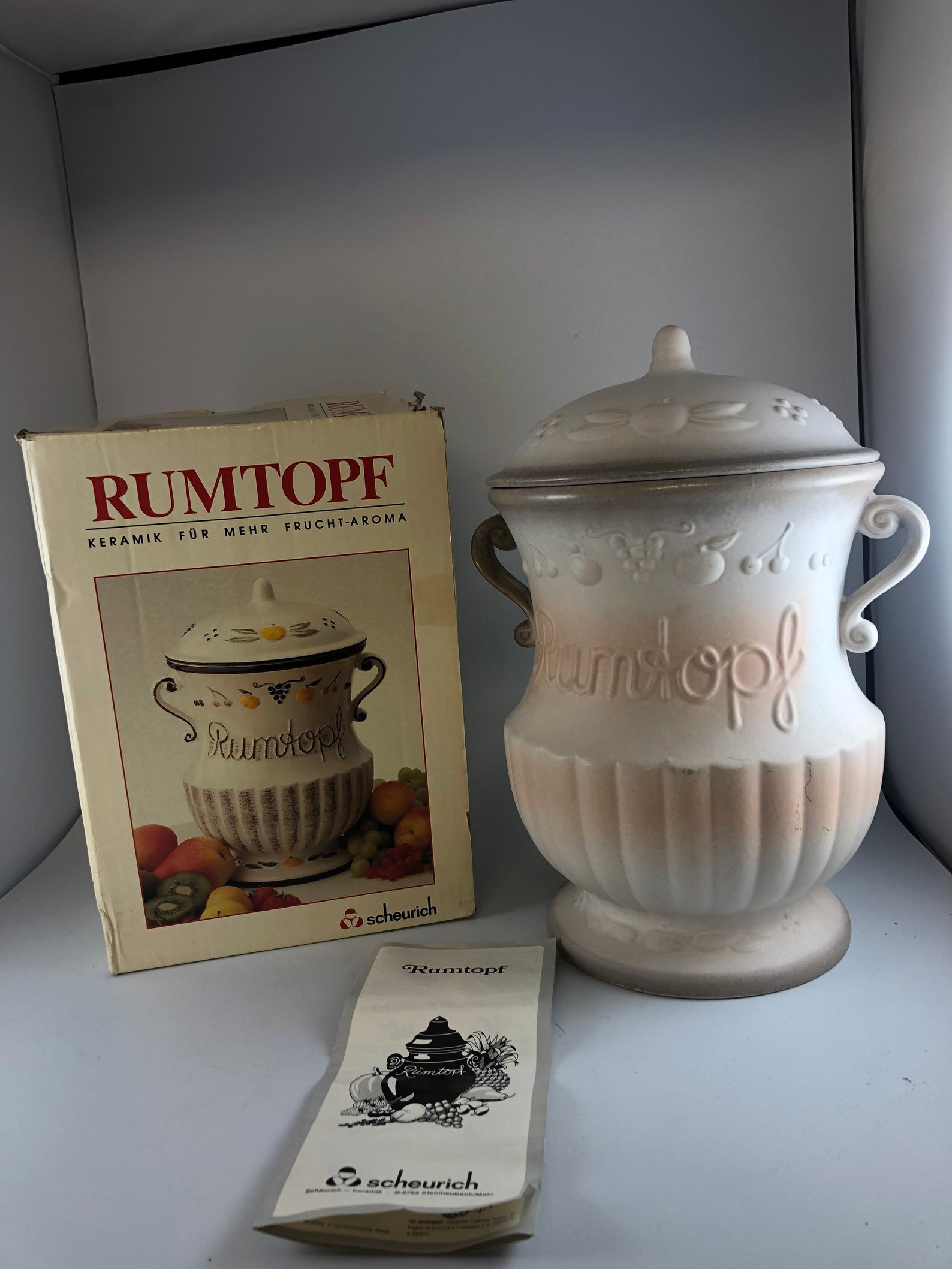 Vintage Rumtopf by Scheurich Keramic #866-32 with Lid. Made in West Germany. Unused c1960's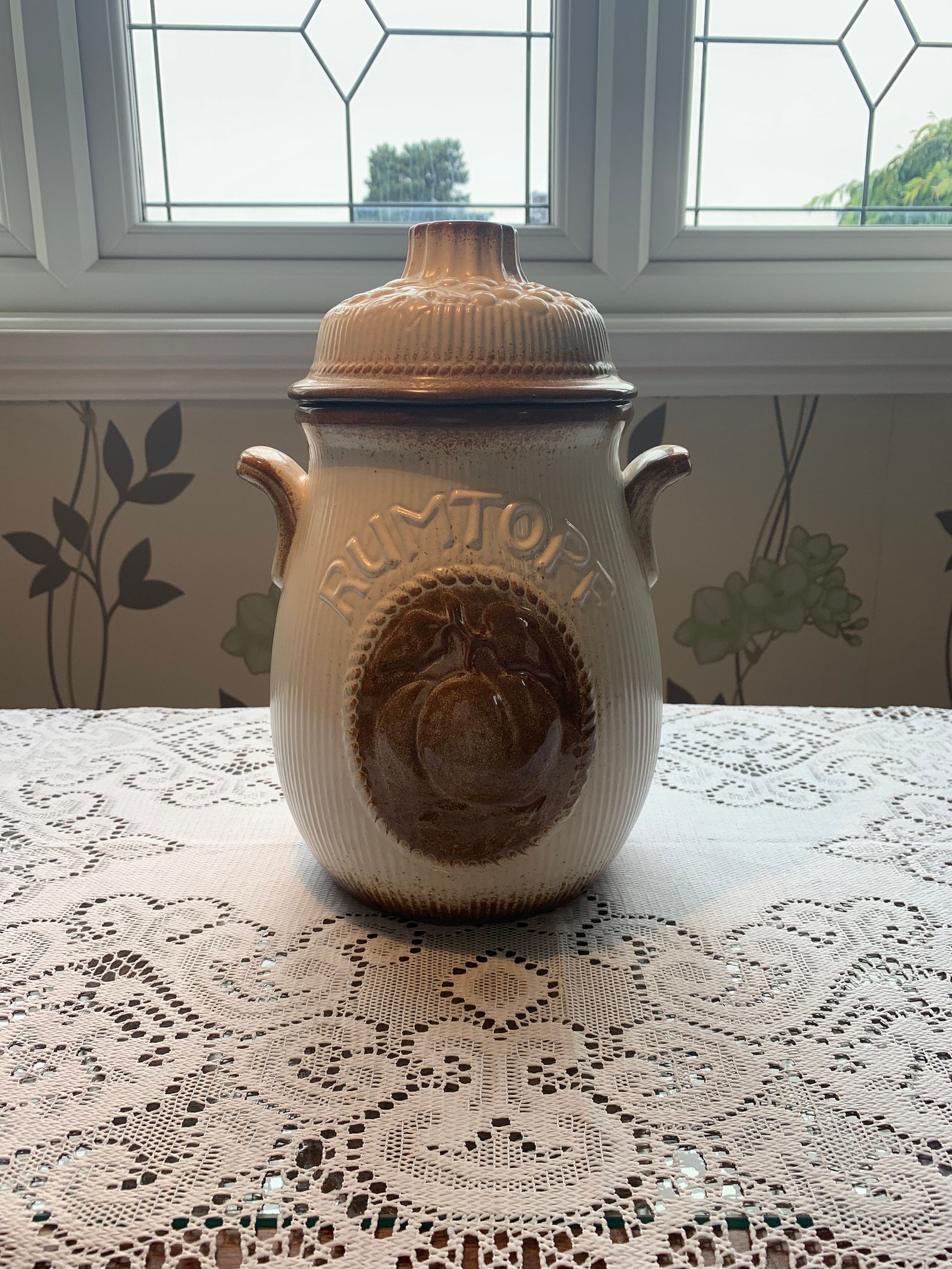 Vintage Scherich Rumtopf West Germany Ceramic Lidded jar with handles

Rumtopf Cologne pot vintage in mint condition in kobalt blue and grey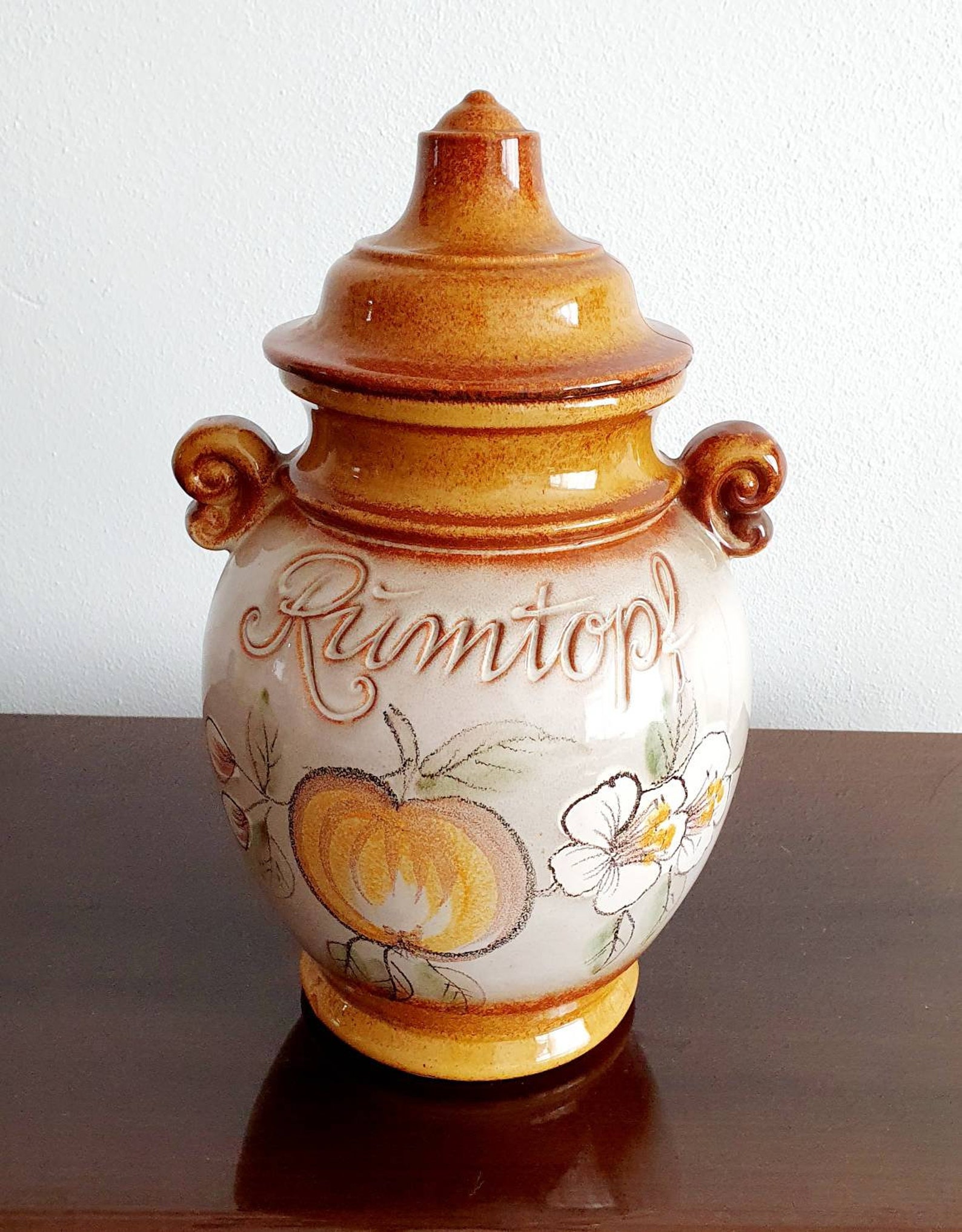 W. Germany Rumtopf handpainted.

New Ceramic or Glass Pots
Nik Schmitt 5L Rumtopf Stoneware Fermenting and Rum Pot

vivApollo Rumtopf Gärtopf Original westerwälder Kannenbäckerland salzglasierte Steinzeug Keramik (onesize 3,5 Liter, Kräuterwind)