A Visit to the Silent Night Chapel Oberndorf Austria
We've all sung it hundreds of times, in German, Stille Nacht, Heilige Nacht or in English, Silent Night.  It's THE Christmas song in most German households… the last song before the end of the Christmas Eve church Service, the last song before the Bescherung. Silent Night is a song we all know the words to in German and English. But hearing a group of people spontaneously singing Stille Nacht Heilige Nacht, while sitting inside the tiny Silent Night Chapel in Oberndorf Austria, is a memory that I will treasure forever.
Stille Nacht Story
The story behind the 200 year old song "Stille Nacht" is fairly well known. As a child I was taught that when the town church organ broke, the priest quickly wrote the song on Christmas Eve to play on his guitar. Like all legends that get passed along to kids, this one left out a few bits. The lyrics to the song were written by Father Joseph Mohr in 1816, while he was a young priest stationed in Mariapfarr near Salzburg, Austria. Just over a  year later, he was moved to the church in Oberndorf, Austria. Then the River Salzach flooded, damaging the church organ. Mohr couldn't imagine Christmas Eve without music, but without an organ, things looked bleak. He took his lyrics to Franz Xaver Gruber, an organist in the nearby town of Arnsdorf, and asked for help writing a melody for two voices and a guitar. Legend and history blur a bit, some stories say this happened a few days before Christmas, others say a few hours.
However long it took, the music was finished in time for the Christmas Eve service, a Christmas Miracle!
But how did the song spread?
(remember, this is before radio, and WELL before iTunes).
A traveling family of folk singers, the Rainers, heard the song (possibly from the Oberndorf Organ repairman), and  incorporated it into their shows. By 1822, they had performed it for Emperor Franz I of Austria, and Tsar Alexander I of Russia. From there, it spread to Leipzig and Berlin (where it was an instant favorite of König Friedrich Wilhelm IV. von Preußen), and then the simple "Tyrolean Folk Song", crossed the Atlantic when the Rainer Family performed it in New York in 1839. After this, Silent Night spread across the world to England, America, Sweden. Missionaries even took the song along with them to India and even Africa.
Silent Night Chapel, Oberndorf Austria
Because 2018 was the 200th anniversary of the first time Silent Night was sung, I had already seen pictures of the Oberndorf Chapel, yet,  I was taken by surprise how small the chapel really is. Tiny, tucked away behind a building off of the main road. The original parish church of St Nicholas was flooded many more times, and finally in 1899, the city decided that it was just too expensive to repair, so they built a new church 800 meters upstream. Still, the town wanted to remember the song with more than just a plaque on the wall of the new church. The  100th anniversary of Stille Nacht fell in December 1918, shortly after the end of WWI, and there wasn't much money to build. But the people of Oberndorf persevered through the economic depression, and on August 15, 1937, the Stille Nacht Memorial Chapel held its first service.
The octagonal building with a domed roof, and a small bell tower on top sits on top of a small hill. The Chapel looks a bit like an observatory. (And maybe in a way, it is…. only we look inside ourselves, instead of at the stars). Steps leading up to the Chapel are decorated, and there is signage EVERYWHERE explaining the significance of the building.
Silent Night Chapel Oberndorf Austria
Our Visit
We arrived shortly after another group, which meant a short wait. At 10am the souvenir shops were just bringing out their postcard racks, (and a few night owls in our group were still wiping the sleep out of their eyes). Since the sun had just burned off the mist, we admired the views, and walked around the building shivering a bit. After visiting so many imposing Cathedrals, it was hard to believe that this little round building held so much history, and so many people. In fact, when the previous tour group came out, it seemed impossible that ALL of those people fit inside! (My notes are sparse… just saying "it seemed like a circus clown car when they all kept coming out!")
Inside the round chapel are rows of benches that face an altar with the beautiful Nativity scene. Because we were there during Advent, a large advent wreath hung from the ceiling. Greenery and simple Christmas decorations filled the church. Stained glass windows told the story of Father Joseph Mohr and Franz Gruber, and shared their message of peace.
Then one of the ladies from our group spoke up, "We should sing", and the whole group came together and sang the song we learned in German as children….
Stille Nacht, heilige Nacht
Alles schläft; einsam wacht
Nur das traute hochheilige Paar.
Holder Knabe im lockigen Haar,
Schlaf in himmlischer Ruh!
Schlaf in himmlischer Ruh!
Stille Nacht, heilige Nacht,
Hirten erst kundgemacht
Durch der Engel Halleluja,
Tönt es laut von fern und nah:
Christ, der Retter ist da!
Christ, der Retter ist da!
Stille Nacht, heilige Nacht,
Gottes Sohn, o wie lacht
Lieb' aus deinem göttlichen Mund,
Da uns schlägt die rettende Stund'.
Christ, in deiner Geburt!
Christ, in deiner Geburt!
Stille Nacht has since been translated into over 140 languages. It's THE Christmas song… the one that people can sing together around the world. Including a busload of Tourists from different corners of America.
Because there is something about this song, isn't there? "Schlaf in himmlischer Ruh! Schlaf in himmlischer Ruh!" Sleep in heavenly peace.
See the Chapel on Christmas Eve…
Learn More Here
Silent Night, Holy Night

The First Silent Night

Inge-glas Peaceful Silent Night Chapel 10077S018 IGM German Blown Glass Christmas Ornament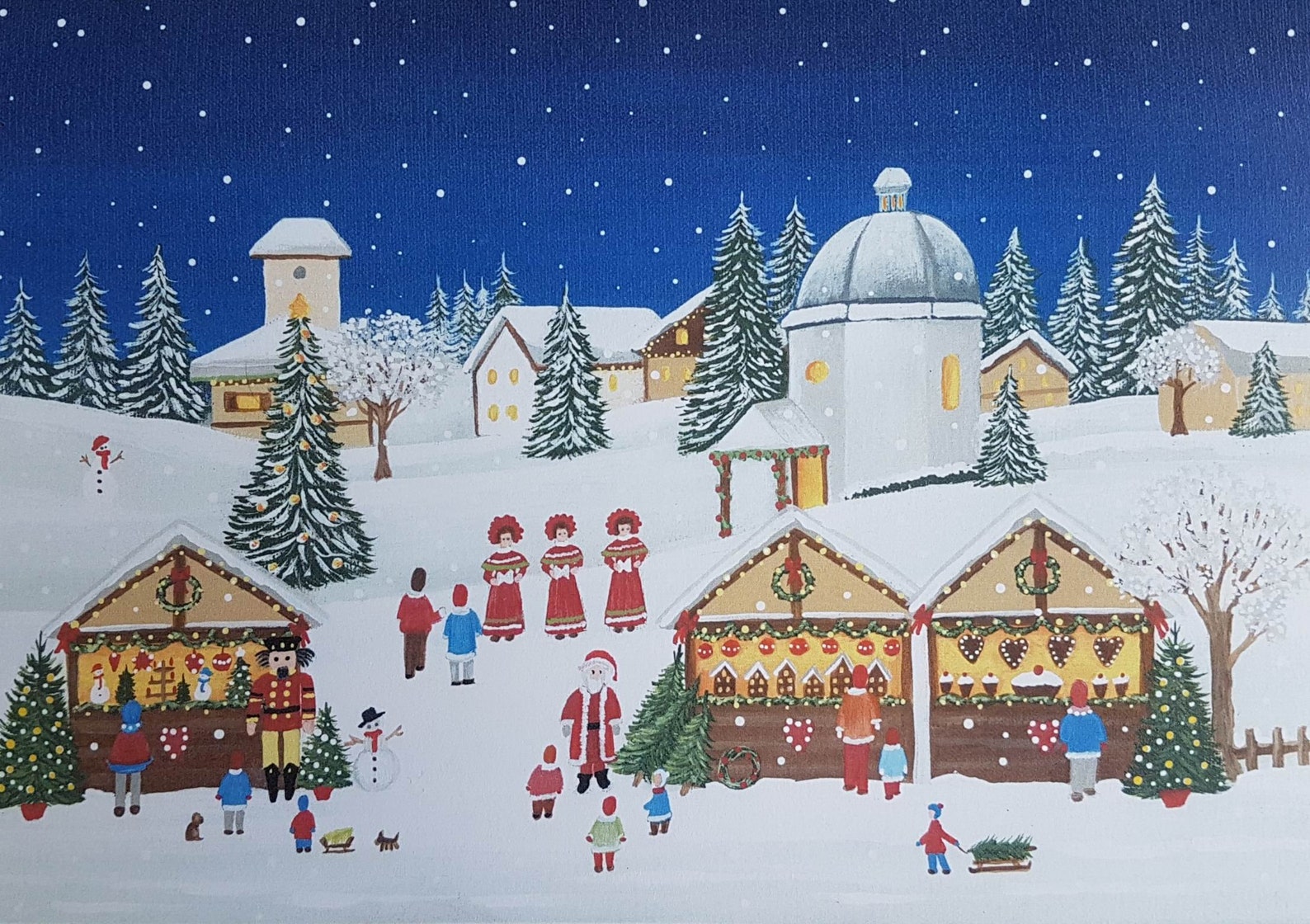 Card: Folk Art "The Christmas Market"