Streuseltaler Recipe- Tasty Pastries with Fruit and Streusel
When I arrived at the Frankfurt airport, my daughter and I needed to fill an hour before our train. Fortunately, we found a bakery at the airport… so we filled the hour and our stomachs. I grabbed a fruit topped Streuseltaler because…YUM!  A fruit compote, jam, or pudding sit on a yeast dough pastry, topped by crunchy sweet streusel, and just to send you over the top, there's a drizzle of lemony Zuckerguß (sugar glaze). And now I've worked out the Streuseltaler recipe with both metric and American measurements. Streuseltaler take some extra effort, but the results are worth it.
(The recipe is husband, neighbor, and fence repair guy approved.)
You can make a berry compote to put under the Streusel… or take a shortcut and just use a nice jam. I love Red Current (Johannisbeer) because the tartness makes a nice contrast. The German Vanilla Pudding also works well. Add lemon to your "Guss" (drizzle glaze) for an added punch of flavor.
Because it's an entriched yeast dough (there's butter in it), rising takes some time. Don't cut it short, because you will end up with fruit flavored hockey pucks. Also, don't overwork the dough, same result. Take your time, and they will be delicious with your afternoon coffee.
And yes, you can make them the day before and store in an airtight container. The one's I made yesterday were still good for breakfast this morning.
Streuseltaler Recipe
Top yours with a berry compote (basic recipe included in the main recipe) or keep things simple with jam. You can even skip the filling and just make them with Streusel.
Streuseltaler Recipe - Pastries with Fruit Compote and Streusel
Streuseltaler are the best of all worlds... an enriched yeast dough pastry, a flavorful fruit filling, STREUSEL, and a lemony drizzle... all on a portable treat. But of course, you should sit down to enjoy every crumb. 
These take a little more time, but the results are worthwhile.
I included a basic berry compote recipe, but you can use jam or pudding instead.
Ingredients
Yeast Dough:
¾

cup

200 ml milk

7

g

/ 1 packet dry Yeast

3 ¼

cup

500 gram plus 3 Tablespoons All Purpose Flour divided

¼

cup

60 gram plus 2 Tablespoons Granulated Sugar

6

Tablespoons

80 gram Butter- soft

1

Egg

¼

teaspoon

Salt
Steusel:
1 1/3

cup

200 gram All Purpose Flour

7

Tablespoons

100 gram Butter

1/3

cup

70 gram Sugar

2

Tablespoons

Vanilla Sugar

or 1 teaspoon Vanilla Extract plus 1 ½ tablespoons sugar
Topping:
3

cups

Fruit compote

Jam

Vanilla Pudding

Leave

plain
Compote:
3

cups

Fresh or Frozen Berries

2 -3

Tablespoons

Water

2-3

Tablespoons

Sugar

taste the fruit

Slurry made with 1 ½ Tablespoons Cornstarch plus 1 ½ tablespoons cold water
Zucker Guß/ Drizzle:
2

cups

Powdered Sugar

3-5

tablespoons

lemon juice
Instructions
Dough-:
Warm the milk to 100 – 100 °F (lukewarm)

Add the Yeast, 3 tablespoons Flour, and 2 tablespoons of sugar. Whisk to combine completely. Cover with plastic wrap, and set it a draft free space for 20 minutes (I set it in my unheated oven).

When it's nice and foamy.

I use a stand mixer, but you can use the bowl and mixer of your choice….

Put the rest of the flour, sugar, salt, butter and egg in the mixing bowl, start mixing to bring it together. Add the yeast/milk mixture and continue to mix until a sticky smooth dough forms. Knead the dough for 10 minutes (by hand or with a dough hook). Form a ball with the dough, place it in a bowl with room to rise, cover with plastic wrap, and let rise for 1 hour to double in size.

While the Dough is rising, make the Compote so it has time to cool.
Compote-:
Add fruit, water, and sugar to a medium sized saucepan, and cook over medium heat. The fruit will soften (defrost) and eventually begin to boil. Taste to see if it's sweet or tart enough. Adjust with sugar or lemon juice to your taste. Make a slurry with cornstarch and cold water (it should be smooth). Pour into the bubbling berries… stir for another minute. Turn off. Pour the berry compote into a bowl to cool off.
Now make the Streusel:
In a mixing bowl, by hand or machine, combine the flour, sugar, and vanilla sugar. Cut the butter into small pieces and add to the flour/sugar. Mix together until it looks like damp sand. If you squeeze the mixture in your hands it will clump. Set into the refrigerator until needed.

Prepare 2 baking sheets by covering them with parchment paper.

When the Yeast Dough has doubled in size, turn it out of the bowl. You DO NOT want to overhandle it.

Just dump it out. Use a knife or cutter to cut the dough into 12 pieces. Loosely make a ball out of each piece, then roll/flatten each ball. Fingers are good for this. They will be around 4 inches in diameter (don't measure, just eyeball it… unless you are baking for Paul Hollywood) Place on the prepared baking sheet. I get 6 on each.

Fill the center of each dough disk with a 2 -3 generous tablespoons of compote (or whatever filling you choose)

Top the dough and filling with streusel by squeezing the crumbs in your fist, and sprinkling them over the unbaked pastry. Some will fall off, it might look messy. It's fine.

Let rise for 15 minutes while you preheat the oven to 350°F
Bake:
Bake, one sheet at a time, for 15 minutes… then check. If they aren't brown yet, give them 5 more minutes. Don't go longer than 20.

Remove the pan from the oven (shove in the second one). And move the parchment filled with pastries to a cooling rack.

Repeat with the next set.

Let them cool at least 15 minutes before adding the Guß. (Drizzle)

Put the powdered sugar in a mixing bowl. Whisk in the lemon juice a tablespoon at a time. You want the consistency of white glue. Too thick won't drizzle, too thin will vanish into the pastry. Adjust till it feels right. Drizzle over the pastries with a spoon…. Fill the spoon, and let it fall off onto the pastry while you go back and forth. Easy.

Eat.
Notes
Don't rush the rising time... and don't overwork the dough once it's risen. 
Simply turn out the risen dough onto your surface, cut it to 12 pieces, and gently roll/press with your fingers to make a flat-ish disk
Easy German Cookbook
Like this recipe? Find 80 Classic German recipes made simple for the American Kitchen in my Easy German Cookbook.
Order a signed copy… or from Amazon here…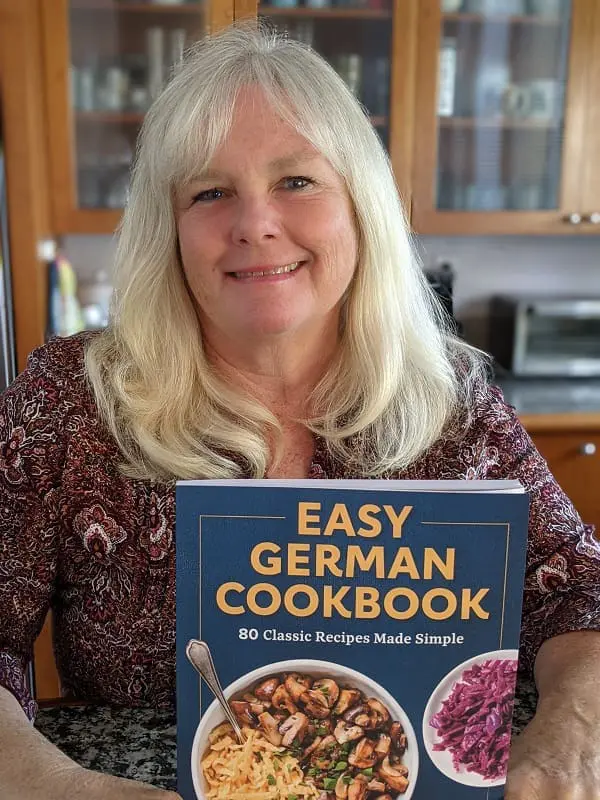 Easy German Cookbook SignedGermanGirl Shop
Easy German Cookbook: 80 Classic Recipes Made Simple

Why are they called Streuseltaler?
Streusel, because they are covered in delicious crunchy sweet Streusel….
And Taler is another word for coin. (also written Thaler). That's a big coin!
Red Currant Jam or Vanilla Pudding are Great Fillings!
Red Currant JamGermanShop24
Dr Oetker Bourbon Vanilla PuddingGermanShop24
Step by Step
Combine the warm milk, yeast, some flour, and some sugar … whisk… cover… set aside until bubbly (20-30 minutes)
Shape the kneaded dough into a ball, cover with plastic wrap set in a bowl to rise.  I set mine in the oven without heat.
Let rise for an Hour. It should double in size
Without deflating or working… cut the risen dough into 12 pieces (You can make fewer if you want bigger Streuseltaler)
Gently shape each piece to a ball
Use a rolling pin and your fingers to press the dough to a disk. Place on a parchment paper covered baking sheet
Fill the center of each disk with compote, jam, or pudding
 A few Tablespoons of filling should work

Top with a generous amount of Streusel
Don't worry if extra spills on the baking sheet… just put as much as possible on the pastries. The spilled streusel will be nice for nasching. 
Let rise another
When they've cooled… drizzle with the lemony sugar glaze
Enjoy!

Look at all that filling!
Simple Berry Compote
Put the berries, a few tablespoons of sugar, and a few tablespoons of water into a pot, and bring to a boil, stirring occasionally. 
When the mixture has cooked down a little, and the taste is satisfactory, combine cornstarch and cold water to make a slurry… add it to the bubbling berries. Stir and continue to cook for another minute. Remove from heat to cool.