German Cherry Streusel Cake Recipe
My husband did not want me to share this German Cherry Streusel Cake Recipe. Why? Because he loves it so much, he wants to keep it all for himself. But, I explained to him that although it IS cake, if I share it, there will still be plenty left over for him. (And besides, after baking it 4 times this week, he should be satisfied for a while).
This recipe came from my mother at Christmas (probably the best present she could give her SIL). What makes it extra special is the shortcut that people baking with American ingredients can make. You see, unlike many Streusel + Fruit cakes in Germany, this one contains a filling, sort of like a pie. And my mom, crafty as she is, took a short cut and substituted pie filling for the original recipe. Before you get excited that I've "wrecked a traditional German recipe"… know that I wrote this up with the original "cook the cherries with a thickener" recipe! (It's up to you if you want to take my German mother's shortcut. Honestly, it comes out pretty much the same).
Dr Oetker (the Betty Crocker of German Cooking) produced a recipe for Kirsch Streusel Kuchen. The recipe consists of a simple cake bottom, filling, and streusel top. It bears an interesting resemblance to an American Cherry Pie. Only it's BETTER. I adjusted the base recipe a bit with my mother's other secret ingredient… I added some almond flour. The result? A cake with a delicious and "light" base, a tasty tart filling, and a crunchy streusel.
Did I mention I baked it 4 times this week… and he still wants more. THAT is how good it is.
German Cherry Streusel Cake
The trickiest part to making this cake is finding the cherries. Sour Cherries or Morello Cherries taste the best, but finding the jars at Trader Joes or Aldis is hit and miss. Besides, not everyone has these stores nearby. This time I tried something different. My local grocery store carries bags of frozen cherries that are a mix of sweet and sour. I cooked them up, and the flavor works very well. Using just sweet cherries might give you a very sweet result (maybe add a bit of lemon juice). Since there isn't a lot of sugar in the cake itself, the filling balances the flavor.
And honestly, if you have a favorite cherry pie filling, use it. My mom does, and it tastes just as good. I also tried a mixture of canned filling plus some additional cherries so that there was less "goo". Also fabulous. Play with it…see what you like. As long as you end up with around 3-4 cups.
(mom's version… with cherry pie filling from the can)
One more thing.
I used a food processor to make the dough/streusel to keep it from getting overworked. You can use a mixer, but when you come to adding the butter, use a pair of forks or a pastry cutter. You don't really want to "mix" it… you want that butter to be cut into the flour. It should look like sand, not like a dough. There are photos below, so that you can understand what I mean.
German Cherry Streusel Cake Recipe
This amazing German Cherry Streusel Cake recipe comes from a collaboration between Dr Oetker and my German mother. The cake contains a generous amount of cherry filling, and the streusel topping is perfectly crunchy and delicious. 
Top with powdered sugar and enjoy at your next Kaffeeklatsch
Ingredients
Cake and Streusel:
2

cups

250 gram Flour

½

cup

50 gram Almond Flour

1

teaspoon

Baking Powder

1/2

cup

Sugar

Pinch

Salt

1

teaspoon

Fresh Lemon Zest

1

cup

225 gram Butter

1

slightly beaten Egg
Filling:
4

cups

approx. 750 gram Sour/Sweet or Mixed- Cherries (Fresh or Frozen)

½

cup

120 ml water

1/3

cup

70 gram sugar (adjust to taste)

2 ¾

Tablespoons

20 gram Cornstarch

Powdered Sugar to top
Instructions
Filling:
Make the Filling first, so that it has a chance to cool.

In a medium saucepan, combine the cherries, water, and sugar. Heat over medium flame until the pot comes to a boil. Stir in the cornstarch slurry. Continue stirring until it returns to a boil, reduce heat and let boil for a minute until the mixture clears up. Pour into a bowl to cool while you prepare the cake. (note- I pour the cherries into a large flat baking pan to cool faster if I didn't plan ahead)
Cake:
Preheat the oven to 350°F

Prepare a 9 inch Springform Pan by greasing the bottom and sides

In a food processor or mixing bowl, combine the Flour, Almond Flour, Baking Powder, sugar and Salt. Pulse to combine completely. Add Lemon zest, pulse to combine.

Add the butter 1 tablespoon at a time. Pulse a few times with each addition. (If you are using a mixer, cut the butter in with a pastry cutter or fork). Continue pulsing until the butter is cut in completely. You don't want lumps. But don't overmix to make it come together.

Beat the egg in a bowl. Pour it in.

Use a fork or pulse to incorporate the egg.

It should look like sand. (Don't worry if there are still signs of egg…)

Pour 2/3 – ¾ of the mixture into the prepared springform pan. Spread it around, then press into the bottom, and up the sides about 1 ½ inches.

Pour the filling in. (Focus on getting the cherries in first. You may not need all of the gooey liquid part).

Sprinkle the rest of the dough over the cherries by grabbing it, and squeezing it into clumps, then sprinkle it out over the cake. Cover the cherries as much as possible.

Bake 45 minutes at 350°F

It should be just browning on top.

Let the cake cool in the pan on a rack. Don't rush this part.

Decorate by dusting with powdered sugar.

Enjoy

The cake tastes excellent the next day as well.
Notes
Canned Cherry Pie Filling makes a decent substitute for the cherry filling in the recipe. Go ahead and add more cherries if you like. You will need 4 cups total.
Easy German Cookbook
Like German Cooking? Check out my Easy German Cookbook containing 80 Traditional German Recipes! You can even get a signed copy…
Easy German Cookbook: 80 Classic Recipes Made Simple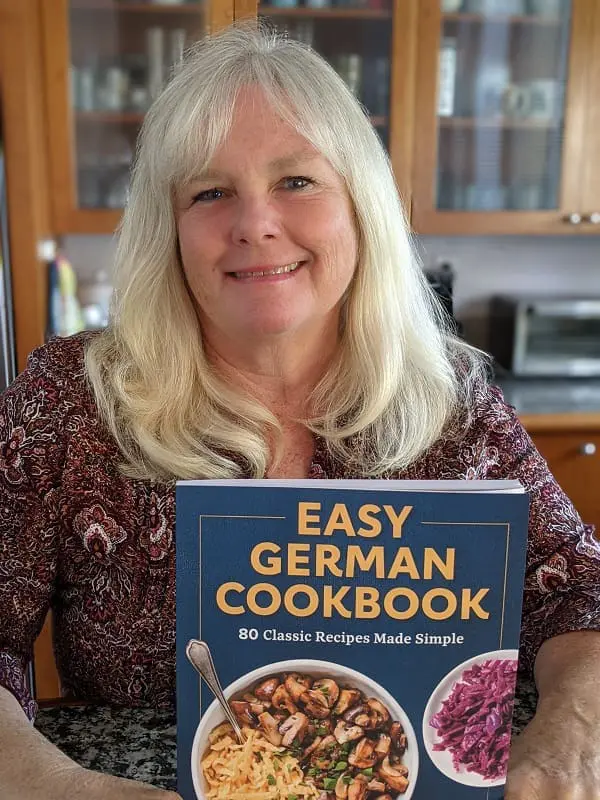 Easy German Cookbook SIGNEDGermanGirl Shop
Step By Step German Cherry Streusel Cake Recipe
Prepare the filling by cooking the Cherries with water and sugar, then add a slurry of cornstarch
The Cake part should look like this… wet sand.
Don't overwork it!
Kaiser Gourmet springform pan, Ø 26cm. Good Non-Stick Coating, Leak-Proof, Ergonomic Stainless Steel Clasp

Calphalon Nonstick Bakeware, Spring Form Pan, 9-inch

Press 2/3 to 3/4 into the bottom and up the sides of the springform cake pan
Fill with Cherry Filling (I went a little crazy). You can leave off some of the liquid if you don't like it too wet
Top with streusel. Squeeze it in your hand, and let it sprinkle over the cherries
Bake 45 minutes until golden… let cool completely
Dust with powdered sugar. I find it easiest to put the sugar in a sieve and shake it over the cake
Serve
If you don't want it too liquid, add more cornstarch to the slurry while cooking the cherries…. also be careful to just fill with cherries and a little of the liquid.
Do know that as the cake cools completely, it gets more stable. (I couldn't resist cutting into a warm cake)