What is a Strandkorb? And where can You BUY a Strandkorb?
I still remember the first time I saw a Strandkorb (a "Beach Basket") on the beach. Since I grew up in California, it was wildly confusing… I mean, when we went to the beach, we just needed a few towels, a cooler with drinks and snacks, MAYBE a folding chair (if you felt like schlepping it), and possibly a sun umbrella to protect from the sunburn (that I would get anyway). Who would need a GIANT basket chair? And why on earth would you face it AWAY from the water? But truly, the Strandkorb is an ingenious German invention that over the past 125 years has spread from the Baltic (Ostsee) to the North Sea (Nord See) and beyond!
Today you will find these practical and rather comfortable basket chairs in backyards and even cafes! They are so deeply embedded into German culture that you will find them everywhere from music to mystery novels! People vacation in them, Thomas Mann hid out in his, and more than one couple has become engaged in "their" Strandkorb.  So, how did they come to be? What IS a Strandkorb? And how can you get one for your own personal use?
Use Coupon Code: summerend
(Sale through September 30, 2023)
Note, this post contains affiliate links where I am paid a percentage for products sold, at no extra cost to you.
What is a Strandkorb?
"If you are going to stick Nobility in a Laundry Basket, it had better be brilliant"
It all started with a young basket maker in Rostock (on the Baltic Sea) named Wilhelm Bartlemann. As the story goes, in 1882, a young noblewoman named Elfriede von Maltzahn, who suffered from Rheumatism,  came into his workshop and asked him to make her something that she could sit on while enjoying the health benefits of fresh air at the beach.  It should also protect her from wind and sun, and it goes without saying, it should be comfortable.
Wilhelm Bartlemann came up with a simple single seat "Beach Chair" protected by a basket made from wicker and cane that wrapped around the back and over the top. Simple and practical. (And it was just called Beach Chair… the guy really had very little marketing imagination).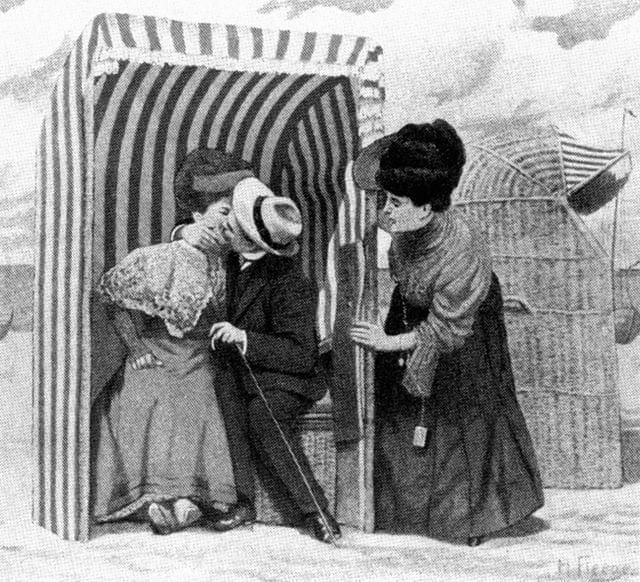 Public Domain photo
At first people laughed, they called it an "upright laundry basket". But… then they realized… Elfriede von Maltzahn looked very comfortable sitting on her wicker throne out of the wind. Orders came pouring in for more beach chairs. By the next year, Wilhem Bartlemann devised a 2-Seater beach chair, and sales took off.
Still, it was Wilhelm's wife, Elizabeth Bartlemann who had the real stroke of genius… she formed a company to RENT the famous beach chairs on the beach at Warnemünde. Renting is where the real money was… visitors to the beach town could pay to use a chair without worrying about what to do with it after their holiday.
Unfortunately, Bartlemann failed at his patent attempt, too many others had started building beach chairs… making changes and improvements like footrests, armrests and adjustable backs. By the 1900s, the Beach Chair was a common site. By 1925, master weaver Carl Martin Harder started a company called "Strandkorb", the which makes most common beach chair in Germany. (It's also the oldest and longest running company making Strandkörbe, since Bartlemann's company was wiped out by a bomb in 1942).
Baltic vs North Sea Strandkorb
Believe it or not, there are two distinct styles of Strandkorb. The Baltic (Ostsee) version has a rounded top and back (it looks curved), while the North Sea (Nordsee) version is squared off (more of an angle). I'm unaware of any fighting or arguments about which is better… I imagine it's a "geschmack sache" (matter of personal taste).
Strandkörbe EVERYWHERE
Use of the Strandkorb spread across the beaches of the Baltic and the North Sea and beyond. Most beach visitors pay a rental fee of anywhere from 7€ to 12€ for a day's use. And return visitors are very protective of what they see as "their" Strandkorb… often reserving them a year in advance! (So don't think you can just wander out to the beach at 6am and throw your beach towel into the Strandkorb of your choice… there are rules…and the Strandkörbe are locked up when not in use).
The Strandkorb Today
Today's Strandkörbe have modern amenities that Bartlemann never would have dreamed up in his wildest imagination. Not only do you find comfortable slide away foot rests and magazine/newspaper holders… Strandkörbe have fold out tables, tucked away coolers, heated seats (yes, heated seats on the beach… if you've EVER been to the North Sea, you know why) as well as lights and 12 volt plugs powered by solar panels!
The biggest change came about because people got bigger… today you can buy an XXL Strandkorb! Big enough for three or four people (and to satisfy the customers who need that extra space).
Garpa is a German manufacturer that produces beautiful and long lasting Strandkorbe using solid Teak and high quality fixtures, perfect for your Balcony or Garden. Choose from three different waterproof fabrics! These Strandkorbe are loaded with fantastic extras to make them more comfortable. For the first time, Americans can buy Garpa products exclusively through Seattle-based CurranHOME. Click here to see the Garpa Strandkorbe
What is a Strandkorb doing in the Garden?
Another modern change, finding Strandkörbe off the beach. Because they are comfortable, and perfect in different weather situations, some people are choosing to put a Strandkorb in their garden. Some outdoor restaurants and cafes are also using them to shield customers who want to be outdoors in less than ideal conditions.
I've even seen them in Beer Gardens!
Where Can You find a Strandkorb for Sale?
Would you love to have a Strandkorb in your Garden? It is possible to by Strandkörbe in the United States! Strandkorbe.us has a fabulous selection of colors and styles, including the Iconic Strandkorb with Blue and White Stripes! Find your perfect 2 person, wicker and hardwood framed, four position reclining Strandkorb. Includes neck rests, side tables, newspaper holders and footrests. Weatherproof materials. Will fit well on patios or balconies.
Strandkorb™ Baltic Sea Model 2023, Blue-Grey CheckeredStrandkorb.us
Strandkorb™ Baltic Sea Model 2023, Red-Cream StripedStrandkorb.us
Strandkorb™ Baltic Sea Model 2023, Green-White StripedStrandkorb.us
Strandkorb™ Baltic Sea Model 2023, Yellow-White StripedStrandkorb.us
 Luxury Strandkorb Model
Fabulously comfortable, and built to last! This special Luxury Strandkorb comes with portholes! As well as 2 foldable side tables as well as 4 newspaper pockets (two on each side). Stainless steel hinges mean that it won't rust, no matter what the weather. These Luxury Strandkorbe come in a variety of colors, find the one that fits perfectly into your lifestyle.
Luxury Strandkorb™ Baltic Sea with PortholeStrandkorb.us
Strandkorb™ Albatros stone grey 107Strandkorb.us
Strandkorb™ Albatros stone grey 234Strandkorb.us
Perfect for the Biergarten, a Shaded Stammtisch!
Stay cool and shady while enjoying your refreshments. This fun "Strandkorb" seats 6 in style on bench seats. This commercial grade wicker Strandkorb includes portholes (fun) and 2 additional side tables.
Strandkorb™ Lounge Blue Striped seats up to 6Strandkorb.us
NEW! 3 Seat Model!
The whole family has some space in these beautiful 3 seat models!
Strandkorb™ Baltic Sea Model 2023, Grey 3-SeaterStrandkorb.us
PROTECT YOUR INVESTMENT
Strandkörbe are built with weatherproof materials to withstand the elements, but sun, rain, wind and snow will take their toll over time. It's best to cover your Strandkorb in the "off season" with a protective cover. Covers come in Blue and Grey, and for both 2 and 3 seater models.
Blue Cover for Basic Strandkorb 2-SeaterStrandkorb.us
The Strandkorb is a Perfect Resting Spot…