Castle Frankenstein in Germany- A Castle Swirled in Mystery and Legend
In 2019 my partner, joined my daughter and I in Germany. Since he had never been to Germany before, and because I have a strange sense of humor, AND because Frankenstein was my daughter's favorite book when she was younger, we decided to take him straight from the Frankfurt Airport to the Frankenstein Castle. It was a beautiful Summer's day (still months away from the annual Halloween Festival), so we weren't scared of monsters or things that go bump in the night. The three of us enjoyed climbing around the ruins and tried to imagine what the castle was like before its destruction.
Today, Castle Frankenstein in Germany is a tourist spot without a big Tourist presence. What's left of Burg Frankenstein today isn't much…two towers, a few partial walls, a chapel… but it's enough to spend time exploring. The city uses the location for jazz concerts, murder mystery dinners, author events, and festivals (there's plenty of parking). We missed the Culture Festival featuring Frankenstein the Musical by only one day.
And since 1977, the Burg comes alive on Halloween for the biggest Fright Fest in Germany!
Castle Frankenstein in Germany
But I wondered…. Is Castle Frankenstein in Germany the setting for Mary Shelley's book "Frankenstein – the Modern Prometheus"? Was there REALLY a Dr. Frankenstein? and did he cobble body parts together to create a monster?
August 30th is Frankenstein Day!
Well…. no. Not really. But there are some connections to Shelley's Gothic novel, and some interesting legends surrounding Burg Frankenstein. So, turn on all the lights, lock the doors, and read all about Castle Frankenstein….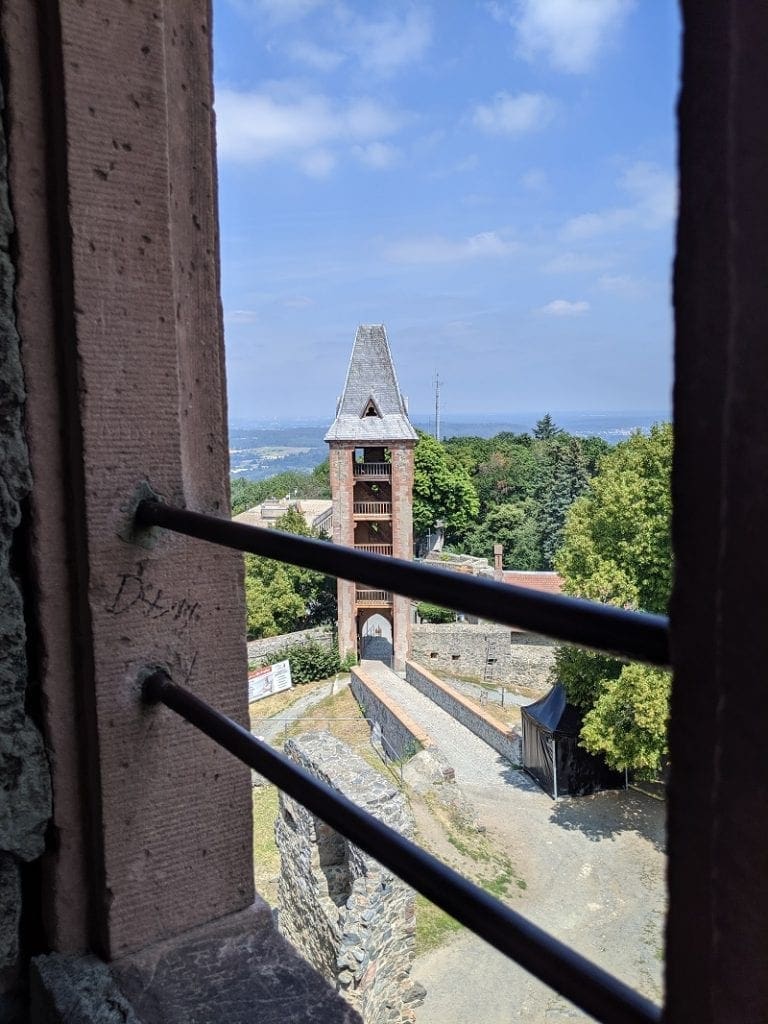 Visit Castle Frankenstein
It's a quick 30 minute drive South on the A5 from the Frankfurt Airport to Castle Frankenstein. When you leave the Autobahn, you travel winding mountain roads up to the parking lot… and then it's a quick walk to the castle. (Note… for you energetic people, there is a longer hiking trail that starts at the bottom of the mountain).
I'm not sure what we expected. We just walked through the gates. Since it was Tuesday, there weren't many people there (note- the restaurant/cafe is closed Monday and Tuesday and fair warning, the restaurants in the nearby town of Eberstadt are also closed on Monday and Tuesday).
Castle Frankenstein is a place to let you imagination run wild. Stone Walls and worn stairways… you can climb up into the tower and peer out the arrow slits and windows. The views go on for miles, and you can almost make out the Rhine. (This is important later). I'd say it's almost like a movie set with an unfinished feeling (have you ever been to a movie studio? Nothing is quite "done"). But, it feels all too REAL, too Permanent. The wear on the stones clearly came from thousands of feet treading on them… and there is a sense that something HAPPENED here.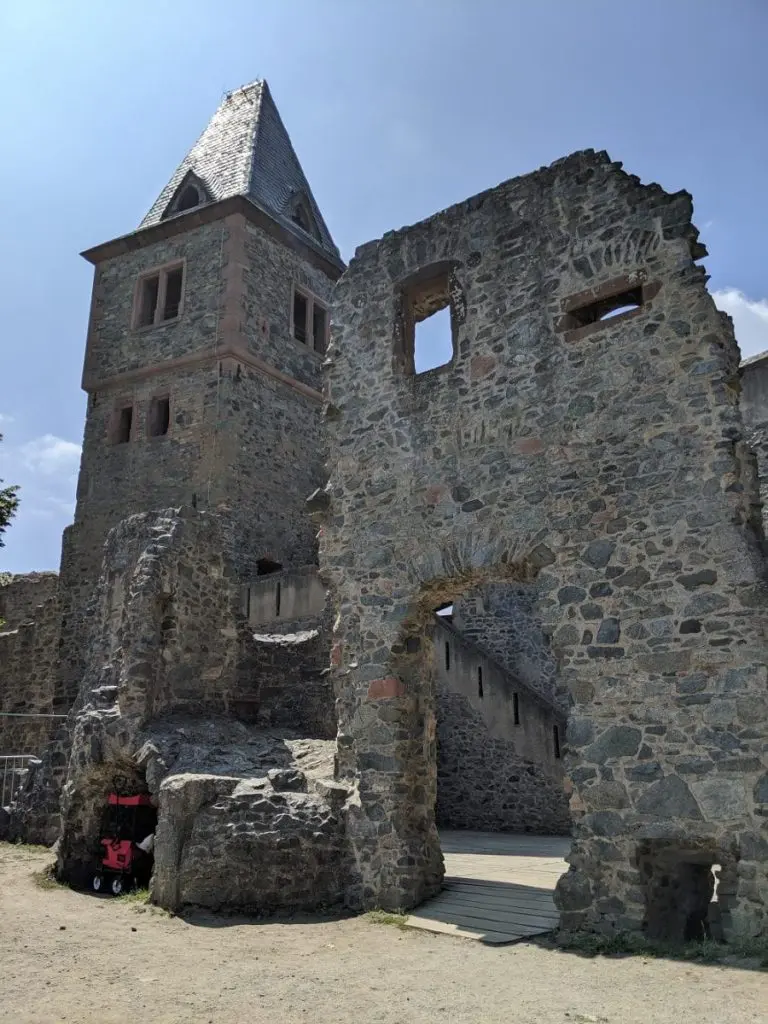 So…Is the Story of Dr Frankenstein and his Monster based on Burg Frankenstein?
What's interesting is how many historians and amateur sleuths (like Radu Florescu) studied this very question. And there are some connections to fuel the idea.
Let me tell you a story. There are quite a few layers to sift through…
Frankenstein – Or, The Modern Prometheus

Mary Wollstonecraft Shelley wrote and published a book in 1818 called "Frankenstein; or the Modern Prometheus". This story about Viktor Frankenstein and the creature he creates is considered to be the first Science Fiction novel, and is now a classic of Gothic horror. But where did the idea for this groundbreaking story come from? Is the novel based on the events of Castle Frankenstein near Darmstadt, Germany? 
In 1814, at the age of 17, Mary Wollstonecraft sailed along the Rhine on the way to Lake Geneva. With her was her sister, and her then fiance, Percy Shelley. On September 2 the weather conditions were a bit rough, so the captain tied up at Gernsheim for the evening. As the crow flies, Gersheim is 16 km from Burg Frankenstein which lies high on a hill. The question is… did Mary Shelley go up to the Castle during her overnight stay? Could she even see it? There is nothing in her diary, although some speculate that she may have gone and have kept the visit a secret.
But why go to the Castle? What would draw her up there? And why would she choose that name for the Doctor who created the monster? (Quick refresher… Frankenstein is NOT the name of the Monster)
Enter Konrad Dippel
In 1673, around 150 years before Shelley's visit to Germany, a man named Konrad Dippel was born at Burg Frankenstein. Dippel was an alchemist and theologian whose biggest contribution to society was assisting in the creation of 'Prussian Blue'… the first synthetic "blue" for painters that didn't fade or cost a fortune. (Fun trivia bonus… today it's  a treatment for heavy metal poisoning and an antidote for certain radioactive isotopes). Still,  it's HOW he came up with the Blue that's important.
Konrad Dippel was convinced he could produce an "elixir of life"… a potion to extend life indefinitely. A philosopher's stone. But for this he needed to do experiments. He used animal bones and burned them to a char to extract the oil he needed for his elixir. It's said that "Dippel Oil" actually looked like tar, and smelled like wood, creosote and rancid meat. Whether it extended life is up for debate, but it was good as an insect repellent. (The Prussian Blue came out of these experiments with bones).
To further his processes, Dippel did a lot of "anatomy experiments", and was apparently an "avid dissector". He spent a lot of time with dead animals. And some speculate… dead humans. Dippel became convinced that he could transfer the soul of one person into another using a funnel.
Side note- Dippel hoped to trade the "Dippel Oil" recipe for ownership of Castle Frankenstein. (He already referred to himself as "von Frankenstein".) He was turned down. But he continued to live there and work on his experiments in the tower laboratory.
Rumors started swirling in the local village about Dippel. A local minister started accusing him of Grave Robbing and consorting with the Devil. There was even a rumor that Dippel was trying to re-animate the bodies he dug up with lightening. Dippel actually encouraged these rumors to keep people away.
Did Mary Shelley Know about Dippel?
Dippel wasn't a well known figure at the time. Just another nut in a tower trying to find the secret of eternal life. How did a young writer from London learn of his existence 150 years before her time?
According to local historian and tour guide Walter Scheele, the connection may come from the Brothers Grimm.
Mary Shelley's stepmother, Mary Jane Clairmont, was responsible for translating Grimm's Fairy tales into English. The Grimm brothers collected stories from the area around Hesse… and even had one (unrelated) tale about a knight named Frankenstein and the Lindworm or Dragon. There is speculation that she learned the story from Jakob Grimm, and passed it along. But there is no written correspondence to back this up. (Despite Scheele's claims that he has read it himself).
Was Dippel the model for Viktor Frankenstein?
Is Castle Frankenstein the setting for the Book?
It's possible… the seeds for the story are definitely there. Keep in mind. There are other castles named Frankenstein in Silesia, Palatinate, Thuringia, Carinthia  and Lower Austria.
But whether or not it's true, THIS Castle Frankenstein does swirl with Legend….and many say, if you visit the Burg right after Christmas, you may encounter the ghost of Dippel sitting on the roof of the chapel howling for his monster…
Other Legends of Castle Frankenstein
Lord George and a Dragon
When George von Frankenstein died in 1531, he was entombed in the village of Nieder-Beerbach. Carvings within the crypt depict him slaying a dragon. Naturally, this led to a bit of confusion. St George slayed a dragon… did Lord George the knight also slay a dragon?
And a legend was born.
The Lindworm at the Well
Once upon a time, a terrible lindworm (a type of dragon) lived in a brook in the Katzenborn near Nieder-Beerbach. Naturally, he terrorized the villagers, and the only way to appease the dragon was to sacrifice a Maiden. Knight George Frankenstein was secretly in love with the lovely Annemarie, the "Rose of the Valley". On the day she was supposed to be sacrificed, he dressed in armor, and set out to kill the dragon. The fight went on for hours. Finally, the knight had the upper hand, and mortally wounded the dragon by stabbing it in the soft underbelly. In it's final death throes, the dragon stabbed the brave young man with it's venom tipped tail. They both died.
George von Frankenstein was buried in a hero's tomb. And it is said that Annemarie haunts the tower of Burg Frankenstein…occasionally throwing rocks down on visitors.
Frankenstein's Ghost?
In 1952, Armed Forces Network staged a live Radio Program from the Castle on Halloween Night. The whole "ghost toppled a statue" in the Chapel was staged, but people believed it (sounds like the War of the Worlds broadcast). And since he producer never bothered to tell his radio announcer  that it was staged, the fear in his voice is all too real. He even fainted! The Military Police were actually called in! And people all over the Rhine Valley locked their doors that night.
Click the image to hear the Radio Program
Still, just to "double check", the Sy/Fy channel's program "Ghost Hunters" filmed an episode at the castle (did they expect the Ghosts to understand English?)
Halloween at Burg Frankenstein
Although Halloween wasn't really a "THING" in Germany, it was inevitable that Burg Frankenstein become a hub for Halloween. In 1978, American airmen from the nearby 435th Transportation Squadron stationed at Rhein-Main Air Base started an annual Halloween festival at the castle. Today Burg Frankenstein is the BIGGEST Halloween Celebration in Europe, billed as the only Halloween attraction in a 1000 year old ruin. There are over 100 monsters and 12 scare zones. And unlike American Haunted Houses.. the monsters do get to TOUCH YOU.
(YIKES! No thanks!!! I'm a big chicken baby!!)
Visit Burg Frankenstein
YES! Burg Frankenstein is worth a visit. The wooded hills around the castle are criss-crossed with easy hiking trails for outdoor enthusiasts. Castle Frankenstein itself is interesting to explore. Your imagination can go wild as you climb the tower or walk the Ramparts. Kids will LOVE it. The views are outstanding! And if you show up from Wednesday to Sunday, you can enjoy a meal with a panoramic view at the Restaurant.
And, did I mention, Parking is FREE!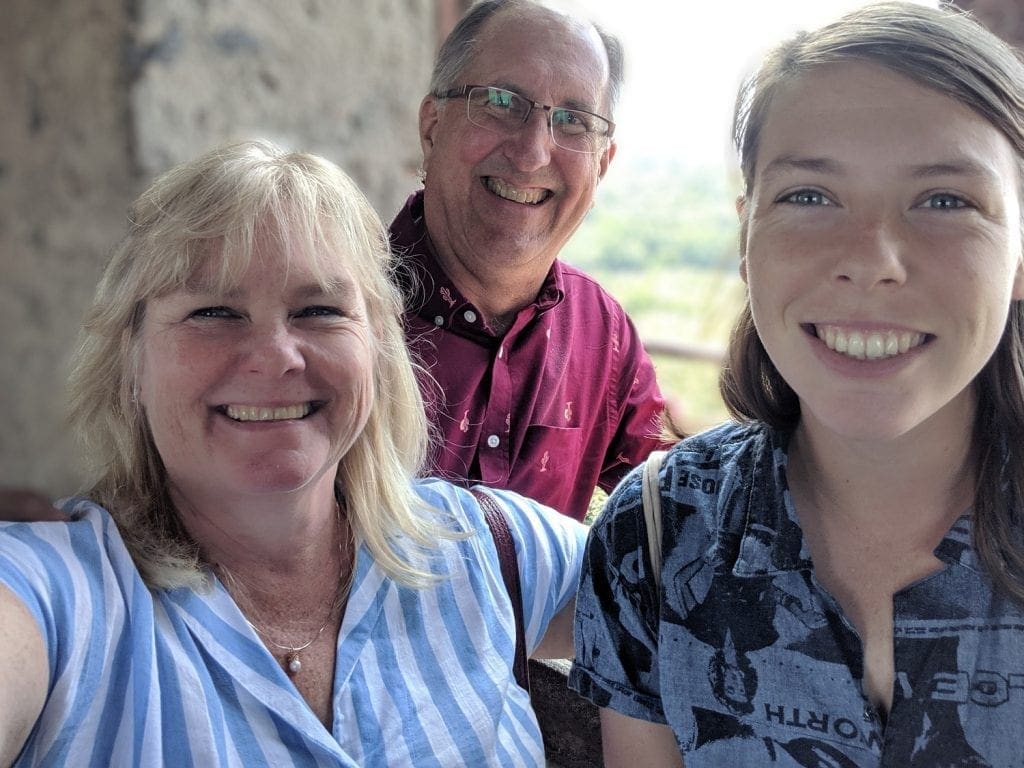 Burg Frankenstein – eine Zeitreise (German Edition)

In Search of Frankenstein Exploring The