East Frisian Tea and the Famous Ostfriesentee Ceremony
While my American friends grew up drinking Milk or Water with their dinner, we drank Tea. Germans do drink a lot of tea, Black Tea, Hagebutte (Rose Hip), Chamomile, Fenchel (fennel)… But NO Germans drink quite as much tea as the Ostfriesen or East Frisians. If you can imagine it, they drink an average of 300 liters of East Frisian Tea per year… PER PERSON! That's a lot of tea. In fact, that's more than any other culture on the planet (even the Brits take a back seat to this statistic). It is such a central part of the culture that in 2016, the East Frisian Tea Ceremony was granted UNESCO Cultural Heritage status.
How did Osfriesentee, a drink that Frederich II, King of Prussia labeled "Chinese Dragon Poison", sail past Beer, to become such a massively important drink in this northern corner of Germany? It's quite a story; including a war, smuggling, rationing, and it even contributed to the development of the German Porcelain industry.
Ostfriesentee
First of all, let's orient those of you more familiar with the Southern parts of Germany. Ostfriesland or East Frisia belongs to Lower Saxony (Niedersachsen), and tucks into a corner of Germany across the Ems from the Netherlands. Off the coast you will find the Waddensee, border islands, and the North Sea.
In 1610, the Dutch East India company (remember them from your history books?) introduced Tea that they brought from from the East to the Ostfriesen. At first, this strange and wonderful new drink was treated as medicine. By the 1700s, the locals developed a strong affinity for it. This wonderful hot beverage was a perfect foil for the cold and damp coming off of the sea. AND it was cheaper than beer!
Tea War!
Everything was fine until the late 1700s, when Frederich II's Royal Prussian Asian Trading Company foundered. This failure made him resentful of the Dutch East India Company's success in the tea trade… mostly because he HATED that money was going out of the country (he felt should stay in his own pocket). Since he had so much earlier success promoting the Potato in Germany (this is another story), he tried to repeat this trick with a new beverage  made from Lemon Balm, and another made from Parsley. It's not a huge shock that these drinks failed to catch on (the 1700s version of New Coke). In 1778, he got so angry, he even made a policy against TEA.
The Ostfriesen people rebelled, and became Tea Smugglers.
They sent a letter to the Prussian King saying:
"Der Gebrauch des Thee und Caffe ist hierzulande so allgemein und so tief eingewurtzelt, dass die Natur des Menschen schon durch eine schöpferische Kraft müßte umgekehrt werden, wenn sie diesen Getränken auf einmal gute Nacht sagen sollte."
"The use of tea and coffee is so general and so deeply rooted in Germany that the nature of man would have to be reversed by a creative force, if these Drinks should suddenly say Good Night. "
Still Friedrich II held on for two more years… until he finally gave in.  Then Napoleon tried again to block the Ostfriesen from their tea from 1806-1814… but also failed.
Flash Forward to the 20th century. The need for Tea in Ostfriesland was so well established, that during World War II, they were the only people in Germany given a tea ration. Initially 20 grams monthly, and later 35 grams, but that paled in comparison to the 300 grams they were used to. And after the War, tea was still in short supply, so the people went down to the Ruhr to trade their butter, eggs and ham for extra Tea.
The moral seems to be, the  Ostfriesen people LOVE their tea, and NOTHING will stop them from drinking it.


There's even a Teemuseum you can visit in North with lots of hand's on exhibits, tastings, and a children's area. 
Ostfriesisches Teemuseum Norden
What IS Ostfriesen Tee
By now you are most likely wondering what makes East Frisian Tea so special. If you've been drinking cheap grocery store tea that comes in bags with a paper tag… you are in for a shock (especially if you have committed the sin of cooking it in the microwave) (sigh).
East Frisian Tee is strong. (As in, 'when it cools, you can use it to stain a bookcase strong'). There are a number of blends, but the base tea is usually Assam Tea. Assam Tea is grown (big shocker) in the Assam region of India, near sea level. This is a STRONG tea, known for it's "bright flavor", "deep color" and "briskness". This one will pop your eyes open in the morning in a way that your latte can't even begin to imagine. (Did I mention it was strong?)
Most commonly, you will see the tea sold as "Ostfriesen Tee"… but there are specialty mixes available as well. An afternoon with Oma? Drink Oma's Sonntags Tee (it's milder). Fishing with Opa in Rain? Pour a cup of Opa's Schietwettertee (with orange peel, cinnamon, and a hint of rum).
Quick Note about Kluntjes

Kluntjes are not simple sugar cubes like the ones California kids used to build Missions. (In fact, I would argue that if we used Kluntjes to build the Missions, they would still be standing). They are bigger than the standard American Sugar cube… AND… they are really a giant hunk of rock candy. When I was a child, I could suck on one of these for most of the afternoon.
East Frisian Tea Ceremony or Teetied
But Ostfriesentee is not just a beverage to pour in a mug and slurp. When you arrive at someone's home, don't be surprised if they offer you Tea. (And fair warning, the expectation is that you will drink at least 3 cups full).  Tea in Ostfriesen comes with a list of cultural expectations and a tea ceremony that's almost as elaborate as the one in Japan. Teetied, Ostfriesen Platt for Tea Time usually takes place between 11 am and 3 pm (but they aren't bound to that, and have been known to drink tea at 11pm).
The Ceremony goes like this-
First… Make sure you have all your Supplies:
Ostfriesen Tea -a loose Assam blend
Boiling Water- preferably soft water
Pot for brewing Tea (this is for the full elaborate ceremony)
Teapot and Warmer
Kluntje– special Sugar Lumps that look like Rock Candy
Cream and a spoon
Porcelain Tea Cups- no mugs or worse, paper cups with a sippy hole.
Strainer
Optional- something sweet to enjoy with the tea (Pastry is nice, but a cookie will do)
For the full ceremony, spoon loose Tea Leaves into a pot.
One spoonful for each cup you intend to make, plus one extra for the pot.
Bring water to a FULL BOIL, and pour half of it over the tea leaves.
Let steep 3 minutes
Now, pour in the rest of the water
Pour the tea through a strainer into the serving Tea Pot.
Set it on a Tea Warmer.
At the Table
Put a Kluntje in the bottom of the cup
Pour tea from the teapot
Add cream by pouring it over a spoon. (This creates a cool effect!)
DO NOT STIR THE TEA

Ostfriesen Tea is not stirred.
The idea is that you get 3 distinct sensations from the tea.
First you get the creamy top.
Then the more bitter tea in the middle.
And the last sips will be sweet.
Also, by not stirring, you can stretch that Kluntje to last for a few cups of tea (Ostfriesen people can be rather thrifty).
Tee Requires Tea cups
As I mentioned before this tea is not drunk out of a mug or paper cup. To fully appreciate the flavor, you must drink it from a tea cup, preferably a porcelain one. Fortunately, the Dutch East India Company also imported the proper drinking vessels. Still, by the early 1700s,  Johann Friedrich Böttger figured out how to make porcelain in Germany, and before long, tea pots were being manufactured in Dresden, Germany. The Ostfriesen were particularly fond on the Blau Dresmer that we see everywhere now.
Also important were the tea scoops scoops and tongs for Kluntje. Tea eggs and sieves came along later. (At home, I use a tea egg for my loose tea… mostly because my mother always did). You can even get a special sponge to hang around the teapot spout to catch the drips.
Ready to Make East Frisian Tea at home?
Here's everything you need….
Tee Kanne Friesian Gold FBOPGermanShop24
Teekanne Friesian GoldGermanShop24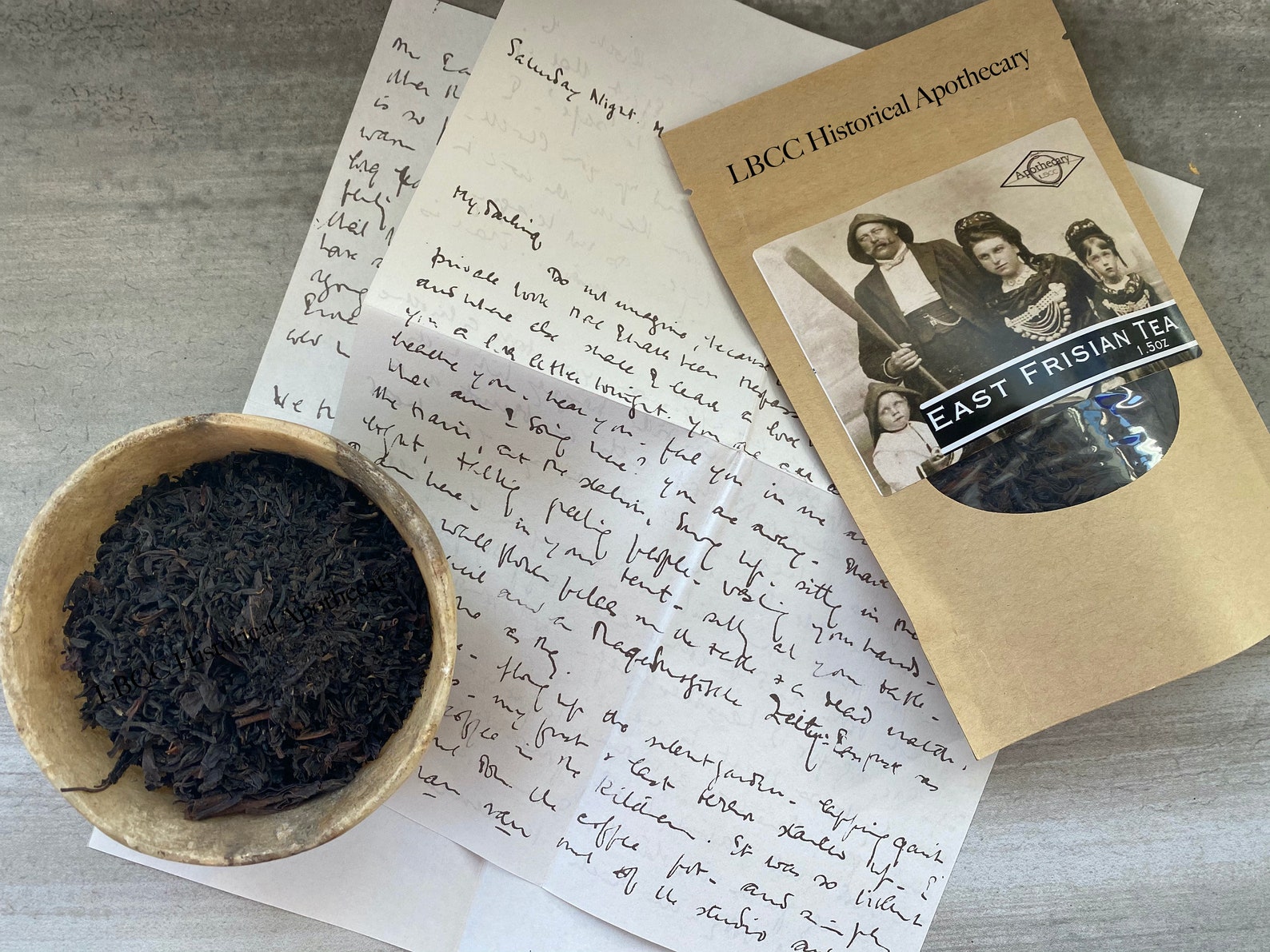 Traditional East Frisian Tea Organic Black Tea Historical

Teekanne Ostfriesen Gold 500g

Kluntje KandisGerman Shop 24
Teapots and Teacups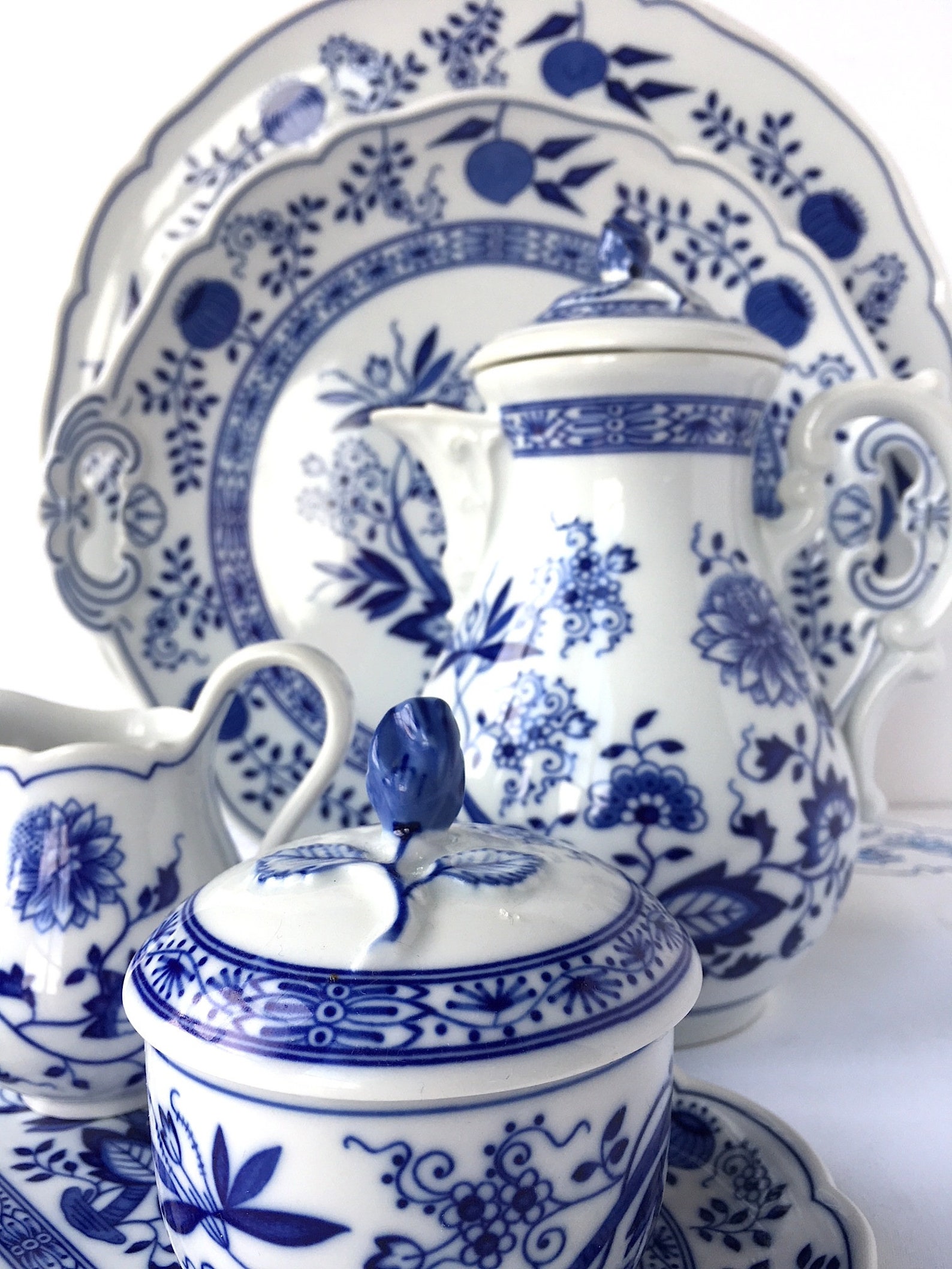 Blue Onion Coffee Service | 4Pcs | Hutschenreuther (Rosenthal)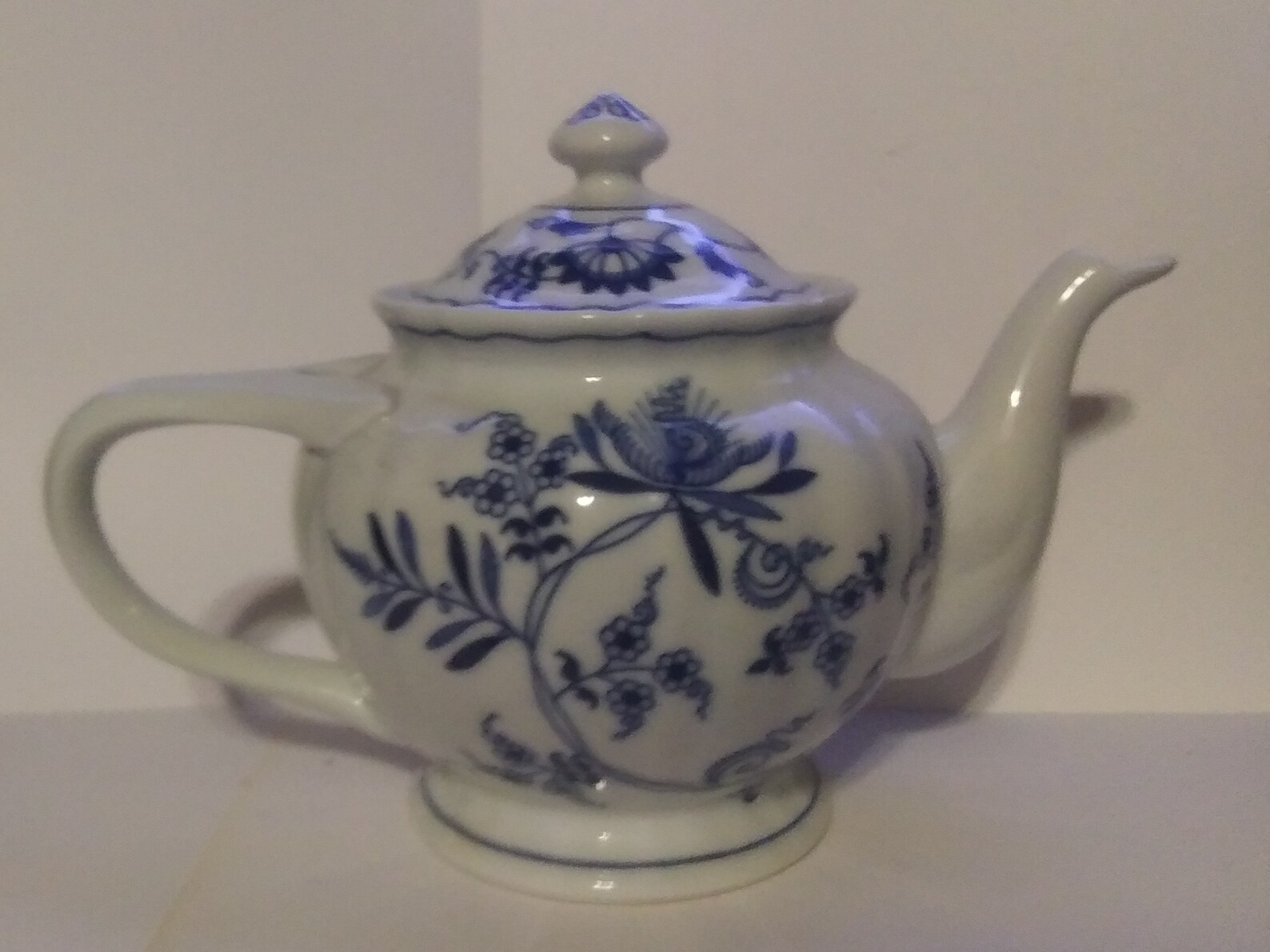 Blue Danube Blue Onion Teapot Rectangular Mark Japan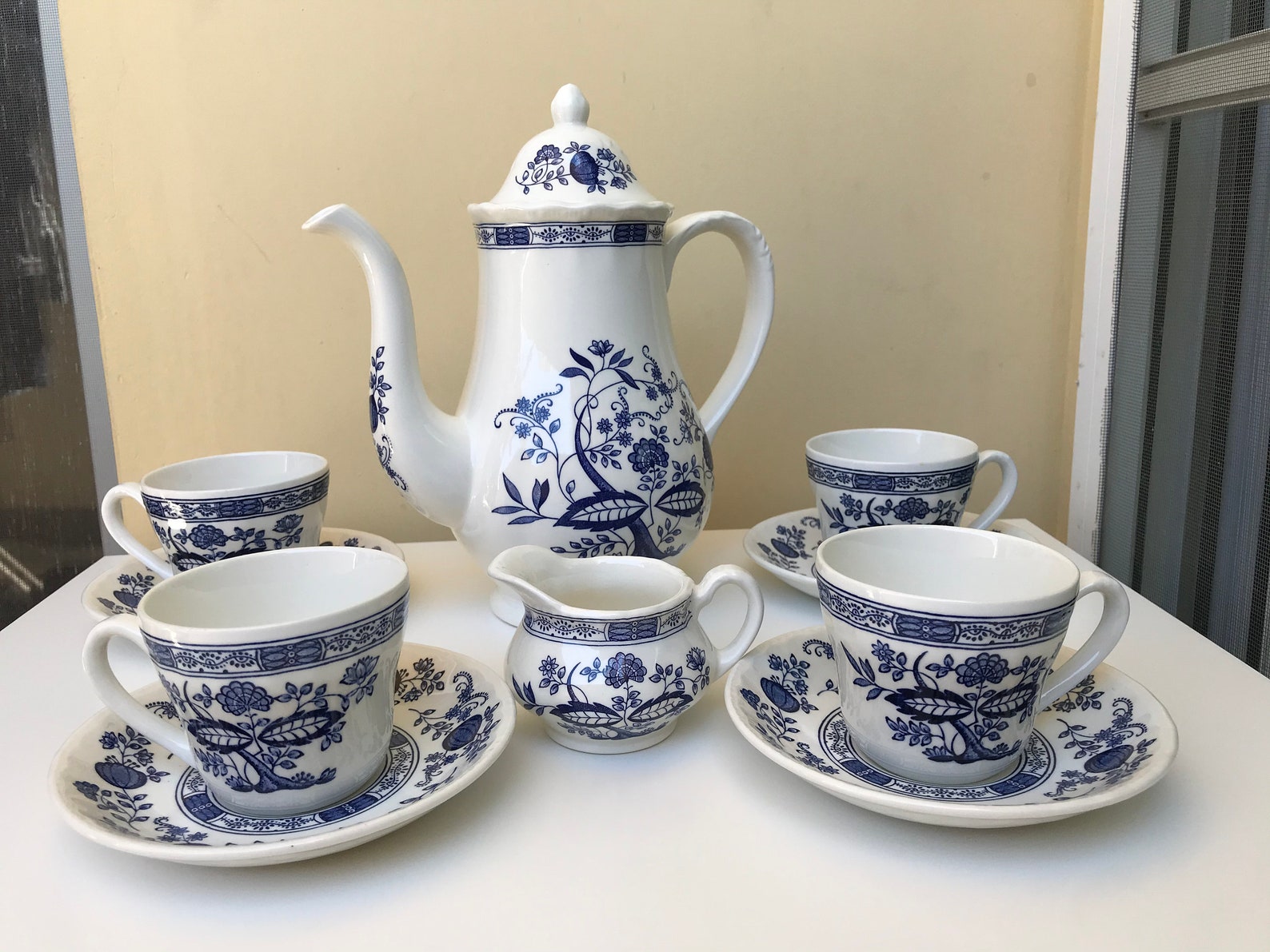 Vintage coffee or tea set Blue Onion Royal Art Pottery – Blue Onion coffee pot or teapot

Tools for Tea
Elegance Silver 86241 Silver Plated Sugar Tongs, 4-1/2

Fu Store 2pcs Stainless Steel Mesh Tea Ball 2.1 Inch Tea Infuser Strainers Tea Strainer Filters Tea Interval Diffuser for Tea

Tea Infuser Set by Chefast (2+1 Pack) – Combo Kit of 1 Large and 2 Single Cup Infusers, Plus Metal Scoop with Clip – Reusable Stainless Steel Strainers and Steepers for Loose Leaf Teas

Teabloom Perfect Measure Loose Leaf Tea Spoon – Premium Quality Stainless Steel Tea Scoop

Tea Warmers
Sun's Tea Solid Crystal Glass Teapot Warmer

GROSCHE Cairo Premium Teapot Warmer with tea lite candle. For glass teapot and other heatproof dish warming use.