Vanillekipferl Recipe- A German Christmas Cookie Delicious Year Round!
Although Vanillekipferl is traditionally a German Christmas Cookie, I make them year round. These light and delicious cookies are made from ground almonds, then flavored with vanilla and coating of sugar. Even though they don't shout CHRISTMAS!, they are perfect for your Bunter Teller. And yet, they are the perfect thing to enjoy with a coffee in summertime. My favorite recipe for these cookies comes from a German Cookbook, but I've share the Vanillekipferl recipe in English to make it easier for everyone to understand. Both the metric measurements and American conversions are included.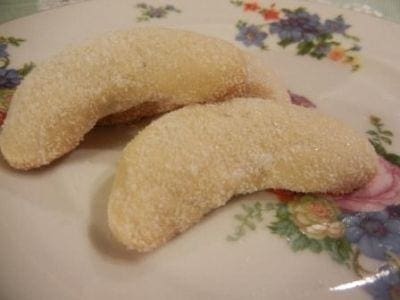 Be aware, there are only a few ingredients in a Vanilla Kipferl cookie. This means that each ingredient is important. Don't substitute margarine for butter, and don't use stale or old almonds. The flavors will all show through.  Because I often bake German Recipes, I keep Vanilla Sugar on hand. You can buy it (CLICK HERE–> Vanilla Sugar), or make it yourself (CLICK HERE for the recipe–> Home Made Vanilla Sugar).
You can buy Ground Almonds in some specialty stores or online –> Buy Ground Almonds HERE.
Or make it yourself in a food processor. Put whole almonds into a food processor, and pulse until you have ground Almonds…. pulse too much, and you will have Almond Spread (great with jam on toast, but not so good for these cookies). Even better… if you have a German Hand Grinder for nuts, you will get the perfect texture every time!
I've added step-by-step photos below the recipe…
All photos by Karen Lodder
Vanillekipferl Recipe in English
Ingredients
11/2

cup

260g Flour

1

Egg Yolk

2

tsp.

Vanilla Extract

3/4

cup

80g Powdered Sugar

1

cup

100g Ground Almonds

1

cup

200g Cold Butter-cubed

1/3 to 1/2

cup

Vanilla Sugar
Instructions
This recipe comes together in no time if you use a food processor.... If you don't have one...you can use a mixer.

Put the Flour, Egg Yolk, Vanilla Extract, Powdered Sugar, and Ground Almonds in the Bowl of a Food Processor, pulse to combine.

Feed Butter cubes one at a time until it's incorporated, and the dough comes together.

Lay a piece of plastic wrap on the counter (yes... the table is ok) Dump the dough onto the plastic.

Shape the dough into a log... about 2 inches in diameter.

Then... wrap the log in the plastic wrap.... kind of squeeze and form as you go.

Stick the dough in the refrigerator.

You now have 30 minutes....close the kitchen door.... run the water so people will think you are doing dishes and stay away.... pour yourself some coffee (or tea) and read a magazine.

Time's up....

Preheat the Oven to 350 F, 180 C

Put the Vanilla Sugar in a small bowl.

Set a cooling rack over a cookie sheet (unless you don't mind wiping sugar off the counter.... I find that putting the rack over a cookie sheet is neater)

Now for the shaping part.

Pull the dough out of the fridge. Slice off 1/4 to 1/2 inch slices... roll the dough between your hands to a mini log shape.. then taper the ends, and bend the dough to a crescent shape, and put it on a cookie sheet.

That's one.... 49 to go.

Give the cookies about an inch of space in each direction.

When you fill up a cookie sheet, pop it into the oven. Bake 12 minutes.... until browning around the edges.

Set the cookie sheet with the baked cookies near the Vanilla Sugar Bowl and the Prepared Rack. Take a cookie... one at a time while still warm... from the cookie sheet... roll it in the Vanilla Sugar, and set it on the rack.

Repeat 49 more times.

Let cool....(or not)

Store in an airtight container.
Quick Vanilla Sugar Recipe
If you bake a lot of German recipes, it's good to make your own Vanilla Sugar. Follow this link for a Quick Vanilla Sugar Recipe to keep on hand. —>Quick Vanilla Sugar Recipe
Where to Buy Vanilla Sugar
You can find Vanilla Sugar online at Amazon
Vanilla Sugar By Penzeys Spices 3.4 oz 1/2 cup jar

Dr. Oetker Vanillin Zucker (Vanilla Sugar) (2 x 5 bags)

Step by Step Photos for Making This German Vanilla Kipferl Recipe
Put the mixed dough in a line on some plastic wrap

Wrap the plastic around the dough, and smooth it a bit.
Chill… 30 minutes in the refrigerator
Take out and cut off small pieces
Roll the dough between your hands to make an oblong shape
Maybe 2 inches long
Now bend the cookie to a crescent shape, and taper the ends a bit.
Put the dough crescents on a baking sheet and put into oven

While the cookies are baking, prepare the sugar station.
I put a cooling rack over a cookie sheet lined with waxed paper (you don't have to add waxed paper, I just think it's easier to clean that way)
Put the bowl of vanilla sugar next to it.
Take Warm Cookies from Cookie Sheet….Dip them in Vanilla Sugar
Set on Cooling Rack
Let Cool on the Rack…
Store in an Airtight container (you might want to hide the container, or you will be baking more cookies before you know it)
Looking for More German Christmas Cookie Recipes in English?
Christian Teubner's book, "Christmas Baking Made Easy" is one of the best German Christmas Baking books in English that I have found. There are photos for many of the recipes… and all the recipes are measured in metric and American conversions. Here is my review–> Christmas Baking Made Easy
Christmas Baking: Traditional Recipes Made Easy