Erdbeerbowle – A Refreshing Summer Strawberry and Wine Punch
Growing up, whenever my family has a larger summer gathering or Grill Party, my mother will make an Erdbeerbowle. This refreshing wine and strawberry punch is perfect on a warm afternoon. Sweet and light (but not TOO sweet). Plus, there is fruit involved, so you can sort of pretend it's healthy. (Watch out for the kids though! When I was younger, we'd love sneaking those boozy strawberries!) I still love making this simple "Punch" recipe. It comes together quickly, and can be mostly made in advance…. just add the chilled sparkling wine at the last minute to make sure there are plenty of bubbles left!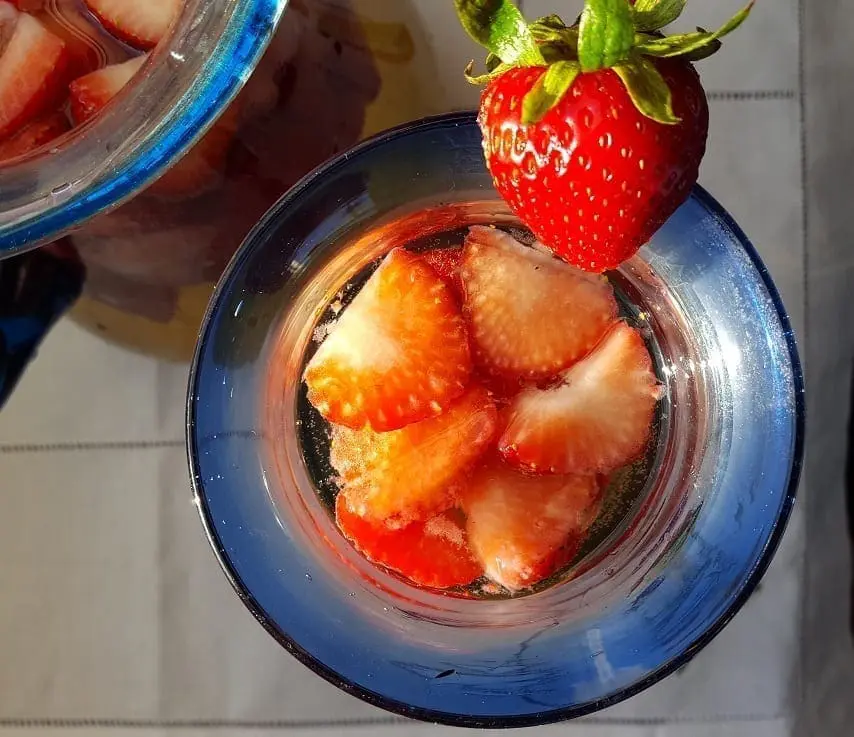 Erdbeerbowle Recipe
The base recipe of Erdbeer Bowle is Strawberries, White Wine and Sparkling Wine. But, because no two people make anything the same way, there are as many different variations on the Erdbeer Bowle Recipe as there are Kartoffelsalat. The recipe below is the one we like best at my house. Soaking the Strawberries in Orange Liqueur gives them a nice punch (or gives you a nice punch if you have too many!). More traditional recipes will have you macerate the berries in sugar for a few hours to really sweeten them up. Some recipes add Lemon Peel, Lemon Juice, or even Mint.
Luckily, experimenting is a delicious activity. You could make a day of it! (Of course, you may need a nap after the 4th or 5th one….). Just think… you have the whole summer to perfect your Erdbeer Bowle Recipe.
Erdbeer Bowle Recipe
Erdbeer Bowle is the perfect drink for a warm day... serve it for brunch, at Bar B Que parties, or on a warm evening in the yard.
Ingredients
1

pound

RIPE Strawberries

1/3 to 1/2

cup

of Orange Liqueur

2

Bottle

750ml Riesling Wine

1

Bottle dry Sparkling Wine

Champagne or Prosecco
Instructions
Make sure the Riesling and Sparkling wine are chilling....

If you want to decorate the glasses... set aside a few of the prettiest berries.

Cut off the leaves, and slice the strawberries.

Put them in a bowl with the Orange Liqueur, and let them macerate/soak for 30 minutes to 1 hour. (Longer is ok too...)

(I serve from a big pitcher, but if you have a nice punch bowl in your Schrank, now is a great time to pull it out.)

Put the Strawberries and all of the juice from the bowl into your serving Pitcher.

Add the Riesling and Sparkling Wine.

Chill for an hour (unless you are in a hurry)

Serve...

Make sure everyone gets some of the boozy berries....

Garnish the glasses with the pretty berries that you set aside (just cut a small wedge up the bottom of the berry, and it will slide easily onto the rim)... or maybe a sprig of mint or strip of orange peel.
Simple Variations-
Try changing things up with one of these variations.
Soak the Strawberries in 1/3 cup Sugar instead of the Orange Liqueur for 1 hour at room temperature before adding Wines.
Add a few slices of Lemon to the Strawberries while soaking.
Garnish with Mint Sprigs.
Serve in Punch Glasses or Large Wine Glasses
Be sure to give everyone strawberries!
Looking for a Punch Bowl or Pitcher??
These pretty bowls and pitchers are perfect for serving up your boozy fruity Bowle!
Libbey Selene Punch Set
Libbey 7 Piece Sangria Set