What You Should Know About German Beer Coasters or Bierdeckel
When the server set the beer (and wine) in front of me with a coaster on top of it, a light bulb went off in my head. You see, German Beer Coasters are called Bierdeckel or Beer Lid, and I never quite understood why a coaster would be called a Deckel. Turns out, there's some interesting history associated with these little pieces of cardboard. And they are incredibly useful for far more than leveling an uneven table, or keeping the tabletop ring-free (I dare you to put a glass full of liquid on a table in my mother's house without a coaster…) You might even want to check through the stack your Opa took from his favorite Biergarten as a souvenir, some of them are even collectible! And my Bierdeckel did a great job keeping those pesky wasps out of my glass.
German Beer Coasters
In the 1800s drinking beer outside often meant worrying about something falling or worse, flying into your beer. Wealthy people drank from Steinkrugs that had pewter lids. When you want to drink, you use your thumb to lever the lid up, and then it closes again to protect the precious amber liquid inside. But since no one wants to swallow a wasp, the rest of the population needed a way to protect their beer from contamination. Ceramic coasters were used for a while, but they were heavy and fragile. Most people used a round piece of felted material as a "Deckel" or lid. The felt was thick, so it protected the beer… and it was also absorbent, so it would be handy for wiping up spills and absorbing condensation. Best of all, they could be washed and air dried for the next user.
They looked like this–
Graf Lantz Bierfilzl Round Felt Coasters – Multi-Color Set of 4 – 100% Merino Wool – Water-Wicking, Stain-Resistant, Absorbent (Earth)

The problem was, tavern owners didn't always wash and completely dry the felted wool rounds between uses. Not only was it unhygienic, it was a bit disgusting to get a soggy piece of wool on top of your beer. Bleh.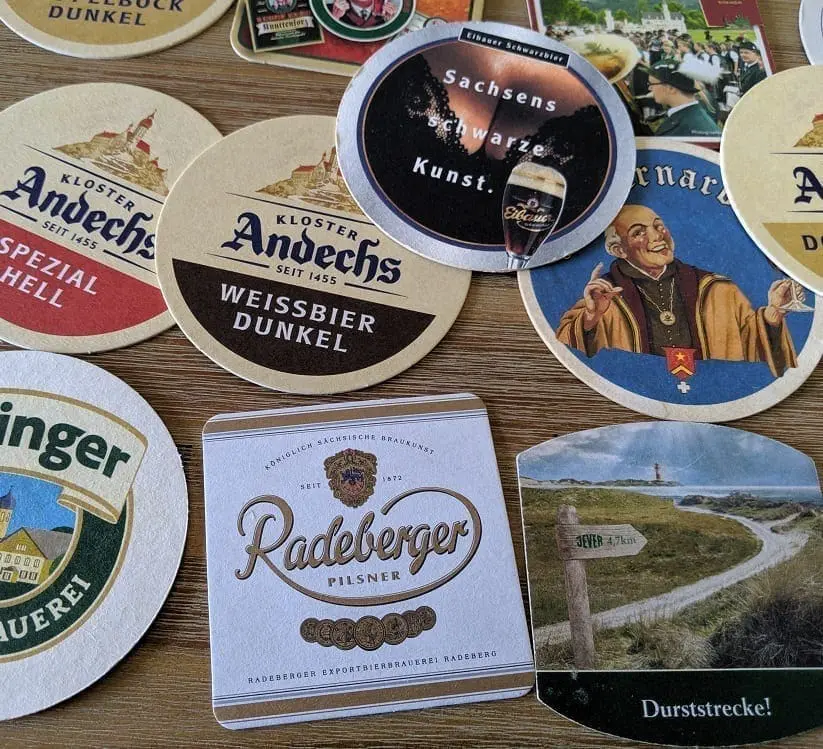 The Bierdeckel is Invented
In 1892, Robert Spruth an inventor from Dresden, came up with a machine that produced the first cardboard Bierdeckel. Wood pulp was pressed into molds, and the water squeezed out. Then the finished pieces could be popped out of the mold. Unfortunately, they didn't have much staying power, and the production was a bit cumbersome. Then in 1903 Casimir Otto Katz of Murgtal took the idea and twisted it a bit. He devised a way to make Bierdeckel out of sheets of wood pulp from Spruce Fibers. The disks were punched out of the sheets. Not only was this a more efficient way to make them, the long spruce fibers were highly absorbent, for better staying power.
Early Advertising
Besides being relatively cheap and light, German Beer Coasters had another benefit… you could print on them. In Germany, every brewer has coasters made to leave at the restaurants.  In the US, it's a little different, here, every brewer and every restaurant wants that little square of advertising. (To clarify, in the US, most restaurants have multiple different beers from different breweries on Tap. In Germany, they tend to have beer from one brewer). And why not? Who among us hasn't slipped one into their pocket or purse as a souvenir?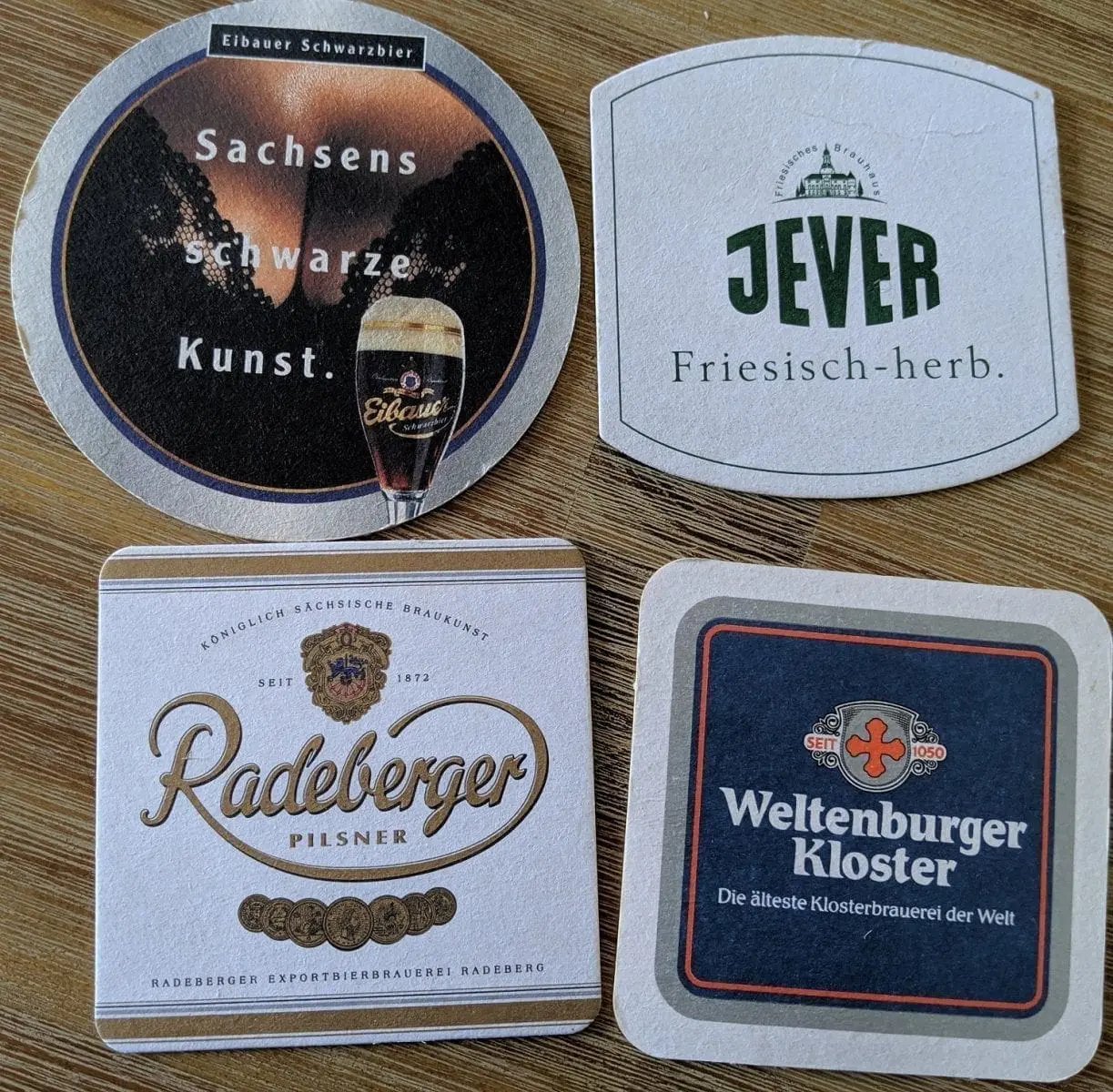 Keeping Track of a Tab
But the Bierdeckel isn't just for protecting the table from water stains, or the beer from bugs! In Cologne, where Kölsch is king, servers use the paper coaster to mark how many beers you have had. Since Kölsch goes "flat" quicker, it is served in smaller glasses so you can finish before it does. Marking the coaster makes it easier to keep track of the tab.
Made in Germany
75% of all Bierdeckel around the world are still made in German at the Katz company. Hard to imagine, but the company can produce between 5 and 7 MILLION coasters a DAY. Wood for the pulp is sourced locally in the Black Forest. But don't panic about clear cutting forests for coasters! The Black Forest is a carefully managed ecosystem. The smaller trees and brush are constantly being cleared to make room and keep the forest healthy. It's these smaller "extra" trees that are used to make German Beer Coasters.
Collecting German Beer Coasters
I learned a new word today, "tegestology". Basically, it's a fancy way to say Beer Coaster Collecting. (It might be good for a $2000 Jeopardy Question). Like other bits of paper advertising (or ephemera) the Bierdeckel might not start out as a valuable object… but since it's paper, and meant to be thrown away or recycled, it becomes valuable to collectors with age. Brewery collectible clubs around the country have sprung up across the country with a market for those pulp disks. Check out the Brewery Collectibles Club of America or the National Association of Breweriana Advertising. There are even special holders to keep your Bierdeckel collection safe –> Beer Coaster Colletion Album
Wooden Bierdeckel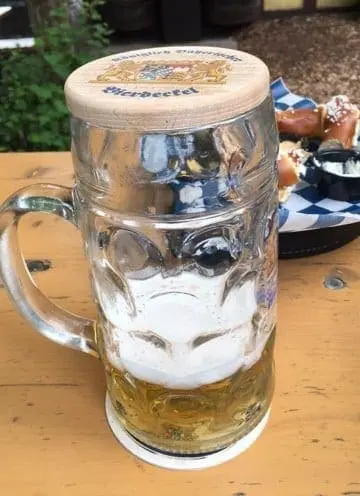 Thanks Dale for sharing this… a wooden Bierdeckel on top to protect the beer,
and a pulp one on the bottom to protect the table.
German Wood Beer Mug Cover for Beer Mugs & Steins | Wooden Beer Mug Cover | Hands Off! Das Ist Mein! | Keeps the Bugs Out!

German Wood Beer Mug Cover for Beer Mugs & Steins | Hops & Malt | Keeps the Bugs Out! | Wooden Beer Mug Lid

Since a good portion of my last trip to Germany was Beer related, I noticed a new (to me) type of Bierdeckel…. made of WOOD. The disk is cut to fit over the top of the glass or stein, and is printed on one side by the brewer. The underside sort of fits into the glass or stein, making it harder to accidentally slip off. Unfortunately, these Deckel are not free… so don't even think about sliding one in your pocket.
German Beer Coasters in My World
German Beer Coasters absorb moisture from the Glass
In our house, like my mother's, coasters are mandatory, so I always bring home a few extras from Biergartens or Pubs. They make a nice memory, and they keep the moisture off the table.
And I've never EVER found a better way to level off an uneven restaurant table than to slide a folded Bierdeckel under the short leg!
Can't Make it to Germany to Collect Bierdeckel?
There are loads of German Beer Coasters for sale here!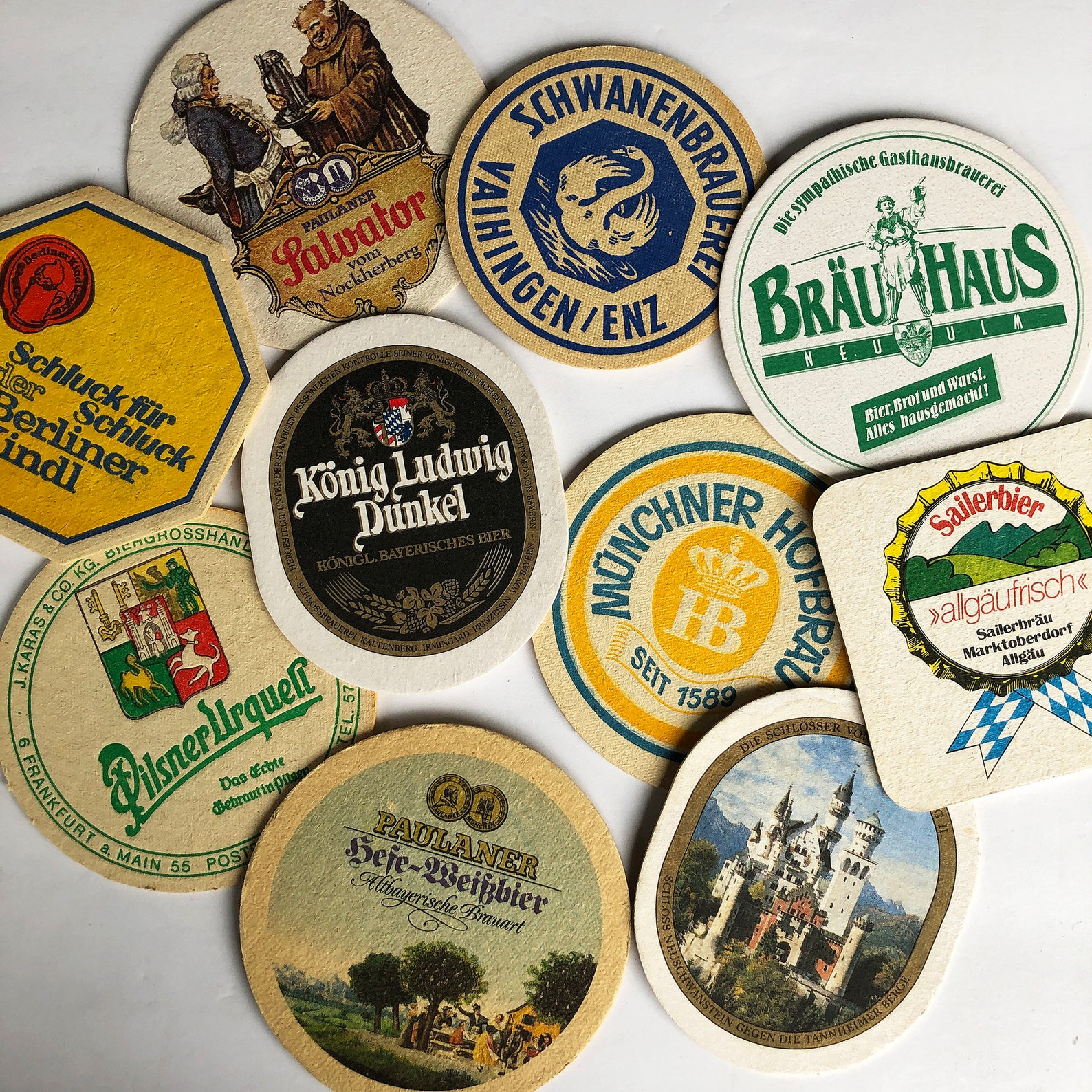 Bundle of Six 1970s-80s German Beer Coasters, Bier Coaster, Octoberfest, Oktoberfest, Breweriana – Drink Coaster C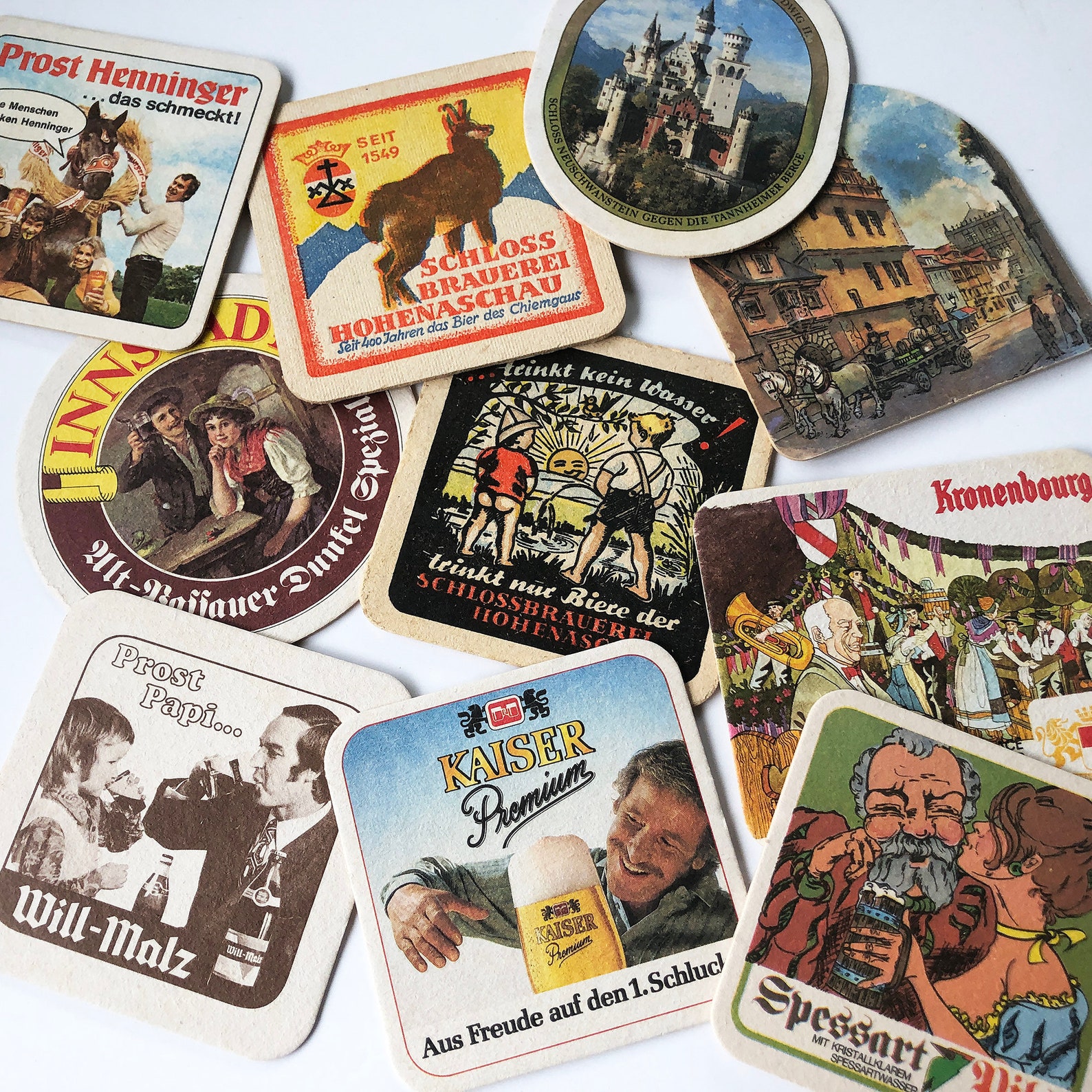 1970s-80s Beer Coaster, German Beer Coaster, Bier Coaster, Octoberfest, Oktoberfest, Brewiana – FREE USA SHIPPING