Easy German Blueberry Cheesecake- Heidelbeerkuchen
This German Blueberry Cheesecake contains a KILO of blueberries! And as you know, the best part about German cakes with fruit … well, besides that they are delicious… is that since they contain FRUIT, so you can imagine that they are healthy to eat. Therefore, you may have another slice without feeling one bit of guilt. Ok sure, this is a German Blueberry cake is also a cheesecake, and certain people would say that cheesecake has no place in a healthy diet. Don't listen to those people… you don't need that kind of negativity.
The original recipe for this Heidelbeerkuchen, Blueberry cake came from the Dr Oetker Backbuch. Then my mother got her hands on it one day when there was a sale on blueberries, and she fixed it for an American kitchen in the 1980s. (You think Quark is hard to get NOW in the US…) She used Neuchatel Cheese (basically a lighter creamier cream cheese) and whipped the heck out of it to make it smooth.
(Note- if you have a ready supply of Quark, use it… just use the same amounts.)
And honestly, this cake is quite delicious. (Tech Guy says it hits his sweet spot, and is BETTER THAN BLUEBERRY PIE) (don't tell his mother he said that…) It is loaded with fruit! So much fruit, that it gushes out, so unless you are careful, you probably will be washing your tablecloth like me. The fruit is topped with a creamy sweet cheesecake filling, and it all fits nicely into a cake crust that's somewhere between a pie shell and cake. Altogether, you have a great dessert for Sunday Kaffee … or for your July 4th party.
(After the day I have had, I'm just going to sit down with the cake and a fork)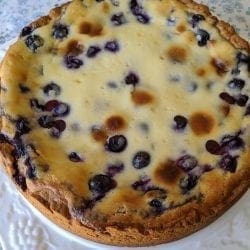 German Blueberry Cake - Heidelbeerkuchen
Ingredients
Berries:
6 1/2

cups

Fresh Blueberries

1 Kilo!
Batter:
100

gr.

or 4 ounces or half a package or 1/2 cup Neufchatel Cheese

a type of reduced fat cream cheese

1

Tbl Milk

1

Egg

4

Tbl Vegetable Oil

50

gr

or 1/4 cup Granulated Sugar

4

Tsp

Vanilla Sugar

or 3 tsp Sugar and 1 tsp Vanilla extract

pinch

salt

200

gr.

or 1 2/3 cup Flour

4

tsp.

Baking Powder
Topping:
2

Tbl. Butter

100

gr

or 1/2 cup Sugar

226

gr

or 8 oz. or 1 package or 1 cup Neufchatel Cheese

1

Egg

4

Tsp

Vanilla Sugar

or 3 tsp sugar and 1 tsp Vanilla extract

1

Tbl cornstarch

5

Tbl Cold Milk
Instructions
Instructions-

Preheat oven to 350 F

Grease a 9" Springform Pan (If you don't have a Springform pan, it's going to be tricky to get the cake out)

Rinse the blueberries, and let them sit in the colander or on a towel to dry

Put the Neufchatel cheese, milk, egg, oil, sugar, vanilla sugar, salt into the mixer and beat until smooth.

Add flour and baking powder. Mix until the dough comes together.

The dough will be sort of stiff.

Press it into the bottom of the pan, and up the sides about 1 ½ to 2 inches.

It's not going to be very thick. Just do your best. Patch any holes and even off the top edge.

Fill the unbaked crust with blueberries.

In a mixer with a whisk, whip the Butter, Sugar, Neufchatel cheese, egg, vanilla sugar, cornstarch and milk until SMOOTH.

(The filling is sweet, don't worry, the berries balance it out.)

Pour the filling over the blueberries… even it out over the top it mostly covers them (a few peaking through is ok.) You don't want it over the edge of the dough though.

Bake 60 minutes and check.

Does it look mostly done? A few brown spots are ok… it shouldn't be too wobbly, but it's better to go too long than too short (I went 62 minutes, and could have used another minute or two).

Don't go longer than 70 minutes.

Let cool completely in the pan on a rack.

Refrigerate if you don't eat it right away.
Notes
Store the cake in the refrigerator. At room temperature it is soft. 
If you have extra juicy berries, maybe mix a tablespoon of cornstarch into the berries before pouring into the dough. I don't mind it a bit messy... but it might save your tablecloth, and it will look nicer if the berries are set more. 
Step by Step
Mix the dough, and press it into the bottom and up the sides of the Springform Pan

Fill with washed and dried blueberries.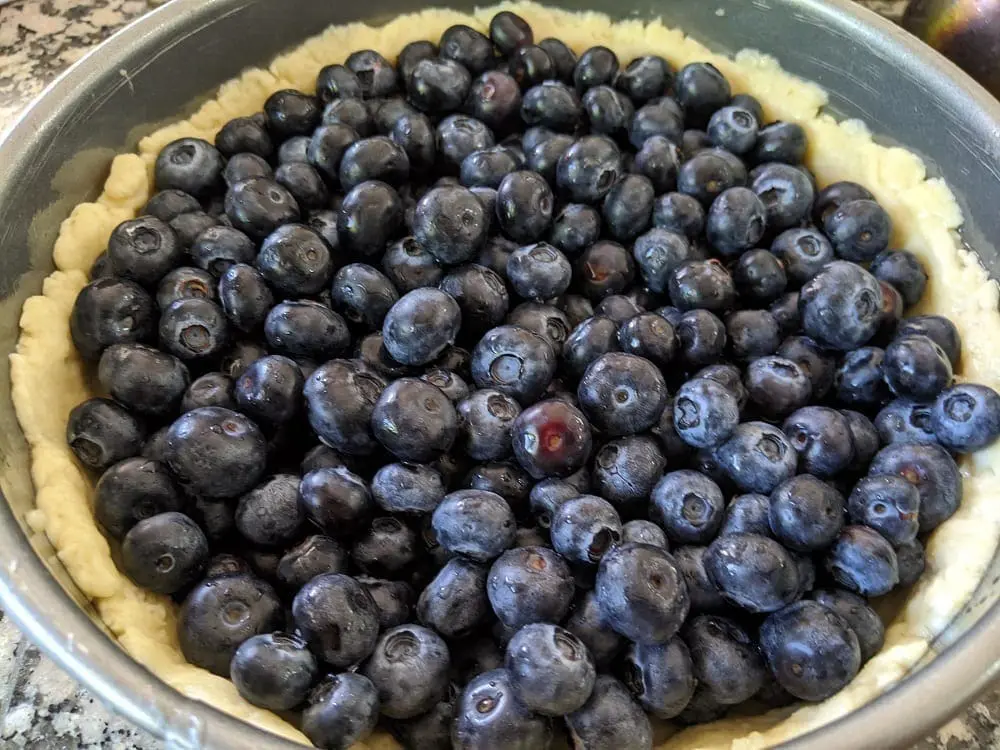 Beat the filling until smooth… pour over the blueberries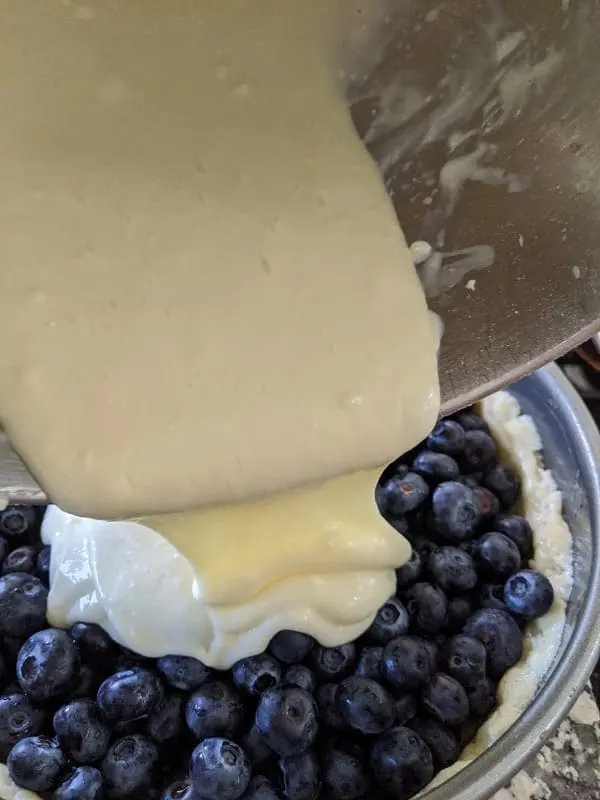 Bake 60 minutes and check for wobbly center
Let cool in the pan.
Then pull away the sides and move to Serving Platter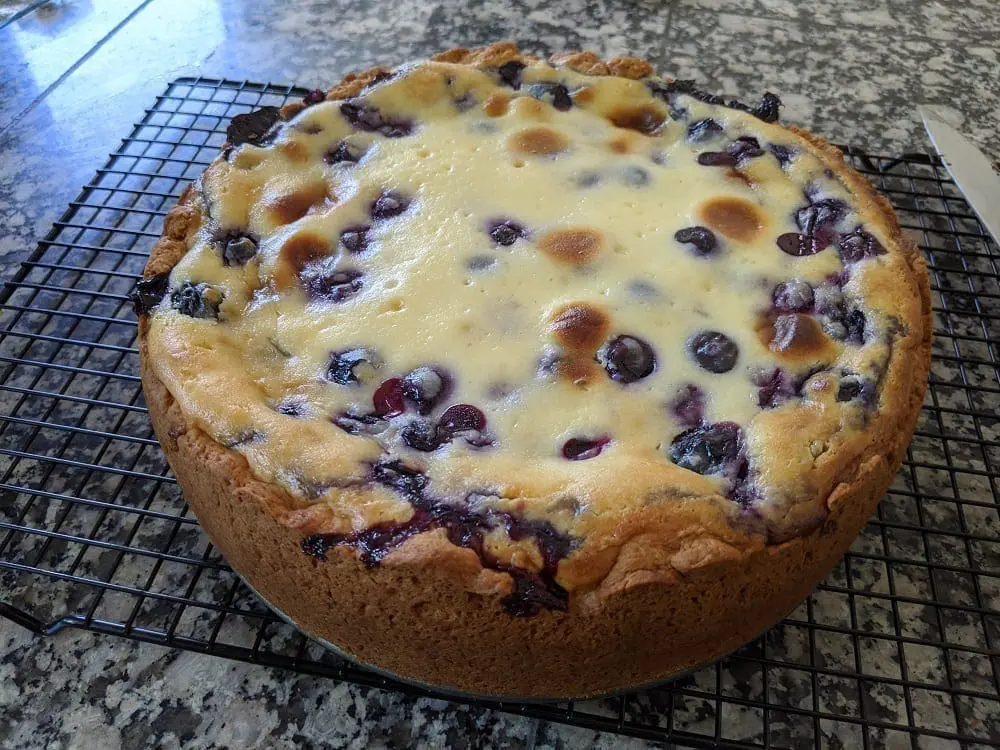 Serve