German Monthly Gift Box Subscription- Which is the Right One for YOU?
Seems like the hottest trend in the past few years is Monthly Gift Box Subscription. There are even German Food boxs! And why not? It's the Gift that keeps on giving. Every month a surprise box arrives on the doorstep, filled with goodies! The German Monthly Gift boxes are generally filled with Foods or Candy. Just enough stuff to give a taste of home, and put a smile on the recipient's face. And it's a nice change from a bouquet of flowers.
Not all German Food Boxes are the same, and I recently had a few different ones sent to me to see for myself what's in the box. Let me share my thoughts about the boxes I got with you. And you can decide for yourself if gifting a food box is for you.
I've included cost comparisons for purchasing the items separately with prices on other German Online Retailers. Honestly, the prices there vary too (Amazon might charge $19 for something that German Deli charges $13 for… but sometimes it was the other way around) But could not compare shipping costs (just too many variables).
Note- A few of the boxes were sent to me for review… I did order some myself to be anonymous. To insure I wasn't getting a "padded" box, I checked online images that other people submitted of their boxes for comparison. Things did look similar.
(Also Note- As printed in the sidebar of my site, I receive what is known as an affiliate commission … sort of a sales commission… for sales of products on this site. It's how we keep the lights on. Still, if I feel that the product is not worthy, I will remove it from my pages)
German Food Boxes
Find the Monthly Gift Box Subscription you like best HERE. There are a few different ones to choose from… some specialize in food, others in just candies.
One thing I must say, none of them will replace a trip to the German Store to stock your pantry. These are fun boxes with treats that land on your doorstep once a month. Think of them as a fun gift or surprise. Maybe as an alternative to flowers. The perfect gift for someone who has all the "things" they need.
German Food Box
German Food Box
is the strongest contender in the German Monthly Gift Box Subscription market. They fill the boxes with foods, as well as sweets. My German Food Box came PACKED with foods. Inside there was a jar of Weißwurst, a jar of Sharp Mustard. There were instant Klöße, a can of Sauerkraut and Landsbrot bread to complete the meal… and for dessert, instant German Pancakes and Nimm2 (perfect for the glove box of my car. (Best of all… honey for my breakfast!)
The box came neatly packed in a box that clearly said German Food box (so you could just stick a bow on it… if you wanted to give it as a gift in person. And the person who packed it included their card (so I knew who to complain about if something was broken). All the fragile items were wrapped in bubble wrap, and the space in the box was filled with shredded paper. And you get a recipe card to try something new outside the box.
What I really liked is that ALL of the items included were German. Not made in America, but actually German. If I want to pay for German foods.. German flavors… I don't want the stuff I can get here made for the American Market.
I compared the box I got to photos I saw online of other people's German Food Box contents. It's my feeling that the box had a few "extras" in it to make it look like a better deal. The boxes I saw wouldn't have the sausages AND the expensive honey… it would be one or the other. Same with the Pfanni and Apfel Pufferchen… it's one or the other. But otherwise, the things I got look like what everyone else got. You don't always get THESE THINGS when you get a box. It changes monthly, and it's always a surprise.
Monthly boxes have also included Potato Pancakes, Cake, Kaiserschmarrn, Semmel Klöße, Soups, Rotkohl, Candies and chocolates of all sorts.
Cost-
At $49 a month German Food Box isn't cheap. HOWEVER… you do get a 10% discount for using the coupon code GERMANGIRL. Also, the price drops if you subscribe for longer than 3 months.
You can cancel at any time, as long as you do so at least 5 days before the box is set to ship
Appoximate prices to buying the items separately- (minus the 'Extras')
Meica Weißwurst – $13.59  at German Deli – $19.95 on Amazon
Lowensenf- $4.99 at German deli- $8,94 Amazon
Sauerkraut – $4.79
Pfanni Klöße- $4.21  Amazon… unavailable on German Deli
Landsbrot- $3.79    German Deli   $2.88 Amazon
Nimm2- $4.09
Total (appox)- $35.46   to $43.90
extras
Acacia Blossom Honey $14.09
Apfel Pufferchen- $4.59
My Thoughts on German Food Box-
If you are looking for a gift for the person who has everything (or want to treat yourself)… and you want to do more than flowers… German Food Box is a nice gift. Imagine… for around $50 a month, your friend, Mother, Oma, Uncle gets a nice box of German foods delivered to their doorstep. It's a meal or two…along with extras (the jam and honey is lovely, and it lasts a while). German Food Box is not for someone who just wants to stock their pantry with German food items. There are better ways to do that here–German Food Online 
But if you are looking for a special treat- Order German Food Box HERE
German Samplers from Schaller & Weber
These boxes aren't subscription boxes… but they are a great thing to get in the mail when you want some special German Treats… or if you want to GIFT someone that amazing Present! (Food is MUCH better than a sweater they won't wear). Goldbelly finds foods from all over the US. These are just a few samples of what you will find. These items come with Free Shipping
Schaller & Weber's Bavarian BoxGoldbelly
Oktoberfest Feast For 10 From Schaller & WeberGoldbelly
L.E.S. Sausage Series Combo Pack for 10 From Schaller & WeberGoldbelly
Candy German Box
(Due to Pandemic, the German Candy Box is unable to ship at this time)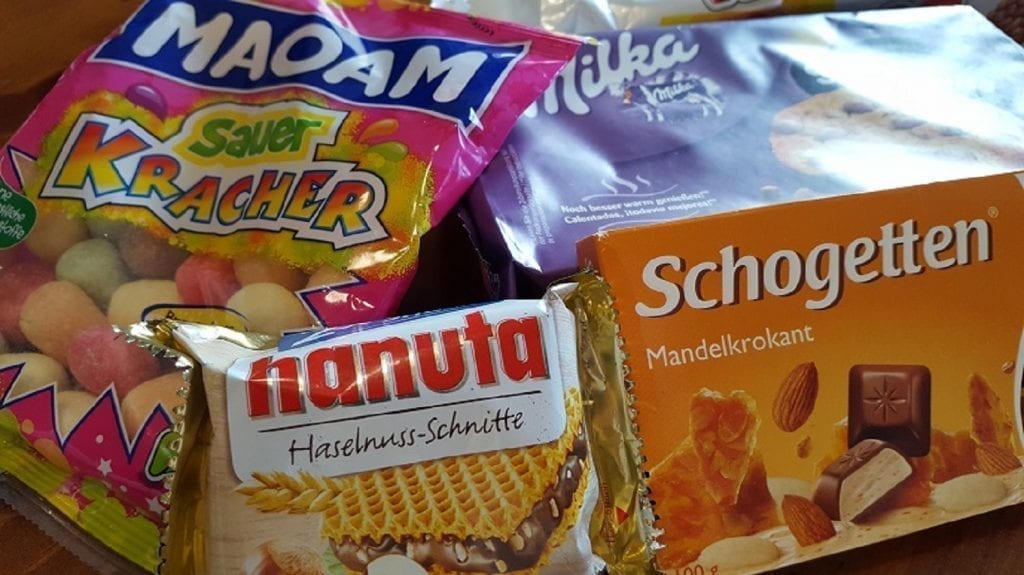 A while back I reviewed the Candy German Box. Like the other monthly gift subscription boxes, this box of goodies arrives on the doorstep of a lucky recipient once a month. This box is special though… it's ALL REAL GERMAN CANDY! Shipped from Germany. You get a variety of treats every month, carefully selected for extra deliciousness.
Holidays are marked with special sweet treats… Chocolate Santas at Christmas, and Bunnies at Easter. Summer months they DO NOT send chocolate, because they don't want you to get a box full of melted stuff.
Read my full review of Candy German HERE–> Candy German Box review
Cost-
Since Candy German is based in Germany… cost is in Euros. A one month subscription is 30€, 3 months is 29€, longer is 28€. Best of all, shipping is included in the cost!
My Thoughts-
This is a wonderful little box for a friend or relative (or even yourself) who has a sweet tooth. Set it up for one month (instead of a gift of flowers or bottle of wine) for a nice surprise… or set it up for longer. The price is reasonable.
(Due to Pandemic, the German Candy Box is unable to ship at this time)
Looking for More German Food Boxes?
German Goodies!
New from Cratejoy, this curated box of German treats gets high ratings from all subscribers. Each month you get 12-15 seasonal items in the box. Products come well wrapped, and there is great customer service. Order these German Food boxes for 1 month, 3 months, 6 months, or a year.
German GoodiesCrate Joy
German Cheese Selection
Don't want a subscription? Love German Cheese? These package has almost 2 pounds of assorted imported German Cheese… you supply the bread..
Handful of German Cheese by Gourmet-Food