German Wooden Easter Decorations – The German Christmas Shop at Easter
[no_toc]
I pull my German wooden Easter decorations out every year. Wooden Bunnies and hanging eggs from the Osterbaum (Easter Tree) makes the house feel more festive in the Springtime. And although Nutcrackers and other German Christmas Ornaments have taken off here in the US… it's still more difficult to find German Easter Ornaments. This year, the German Christmas Shop USA has transformed their store for the season! Find top quality collectible Easter decorations from the Erzgebirge for your home. Painted eggs, window decorations, Easter pyramids, and these adorable Oster Hase starter packs from Gunter Reichel that you can add to year after year!
(NOTE – WHEN THIS POST WAS ORIGINALLY PUBLISHED, THE COUPON CODE WAS WRONG, IT'S BEEN CORRECTED. USE GERMANGIRLEASTER (ALL ONE WORD)
See the whole collection of Easter Decorations at
(Code expires April 4)
German Wooden Easter Decorations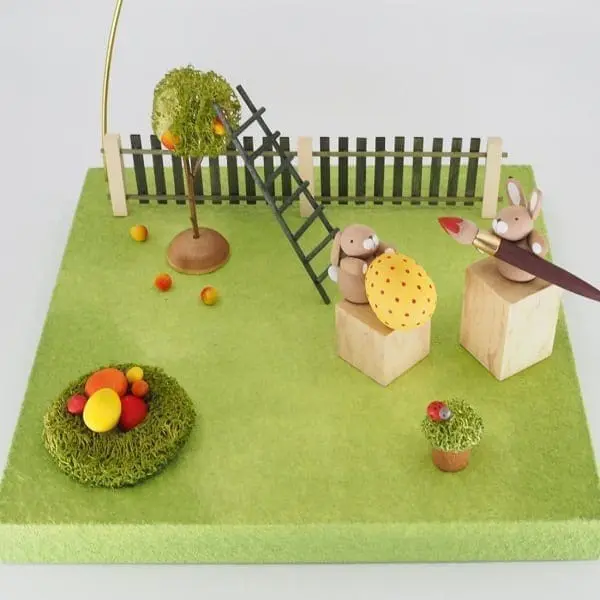 I love the premium Oster Hase (Easter Rabbit)  Scenes from Gunter Reichel.
What a neat idea! There are two starter packs to choose from. The Park pack includes a base with 2 hedges. The Orchard pack has an Apple Tree and Fences. Both also have a hook (for hanging things) and a few blocks (for stacking). Use those to display the included Bunny with Paintbrush, Bunny with Egg, Nest with Eggs, and Bush with Lady bug. You can arrange the scene any way you want to. AND then you can add a new figure to your park whenever you like! There are LOADS of bunnies available to create the perfect Easter scene.
Bunny on a Swing
Bunny on a Scooter
And my favorite, the bunny with flowers
(I'm a sucker for little bouquets of flowers…)
Wooden Easter Pyramids
Were you sad when you had to pack away the Christmas Pyramids? Don't be! German Wooden Pyramids from the Erzgebirge aren't just for Christmas!! Now they come with sweet Springtime and Easter Motifs! Perfect for this time of year. And they work the same way. Heat from the candles rises up and spins the fan blades. And since the candles are tealights, you don't have to worry about looking for special replacement candles!
The Easter Bunny Family Pyramid
Mama with flowers, Papa with a pipe, and Baby Bunny with an Egg all enjoy their day in an Easter Egg as the flower petal fan blades rotate overhead.
Easter on the Farm Pyramid
This pyramid is absolutely PERFECT for year round! Two Farm girls and a Shepherd spin around with a number of animals. Super CUTE! (And no one will question you having it out until Christmas rolls around.)
Easter Tree Ornaments
Every year I fill a vase with budding branches and hang egg ornaments from them. You will find Easter Trees all over Germany. These hand painted wooden egg ornaments will last for a lifetime! And can even be passed along to future generations.
Egg sets come in different styles and colors… and there is even a hanging bunny! Use them on an Easter Tree, or attach them to a wreath!
Use Coupon Code
GERMANGIRLEASTER
for 30% off!
Osterhase Collectibles from Paul Ullrich
The most popular wooden Easter decorations from the German Christmas Shop at Easter are the Easter Bunnies from Paul Ullrich. These are certain to sell out! Each hand-made and hand-painted bunny is a sweet work of art. Truly, they are treasured gifts for a special person in your world. These collectible bunnies will be cherished by anyone who appreciates Erzgebirge craftsmanship. And with 20 different poses, it may be hard to choose just one!
Easter 2020 is APRIL 12
If you love Wooden Decorations from Erzgebirge, click through to check out the huge selection of Wooden Easter Bunnies, Easter Pyramids, Easter Lanterns, and Easter Collectibles from The German Christmas Shop at Easter!
Remember to use my Coupon Code –
GERMANGIRLEASTER
by April 4th!