Germanology Unlocked- Old German Handwriting & Genealogy
There's a running joke lately that says we can frustrate and confuse the whole next generation by using handwriting instead of printing. And anyone hoping to research their German Genealogy from original documents… or even read letters from their Oma… understands that frustration all too well. I've written before about German Handwriting, and how it's changed a few times over the years (twice in the 20th century). Before the 1940s, students were taught Kurrentschrift, and although it's a lovely script, it can be difficult for anyone born in later generations to read. And if you are a genealogy enthusiast, trying to read early church and government records it flat out hard… is that an "s"? or an "f"? Thankfully, Katherine Schober and Germanology Unlocked is here to help. 
This post contains affiliate links, which means I earn a percentage for any sales, at no cost to you
Germanology Unlocked
A few weeks ago I took the plunge, and signed up for the Germanology Unlocked "Reading the Old German Handwriting Online Course". While I can read the letters my Oma and Opa wrote to me, I sometimes struggle with letters from other older relatives. And occasionally, I get emails from people looking for help translating documents. But the final shove (besides the love of learning something new) came when my mother showed me her collection of old church records, baptismal certificates and marriage records from our family dating back hundreds of years…but so much of it was flat out impossible for me to read.
And now? It's like a fog is lifting. And I can read the old German!
Reading the old German Handwriting Course
The Germanology Unlocked Reading the Old German Handwriting course is more than just …"this is an A" and "this is letter F". Naturally, Katherine's lessons carefully lead you step by step through the alphabet (WHY are there so many different ways to make an S? Take the class and find out!). She also gives you clues and fun memory tricks to decipher the letters that were written by a tired clerk over 150 years ago (it's so easy to confuse u, n, and m… not to mention a and o). From there she teaches common combinations and common words. The well paced lessons are filled with good examples, and end with quizzes and vocabulary games. And you can download PDFs for your own reference library. Best of all, you can watch each lesson and go back to the flash cards and games as often as you like.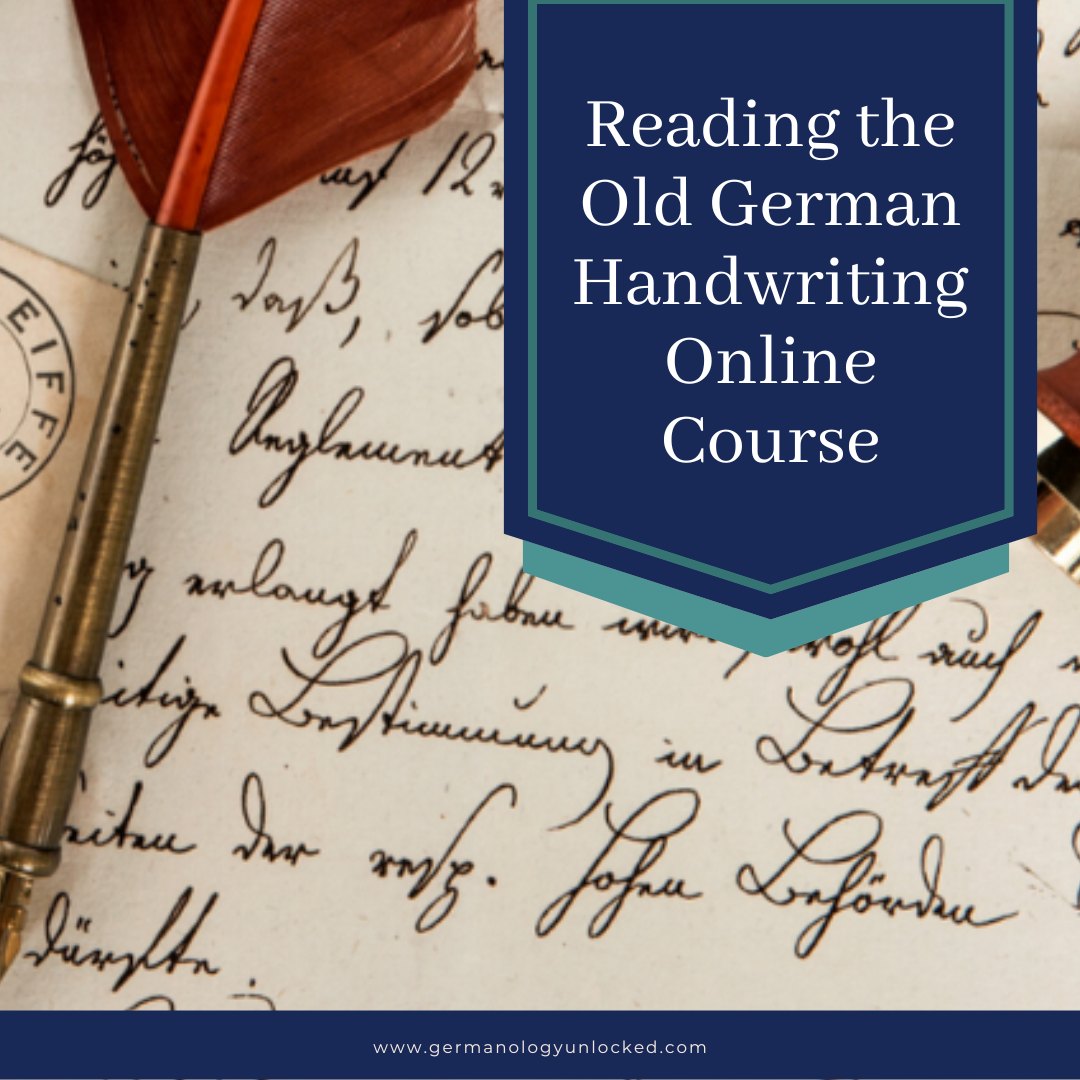 Reading the Old German Handwriting Online CourseGermanology Unlocked
German for Genealogists
Because I love a deal, and because some of the vocabulary is unfamiliar, I also signed up for the German for Genealogists course. When you order the Handwriting and German for Genealogists courses together, you save a lot of money. The course will be a nice refresher, especially for grammer (as many of you have pointed out, my grammer could use some help… der die das dem den…). The lessons cover the basics (days of the week and time) but then go much deeper, into verb conjunctions (ugh), and, of course, Genetive, Accusative, Dative cases. Also fun things like "Causes of Death" (presumably studying Genative, Accusative and Dative cases) and important phrases to know. There are also deeper lessons on working with Church and Vital records. Any help unraveling the mysteries of German paperwork will be great.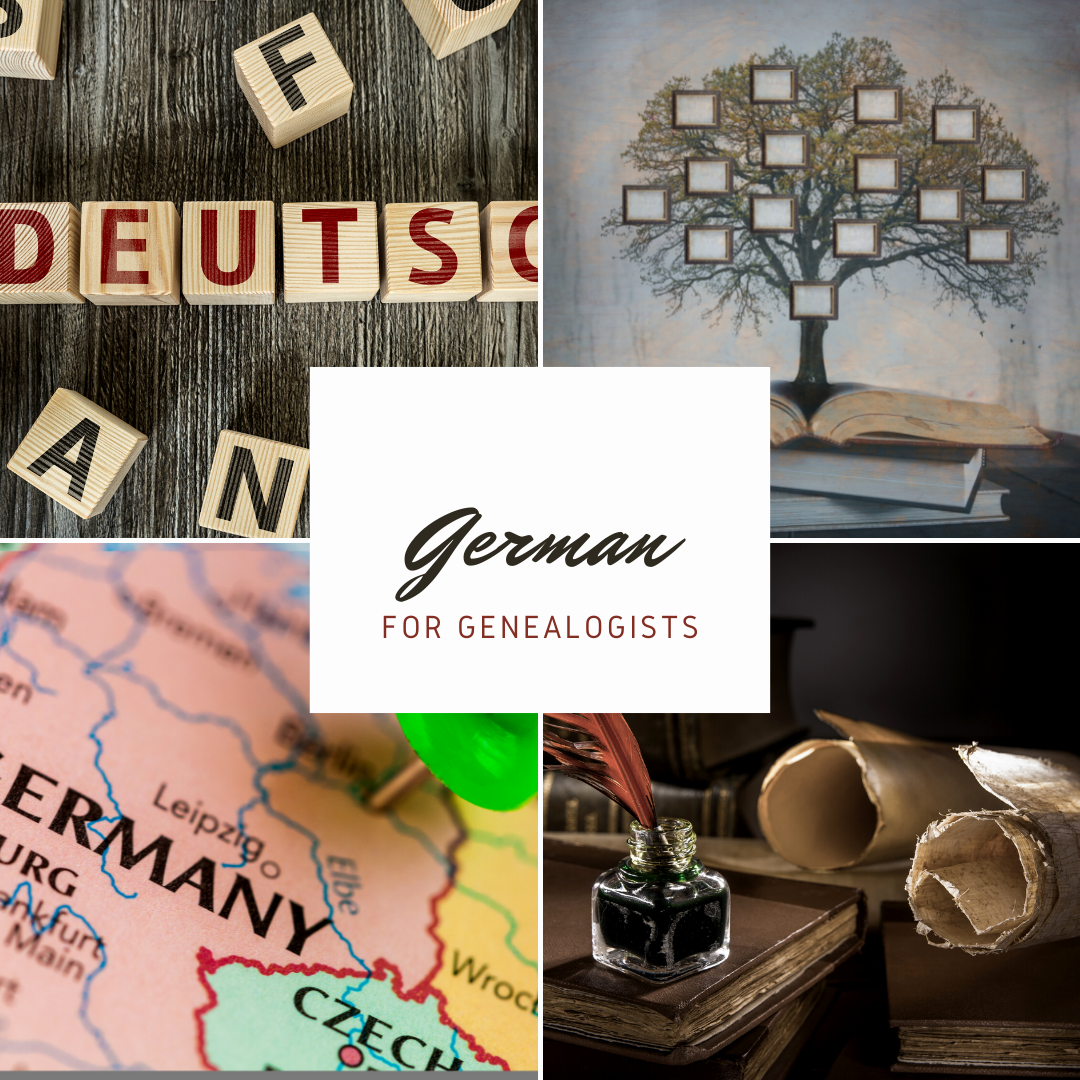 German for Genealogists Online CourseGermanology Unlocked
Essential for Genealogists!
The lessons alone are incredibly well done and informative, but you also get loads of bonuses. There are frequent "extra" webinars with special focus on genealogical materials. Katherine shares her favorite websites used to trace your family through history. These can be extraordinarily helpful in locating villages and towns, family names, and working out correct spellings. For anyone wanting to do genealogical reasearch, Germanolgy Unlocked is your key to traveling through the history of your family.
Save $147 by Ordering Both Courses!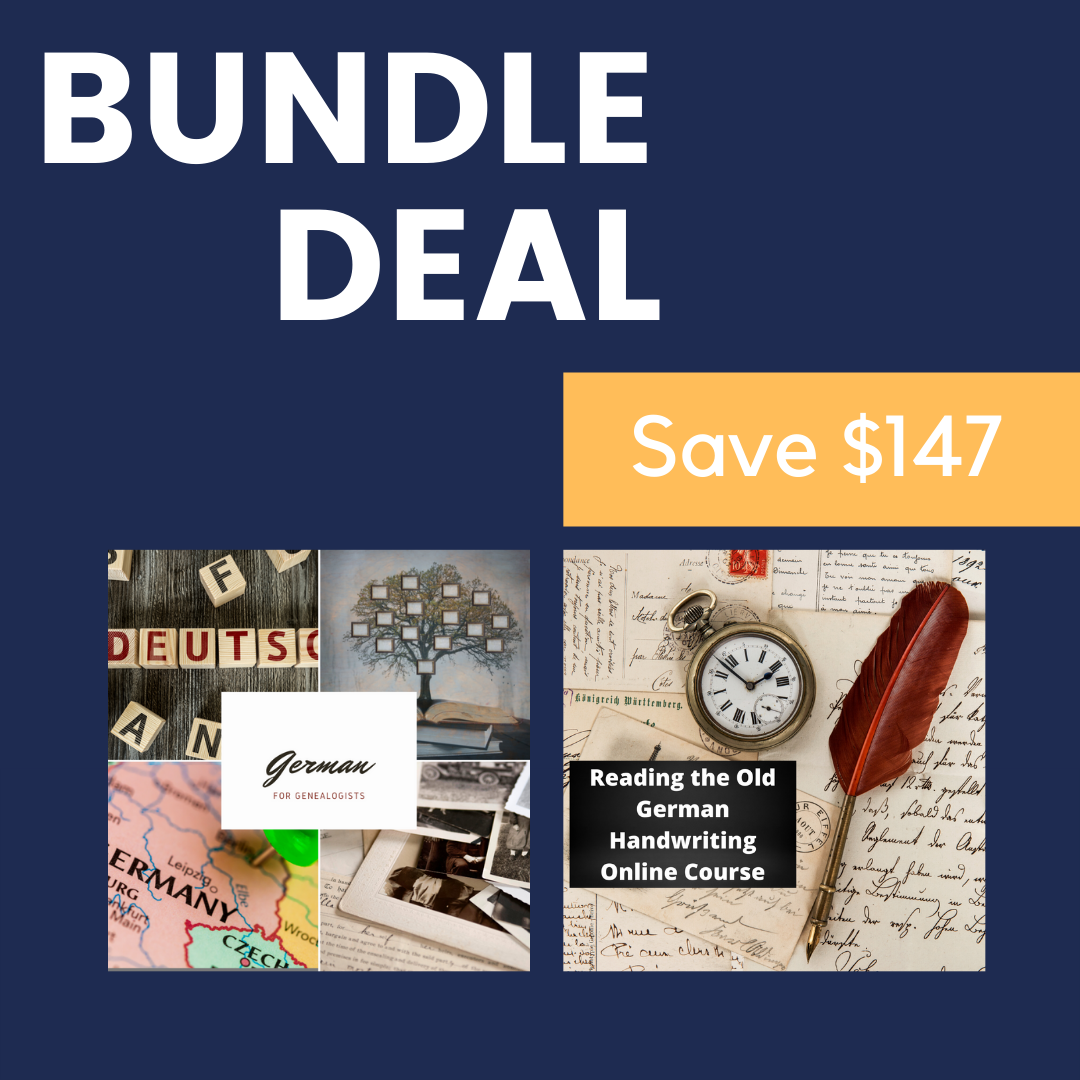 BUNDLE DEAL: Reading the Old German Handwriting + German for GenealogistsGermanology Unlocked
Not quite ready to dive into the classes? Check out the Books and Resources
On the Germanology Unlocked website you'll find books and resources to help you with German handwriting and genealogy. I've had "Tips and Tricks of Deciphering German Handwriting" on my desk for a few years now… and highly recommend you. Another great resource for the desk of any amateur genealogist is The Magic of German Church Records.
Or maybe you are putting together a binder of records? the Birth, Marriage and Death Certificate Reference Guide Package helps organize forms by pre-translating the standard German forms, with blanks left for names, dates, occupations, and addresses. You also get lists of vocabulary words that you may come across while researching… some of the old occupations that no longer exist! With these reference guides, the standard handwritten old German forms will no longer look so mysterious.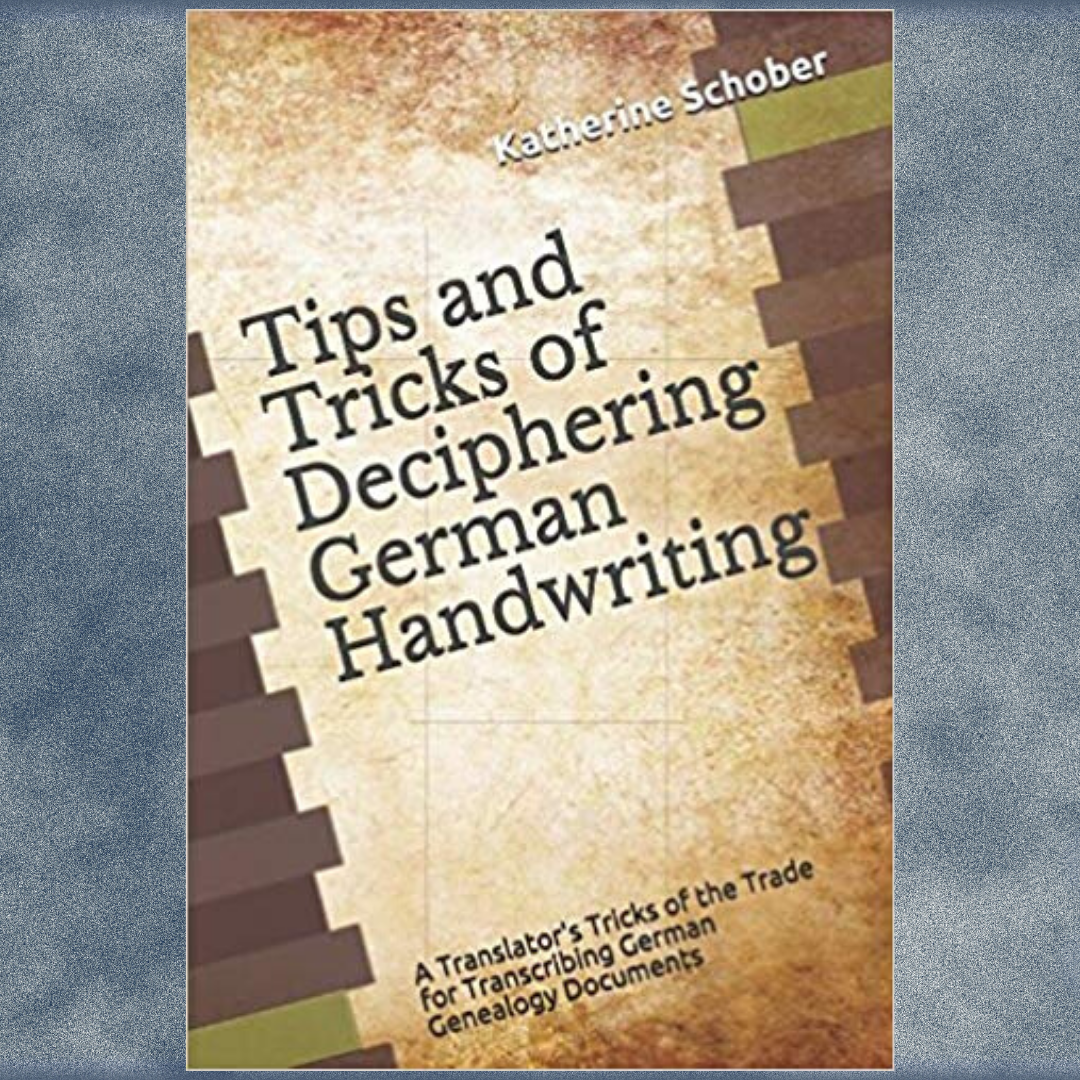 Tips and Tricks of Deciphering German Handwriting by Katherine SchoberGermanology Unlocked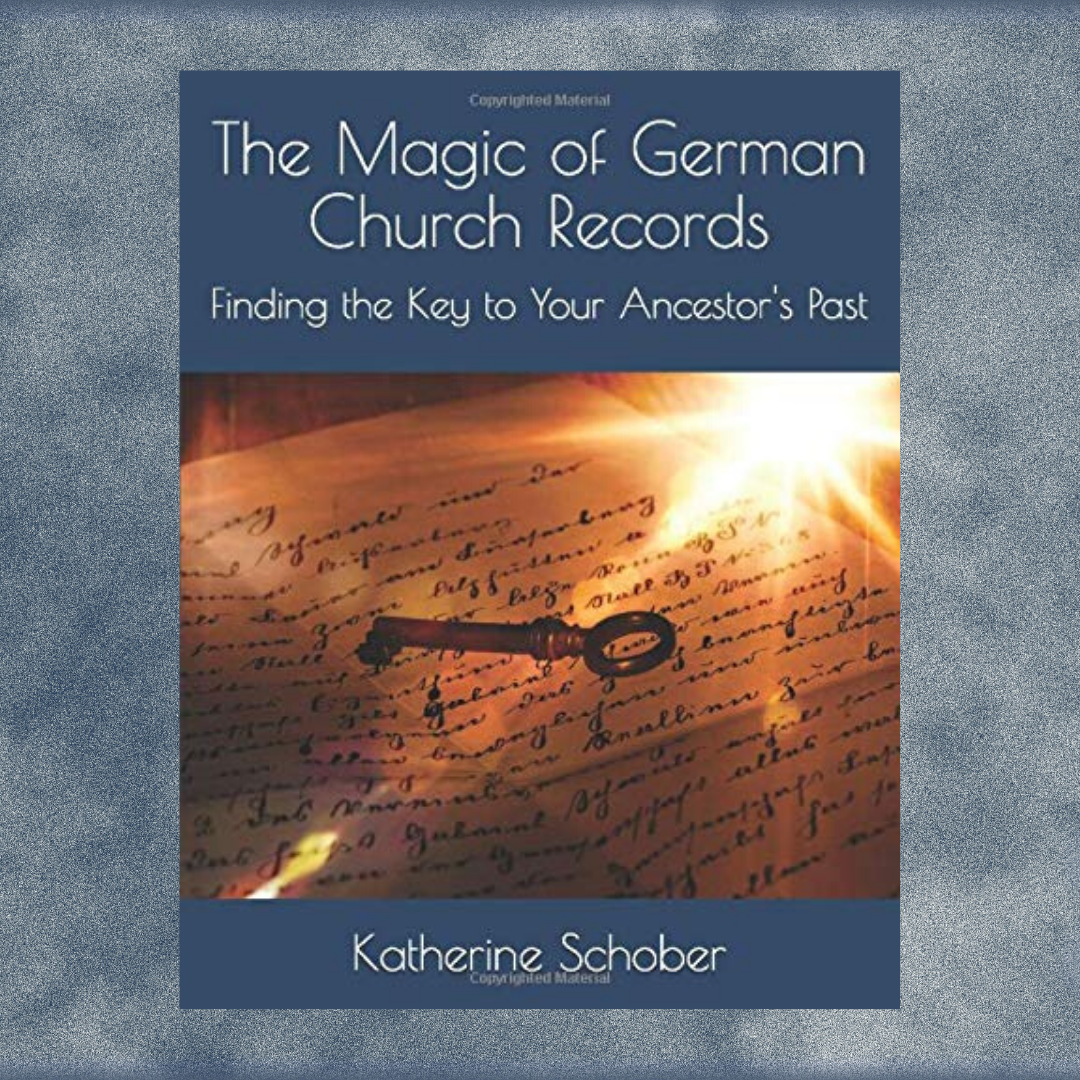 The Magic of German Church Records: Finding the Key to Your Ancestor's PastGermanology Unlocked
The Premium Vocabulary Article PackageGermanology Unlocked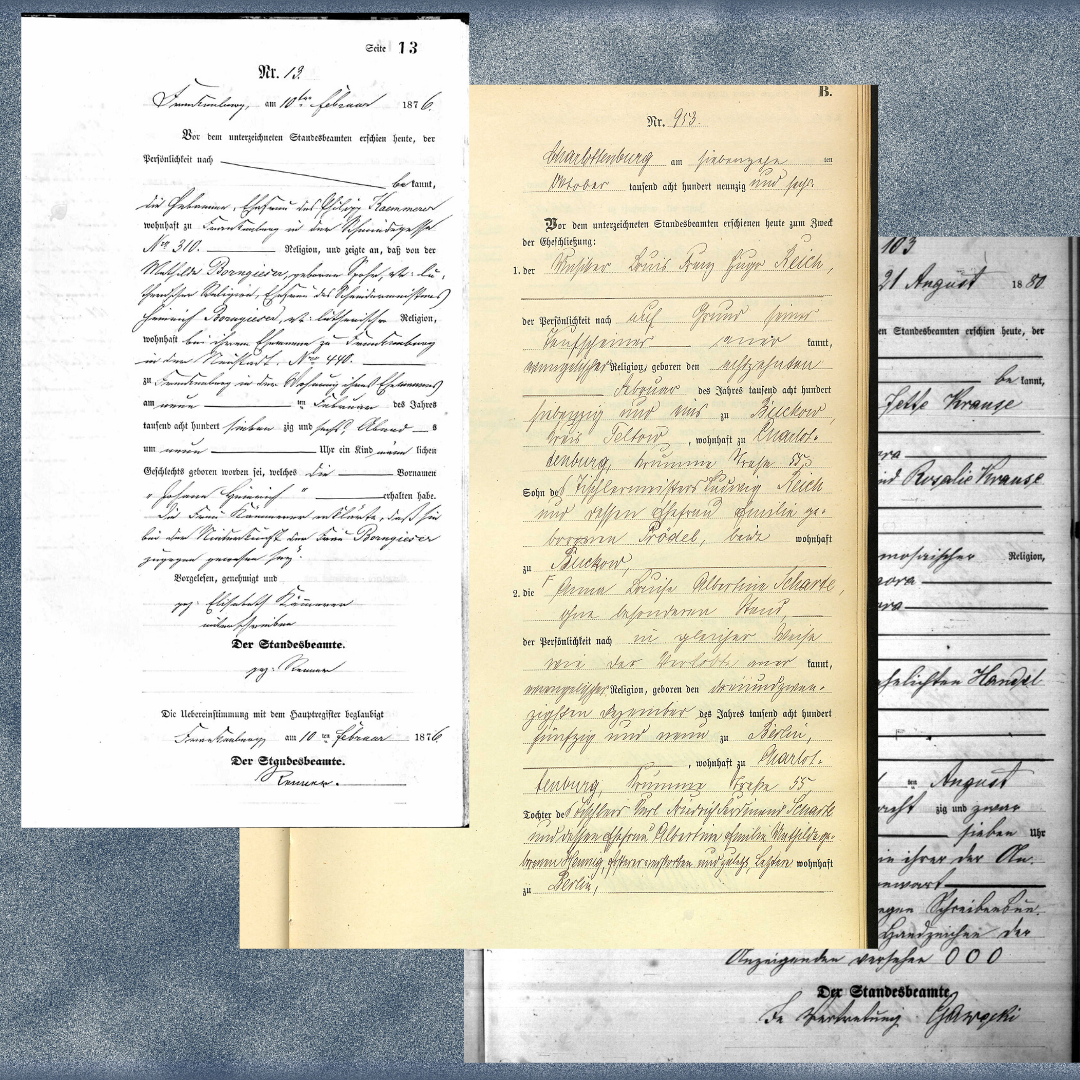 Birth, Marriage and Death Certificate Reference Guide Package: Major Savings!Germanology Unlocked
Journey Into German Genealogy
Overwhelmed? Are you just starting to dip your toe into Genealogy, but aren't really sure where to begin? Why not start with Katherine's video- "Journey into German Genealogy". This one hour video lecture, and accompanying handouts, will get you started. There are resources for the US and Europe, tips on how to track family down, tips on reading names, and on finding locations… especially when there might be multiple villages with the same name! You also get basics on deciphering the handwriting.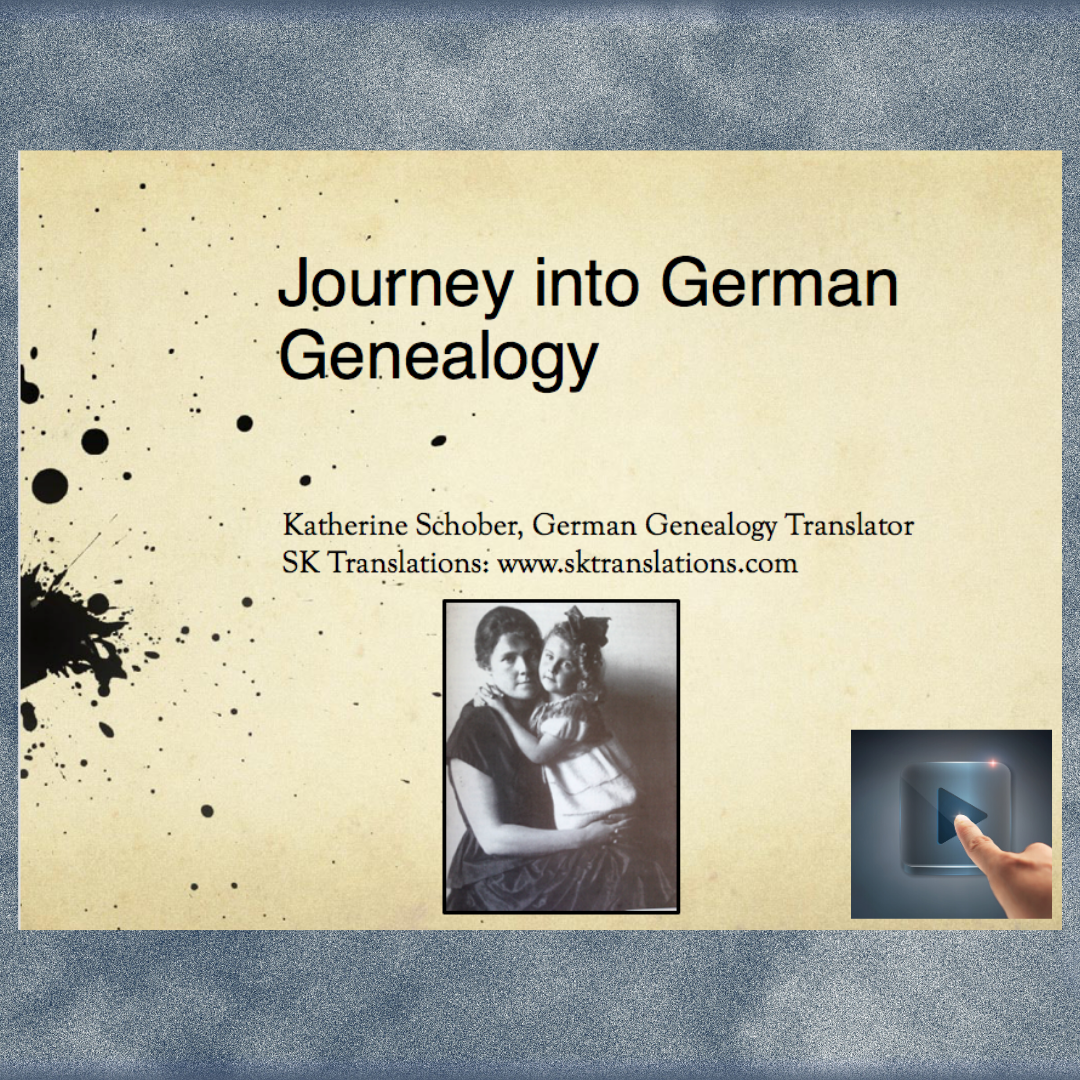 Journey into German Genealogy Lecture Video and HandoutsGermanology Unlocked
I've taken a number of online courses over the past few years on different subjects, and I can honestly say that the Germanology Unlocked courses are well worth the time and money. Yes, I have stacks of records from my mother's side… but my father's family history is more of a mystery beyond his great grandparents. I'm delighted that the Germanology Unlocked courses will allow me to take the deep dive into my family's past, to get to know my ancestors better through their words, and to trace my history.