Gifts for a German Host Family- American Gifts as Mitbringsel
I think the question I get most often is one that many of us have wrestled with over the years… What to take along as a "Mitbringsel"? In other words… What are the best Gifts for a German Host Family? While you can never go wrong with flowers or a nice bottle, it is nice to bring something special or different. Over the years I've packed a lot of presents into my suitcases for family and friends.. and I figured out some things that work, (and some that fall flat). Now, together with a lot of contributors from the German Girl in America Facebook page, I've put together a list of American gifts for Germans. (And yes, these ideas will work for Canadians, Australians and anyone else who needs to pack along a gift or two).
Gifts for a German Host Family
This list is in no particular order…and it is not in stone. Some things may be more relevant to your situation than others. (For example, I have an uncle who loves to snack on raisins, so I always bring a bag of Jumbo Raisins for him. But I don't know a single other person who would appreciate this gift). Different parts of the country have different specialties. And obviously, if you know the person you are visiting collects or loves certain things (like Willow Tree Angels), then you may already have something in mind. Take a look, and let this list be a springboard for ideas.
American Gifts for Germans
Show off Your State or City
Cutting Boards in the shape of your state, Tea Towels with Maps, or insulated coffee mugs with your city's name. Can't find anything perfect? Why have something something personalized …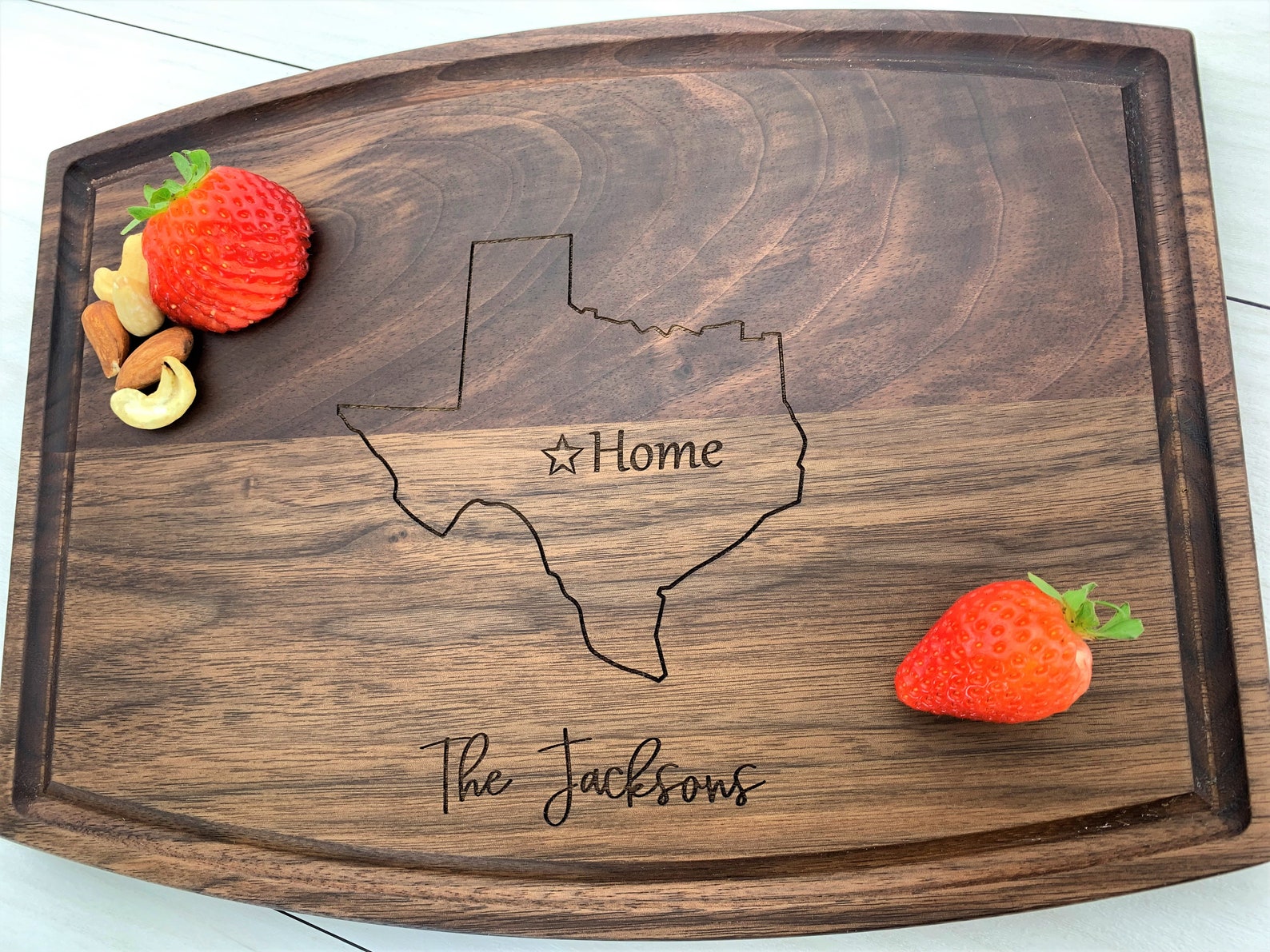 Pick Your State/Province Personalized Cutting Board, Engraved Cutting Board,

Tote Bags
A friend of mine loves to give Tote bags from her home town or home state to people she visits. These special reminders are incredibly USEFUL! And will be enjoyed by the person who receives one.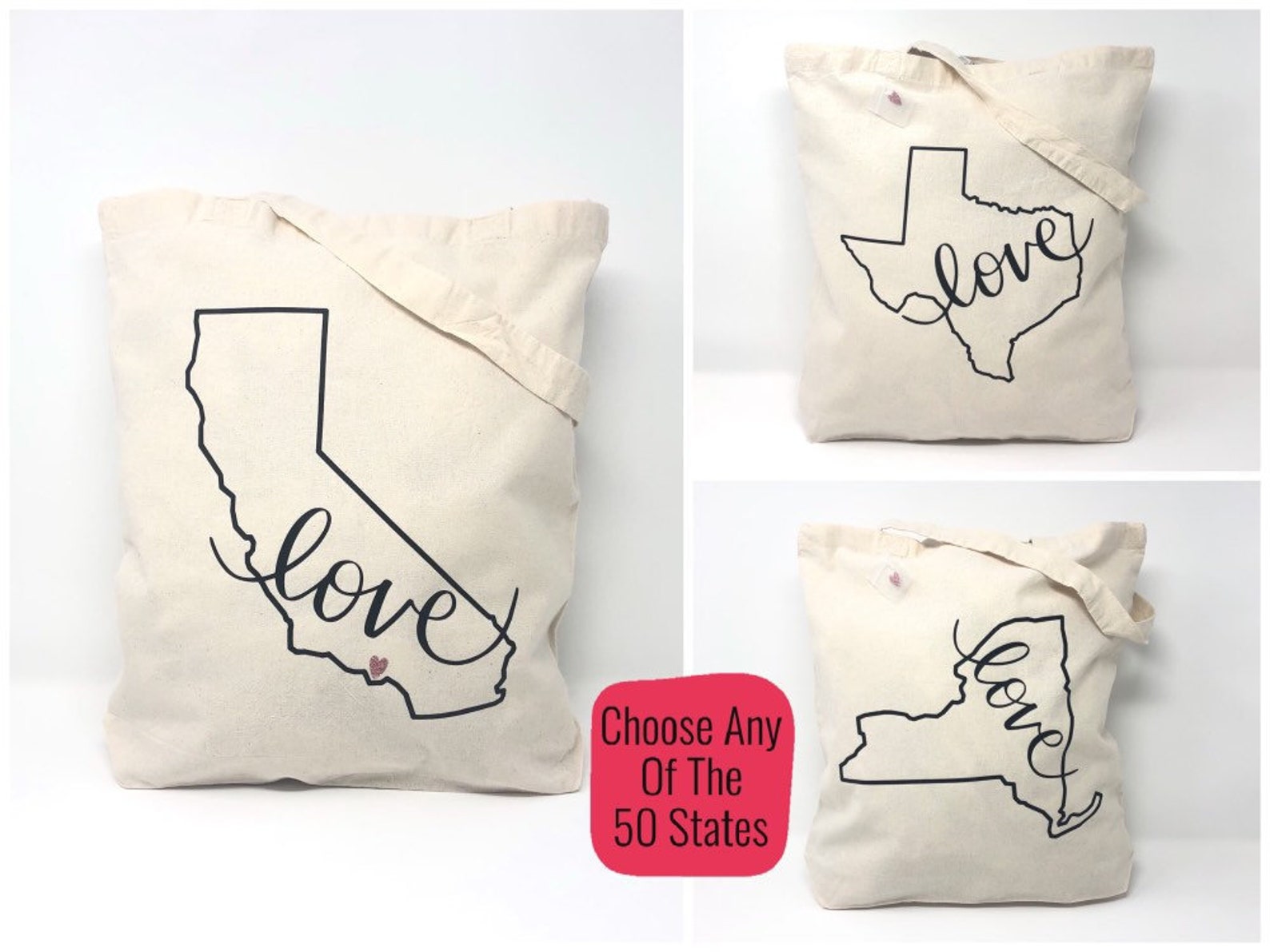 State Tote Bag – pick any State & city you want-

Pretty Tea Towels are Useful and Thoughtful
These flower embroidered Tea Towels will brighten up any kitchen. Maybe one is your state flower?
EMBROIDERED TEA TOWELS*Wildflower*Meadow Flowers*Strawberry*Blueberry*Hand Towel*Kitchen Towel*Dish Cloth*Floursack*Bundle Towels/ Discount

Food Gifts for a German Host Family are Always Popular
Is there a special food from your region? Is your city famous for its Peanut Brittle or Taffy? Do people flock to your area for the Spice Rubs? Maybe there's a special local Honey that you love? Take some with you! If you like it, chances are, your hosts will like it too! Give people a taste of your world. Added bonus… they can enjoy it, eat it, and not be burdened with a "thing".
Bar B Que!
A few people told me they get requests for American Bar B Que Sauce. Since every corner of the US loves different styles, maybe there is a special flavor from your region. Also, some people love A 1 Sauce. Don't want to mess with bottles? Why not bring a special local spice rub for meats?
Jim Beam All Natural BBQ Sauce Variety FOUR Pack Includes: Bold N Spicy/Smoky Barrel/Maple Bourbon/Southern Tang 18oz Each

BURMAN'S BBQ Sauce Pit-Master Collection 4- 19oz Southwest Flavors Gluten Free, Lactose Free, Gourmet Box Set (Pit-Master Collection, 4 Gift Set Box)

Go Nuts
Many people suggested Almonds or other nuts. (If you are from Hawaii… grab up some of those Macadamia Nuts!) Smoked Almonds or Almond gift packs aren't to expensive (or heavy). Also, a nice package of assorted nuts can be tied with a ribbon, and makes a nice gift.
Oh! Nuts 6-section Roasted Holiday Nuts Basket – Medium Tray
Maui Onion & Garlic Premium Roasted Macadamias, Island Classics 6-Tin Gift Pack
Jerky
Beef Jerky, Turkey Jerky, even Salmon Jerky… all have a unique and tasty America flavor. Plus it travels well…. Try a variety pack. Again, it's lightweight, and doesn't take up much luggage space, and people do enjoy a savory treat.
Bricktown Jerky Soft & Tender Beef Jerky Gift Basket – REGULAR SIZE – 5 – 1.5 oz. bags – Great Gift for Guys! – Original, Honey Pepper, Sweet BBQ, Teriyaki and Spicy Beef Jerky
Buffalo Bob's 10 Piece Gourmet Exotic Jerky Assortment
Maple Syrup
All you New Englanders and Canadians, here's your chance to show off! Real Maple Syrup is a great and very welcome gift. Throw in some pancake mix, and promise to cook them an American breakfast.
Butternut Mountain Farm Pure Vermont Maple Syrup, Grade A, Dark Color, Robust Taste, All Natural, Easy Pour, 32 Fl Oz, 1 Qt (Prev Grade B)

Gourmet Breakfast Gift Crate with Mouthwatering Pancake Mix, Gourmet Small-Batch Syrup Specialty Muffin Mix in Wooden Crate

Peanut Butter
I'm not completely sold on this idea… but apparently, a lot of people get requests for jars of peanut butter from their American visitors.
Skippy Peanut Butter, Creamy, 28 oz

Oreos
You can always tell if there was an exchange student who went to America at some point, they will ask for Oreos. Go nuts, get the Double Stuffed.
OREO Chocolate Sandwich Cookies, Family Size – 3 Packs

Oreo llc Chocolate Fudge Covered Cookies, 7.9 Ounce

Chocolate Chip Cookie Supplies
My cousin spent a year in the US, and developed a liking for fresh baked Chocolate Chip cookies. Every time I head over, I pick up a big bag of chocolate chips, a bag of brown sugar, and some vanilla extract for her.
Nestlé Chocolate Morsels – 72 Oz. Bag

C&H, Cane Sugar, Golden Brown, 2lb Bag (Pack of 2)

Also for the Grill- S'mores Fixings
I know, S'mores aren't for everyone… but Kids (and I) love them. So if you are bringing BBQ sauce for dad, why not throw in Marshmallows, Hershey bars and Graham Crackers for the kids? It will be a messy and memorable dessert.
S'MORES KIT Make Your Own Marshmallows Chocolate Graham Amuse Mints Sweet & Snacks, 3.95 oz (Pack of 2)

112 Piece S'mores Kit – Makes Up To 24 S'mores – Includes 30

Bring a Bottle…
Wine or Spirits from America are a nice gift. Something special from a local distillery or winery is even better… but you really can't go wrong with a bottle of Jack Daniels, Makers Mark, or a nice wine from California. You can pick these up at Duty Free on the way through the airport, to save having to pack it… or, do what one person suggested… order it online from Amazon.de, and have it shipped to your final destination. You don't have to carry anything that way.
Tea
I know… Germany has lots of teas, and Germans drink a lot of tea… but why not bring them something they don't have. One person suggested the Celestial Seasonings Zinger Teas. I think the Blooming Flower teas are just lovely (and you can include a clear tea pot!), and the Tea Forte assortments are very nice.
Numi Organic Tea Dancing Leaves Flowering Tea Gift Set, 5 Tea Blossoms with 16 Ounce Glass Teapot (Packaging May Vary)

Tea Forte Presentation Box Presentation Box Tea Sampler Gift Set, 20 Assorted Variety Handcrafted Pyramid Tea Infuser Bags (Asst Tea Tasting)

National Park Merchandise
I think it might be fair to say the Germans really like American National Parks (don't believe me… go to one during the summer and just LISTEN… you'll hear them). Luckily, the National Park Service has LOADS of great merchandise that makes a great gift to take along. Calendars, Coasters (Germans also love coasters), Tea Towels, Shopping bags and even Cutting Boards.
National Geographic Atlas of the National Parks

Vintage National Park WPA Poster Coaster Set
National Parks Poster Art of the WPA Perpetual Calendar
Sports Team Merchandise
T Shirts, hats or mugs from your favorite home sports team can be fun… I don't know that your Oma would want a T-shirt, but the 20 somethings would…
Native American Gifts
Quite a few people suggested bringing Native American gifts along. Arrowheads, Dream Catchers and Beaded Jewelry. Perfect if you live in an area where these things are easy to find.
Southwest Gifts
Do you live in Arizona or New Mexico? Tea Towels or place mats done in a South West style. Silver and Turquoise or Coral Jewelry.
Picture Books or Calendars
Is your area particularly picturesque? Why not bring along a picture book or calendar that shows off your part of the world. For example an Ansel Adams  book would be perfect for Californians.
For Teenagers
Teens are tough to buy for, even if you KNOW them well. I've always taken along T-shirts from my home town, or from local sports teams. Also, take along a few ball caps…
For girls, maybe an interesting piece of jewelry, like a bracelet, made by a local artist. Card Games, cute tote bags or bath bombs are great too.
(FYI- If you have a teenager in your home, let them help you make the selections)
Unisex Adjustable Multistrand String Surfer Bracelet with Hematite Stones in Tan, Aqua, White, Rust and Metallic Gold: Handmade Rope Friendship Beach Surf Bracelet by Rumi Sumaq
For Kids
Kids like toys… they like art… they like to play….  And you generally can't go wrong with sweets.
Large Drawing Stencils Set for Kids (49-Piece) – Perfect Travel Activity and Creativity Kit, Arts and Crafts for Girls and Boys with over 300 Shapes, Educational Toys Age 3 to Teen, Ideal Kids Gifts
Made By Me Create Your Own Bead Pets by Horizon Group USA
Candy
I know… it seems like bringing Candy to Germany is a bit like shipping Ice to the North Pole…. still, there are candy flavors that we have in the US that you just don't see in Germany. And kids LOVE them. Reese's Peanut Butter Cups, Butterfinger Bars, all the different M & M flavors, Junior Mints, and a few people even recommended Hershey's Kisses (again… think of the kids).
Butterfinger, CRUNCH, Baby Ruth And 100 Grand, Assorted Full Size Chocolate Candy Bars, Easter Basket Stuffers, 48 oz, Bulk 28 Pack

M&M'S Variety Pack Chocolate Candy Singles Size 30.58-Ounce 18-Count Box

REESE'S Chocolate Candy, Peanut Butter Cups Miniatures, 40 Ounce Bag

Jelly Belly
Speaking of Candy… my cousin's little girl can not get enough of Jelly Belly jelly beans. I once brought a variety box, and she had the most fun sorting and tasting her way through the selection. The next time I brought a jar of little bags that are the perfect size for her mom to keep in a purse. Yes, they have Haribo, but only Jelly Belly makes wild flavors like Toasted Marshmallow, Pear and Root Beer.
Jelly Belly Jelly Beans Gift Box, 21-Ounce
Jelly Belly Jelly Beans, Assorted Flavors, 0.35-Ounce Bags (Pack of 80)
For Babies
Just pack a few Tupperware lids in your suitcase… or maybe hand them a set of keys to chew on. (Kidding… sort of). Babies are probably the easiest beings in the world to satisfy. Something soft or something to hold will generally do it. That said. A few people suggested bringing along Osh Kosh overalls or cute Jeans diaper covers. You might want to ask the parents if they have any particular wishes.
Can you Suggest Any other Gifts for a German Host Family?
Hopefully this list was a good starting point for you. When in doubt, think local… what does your town have that can't be found anywhere else.
(And remember, any gift you take over will make room in your suitcase to bring something back!)
If you are still stuck, don't panic. Bring flowers, and maybe ask your host family out for a meal. This will be appreciated.