Haribo Candy Online- All About Haribo Candy, and Where to Buy It!
The other day a friend of mine mentioned that she had gone to 4 different stores searching for her favorite flavor of Haribo candy. WHY? You can easily get Haribo Candy Online! There are loads of flavors, including her favorites, available…. and, better yet… You can even get the REAL GERMAN Haribo, not just the American versions. YUM!!
Check out this list, and order some of your favorite gummi candy… because:
"Haribo macht Kinder froh – und Erwachsene ebenso"

("Haribo makes children happy – and adults as well")
Haribo History… And Some Haribo Information
Where do Gummi Bears come from? A very short history…
In 1920, Hans Riegel (of the Riegel Chocolate Family) broke off and started his own company… Haribo (another German name formed by combining letters from one big name… Hans Riegel, Bonn.) According to the Haribo website, the company was born out of " a sack of sugar, a marble slab, a stool, a walled-up stove, a copper kettle, and a roller." By 1922, the first little "Dancing Bear" was made from fruit gum. This thinner bear launched millions of other gummi bears! By the 1960s, the shape rounded out a bit, and the bears got a new name Goldbär! Today, the company operates in 15 factories world wide producing hundreds of millions of gummi bears, and other gummi shapes, as well as licorice and other treats.
Are Haribo Sweets Gluten Free
Many AMERICAN Haribo candies are made with GLUCOSE (from wheat or corn). Some Haribo varieties like, Twin Cherries, Peaches, Happy Cola and Snakes don't have this ingredient.  If you are sensitive to glucose, check the label.
Are Haribo Products Kosher?
Haribo products in general are not kosher. Althoughh, you can find some Kosher Haribo products, like Peach Haribo, made with fish gelatin (they will be clearly marked).
Are Haribo Candies Halal?
Haribo gummy candy is made with animal derived gelatin, often mostly pork gelatin. In Turkey, there is a factory that makes Gummi Bears from bovine gelatin (cows) so they are Halal.  These packages will be marked.
What is the difference Between German and American Haribo Bears?
The primary difference between German and American Haribo bears is the ingredients… In Germany, Corn Syrup and Artificial flavorings are not allowed, so the colors and flavors are more subtle. Also, the German Bears are more chewy than their softer American cousins.
Also, in Germany, the strawberry flavored Gummi Bear is pink, while in America, it's green. This is a bit confusing… but be aware that the green bear in Germany is apple flavored, and apple doesn't come in the American Bear mix….
German: Glucose syrup; sugar; gelatin; dextrose; fruit juice from concentrate: apple, strawberry, raspberry, orange, lemon, pineapple; citric acid, lemon, pineapple; citric acid; fruit and plant concentrates: nettle, apple, spinach, kiwi, orange, elderberry, lemon, mango, passionfruit, blackcurrant, aronia, grape; flavorings; glazing agents: white and yellow beeswax; carnauba wax; elderberry extract; fruit extract from carob; invert sugar syrup
American: Corn syrup, sugar, gelatin, dextrose, citric acid, starch, artificial and natural flavors, fractionated coconut oil, carnauba wax, beeswax coating, artificial colors: yellow 5, red 40, blue 1
Haribo Gummi Bear Flavors
German Gummi Bear Flavors
Raspberry- Red
Orange- Orange
Lemon- Yellow
Pineapple- Clear
Strawberry- Pink
Apple- Green
American Gummi Bear Flavors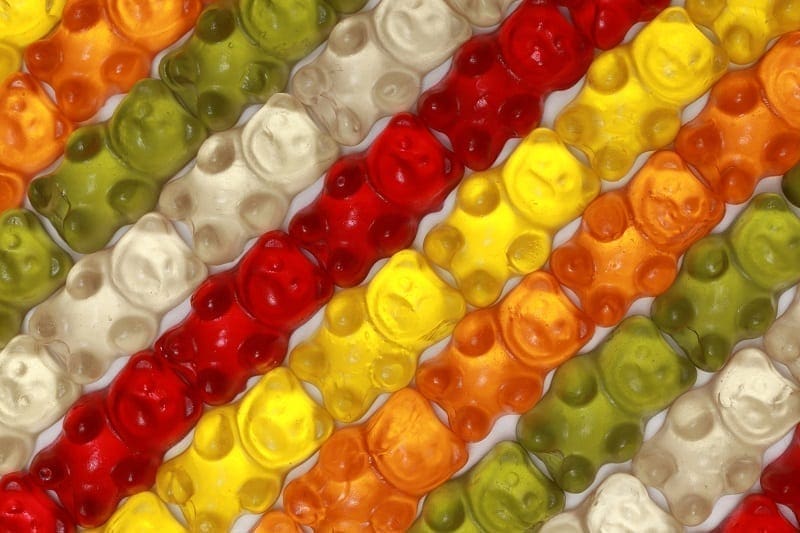 Raspberry- Red
Orange- Orange
Lemon- Yellow
Pineapple – Clear
Strawberry- Green
Where to Buy Haribo Candy Online
The World of Haribo is VAST!
Hario GoldbärenGerman Shop 24
Haribo Goldbären
The original Haribo Golden Bears from Germany including apple flavor. Get a bag… or buy a TUB of mini-packets (perfect to keep in your purse, briefcase, pocket or glove compartment for Gummi Bear emergencies.
100 Mini Bags Gold BearsGermanShop24
100 Bags Good Night bearsGermanShop24
Haribo Gold BearsGermanShop24
Other special Goldbaren Varieties…
Juicy, Sour and the special limited Fan-Edition with new flavors chosen by super Haribo fans!
Haribo Juice Goldbaeren
Haribo Goldbären Sauer (Gold Bears Sour) 200g
Haribo Bärli!
OVERSIZED Haribo Bärli from Germany!
OVERSIZED Gummi Bears!GermanShop24
Special Flavors and special Single Flavor Bags are NOW AVAILABLE!
Cherry, Watermelon (which tastes like Watermelon candy, and not like Watermelon), Green Apple, and of course, sours…
Haribo of America Sour Gold-Bears Candy, 4.5 Ounce (Pack of 12)
Haribo of America Gold Bears Bags, Cherry, 12 Count
Haribo of America Gold Bears Bags, Apple, 12 Count
Haribo of America Watermelon Gold Bears Bags, 12 Count
Large Tubs Haribo Sweets
Why not get the tub? You know you want to eat them all… and a few little bags are never enough.
Haribo PhantasiaGermanShop24
Haribo LakritzGermanShop24
Haribo BananaGermanShop24
Haribo sweet PacifiersGermanShop24
Happy ColaGermanShop24
Haribo SchlümpfeGermanShop24
Haribo ViolaGermanShop24
Crazy PythonGermanShop24
BärliGermanShop24
Giant Fries!GermanShop24
Haribo StrawberriesGermanShop24
Haribo mix- Color-adoGermanShop24
Different Types of Haribo Candy Online
Haribo is more than just Bears… there are fruits, snakes, cola bottles and more! Take a look at all of the different varieties and flavors of Haribo Candy Online (in no particular order)! Then start enjoying!
Haribo Happy Cherries
Twin red globes of cherry flavored gummy joined by green stems. When we were kids we would slip them over our fingers as rings (or even over the ear as an earring…). Pull the cherries apart, or eat them in one bite!
German and American types are available.
Happy CherryGerman Shop 24
Happy Cherries tubGerman Shop 24
4x Haribo HAPPY CHERRIES each Bag 200g (German Import)
Haribo Gummi Candy, Happy Cherries, 5 Ounce Bags (Pack of 12)
Haribo Alphabet Letters
Basically, the letters are the same flavors as the Gummi Bears. The difference? Like a bowl of Alphabet soup, you get to spell with your food.
The German version contains letters AND numbers, and is called Bären Schule… Bear School.
Haribo Gummi Alphabet Letters
Haribo Baren Schule / Bear School Gummi Candy ( 200 G )
Haribo Cola
Whether you want your Cola Gummy Happy (smooth and sweet) or fizzy (with a bit of tang) there's a cola gummy for you. I love the little bottle shapes! We would always pretend we were drinking them….
They come in 5 oz. bags, tubs of 60 giant bottles or 5 pounds bags!
Haribo Happy COlaGermanShop24
Happy Cola tubGermanShop24
Cola StixGermanShop24
Haribo Gummi Candy, Fizzy Cola, 5-Ounce Bags (Pack of 12)
Haribo Gummi Candy, Happy-Cola, 5-Pound Bag
Haribo Giant Cola Bottles (Tub of 60)
Haribo Peaches
These peach gummis… that actually taste quite peachy… are my father's favorite! He always keeps a package in the center console of his car (in case he gets snacky on the road) and another at home in the sweets cabinet (what? you don't have a sweets cabinet? Start one!) You can get the German Pfirsiche or American Peaches…
Haribo Peaches Gummi Candy (200 g)
Haribo Gummies – Peaches – 5 oz – 3 Pack
Haribo Fruit Salad and Tropical Fruit Salad
A nice mix of different Haribo Gummi Flavors in fruit shapes. I love the extra sugar crunch on the outside of the fruit salad. In my house, everyone picks out the peach, so I end up with all the rest of the flavors. On the other hand, everyone loves all flavors of the Tropifrutti!
Haribo Gummi Candy, Fruit Salad, 5-Ounce Bags (Pack of 12)
Haribo Tropi – Frutti Gummi Candy 200 g
Frutti BussiGerman Shop 24
Haribo Wine Gums and Weinland
Despite both candies having Wine or Wein in the name, Wine Gums are very different from Weinland Gummies. Wine gums are a typical English chewy gummy with flavors like blackcurrant, pineapple, lemon, lime, orange and raspberry juice. Weinland Gummis are made with wine (it's sadly cooked out during the manufacturing process). The gummis are also shaped differently. Try both and see what you like best!
Haribo Wine Gums 200g
Haribo Weinland Gummi Candy / 200g / 7.1oz.
Haribo Pico Balla and Balla-Balla
How creative is this? Haribo came up with the idea of having a 2 flavored soft filling surrounded by a gummi coating. And then they packaged it 3 different ways, so you can choose how you want to snack!
Pico Balla are little bits, perfect for stuffing into your mouth by the handful. The texture isn't as gummi as the bears… and it does take some getting used to. Balla-Balla are longer drops of the same stuff. And finally, Balla Stixx are the longest version of all… Fruity and gummy on the outside, fruity and soft on the inside… all the Balla are fairly addictive.
Haribo Pico-Balla, 175 Grams
Haribo Balla-Bally Gummy Candy 175g/6.17oz
Haribo Balla Stixx Strawberry 160g
Haribo Sweet and Sour
Sweet or Sour…Can't decide? The Barchen Parchen is the Haibo for you. The Bear Pairs one sweet and one sour hold hands, so you get both in one bite!
Haribo Baerchen Paerchen Sour and Sweet 6.17oz – NEW 2014
 Haribo Twin Snakes
Don't want to eat bears? You can get the same sweet/sour combination with Haribo Twin Snakes. I find that little boys (and big ones) love these… I uses them as cupcake decorations for my son's birthday.
Haribo Twin Snakes Sweet & Sour Gummy Candy – NEW 2016 – 5 oz Bags (Pack of 6)
Haribo Berries
For the same reason I don't care for sprinkles on my cupcakes, I'm not much of a fan of Haribo Berries. They are just a little bit of berry-flavored gummy (the blackberries taste better) covered in round sugar sprinkles. You get a crunchy chew. On the other hand, my mom loves them, so we always had them around. You can get them in the American and German packages…
Haribo Berries Gummi Candy 200 g
Haribo Gummi Candy, Berries, 5-Ounce Bags (Pack of 12)
Haribo Ginger Lemon Gummies
If you like strong flavors, then Haribo Ginger Lemon Gummies are for you. STRONG and INTENSE, and even a bit Spicy. These are not for the faint of heart… But if you love Ginger, these are for you! German and American versions are available.
Haribo Gummy Candy, Ginger Lemon, 4-Ounce (Pack of 12)
Haribo Ginger-Lemon Gummi Candy 175g/6.17oz
Haribo Smurfs
These Raspberry and Blueberry flavored gummis come in fun little Smurf shapes. (Perfect for people who don't care for apple or pineapple) The blue figures have red, yellow or white hats… I'm not sure why… don't Smurfs all have white hats? Nevermind, they are awfully cute.
Haribo Candy, The Smurfs, 4 Ounce (Pack of 12)
Haribo Die Schluempfe (Smurf Gummi Candy) Tub (150 pcs)
Haribo Smurf (Die Schlumpfe) Gummi Candy, 200g Bag
Haribo Frogs
I'm not sure why, of all animals, Haribo went with frogs… but here they are. The flavor is sort of sour. Kind of like the peach, but not really like the peach at all. The white on the back tastes a little like marshmallow. Still, frogs are fun, and these gummis would make a great addition to a Frog Themed Class Project. (And Gummi Frogs make more sense than chocolate ones… just sayin')
Haribo frogsGermanShop24
Haribo QuaxiGermanShop24
Buy Haribo Sours Online
Haribo Sours are perfect if you love your candy with a bit of ZING! A lot of the same fruit flavors and shapes… but with a sugar coating that has a bite.
Haribo Sour Pacifier
As a child, I loved that my dolly could have her own Haribo Pacifier… It's nice that they are still around. Don't be fooled by the sugar coating, these candies are sour!
Haribo Saure Schnuller (Sour Pacifier) 200g
Sour Haribo Pasta
Haribo makes Sour Fruity Pasta shapes. Don't put sauce on them.
Haribo Gummi Candy, Sour S'ghetti, 5-Ounce Bags (Pack of 12)
Haribo Pasta-Frutta -175g
Haribo Sour Bear Tongues
Do you ever wish you could sit in on a meeting where products like this are created…"Hey, I know! Sour Bear Tongues!" It just feels a bit random. Still, if you love sour Haribo, you can buy a whole bucket of Tongues to keep yourself happy.
Haribo Saure Barenzungen, Sour Bears Tongues, Tub
Haribo Sour Cherries
These red cherry globes are connected at the top with green stems… then coated with sour sugar crust. You can buy a bag or a tub…
Haribo Sour Cherries (Tub of 120)
Haribo Sour Cherries 160g x3
Haunted Haribo!
Halloween is only just beginning to take off in Germany, but that doesn't stop Haribo from treating us to scary treats! Waldmeister Ghosts and Haribo Vampires (with and without Licorice) are spooky fun!
Haribo Woodghosts – (Waldgeister) 200g *new 2015*
Haribo Bunte Vampire 200g
Haribo of America Sour Vampire Bats, 4 Ounce (Pack of 12)
Haribo Chamallow Flavors
I love Haribo, I love Marshmallows… so I'm excited that I can get a combination. Some are fruity, some chocolate dipped there are even coconut covered chamallows!
Sweet MiceGerman Shop 24
Haribo Licorice Flavors
I admit, I'm not a fan of licorice, it's just too strong. Still MANY people enjoy it, so, lucky for those people, Haribo makes a LOT of it.
ViolaGerman Shop 24
Haribo Licorice Mix
Go though most northern German or Dutch Markets, and you will find these colorful mixes of licorice bits. Fair warning, this is strong stuff… even though the colorful part mellows it out a bit. The Color-ado even mixes in other sorts of Haribo gummies.
Haribo Lakritz Konfekt 200g/7.05oz
Haribo Color-Rado Gummi Candy / 200g / 7.1oz.
Haribo Licorice
Haribo Black licorice comes in a variety of shapes… Long wound up ropes called snails, Pirate coins, bars and even cats.
Haribo Licorice Rotella Candies 300 grams from France
Haribo Konfekties 175g – NEW !
Haribo Lakritz-Schnecken (licorice wheel) 1,5 Kg
Haribo Pontefract Cakes – 160g
4x Haribo PIRATOS each Bag 200g (German Import)
Haribo Salted Licorice
For people who like their candy a bit strong, bitter and salted… Haribo has the black licorice flavors for you! mmmmmm…. Herring….
Katjes Salzige Heringe
Haribo Salino
Haribo Salty Licorice Pretzels 200 g
Haribo in BULK
Want to buy a large amount of Haribo for your party? Having a gathering and want to make a Candy Bar? Check the Candy Store Website for great deals on bulk candy!