Nutella, My Opa and the Care Packages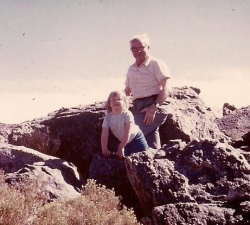 Nutella and Opa – One quick glance at my backside, and you will see that my love affair with that sinfully, chocolatey, delicious hazelnut spread has gone on for a long time. REALLY long time. My parents emigrated to America from Germany in the 1960's, shortly before I was born. They left everyone behind, and headed for the promised land of California. My Opa Pangratz, fearing the culinary deprivations we would be experiencing in this Wonder Bread and Peanut Butter wasteland, would send us care packages several times a year filled with German treats.
Those packages were amazing. The postman would have to carry that heavy box to the house. A big box, wrapped in stiff brown paper, wrapped in twine with elaborate knots. The outside was covered in loads of fancy stamps and serious looking customs declarations. But we were more concerned about what was inside. Mom used to untie the knots and save the twine. The anticipation would kill us! Finally the box would be open, and we could smell Germany. There was always a layer of paper over the content, and when it was lifted away, we'd finally get to see what was inside…Chocolates, Gummi Bears, and of course, jars and tubes of Nutella.
OH MAN! I used to put Nutella on everything…. mom even caught me putting it on my cereal once….. But the best way to eat it, is to just dig in to the jar with a big spoon. Savor it in your mouth. MMMMMMMmmmmm Let it fill your senses. Let the world wash away.
Thank goodness my Opa loved us enough to keep us supplied with these treats. That was the kind of man he was- always had candy tucked away in his pockets for kids who had a sweet tooth. Opa would come to live with us three months out of every year… generally in the winter, to get away from the cold. As a child, I loved it. He taught us games, taught me to tie my shoes, and took me on walks. In his old life he was a shop owner and leather worker, he still used the tools to make things for us. Never a stranger, he made friends everywhere he went. He traveled the world on his own, was a HUGE soccer fan, and was devoted to his Catholic Church. He would send his care packages, not just to us, but also to family in East Germany who weren't able to buy some of the every day things we all took for granted. After meeting a nun on a plane, he also supplied an orphanage in India with sweet treats, and everyday necessities. My Opa wasn't a man rich in money, but he was rich in heart and generosity.
When he passed away, my mom went to Germany to clean out his apartment. There, she found one last care package with our name on it. Even in the end, he was thinking about us.
Today,  Nutella is tied to my memory of my Opa. One spoonful, and I'm a kid again, anticipating opening that wonderful package, and feeling his love.
Looking for Nutella Gifts?–>Gifts for Nutella Lovers