German Slippers and House Shoes for Kids and Babies
In every German household across the world, there are several common rallying cries from Moms and Omas…."es ZIEHT" (there's a draft), "iss mal was" (eat something), and most important…."Du kriegst kalte Füße! Zie dir deine Hausschuhe an!!" It's my understanding that Germans just don't do bare feet, at least not in Winter. Thankfully, because of this, there is an AMAZING selection of House Shoes for kids available from Germany. German Slippers and House shoes for kids are practical, but also so cute and so cozy, that kids will WANT to wear them all the time! (In fact, you may have to force them to wear regular shoes once they've put them on.).
Best of all—Use my special Coupon Code- HAPPYSHOPPING20 for a 20% discount (on any product from German Slippers!)
"This post contains affiliate links, at no additional cost to you I am compensated if you purchase after clicking on the links."
German Slippers and German House Shoes for Kids
German Slippers sells high quality boiled wool slippers for kids that will keep their feet warm and dry in the house. But these aren't boring slippers and House shoes! They have personality! There are colors and styles to  suit everyone. Some low cut, others cover the ankles. Some are distinctly "girlie" or "boyish", but many will suit either, and the high quality means they will even last as hand-me-downs! (As a mom of three, this was always an important feature. Can the next kid use them too? YES… and they clean well!)
Ok, yes, you do pay a bit more for the high quality slippers and house shoes from Germany. But I believe you get what you pay for. Your kids will have warm dry feet from slippers that won't fall apart. And after cleaning them, they can be passed along to the next child.
HAFLINGER Slipper Boot | Amanda, AubergineGermanSlippers
Save Money on German Houseshoes for Kids!
German Slippers offers a few ways to save money on their house shoes and slippers. Which is FANTASTIC, especially if you are shopping for multiple people!
1. Shipping is ALWAYS free. (Order anything from anywhere in Germany, and you will realize what an incredible deal this is)
2. Use my special Coupon Code- HAPPYSHOPPING20 for a 20% discount (on any product from German Slippers!)
3. The House Shoe Satisfaction Package! which offers multiple discounts that increase with every order!
HAFLINGER Slipper | Cosmo, OceanGermanSlippers
How to Pick the Right Size
EASY…. There is a size conversion chart linked to each pair of shoes on the site, comparing American, UK and European sizes as well as inches! (Reminds me of when I was little, and my Opa would trace our feet on a paper to take back to Germany for shopping… this is WAY easier)
Haflinger Slippers for Kids
Haflinger has been producing quality shoes in Goslar Germany for over 100 years! The boiled wool can be brushed clean, or wiped with a damp cloth. If they get wet, stuff with dry newspaper, and place in a warm dry area. Most styles of Slippers and House Shoes come in a variety of colors.
HAFLINGER® Kid Slipper | Max, BlueGermanSlippers
HAFLINGER® For Girls | Everest Fleur, BrickredGermanSlippers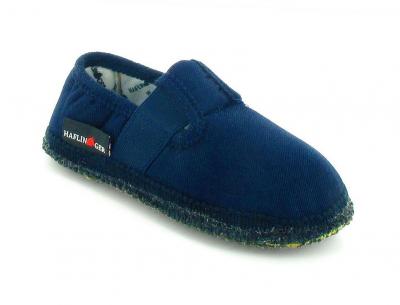 HAFLINGER® Kids Footwear | Uno, OceanGermanSlippers
HAFLINGER® Kids Slipper Boots | Everest Pablo, BlueGermanSlippers
Living Kitzbuehl Slippers and Houseshoes for Kids
Living Kitzbuehl started in 2006 as a subsidiary company to the Austrian boiled wool giant Moessmer. Their natural wool keeps feet dry and warm, without making them overheat. Their slippers come in a variety of fun colors…and I really like those "high tops!"
German Slippers for Babies!
Does anyone else get "COLD" when they see a baby outside without shoes or slippers? I know, they may not be able to walk yet, but they still need their feet covered! German Slippers has a great selection of Baby Slippers... perfect for keeping little feet warm!