How to Make Chicken Schnitzel with Mushroom Sauce
This post for Chicken Schnitzel with Mushroom Sauce (Huhnerschnitzel mit Jägersoße) was written by my daughter Katy who is following the Stay at Home order alone in the Bay Area. Luckily, she inherited her Oma's ability to cook! She also knows how to use what she already has in her kitchen to make a delicious meal.
As I have been sheltering in place for a little over a month now I have turned to cooking to keep from going stir crazy. Specifically, since I live alone, cooking meals that remind me of family have been a go to. Below has been my go to recipe for Chicken Schnitzel. It is inspired by my Oma's recipe, and has also has been adjusted to match more what I had in my cupboard and fridge (aka. chicken tenders) since going to the grocery store right now is not so easy since there are lots of lines and waiting.
Feel free to play with the amounts. I used less flour than originally called for since it is hard to come by sometime, plus often all of it doesn't get used.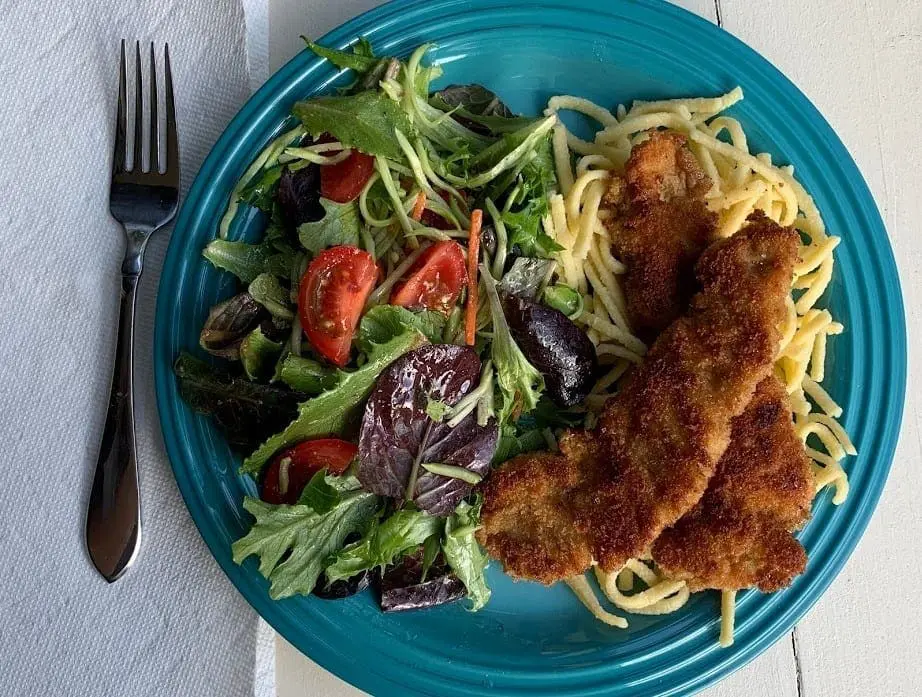 Easy Chicken Schnitzel Recipe
Ingredients: 
1 pound chicken tenders (could also use chicken breasts) 

3/4 cup all-purpose flour 

2 large eggs

1 tablspoon Dijon mustard 

1 cup Bread crumbs 

2 tablspoons canola oil 

2 tablspoons unsalted butter

Salt

Lemon wedge 
Steps: 
Begin by first setting up a workstation. For the chicken you will want a cutting board, a baking sheet lined with wax paper (mainly for an easy clean up so not necessary), and something to pound the chicken flat. I once used the backside of an ice cream scoop, you can use the back of a frying pan if you don't have a meat hammer. For the coating, set up 3 shallow bowls or plates. One with flour, the middle with the eggs and Dijon beaten in, and the final one with breadcrumbs. 

Using whatever tool you have, flatten the chicken. If using tenders, be careful not to hit them too hard or they could come apart. 

Once all the chicken has been flattened, you can start the coating process. One at a time, first cover the chicken in flour. This created the "seal" for the chicken from the oil so it cooks but does not dry out. Once coated in flour then coat the chicken in your egg Dijon mix. This will then allow for the breadcrumbs to attach to the chicken. Once all three layers are on the chicken, place on the wax lined baking sheet. 

In a skillet, heat one tablespoon oil and one tablespoon butter on medium-high. When the Oil and butter start to shimmer chicken in the oil. Do half the chicken. Cook the side, watching for browning. The chicken should cook for 8 to 10 minutes. Remember to flip to get both sides covered, as well as turn the chicken if one part of the pan is causing quicker browning than other parts. 

Have set a drying rack with paper towels to rest the chicken on after pulling it from the oil. This will catch the excess oil as well as prevent the chicken from resting directly on a flat surface. Salt both sides lightly. 

Repeat the process with other chicken pieces. Feel free to wipe out any blackened pieces of bread crumbs from the skillet before to ensure the bits do not get on the other pieces. 

Place and serve with favorite sides. Squeeze a tad bit of lemon over when eating.
Brown on one side….
Flip and brown the other…
Mushroom Sauce or Jägerschnitzel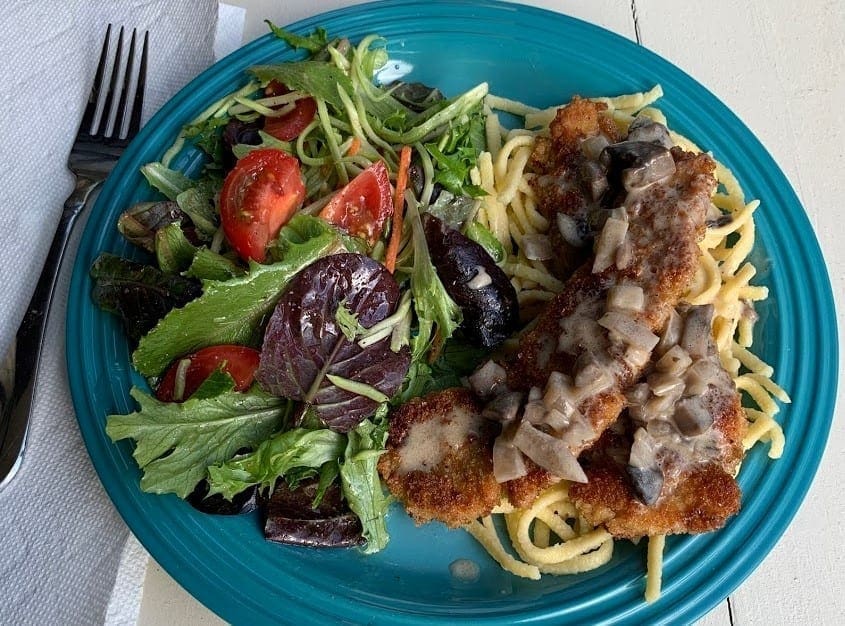 There is nothing more comforting than Jägerschnitzel. Therefore, a perfect way to top your Chicken Schnitzel is with a Mushroom Sauce that transports you back to a beer garden on a warm day. 
Ingredients:
3 tablespoons clarified Butter (regular butter works too)

1 cup diced Onion 

1 pound Mushrooms chopped or sliced  

1 cup Vegetable Stock 

½ cup Heavy Cream 

1 tablespoon Cornstarch 

Salt and pepper to taste
Steps:
Melt 3 tbsp butter in a saucepan. Add the onions and saute them for 5 to 7 mins. Then add cut mushrooms to the pot and saute for 3 mins. 

Add the vegetable stock to the pot, stirring to ensure everything is incorporated including any spots that have browned on the bottom. 

Reduce head to medium low and let it simmer for 10 minutes. Add in cream and let it reduce further. 

If the sauce is still thinner, which has been my experience, add 1 tablespoon of cornstarch to a bit of water and incorporate it into your simmering sauce. Pull after it has thickened a bit. 

Let cool off a bit and serve over your meat, potatoes, noodles etc. 

If you have some left over, serve it over Rosti or leftover noodles
Staying at home is definitely better with comfort food. Pour yourself a beer and enjoy it.
I hope you like this recipe…