Schwenker Grill Time! German Style Grilling and Marinade
Deep in one of my mom's photo albums is this photo of my Uncle using his German Schwenker Grill. He took his job very seriously (we kids weren't allowed to fool with it). And it took a long time for dinner to be ready on this crazy looking contraption, because my Uncle took his job seriously, and made an all day event out of it. (which explains why there are so many bottles of beer) What is a Schwenker Grill? It is basically a Tripod that suspends a grill surface over flame. The job of the Schwenker Grill Master… keep the grill swinging (schwenking) over the flame. This action, keeps the meat from burning (and it's fun to watch!). But it's not just the grill itself… it's also the special marinade that you use on the meat that makes it so delicious! Luckily, you can recreate this flavor at home. Let me show you How to Schwenker Grill... how to build your own Schwenker Grill… and how to make a great Schwenkbraten Marinade…. perfect for your end of the summer Grill Party.
What is a Schwenker Grill?
A Schwenker Grill is a specialty of the Saarland, although, like American Bar b Ques have spread beyond Texas, Schwenker Grills can now be found throughout Germany. Basically, it's a grill that hangs from a tripod by a chain. A fire is built under the tripod. The Schwenker (Schwenk Griller) swings the meat covered grill rack over the flames… keeping it in constant motion… until it cooks to perfection. This method stops "hot spots" that would ordinarily flare up and burn meat. It's also a great method for cooking meats with uneven sizes. It may take a bit longer than your standard backyard Gas Grill, but the results are worth it. Meat stays juicy, and takes on a smokey flavor from the wood smoke.
Schwenker Grilling is a social event. People can stand around the grill chatting and drinking beers while taking in the wonderful smell of grilling meats. It's also something you can do out in the woods… as long as you bring chain and a grill, you can build your own tripod from sticks.
How to Schwenker Grill
First you must set up your Schwenker Grill (see below for the various types… home made, store bought, wood stakes etc). Be sure the tripod is balanced… you don't want the whole thing to kip over while grilling! Hang the grill from the chains. Ideally, you have a chain that can be adjusted up or down… but that is not the top priority (the top priority is balance)
This isn't a quick starting Gas Grill, you need to build a fire under the grill about an hour BEFORE you want to start grilling. You want heat, not necessarily flames. Traditionally Beech wood is used.. but go ahead and substitute what you have.
Place the meat and veggies on the grill. If you've marinated it, you can shake off the loose bits of onion or whatever. Use tongs to turn the meant, and a stick swing the grill. Warning! You aren't trying for a world record in swinging height… just a nice sway motion to keep things moving.
Grill steaks at least 8 minutes per side (check!) Bratwurst need to be grilled to bursting. Chicken until it comes to temperature (use a thermometer)
What Can You Make on a Schwenker Grill?
-Schwenkbraten (a Pork Roast marinated in Schwenkbraten Marinade)
-Pork Steaks
-Bratwurst
-Chicken
-Hamburgers
-Beef Steaks
-Roasts (these take longer)
-Kabobs
-Vegetables are great on a Schwenker Grill
Schwenkbraten Marinade
Traditionally, a Schwenker Grill is made for Schwenkbraten… a marinated pork roast that comes off the Schwenkgrill tasting a bit like heaven and summer combined. You can, however, use the Schwenkgrill for any meat or vegetable dishes.
Schwenkbraten Marinade
In Germany this marinade is used on Schweinehals (pork Neck)... Pork Steaks or Country Style Pork Chops are easier to find here. Let the meat marinade for the full 24 hours for maximum flavor.
Ingredients
Marinade:
1

cup

Oil

3

Onions- sliced into rings

4

Garlic cloves- smashed a bit

1

tsp.

dried Thyme

1

tsp.

dried Oregano

5-7

Bay Leaves

7

or 8 Juniper Berries- crushed a bit

2

tsp.

Salt

1

tsp.

Peppercorns

1/2

tsp.

Paprika

1

shot Obstler

optional (You can add this to the marinade, or to the chef...)
Instructions
Combine all Marinade ingredients, and let sit for 5 minutes to really combine.

In a bowl you can cover or a large zipblock bag... add the meat to the marinade.

Let marinade for 24 hours in the refrigerator.

Remove the meat from the marinade... and grill until done.
&
Like this recipe? Find more delicious German recipes in my Easy German Cookbook
80 Classic recipes made Simple.  Perfect for side dishes and salads to go with your delicious Schwenker Grilled Meats!
You can even order a signed copy!
Easy German Cookbook: 80 Classic Recipes Made Simple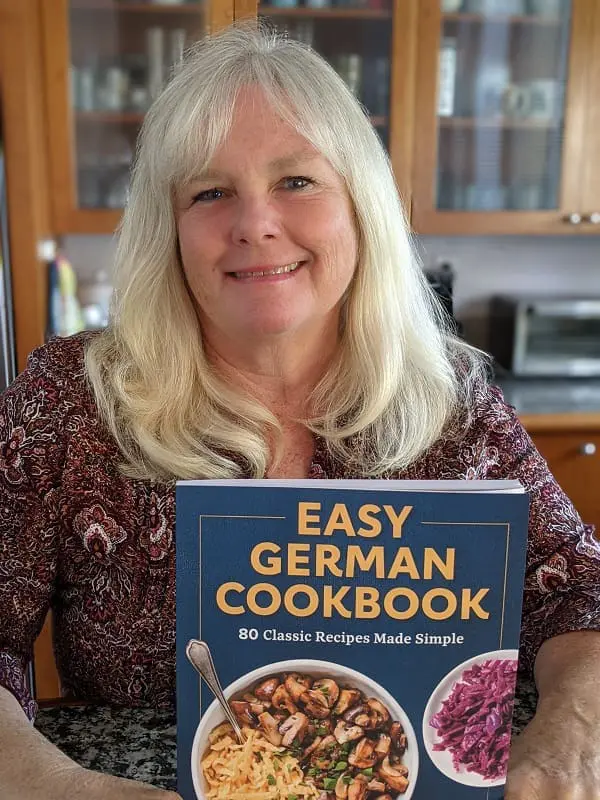 Easy German Cookbook SIGNEDGermanGirl Shop
Where to Buy a Schwenker Grill
This Tripod grill is made with heavy duty cast iron! The Tripod is Hand Forged and sturdy.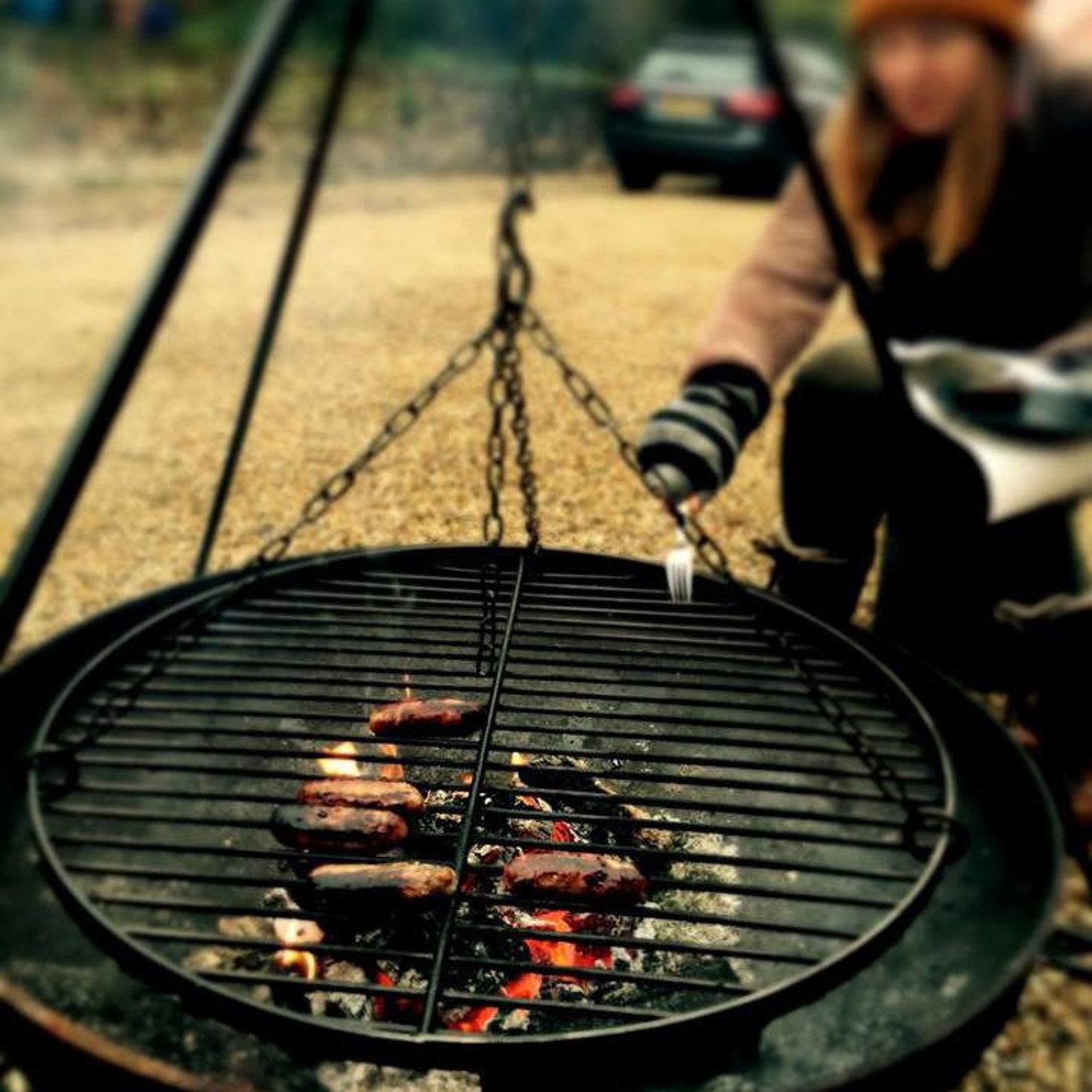 Large Campfire Cooking Hanging Grill for Cooking Tripod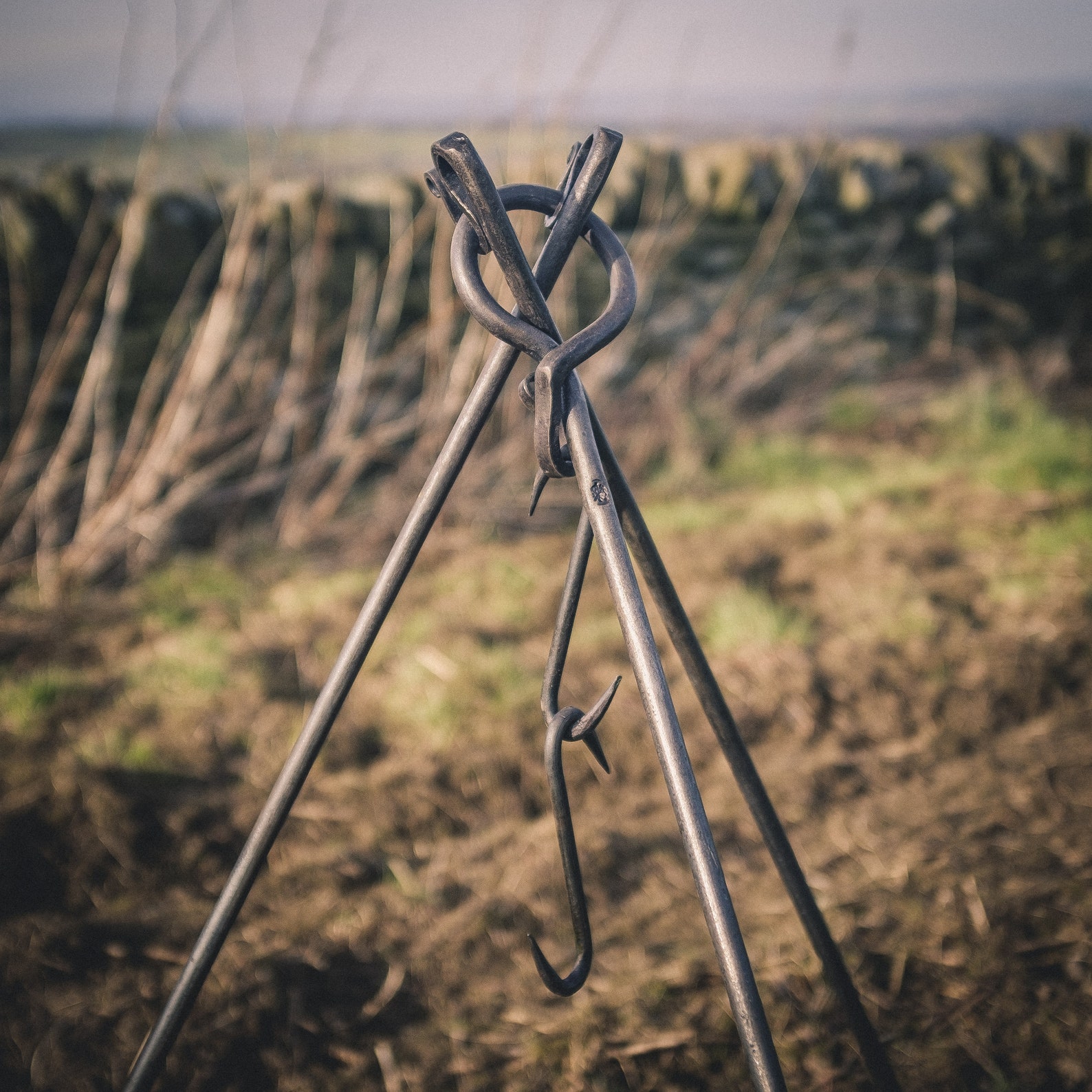 Hand Forged Campfire Cooking Tripod – NEW DESIGN!

z
Steel Schwenker-type Grills with firepit.
Upgraded Charcoal Tripod Grilling Set Adjustable Heavy Duty Camping Tripod Grill Set for Outdoor Campfire Barbecue Cooking BBQ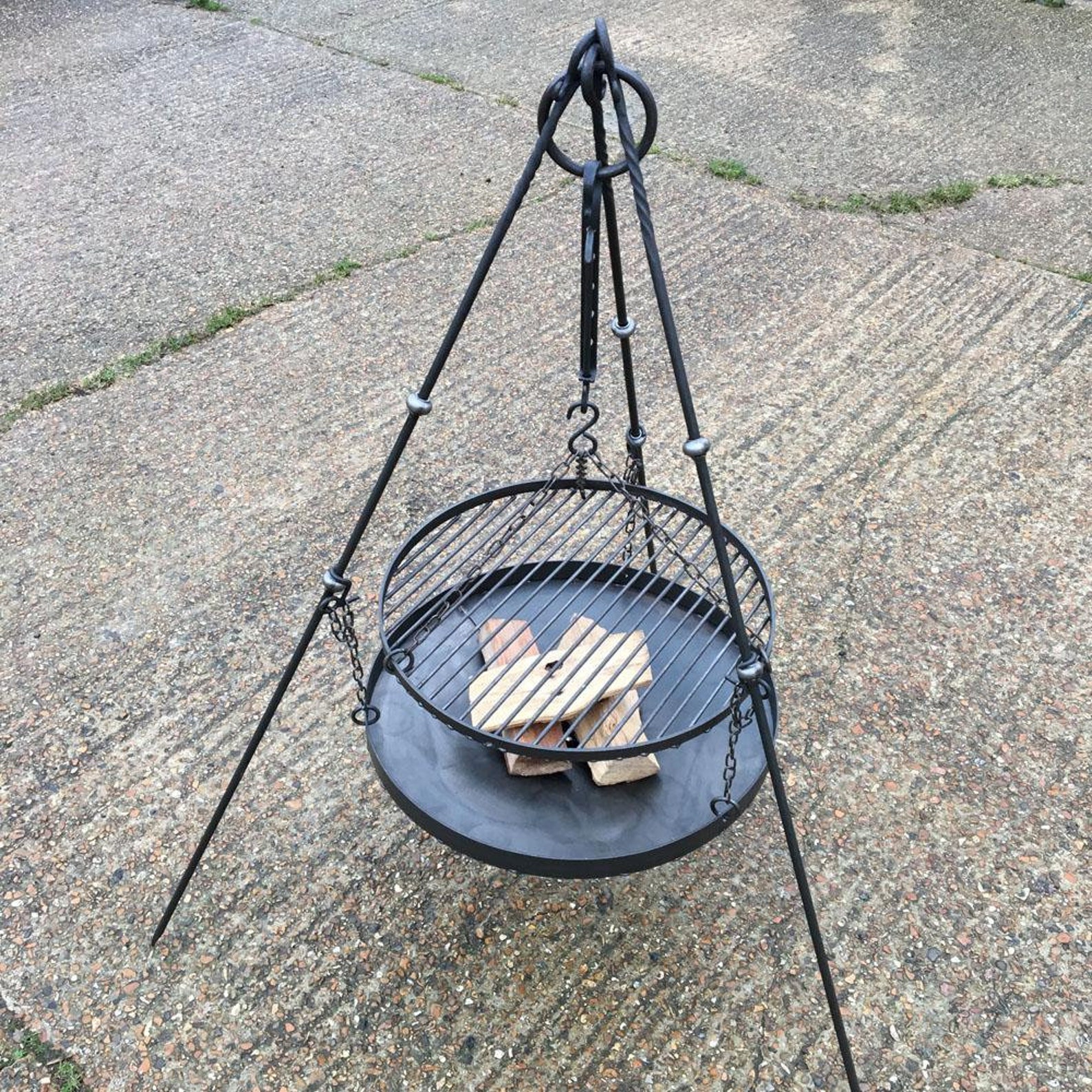 Campfire Cooking Tripod Firepit Set with Grill

You can also find lighter models
Coleman Tripod Grill & Lantern Hanger

How to Make a Schwenker Grill
This version of the Schwenker Grill can be built at a campsite. It's made with a few bits and pieces from the hardware store, and 3 sturdy wooden poles.