Oktoberfest Party Ideas- Plan An Oktoberfest Party!
Even if you can't make it to Munich, you can still celebrate! Plan an Oktoberfest Party at home with these Oktoberfest Theme Party Ideas!  All you need is Beer, food music and some fun Oktoberfst party supplies/ decorations to get everyone in the mood!
You can go big… and rent a tent, hire a band, and tap a keg or two…. Or go a little smaller… decorate the patio, put in some CDs and bring in a case of beer. Either way, your guests are sure to appreciate the German Gemuetlichkeit . Traditionally Oktoberfest begins in September, and runs the 16 days before the first Sunday in October, but if it's your party, you can have it any time you want!
What is Oktoberfest?
A little history first to put the celebration into perspective… In October of 1810, Crown Prince Ludwig married Princess Therese of Saxe-Hildburghausen. All Bavarians were invited to celebrate with Festivities (mostly horse racing) in the Theresenwiese (a meadow renamed for the event). It was so popular, that they celebrated again the next year! and the next…. and the next. (The powers that organize these things made the wise decision to move the event to September, to take advantage of better weather).…. Except for years of War or Global Pandemic, Oktoberfest has been celebrated every year since then. Read more about Oktoberfest HERE
Plan An Oktoberfest Party
Begin by planning out how many people you want to invite. Is it going to be a large party? Or a smaller more intimate gathering of friends? This way you can figure out if you need to rent tables and chairs, set up a tent, or just use the furniture you have. Remember, if you have to rent or buy furniture, you want to have that arranged well in advance! Also, if it's a bigger party, you may consider hiring some help… either a professional caterer or a few teenagers who need money.
Oktoberfest Theme Party Ideas
An Oktoberfest Arch of Balloons and Bunting is a GREAT way to welcome guests!
This kit comes loaded with LOADS of balloons! Including 2 shiny balloons with beer and pretzel decorations. All of the balloons need inflating, get the The Pretzel Balloons need twisting!!
Bunting and Signs … Balloons and Bunting… These decoration packs are a one stop shop!
Oktoberfest Decorations, 121pcs Oktoberfest Balloons Garland Set with Bavarian Bunting, Oktoberfest Aluminum Foil Balloon for Oktoberfest Party Decor

TUPARKA Oktoberfest Decorations Kit Octoberfest Party Supplies for Oktoberfest Decor Oktoberfest German Party Decorations, Includes Oktoberfest Bavarian Tablecloth Sign Flag Pennant Banner

Nepnuser Oktoberfest Fence Banner for German October Fest Themed Party Decoration Blue Bavarian Flag Check Hanging Banners for Beer Party Supply

 Oktoberfest Invitation Ideas
Send out invitations early, these digital downloads make printing up those invites EASY.  Get those RSVPs! Let people know what sort of party it is… whether you are inside, or out in a beer garden.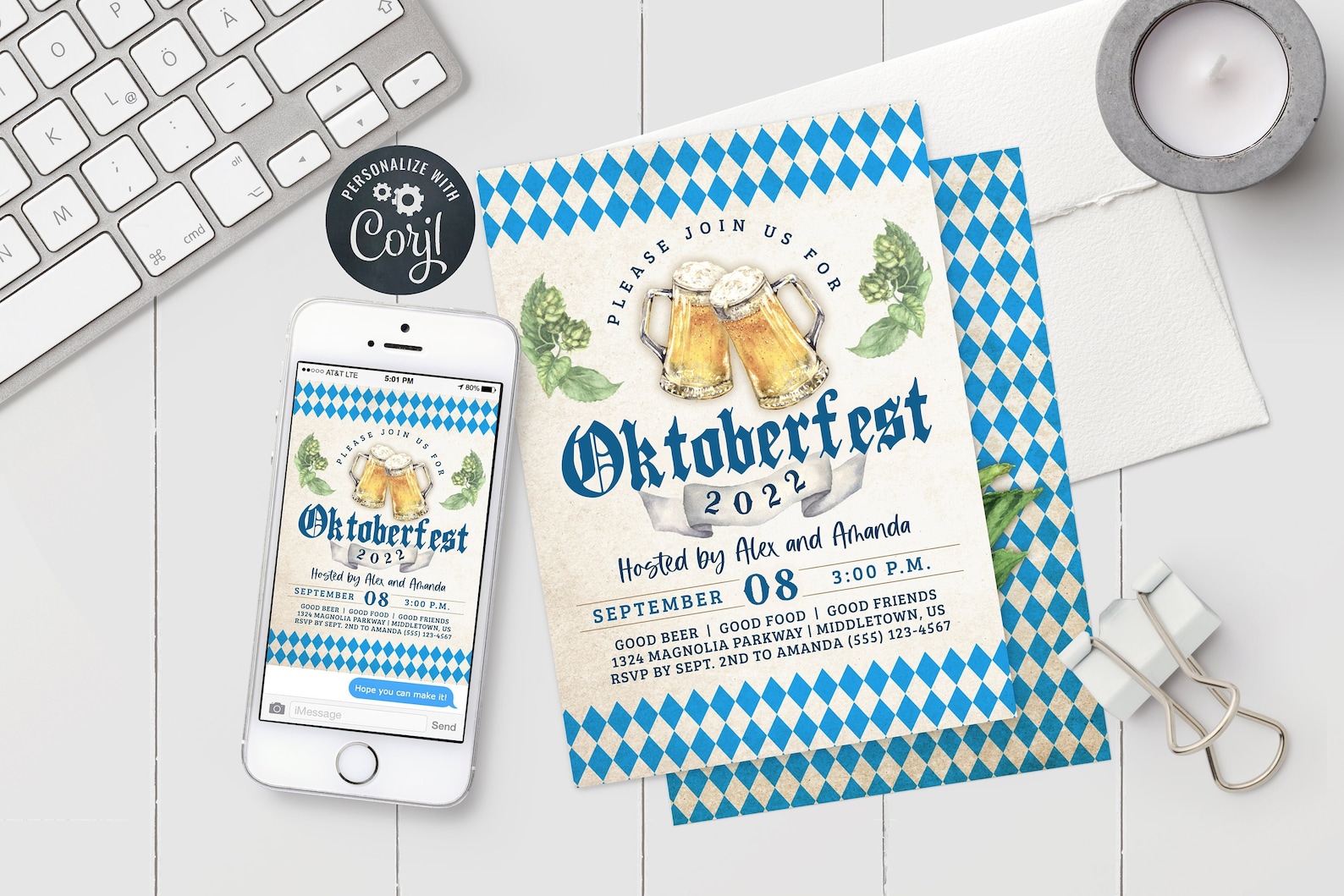 Oktoberfest Invitation – Blue Bavarian Check Traditional Oktoberfest Invite 5×7″ & 4×6″ Editable Template Instant Download PDF, JPG, or PNG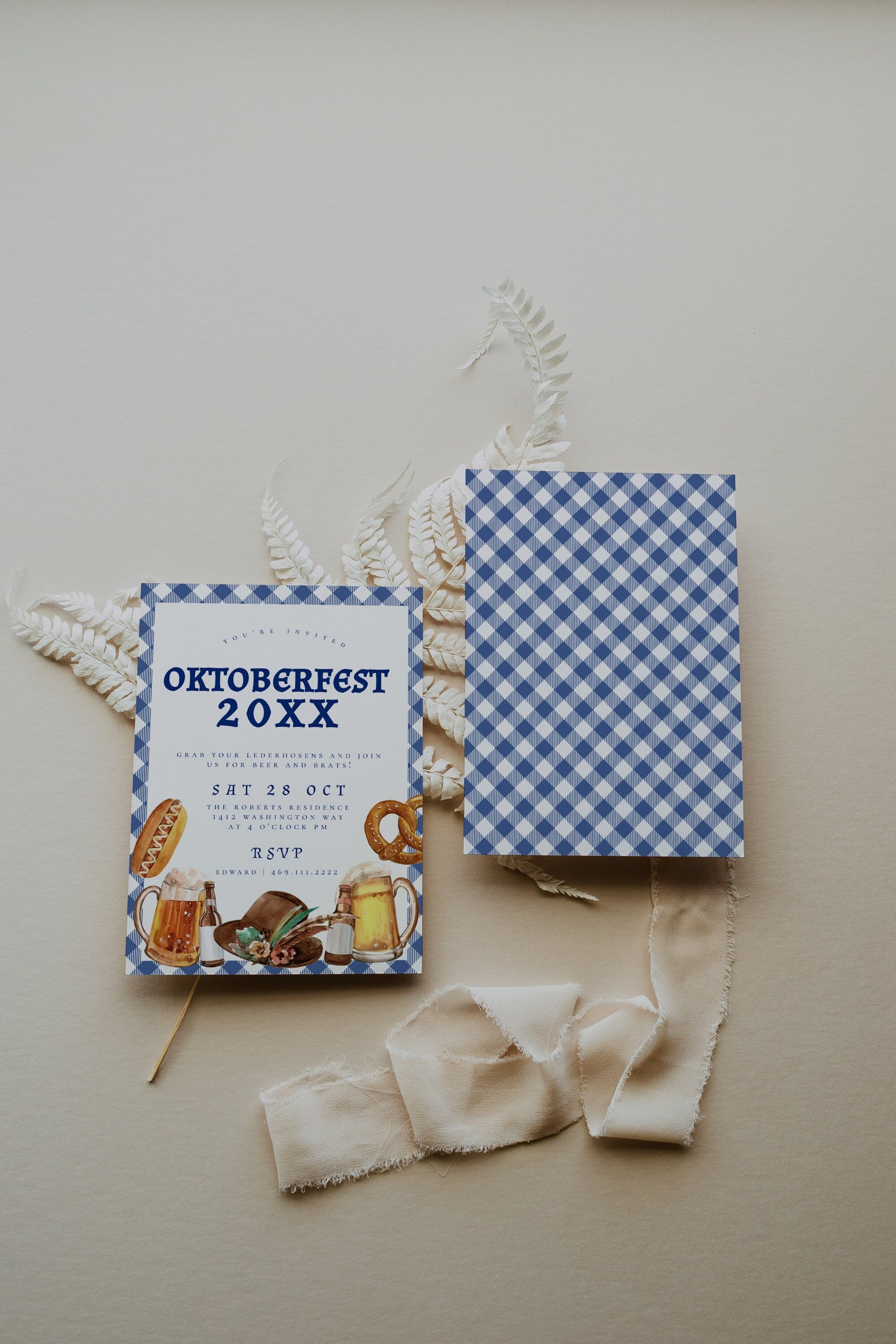 Oktoberfest Invitation Template, Digital Oktoberfest Invite, Beer and Brats Invitation, Oktoberfest Party Invitation, Oktoberfest Birthday

Bier Tent? Biergarten?
If you have the space… and a lot of friends… a Bier Tent might be a fun way to get everyone in the mood (and keep your party from being rained out!). Decorate the tent with Blue and White banners to give it an authentic look.  If you don't want to set up a tent… how about re-creating a Biergarten? Tables with benches on either side make the space feel like Germany. You can cover the tables with a blue and white checked cloth, and even some fun centerpieces.
These tables fold down nicely, so you can pack them away for next year.
Giantex 3 PCS Beer Table Bench Set Folding Wooden Top Picnic Table Patio Garden
Beer (What Many Consider the Centerpiece of all Oktoberfests)
and other Drinks..
In Munich, only beer brewed within the city limits is allowed to be served at Oktoberfest. This limits the offereings to Augustiner, Hacker-schorr, Hofbräu,Löwenbräu, Paulaner and Spaten. Of these, only Hacker-Pschorr, Hofbräu, Paulaner and Spaten Oktoberfestbier are shipped to the United States. Now… how authentic you want to be depends on you (and your budget). If there is a brew that you and your friends prefer, by all means, serve it! If you can get a keg… wonderful! But if all you can find are bottles, that's fine too. (Find out more about Oktoberfest Beer here)

Don't forget to say "O'zapft is!" when you tap your keg! (or pop the cap on that bottle)
Serve the Beer in liter Steins… or something smaller. This is also a great time to show off your Stein collection. Let people bring their own if they want! Worried about breakage? The 8oz plastic version will keep your fabulous collection safe.
1 Liter HB
Collectible German Castle Festive Engraved Cobalt Blue Beer Stein with metal lid
Mini Plastic Beer Mugs, 8oz Clear Dimple Stein Beer Mug Suitable for Children/Kids, Dishwasher-Safe, BPA Free (10 Pcs)

Keep it Cool!!!
Whether you serve beer or soda… you want to keep it cool.
(or you can just fill the inflatable mug with a LOT of beer… and use a straw.)
Beistle Inflatable Beer Stein Cooler, 18 by 27-Inch, 1 piece

Don't forget the Koozies!
ADXCO 12 Pack Oktoberfest Can Coolers Sleeves Collapsible Neoprene Beer Can Cooler Covers Blue and White Checkered Beer Bottle Cup Insulator for Oktoberfest Bavarian Beer Festival Party Supplies

Oktoberfest Can Beverage Coolers – German Bavarian Beer Coolies Cover Party Supplies Decorations 12PCS

For non-Beer Drinkers, prepare a Bowle or Radler
Germans LOVE to mix up their drinks… yes, they even mix soda or juice with beer! (don't scoff, it's delicious!)
Bowle a sort of punch made with wine or beer and fruit.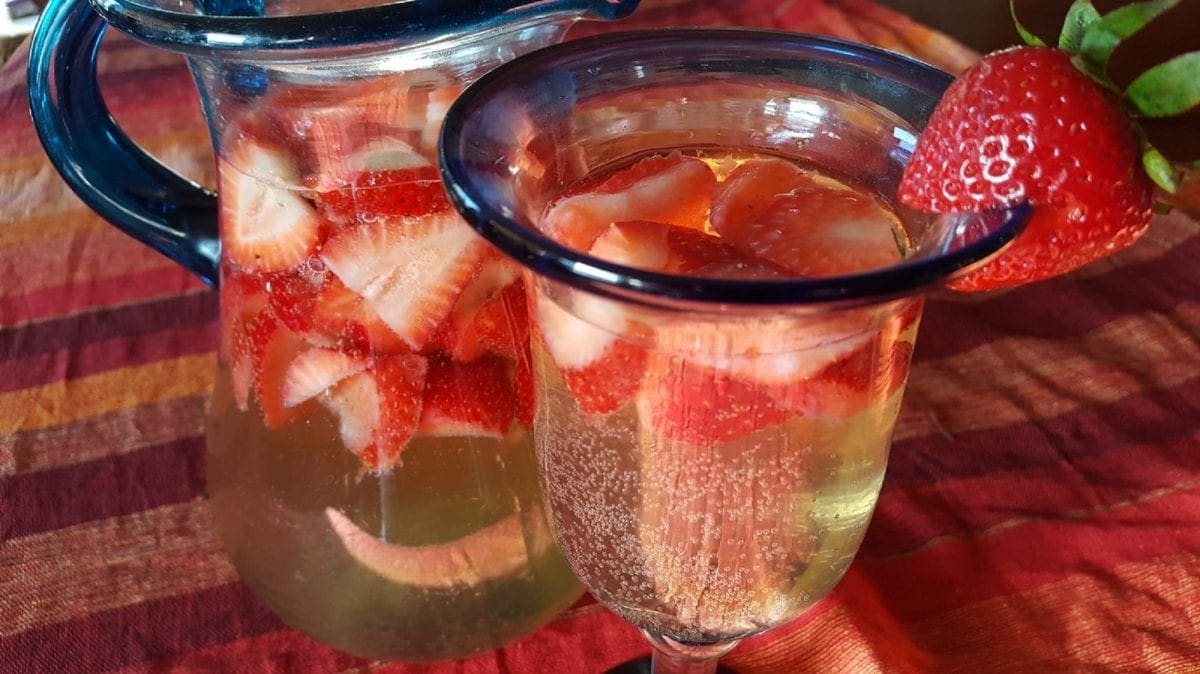 Radler a mix of soda/lemonade and beer. This refreshing beer mix is perfect for people who aren't sure they like beer… or maybe they just want to drink their beer half as fast.
Non-Alcoholic Drinks
Serve Sodas like Fanta or mix up some Apfel Schorle (a carbonated apple juice)
For more German Mixed Drink ideas Click HERE–>German Mixed Drinks
Don't Lose Your Beer!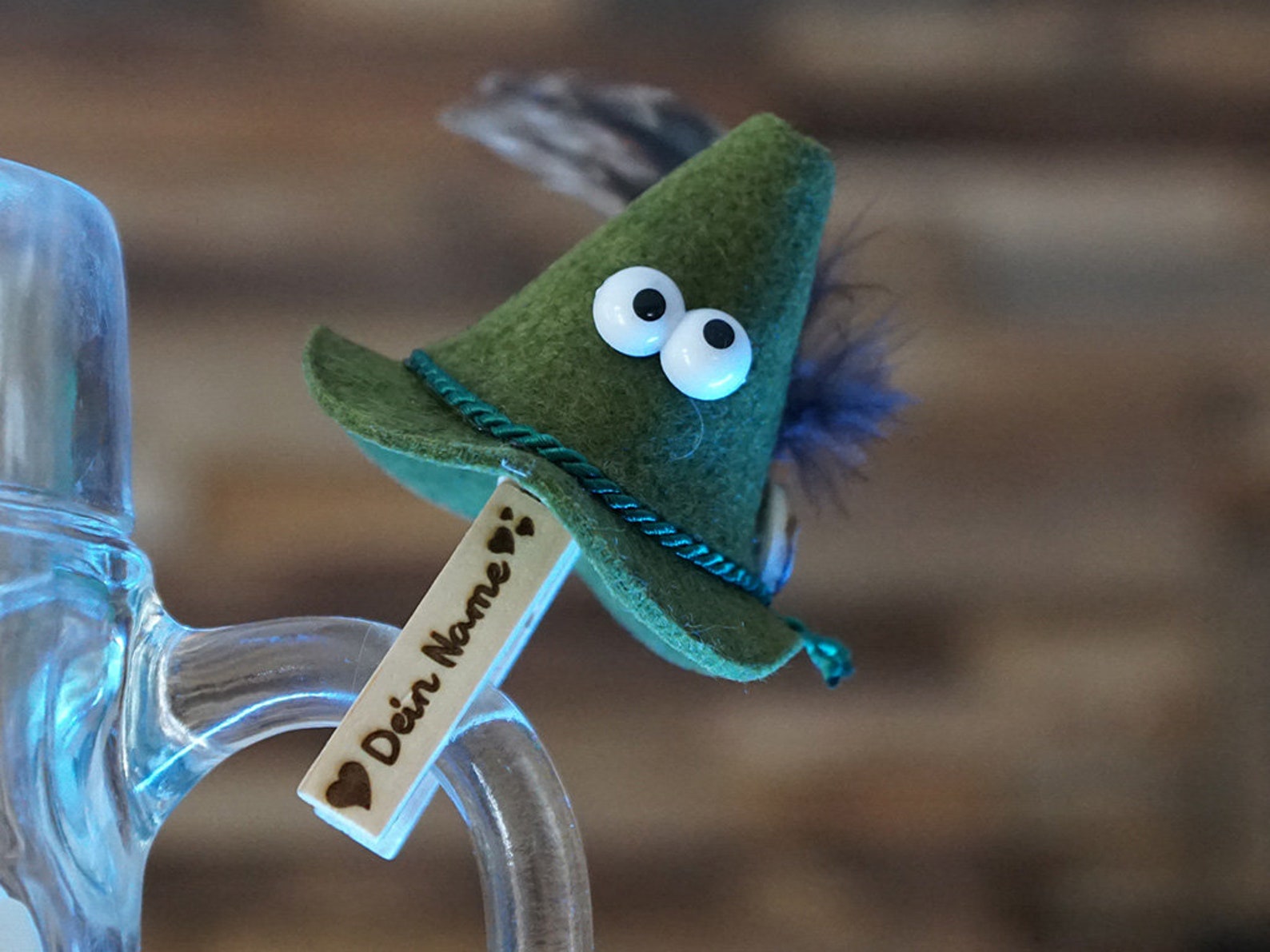 GLUPPERL HUADLING – Woidgrea-Oktoberfest Souvenir

Get some Oktoberfest Food Menu Ideas Here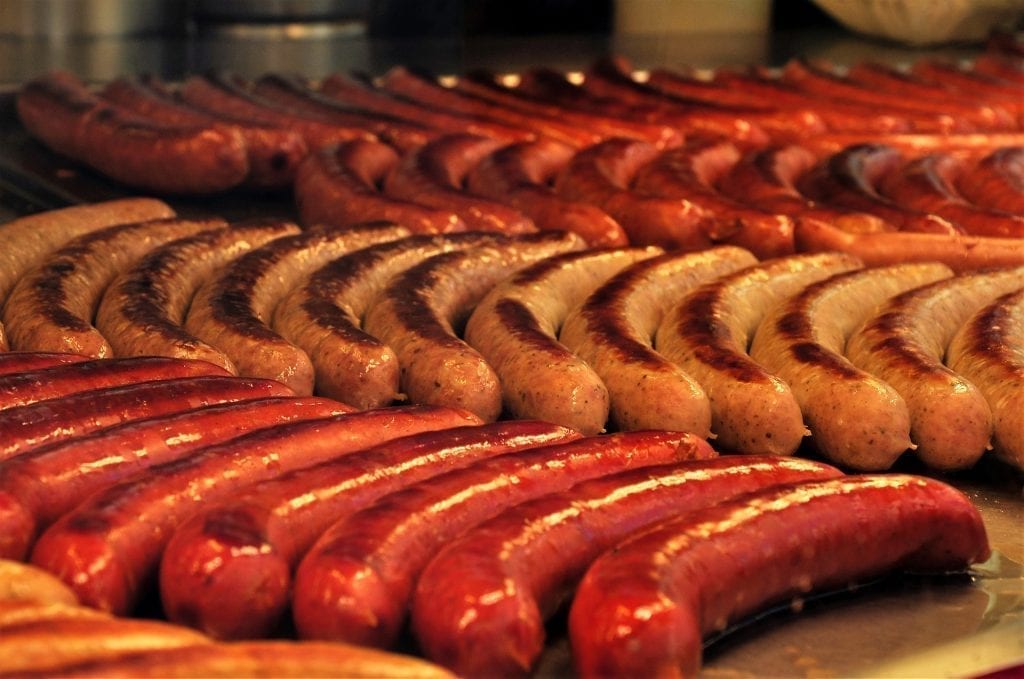 Traditional Oktoberfest Food Recipes
What are the Traditional foods served at Oktoberfest?
(click the names to get the recipes!)
Pretzels…. Big, thick and delicious Pretzels, perfect for soaking up beer!
Obatzda.… cheese spread
Brathandel/ Roasted Chicken... In Munich you get Half a Chicken! You can cut it smaller
Steckerlfisch… Grilled fish on a stick
Schweinehaxe... Ham Hock
Sausage–Nurenburger Bratwurst, Thuringer, Weisswurst or Knackwurst… easy and delicious! And don't forget the mustard!
Brat Kartoffel / Fried Potatoes… crispy and good
Knoedel... potato or bread dumplings
Kaese Spaetzele…. a cheesy noodle dish
Kartoffel Salat / German Potato Salad.… cold or warm
Sauerkraut…. perfect with sausages- Don't just serve it straight from the Jar! Drain it, rinse it a bit, then cook it on the stove top with a little (ok, a lot) of White Wine, bacon and some cloves.
Rotkohl or Blaukraut / Red Cabbage... warm and tangy. You can even make it cold as a salad.
Apfel Strudel…. Apple Streudel
Apfel Kuchen.… Apple Cake
Oktoberfest COOKIES
Don't forget the Lebkuchen Hearts! These decorated Gingerbread Cookies are not only decorative, they taste good! The decorated sugar cookies make great dessert…and a nice party favor.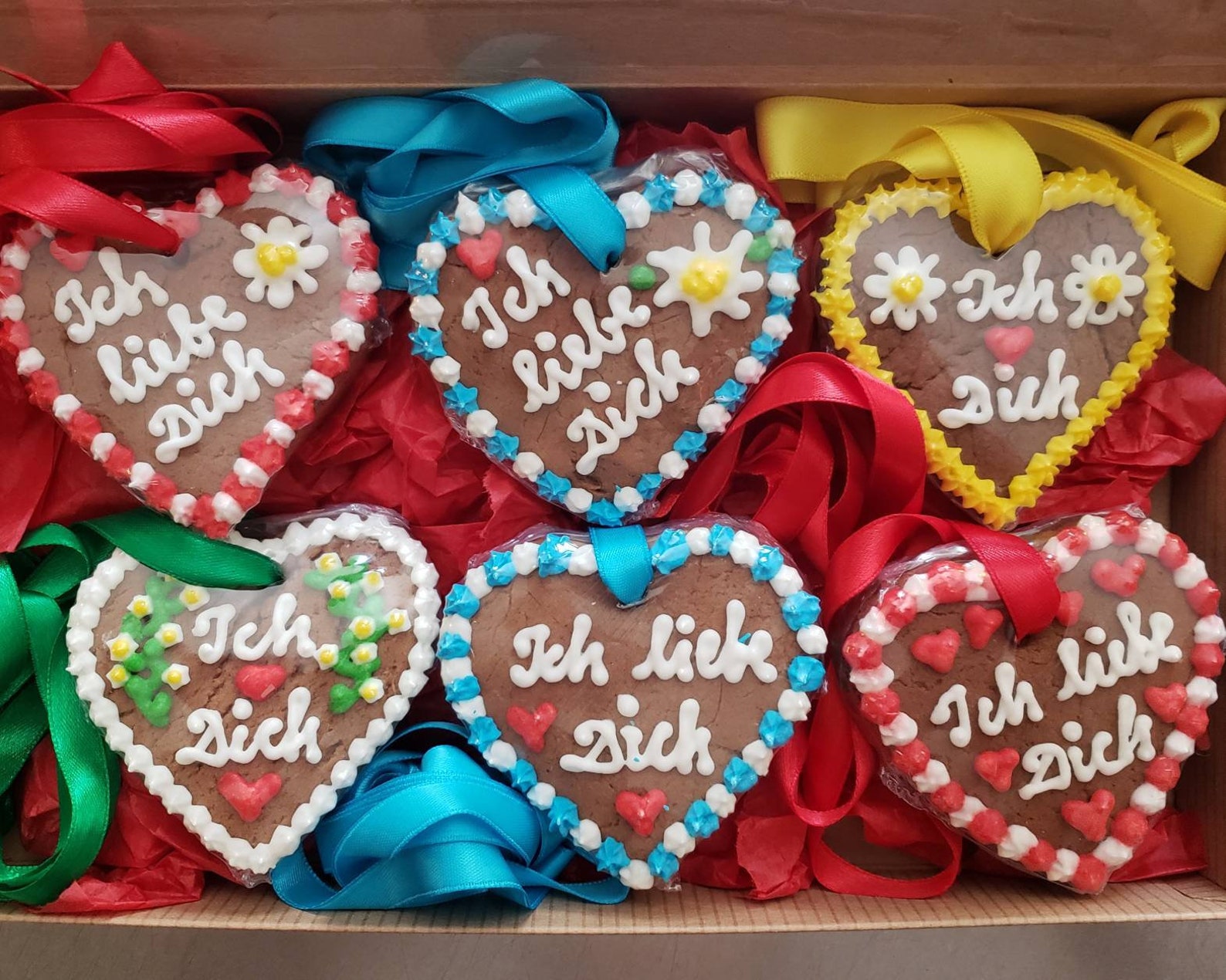 6 Gingerbread Conversation Hearts – 3 inch – in a beautiful gift box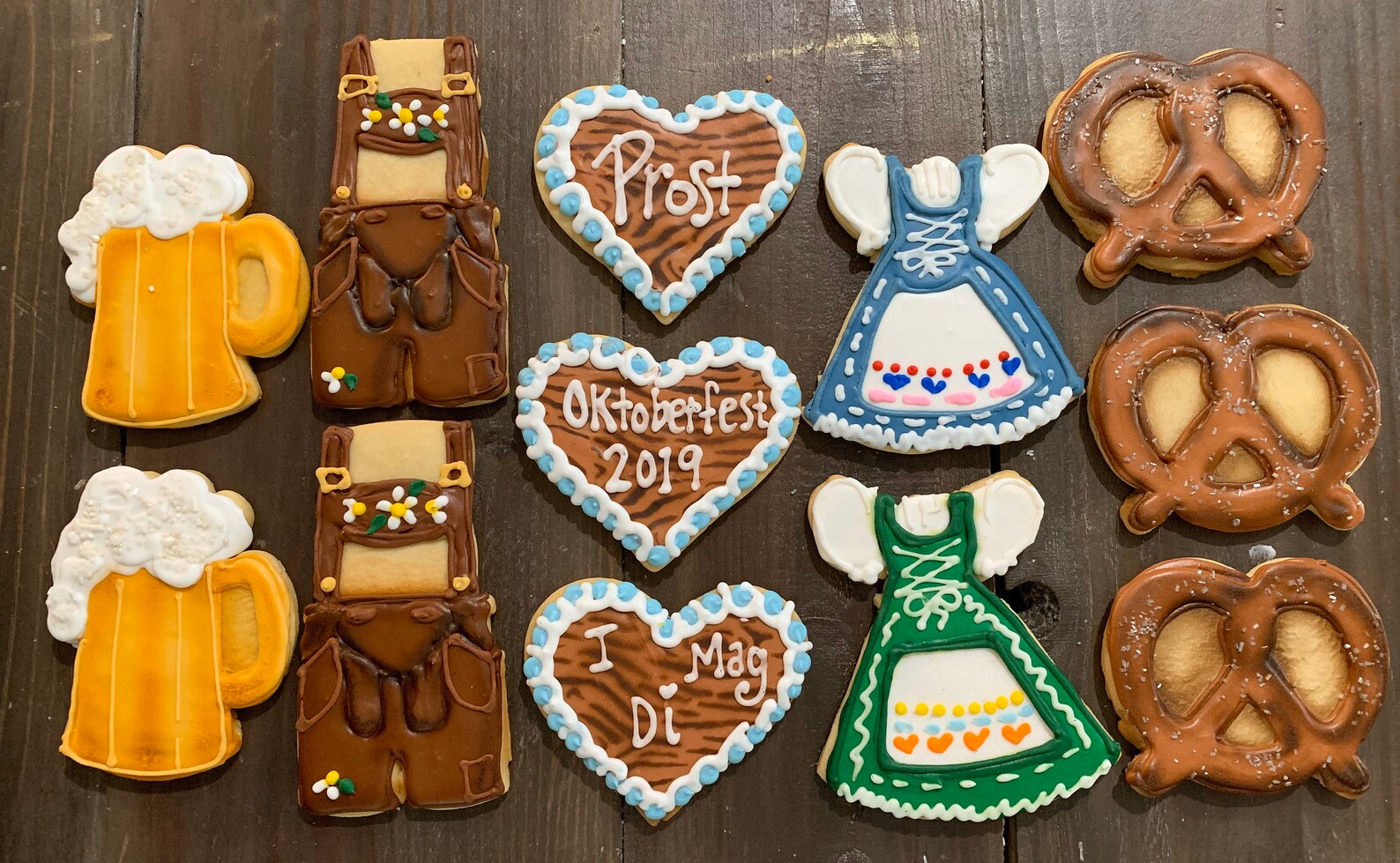 Oktoberfest sugar cookie favors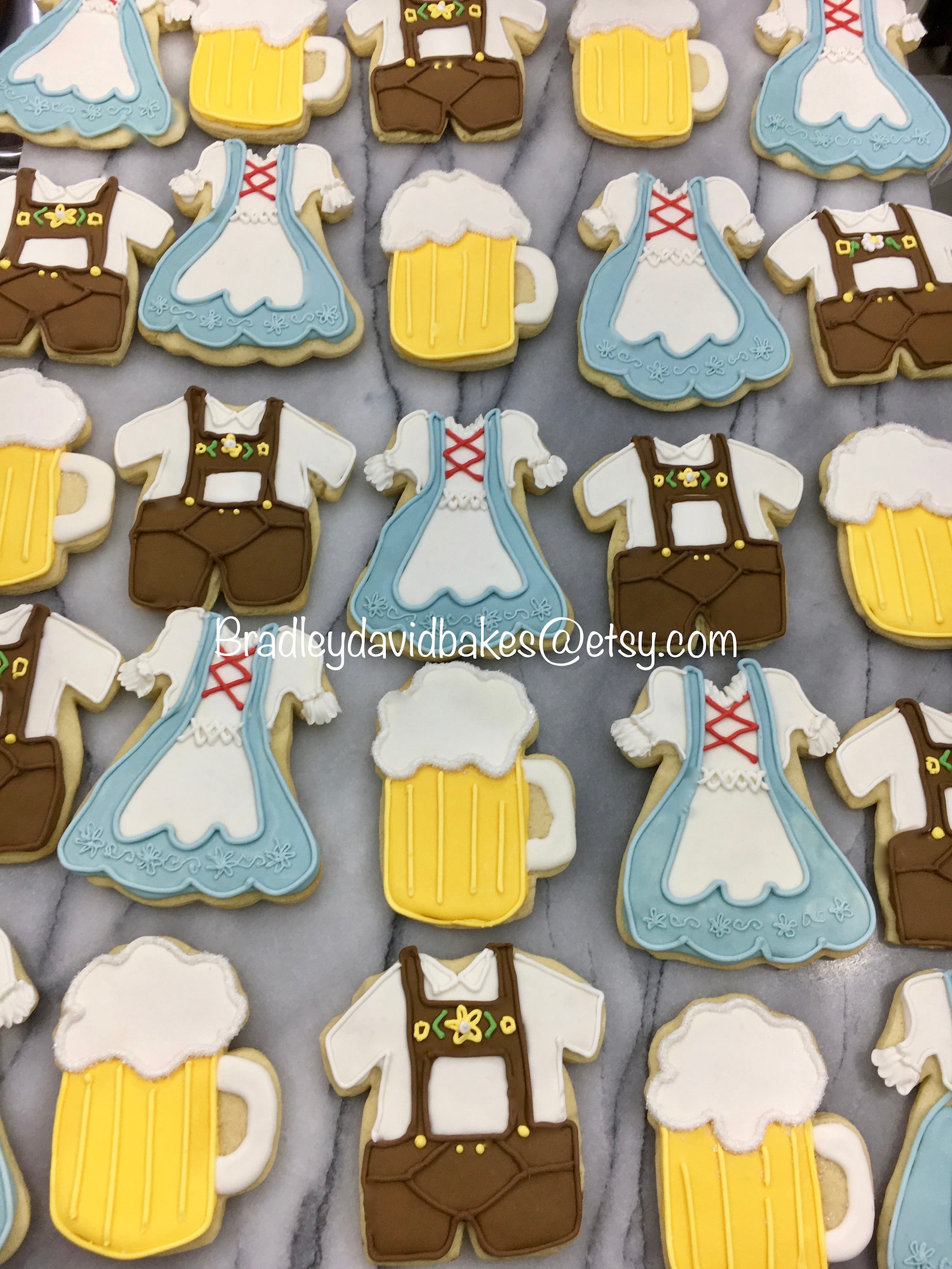 Octoberfest & Beer Decorated Cookies

I like you!GermanShop24
For More Recipes-
The Oktoberfest Cookbook is Pure Oktoberfest Cooking…. for a wider range of German Recipes, including many Oktoberfest Foods, check out my Easy German Cookbook.
Oktoberfest Cookbook

Easy German Cookbook: 80 Classic Recipes Made Simple

Oktoberfest Party Supplies/Decorations
Cheap Oktoberfest Decorations-
Oktoberfest is a very Bavarian tradition, so stick with the Blue and White Checkerboard colors. Banners, tablecloths and napkins would set the scene well. You don't have to break the bank… these cheap Oktoberfest Decorations will make the space look festive at low cost.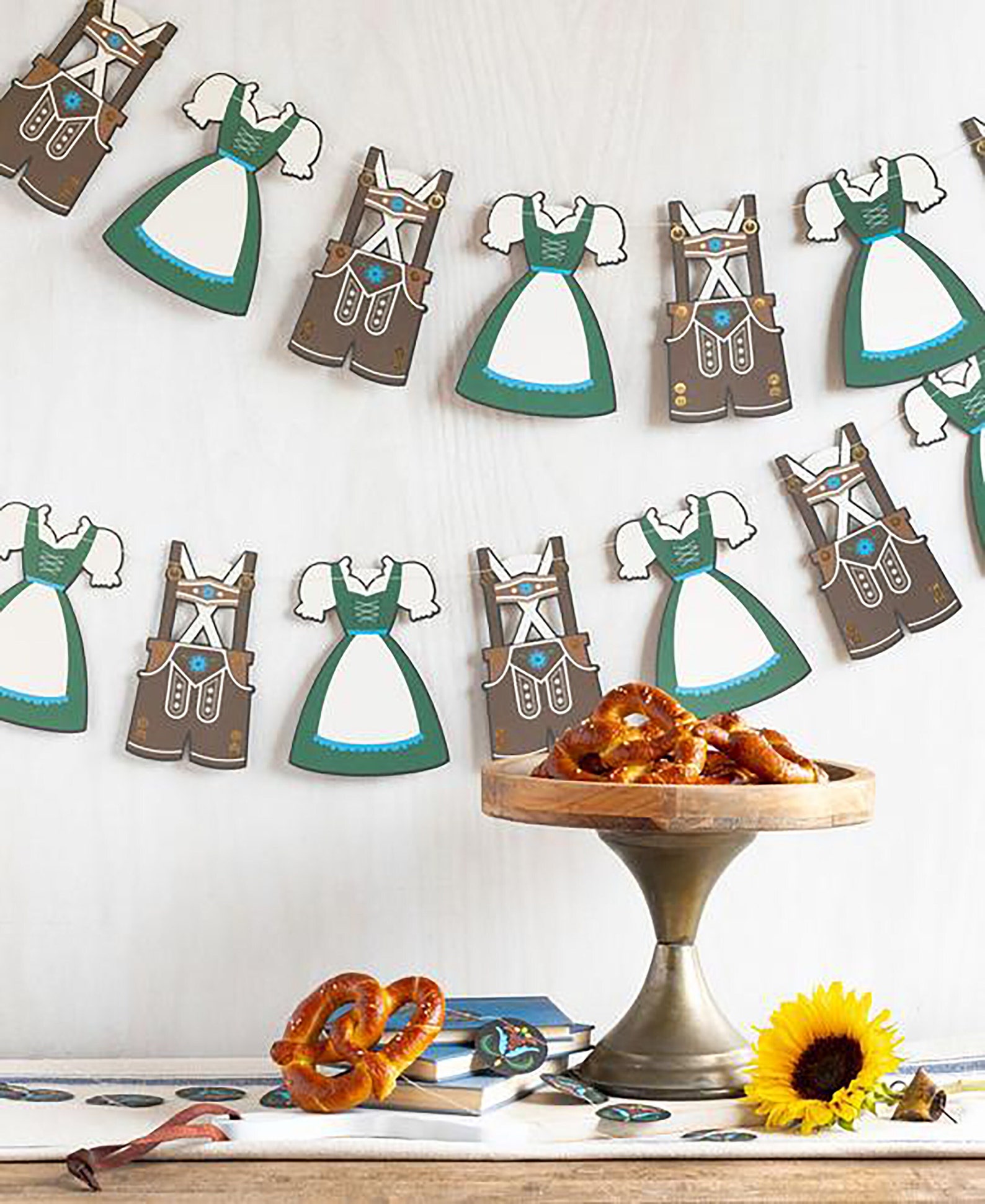 Oktoberfest Banner – Lederhosen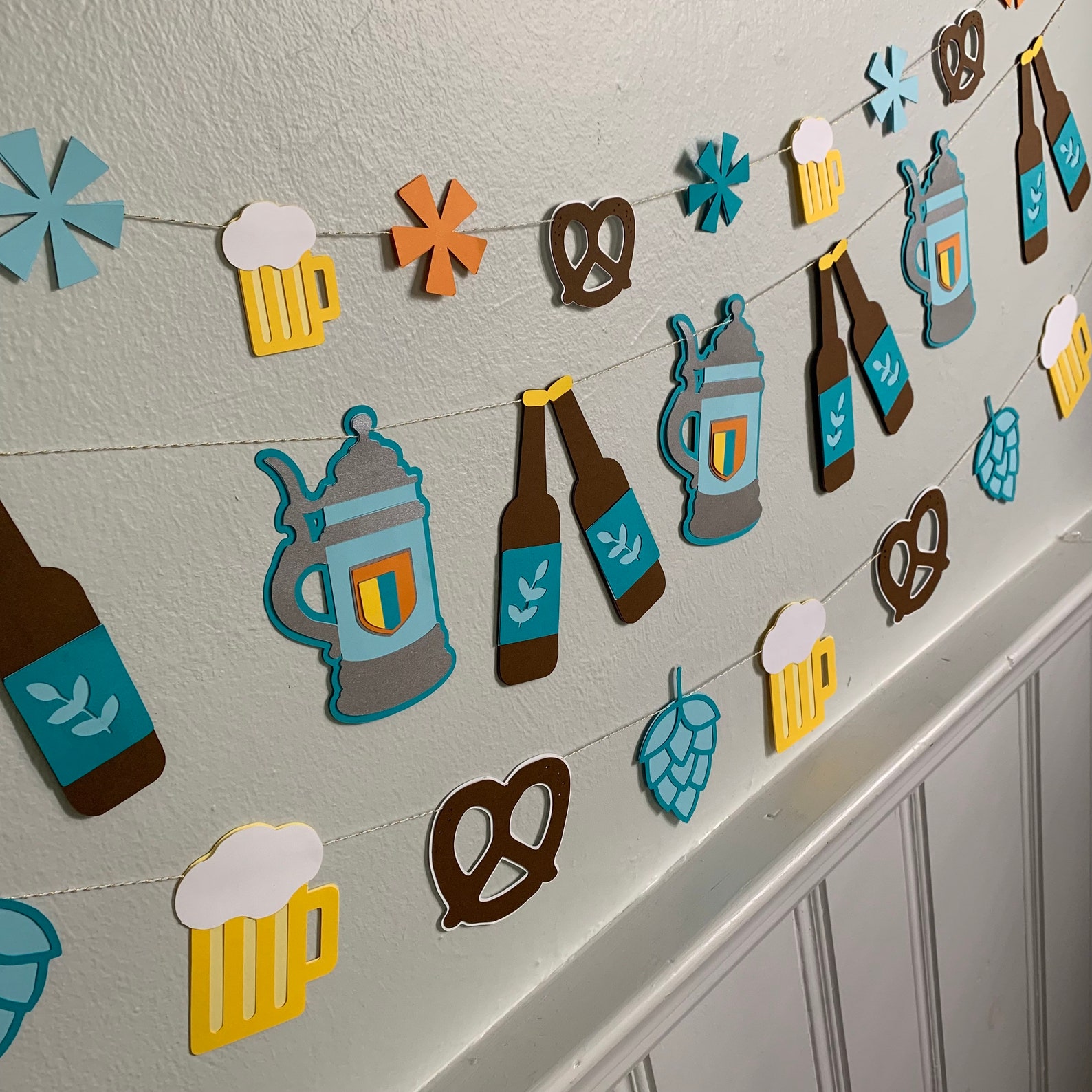 Oktoberfest Beer and Pretzel Decoration Set

German Shop 24 carries decorations, and some delicious German Oktoberfest snacks!
Oktoberfest napkinsGermanShop24
Oktoberfest StreamersGermanShop24
Beer and Pretzel GarlandGermanShop24
Balloons!GermanShop24
Apron for O-fest!GermanShop24
3 piece paper Decoration Kit

Bavarian Swirl Decorations

Long Plates

Beistle Oktoberfest Tablecover
Beistle 120 Foot Oktoberfest Bavarian Check Flag Pennant Banner
Do you plan to host Oktoberfest every year? Why not pick up a few decorations that will last… and will make your space extra special! Like an Oktoberfest Fabric Bunting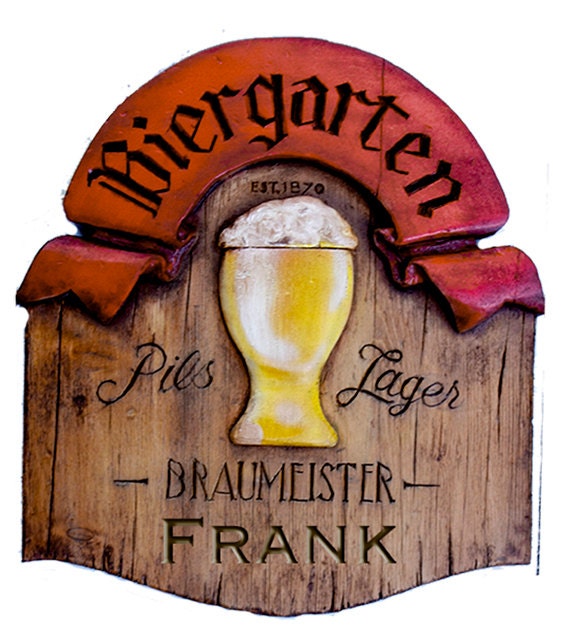 German Biergarten Personalized Beer Pub Sign

Oktoberfest Music CDs-
Happy German Festival music is ideal for your home Oktoberfest! If your party is big enough, hire a local band to play (but be sure to hire them early, German bands are in high demand this time of year) Otherwise, stock up on a few CDs of party music, both in English and German. Click HERE –> for the Most Popular Oktoberfest Songs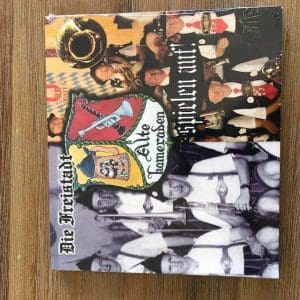 Die Freistadt Alte Kameraden- Spielen AufGermanGirl Shop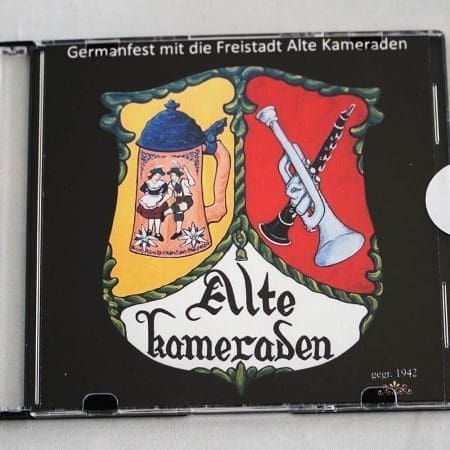 Germanfest mit die Freistadt Alte KameradenGermanGirl Shop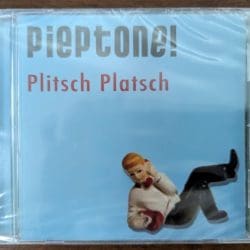 Pieptone! Plitsch PlatschGermanGirl Shop
Music for German Oktoberfest: 50 Classic Drinking Songs and Polkas
German Drinking Songs
German Beer Drinking & Merrymaking Songs: Featuring Music From The Octoberfest In Munich
&
Don't forget!!!
Every 30 minutes you want the whole group to stand up and sing "Ein Prosit!" then drink
"Ein Prosit, Ein Prosit, der Gemütlichkeit."
"Ein Prosit, Ein Prosit, der Gemütlichkeit."
"Oins, zwoi, drei g'suffa!"
"Prost!"
And it's always fun to have space set aside for a
dance floor
!!!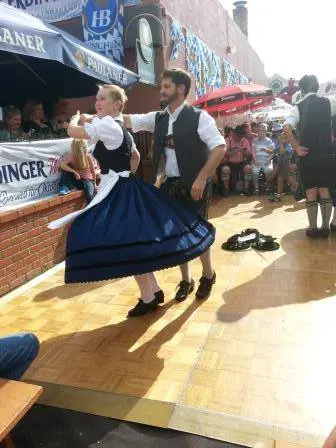 Oktoberfest Party Game Ideas
When hosting your own Oktoberfest, be sure to include fun games and activities… for the kids, and the young at heart.
Standard backyard carnival games are appropriate … especially if you have kids present. Put out a Cornhole game or Ring Toss. We love Indiaca at our house, but it might be too active for drinkers…. (great for kids though)
Some good Oktoberfest contests-
Stein Holding Contest
Line everyone up. Each participant is given a Stein full of beer, and must hold it out straight in front of them. The last one able to hold the beer up (without bending the arm) WINS.
Stein Relay Race
Set up a race track… maybe add an obstacle or two. Divide the participants into teams. Each team gets a Stein of Beer (or water if you don't trust them with good beer). This is a relay race, so the first person on each team takes off and goes around the obstacle, while holding the stein. When they come back to the start, the next person on their team goes. The team who goes fastest, but spills the least beer, WINS.
Oktoberfest Trivia and Write in Games
Test everyone's knowledge of Oktoberfest Trivia! Did you know that Oktoberfest started as a wedding party?
Fun points game for Oktoberfest Party Guests.
Downloadable PDFs mean you can print these up RIGHT NOW!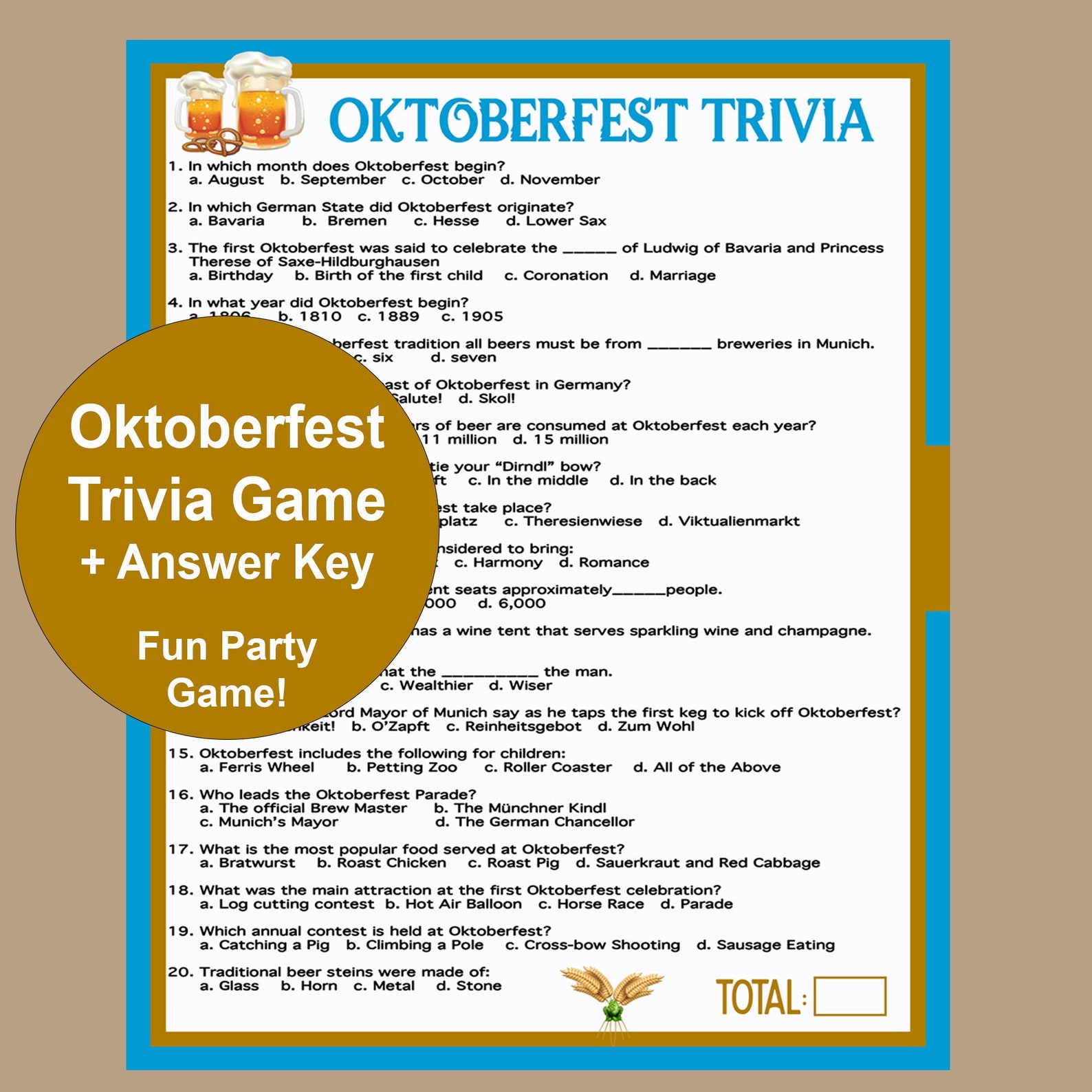 Oktoberfest Trivia Game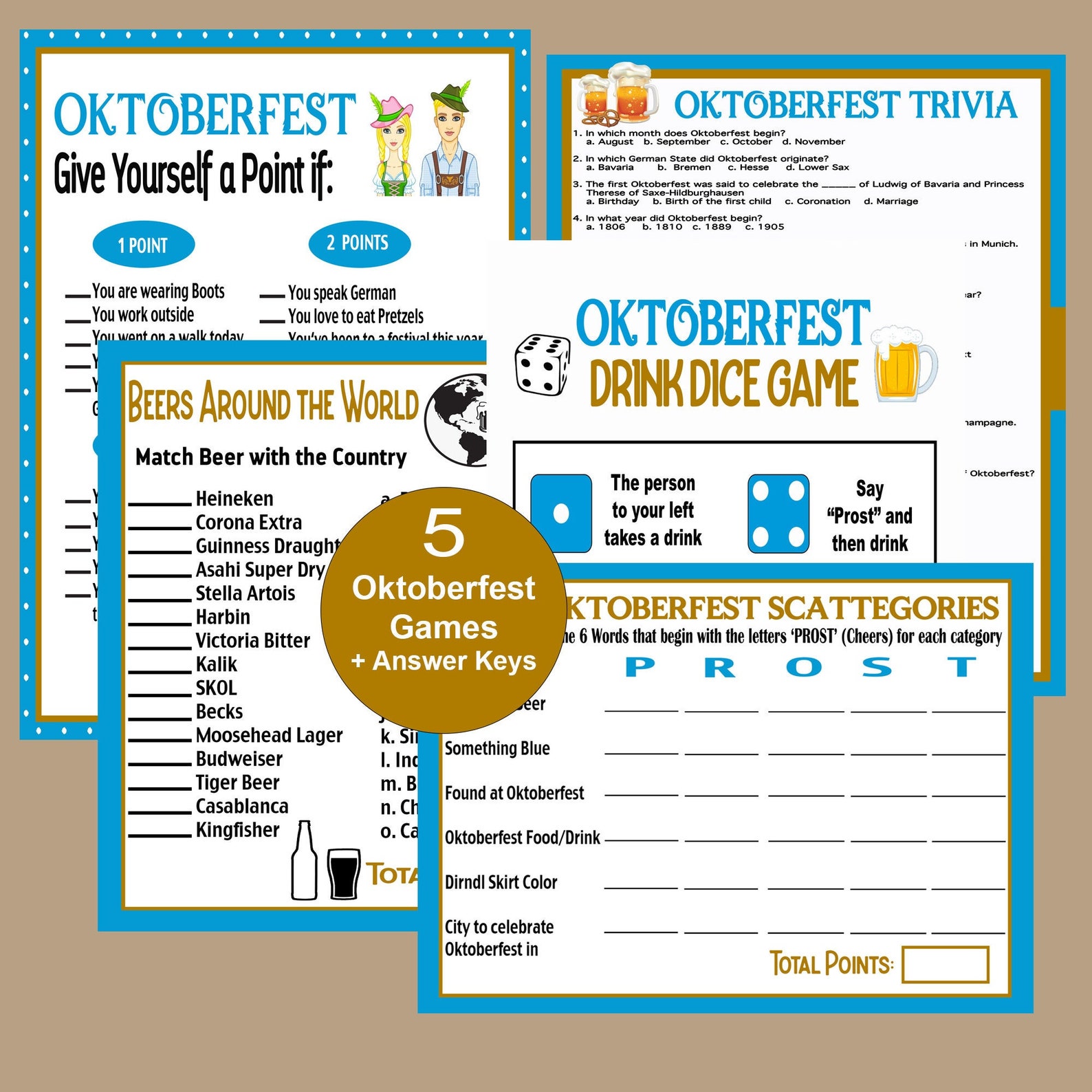 Oktoberfest Games, Oktoberfest Party Games for Home, Oktoberfest Trivia, Beer Trivia, Oktoberfest for Seniors, Oktoberfest Printables

Oktoberfest Photo Booth
An Oktoberfest Photo Booth is an easy thing to set up, and it's sure to be a hit with the crowd. Just put up an Oktoberfest Photo backdrop, add a few of these props, and let everyone take photos!  Order them already printed… or download at the last minute!
Konsait German Beer Photo Booth Pops (35Count), Oktoberfest Photo Props Funny German Beer Festival Photo Booth with Sticks for Oktoberfest Party Favors Supplies Decorations

Big Dot of Happiness Oktoberfest Glasses – Paper Card Stock Party Photo Booth Props Kit – 10 Count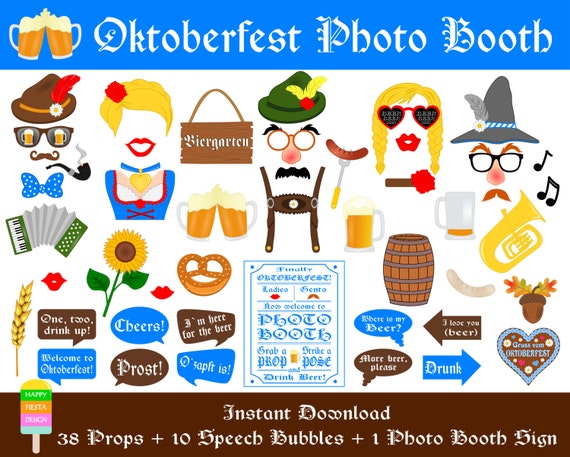 PRINTABLE Oktoberfest Photo Booth Props–Beer Photo Booth Sign-Printable German Beer Party Props-Beer Props-German Props-PDF-Instant Download

Oktoberfest Clothes
I LOVE LOVE LOVE the Dirndls from Rare Dirndl… in fact I have 4 of them in my closet…
Bavaria Trachten makes Lederhosen for Men AND Women! Plus you get a 10% Discount when you use the coupon code GERMANGIRL!
Rare Dirndl
BavariaTrachten
GermanShop24
You could provide hats for guests to wear…. both serious and silly. Beads and Pins make a fun-take home gift for your party.
&
Melesh Adult Felt German Alpine Bavarian Oktoberfest Hat Cap (M)
Beistle 60289 Alpine Hair Clip
Oktoberfest Stein Party Hat
Beistle 50949 Oktoberfest Beads with Keg Medallion, 40-Inch
Beistle 57268 Beads with Oktoberfest Mug and Banner Bead, 39-Inch
Above all… Oktoberfest is meant to be FUN! Have a party that you and your friends enjoy! You don't have to have the most fabulous space… it doesn't have to be huge. People love to come together and celebrate…
If you invite them, they will come!