Beer Glass or Stein? German Beer Glasses for Different Types of Beer
One thing you may notice about Germans, is that they can be rather particular about what sort of glass their beer is served in.
This is not just snobbery… there really are special
Beer Glasses for different types of Beer.
Certain shapes will accentuate the flavors of different types of beer. (Sort of like wine).   And why can't you just use a Stein? And, is a Beer Stein always a beer stein? Contrary to stereotypes in movies, not all Germans drink from hefty Beer Steins! In fact my dad drank mostly from a Pils glass.
Let me clarify ….
Beer Glasses History
Up until the 1600's, beer was just served in clay or stoneware mugs. The shape of the drinking container was practical, and thick clay mugs would hold up to drunk patrons in any bar. By the 1700's many Steins had lids to keep out bugs (and maybe plague germs). And then along came Bier Deckel… but that's another story.
Beer was for consuming, not for connoisseurs. Beer was liquid refreshment in a time when water wasn't safe to drink. It wasn't about the shape, it was about practicality. Still, to set themselves apart, wealthier people began to purchase tankards or mugs made from pewter and silver. Then in the 1700s, German glassblowers started creating glassware specifically for beer. These commissions were generally made by the wealthy for special events.
Different shapes and styles of beer glasses came from the breweries, as a way of distinguishing themselves… sort of early advertising. Later, like wine glasses, certain shapes were determined to compliment specific types of beer.
Does the shape of the glass make that much of a difference to the enjoyment of Beer? That's up for you to decide. Meanwhile, here is a brief description of the most common Beer Glasses, Stein and Mugs that you will find in Germany.
Beer Glasses for Different Types of Beer
German Pilsner Glasses-
German Pilsner glasses are specially designed to serve light (not diet) beers, but especially Pilsners. They are tall, slender and taper to a wider opening. The Pils glass typically holds less volume, only 12 ounces, but nothing is stopping you from pouring a second glass…. The slender shape allows the drinker to appreciate the color and bubbles of the beer, while the wide mouth helps maintain the head, and allows for an appreciation of the beer's aroma.

Note- Don't mistake a Pils glass for a Weizen! They are similar, but a Pilsner glass tapers without a curve, and the Weizen glass is larger and curves.
Libbey Stockholm Pilsner Beer Glasses, Set of 4
What is a Pokal Glass-
This is the kind of glass my dad drank from at home… so I have a soft spot for this shape.
The Pokal Glass is basically a Pilsner Glass, with one distinct difference… it has a stem and a foot. The bottom bulbs a little, the sides are fairly straight, and the mouth is a bit smaller. This glass is for the visual enjoyment of the beer… the smaller opening makes it a drinker's glass rather than an aroma glass.
Beer Glasses Set of 6 – English Pub Beer Glass for Drinking Craft, Belgian, German British Beer – Half Pint 12.8oz, Elegant, Crystal & Stemmed
HefeWeizen Beer Glass… aka Weizen Beer Glass
The Weizen Beer glass is used for wheat beers with strong carbonation, such as Hefeweizen, Dunkelweiss and Weizenbock. These aromatic and flavorful beers require a thin walled glass that shows off the color, but it also needs space at the top to show off the beautiful foamy head. Therefore, a Weizen glass is tall, generally holding .5L, kind of skinny, but gets wider at the top. There is a tapered bit at the bottom to trap any yeast left from the brewing process (you homebrewers know what I'm talking about.) The main difference between it and a Pils glas is the size, and the curvature.
BTW… despite what you might see in advertising, don't stick a lemon or orange wedge on the rim of the Weizen glass. The citric acid will destroy the foam head, and since a weizen beer already has a "fruity" aroma, the added wedge would only interfere. Although, some say that the American Hefeweizens are less fruity, so maybe adding a lemon slice is a good idea.
Paulaner Weissbier Wheat Beer 22 Ounce Glass | Set of 2 Glasses

Spiegelau Classics Hefeweizen Beer Glasses – (Clear Crystal, Set of 4)

German Beer Glass Sampler 2-Piece Set

Wheat Beer Glass 16oz with Nucleated

What is a Stange Beer Glass?
The Stange ("stick" or "pole") beer glass is a simple glass shaped like a cylinder. It looks like a regular old glass. Typically this is a smaller glass, holding around 6.5 ounces.
The Stange is used for more delicate beers, such as Kölsch or Alt beers. The size and shape are said to concentrate the flavors within the beer and amplify the malt and hop flavors. And you finish the beer before it goes warm or flat.
Stange Kolsch German Beer Glass – 200ml – Set of 4 Glasses
Gaffel Kolsch – set of 12 – German Beer Gold Rim Glasses 0.4 LiterStange – NEW
What is a Willi Becher

The Willi Becher is astandard beer glass in Germany. It's a thick bottomed glass that tapers a bit in the middle, and generally holds 500 ml. The name comes from its designer, Willy Steinmeier, who in 1954 convinced Ruhrglass AG to produce this everyday beer glass. Today, over 10 million of these glasses are produced each year. The Willy Becher is used to serve German Lagers, German lagers, Schwarzbier, Marzen, Oktoberfestbier, Rauchbier, Pils or Pilsener, Maibock, Helles and Helles Bock.
Arc International Luminarc Willi Becher Tumbler, 16-Ounce, Set of 12
Bormioli Rocco Willi Becher Beer Glass – 16.5 oz
What is an Altbier Glass?
Altbier is a traditional Dusseldorfer Beer. The name literally translates to "old Beer", but the Alt actually refers to the Latin word "altus" which means high… describing the height that the yeast rises during fermentation.
Whatever the reason for the name, the beer tends to be fruity, smooth and mellow because of longer conditioning. To truly appreciate the nuances, you want a smaller Altbier Glass. This cylinder shaped glass holds only 0.2 to 0.3 liters.
5 Kloster Brunswiek Wellem Hensen Remmert Altbier German Beer Glasses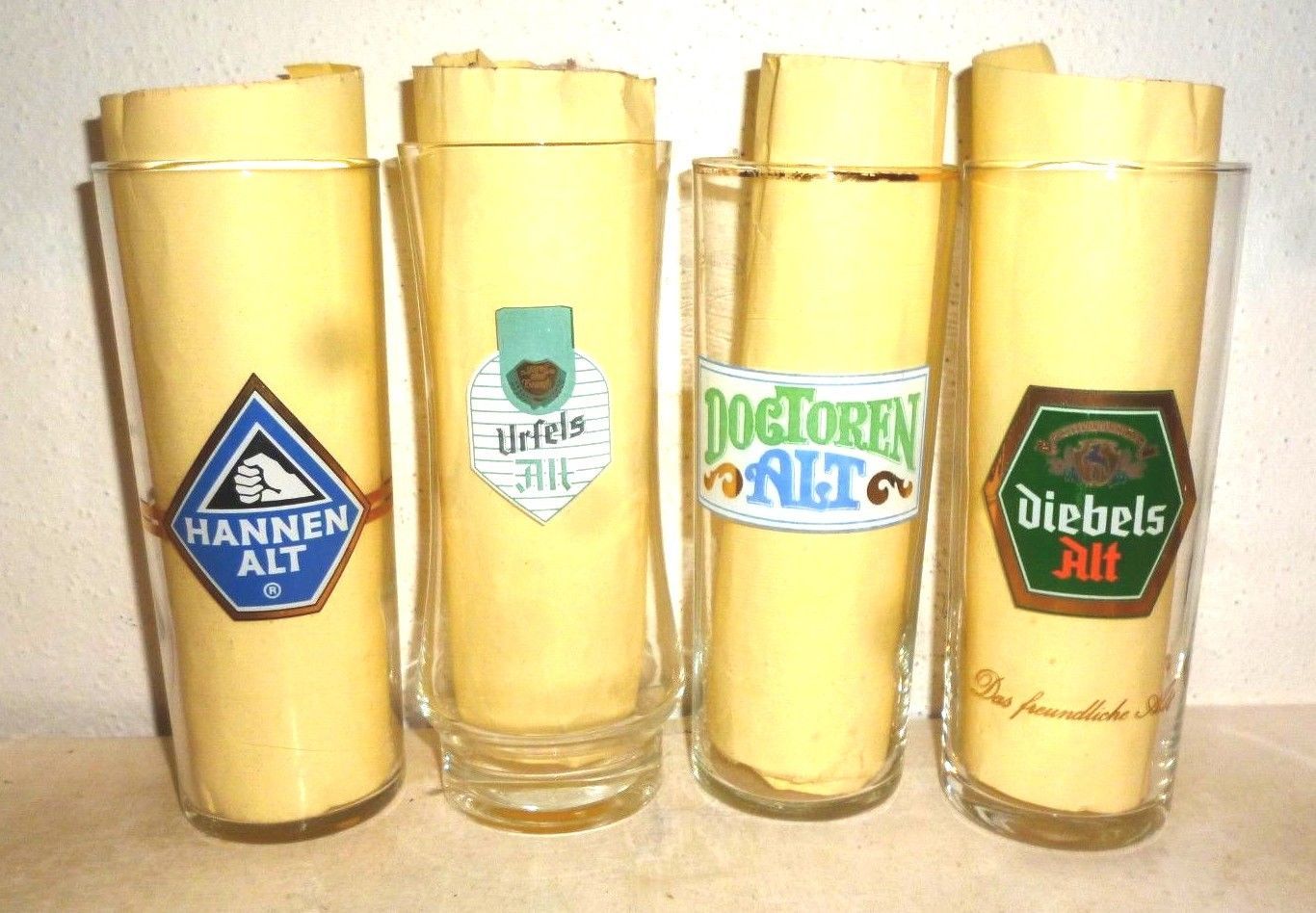 4 Hannen Urfels Doctoren Diebels Altbier German Beer Glasses

Berliner Weisse Glass
A Berliner Weisse is a cloudy, sour beer from Northern Germany. It's made with barley and wheat malt, and fermented at low temperatures to keep it light colored. To counter the sour taste, Berliner Weisse is often served with Raspberry or Woodruff (Waldmeister) Syrup in more of a bowl shaped glass.
2 Schultheiss Berliner Weisse Millenium 2000 Berlin Weizen German Beer Glasses

Kindl Berlin Berliner Weisse Champagne-style Weizen German Beer Glass

Beer Glass or Beer Stein?
Beer Steins are more common in Southern Germany, where the walls of the Stein/Krug keep the beer cooler. In Northern Germany, beer is poured in smaller portions.
Beer Stein or Krug?
This is where things get a little tricky, and the differences become more subtle. In the US we tend to use the words mug and stein somewhat interchangeably. But, like so much of the German language, there are precise words for the various types of beer drinking vessels with handles.
The word STEIN refers to Steingut, the clay material that beer mugs were commonly made from. However, you wouldn't use the word Stein in Germany when referring to a mug (Stein is a stone), instead you would say Steinkrug. Also, the word Bierstein is not a Stein for beer, it's actually beer stone or beer scale, the calcified residue left behind after the brewing process.
So, what do we call those things?
What is a Beer Krug?
The Krug is a large thick glass mug with dimples that holds .5 to 1 L of German lager. Because the glass it thick, and the dimples distort, you don't get a chance to appreciate the color of your beer much, but the large opening means that you can enjoy the aroma and flavor of your beer very well.
The handle makes it easy to hold (especially after you've had a few), and keeps your hand from warming the beer while you are holding it.
These sturdy mugs are strong enough to hold up to the most enthusiastic toasts!
1 Liter HB
Paulaner Dimpled Isar Beer Mug – 1 Liter Mass Krug
Dimple Stein Beer Mug – 20 OZ (4 Pack)
What is a Humpen?
A Humpen is also known as a Bierkrug, Steinkrug, Bierseidel, Henkel (Berlin), Halben (Northern Germany) and Walzenkrug. This beer mug holds .5L of beer in a heavy cylindrical shaped mug. This type of  mug, often confused with a Stein, has been in use since the 1600s. Usually they are made from Stoneware, but you will also find versions made from glass, silver or tin. Often they are imprinted with the logo from the brewery or drinking establishment.
German Stoneware Beer Mug 0.5 Liter By Rastal
Hofbrauhaus Munich Stoneware German Beer Mug with Lion Crest and HB Munchen, 0.5 Liter | Hofbrouhaus Munich German Beer Stein
What is a Beer Stein
(Deckelkrug, Bierkrug or Seidel)
The traditional Beer mug with a lid, what we call a Beer Stein, is a Deckelkrug or Seidel. It could also be referred to simply as a Bierkrug. The pewter lids were introduced in the 16th century when laws were passed requiring that all food and drink containers have lids to help prevent the spread of the plague. The lids for these mugs have a simple hinge which makes them easy to open with your thumb.
These special mugs were designed to commemorate events, and have been collected since the 1800s! Deckelkrugs are made from Glass, Porcelain, stoneware, pewter and even wood. These decorative beer mugs are generally regarded as ornamental souvenirs. As beautiful as they are… it can be a pest to drink out of them, so many people prefer straightforward beer glasses or Humpen.
Beer Stein Engraved Germany Coats of Arms Cobalt Blue Lidded Beer Mug by E.H.G. | 1.1 Liter

Beer Stein German Schnitzelbank Song Lidded Beer Mug by E.H.G | .9 Liter

Beer Stein German Bayern Coat of Arms Engraved Lidded Beer Mug by E.H.G | .75 Liter

What is a Beer Mass or Maß?
A Mass or Maß is actually a unit of volume, and in this case, the volume is exactly 1 liter, the amount of beer this heavy duty beer mug holds. Generally they are made of Stein, and are designed for serious drinking!
Paulaner Dimpled Isar Beer Mug – 1 Liter Mass Krug

Lily's Home Heavy Duty Oktoberfest Style Dimpled Glass Beer Stein, Great for Restaurants, Beer Gardens and Parties, Ideal Father's Day Gift, Mass Krug Size (1 Liter Capacity, Single Stein)

German Beer Boot History
(Bierstiefel )
One of the stranger beer glasses for different types of Beer is in the shape of a boot! Over a century ago, according to legend, a general promised his troops that he would drink beer from his boot if they won a battle. But after they did, good sense prevailed, and the general saved his boot leather (and avoided the unpleasant flavor of feet in his beer) by asking a local glassmaker to create a boot shaped beer glass. Soldiers have been celebrating victory with a beer boot ever since.
In recent years, the Beer Boot has become a drinking challenge or game. Remember, if it is your turn to drink, always point the tip of the boot up until that air bubble gets big, then rotate… otherwise you could end up with a face full of beer.
Click the link to learn more about Beer Boots, and find Personalized Beer Boots HERE
Oktoberfest Style Glass Beer Boot / Das Boot – Octoberfest Glass Beer Mug – 2 Liter
Domestic Corner – Das Boot – 1 Liter Large Beer Boot – Holds Over 2 Beers!
There Won't Be a Quiz….
Does the shape of the glass matter to the enjoyment of your beer? I suspect that flavor nuances may be different, much like when you enjoy wine out of the correct glass. On the other hand… a group of friends, music and laughter may be enough to enjoy your beer any way you get it.
However, if you love a good German Beer, and you want to enjoy it to the fullest, maybe serving it in just the right Glass, Krug or Deckelkrug will make it absolutely perfect.