Kathe Kruse Doll Company
The Käthe Kruse Doll Company motto is perfect….
"Die Tradition im Herzen, der Zukunft entgegen" – "With the tradition in our hearts, we move to the future".
When my daughter was born, my aunt sent her a soft little doll that we named Maya. This sweet faced dolly is colorful, and perfect for cuddling. The Käthe Kruse company wasn't familiar to me at the time, but now (two more kids and two more dolls later) I know what wonderful toys they make.
It started in 1905 when Kaethe Kruse made a doll for her daughter Maria. At the time, all of the dolls available in stores were made from porcelain, and she wanted something soft and cuddly. For the head she used a soft towel, and filled it with sand. Her daughter loved it, and word got out about the mother in Berlin who made dolls. In 1911, the American toy store FAO Schwarz began selling her dolls, and the company grew!
For years, all of her dolls were handmade in her living room… finally in 1923, it got to be too much, and the company moved to a factory in Bad Kösen, so she could make more dolls, clothes and accessories. The company moved to the West in the 1950's, and in the 1960's the company added baby toys to their line. Kaethe Kruse is family owned, and today is being run by another generation, using the same standards of excellence as they have for 100 years.
All of the dolls and toys are produced in their own facilities in Germany and Latvia, and are all handmade. Each doll has its own special characteristics, and is made to last through childhood. The materials are tested by independent labs to insure safety. Different toys and dolls are made special for each age group. Baby toys are soft, cuddly, and stimulate the senses. The handmade dolls are made to be loved, and made to last.
Guiding Principles Of the Company
"Käthe Kruse holds these principles:
Authenticity, trust, quality and safety – Käthe Kruse adheres to the founders ideals for products with lasting value
Age appropriate development – our dolls and toys encourage creativity, foster learning at one's own pace, and promote cooperative play
Unique design – Käthe Kruse toy designers innovate and create toy worlds and themes
Handcraft – All Käthe Kruse products are made with handcrafted details
Social standards and environmental consciousness – Each employee, supplier, and customer is treated with respect, dignity and fairness and we strive to operate in a sustainable eco-efficient way."
– taken from the website… http://www.kathekruse-usa.com/
For a toy that your child will love and cherish for their whole life, you can't go wrong with a Käthe Kruse!
Buy Kathe Kruse Dolls
Waldorf dolls have cloth faces, the others are a soft plastic.
Kathe Kruse – Marie Kruse Doll, Berlin
Kathe Kruse – Waldorf Doll, Tolipar
&
Special Kathe Kruse Baby Toys
Kathe Kruse – Nickibaby Doll, Light Blue
Kathe Kruse – Donkey Tomato Towel Doll
&
Vintage Kathe Kruse Dolls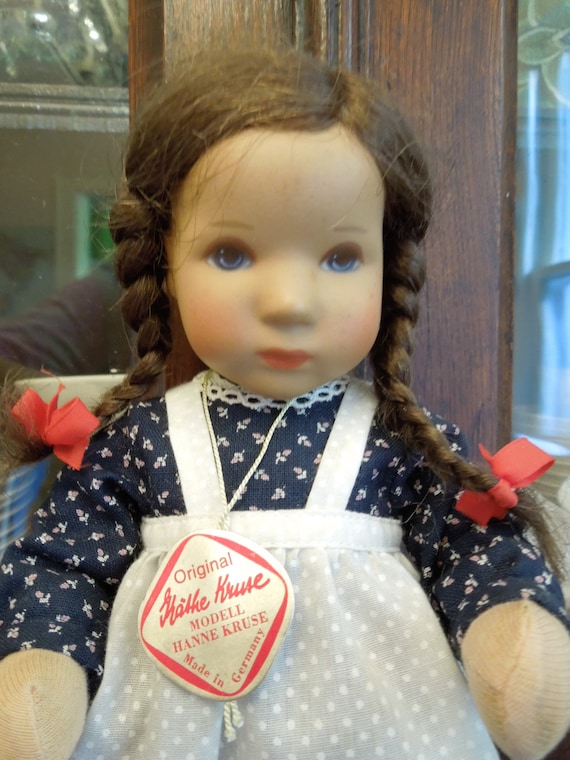 Kathe Kruse Doll- 1980s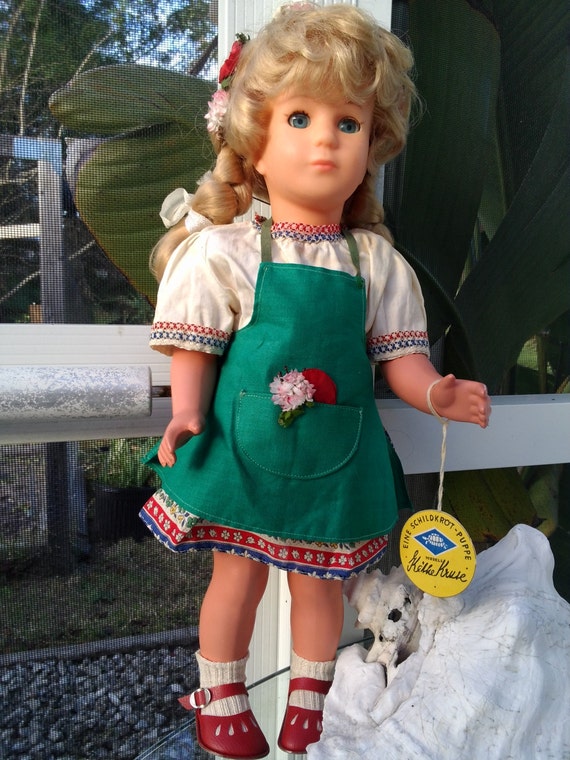 Kathe Kruse 16" Celluloid German Girl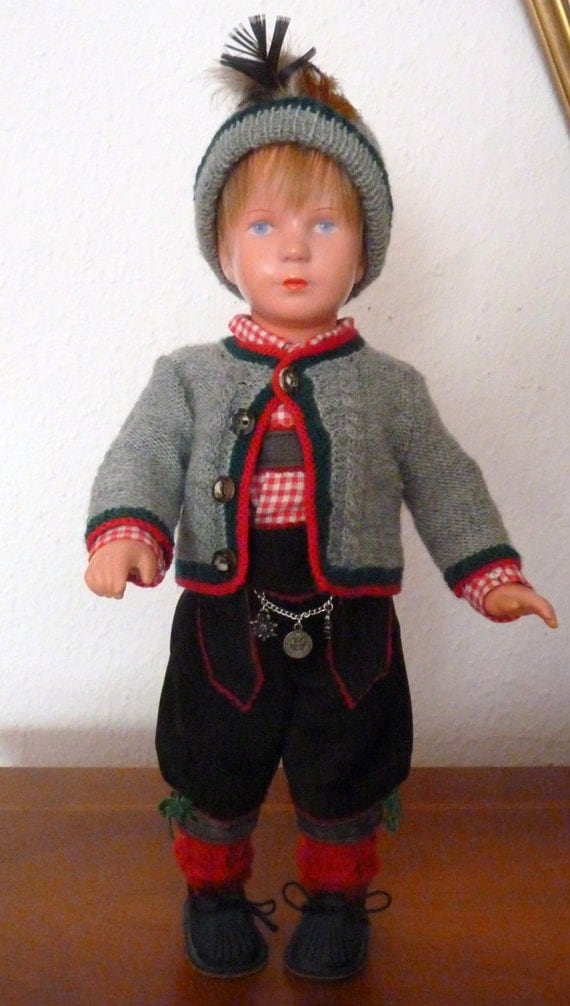 Vintage / / original / / Käthe Kruse Doll / / by Schildkröt / / "Seppl" around 1950 / /

&
Kathe Kruse Finger Puppets
Kathe Kruse Finger Puppet Nativity Theater
Kathe Kruse – In The Garden – Cat Finger Puppet Activity Book
&
Käthe Kruse Doll Company…for Dolls and Toys that Last a Lifetime!