Things to do in Stuttgart, Germany- How to Have a Carefree Holiday in Stuttgart
Stuttgart is an amazing city that might not be on everyone's radar, but it should be! There are many interesting things to do Stuttgart Germany that you won't find anywhere else. I loved the city when I visited. There are so many beautiful sites, and I was astonished how easy it was to get around. Because we were on a tight budget, I was delighted to discover that you can visit the city without spending too much money. There are museums, shopping and gardens for adults, and play parks, open spaces and a fabulous zoo for the kids. And everywhere… you will find fantastic food.
Dan Miller wrote this great article for us and shares some great ideas about how to spend a Carefree Holiday in Stuttgart, including some tips on how to save money, and stay within your budget.
How to Have a Carefree Holiday in Stuttgart
When the time comes for you to organize your well-deserved holiday and spend it in a way that makes sure your batteries have been recharged and that you're ready for new challenges, one of the most important things is to eliminate as much stress as possible from every aspect related to your holiday.
For instance, you don't want anything to spoil the time you wish to spend in Stuttgart and the area around it. Instead of enjoying everything this bustling city has to offer or the peace and quiet of the surrounding orchards and forest-covered hills, you might be under a lot of unnecessary pressure about your travel arrangements, budget or accommodation. It's a good idea to plan ahead, and book as much as possible so you know and understand the costs even before you arrive. And can set your budget accordingly.
So, let's have a look at some options that will help you make the most of your visit to Stuttgart.
Travel arrangements
Depending on where you're coming from, there are a lot of options related to how to get to Stuttgart. The city boasts an international airport and there are also excellent train and coach connections with all major cities in Germany and Europe. The local VVS Stuttgart system is a one-ticket-covers-all transportation system, and has a handy downloadable app.  Another thing that can help you save more money is to be flexible with your travel dates. Summer is high season… so if you can plan to visit in Spring or Fall your trip will not only cost less, it will most likely be less crowded. 
Some other ways to save money? Staying in an apartment or renting a room through companies like AirB or VRBO can be much cheaper than hotel rooms, and these places will often be right in the mix of things so you can act like a local. Another great alternative is  opting for layby holidays which will make it easier on your budget. Book now and pay later, but make sure it's still within your primarily set budget.
Things to do in Stuttgart, Germany…Stuttgart Germany Attractions!
Car Museums …."Oh Lord, won't you buy me…?"
Even if you're not a huge car aficionado, a visit to the Mercedes-Benz Museum could easily be the highlight of your trip. You can learn everything about the history and development of the automobile and enjoy more than 160 vehicles exhibited there.(On a personal note- my people LOVED visiting this Museum… even I enjoyed seeing all the old-timer cars and speedy race cars!)
If cars are your thing, Stuttgart must seem like heaven to you, because there's also the Porsche Museum, with an amazing collection of restored vehicles. If you're not crazy about cars, this still might be a thing that other people traveling with you would love to see. Cost is only 8 Euros, and kids under 14 are free (special note… evenings have reduced entry fee of 4 Euros).
Schlossplatz the Heart of Stuttgart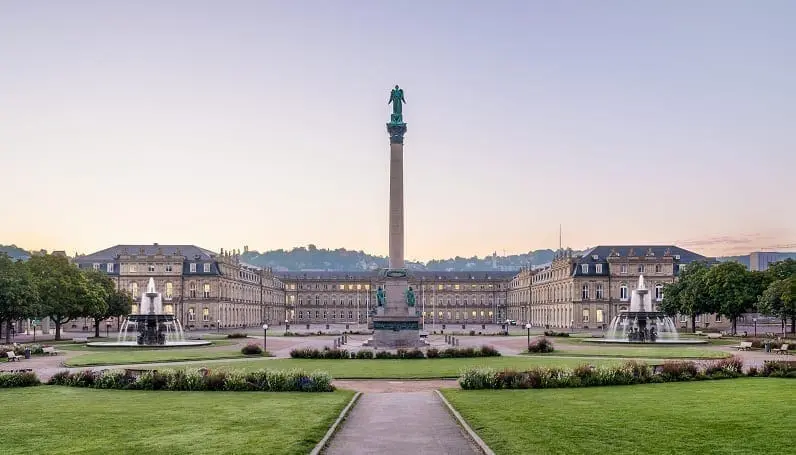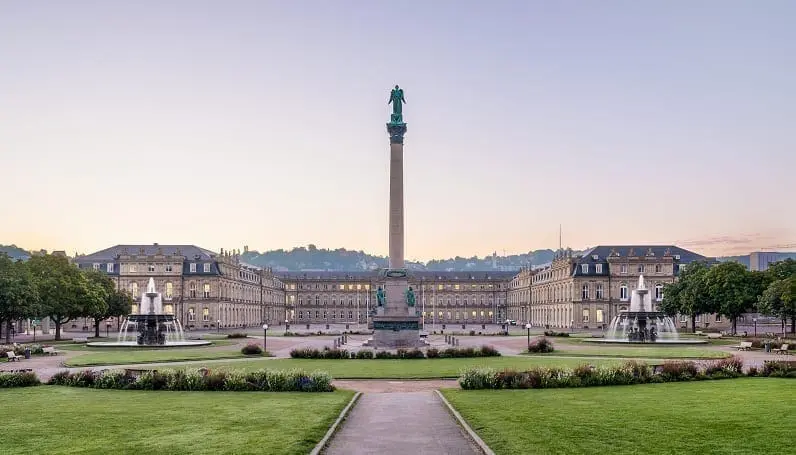 The Schlossplatz is the largest square in Stuttgart, and a visit to this centrally located square is a must. This vast open space, with manicured gardens and Jubilee Column, as well as a beautiful fountain is home to the Neues Schloss (New Palace). Free public events and open air concerts as well as kids fairs take place on the grounds year round.  It's also home to several museums.  If shopping is your thing, the colonnade and the shopping arcade on the northwest of the square only add to the overall atmosphere, while the southwest part is reserved for numerous boutique shops and restaurants. 
Königstrasse and the Hauptbahnhof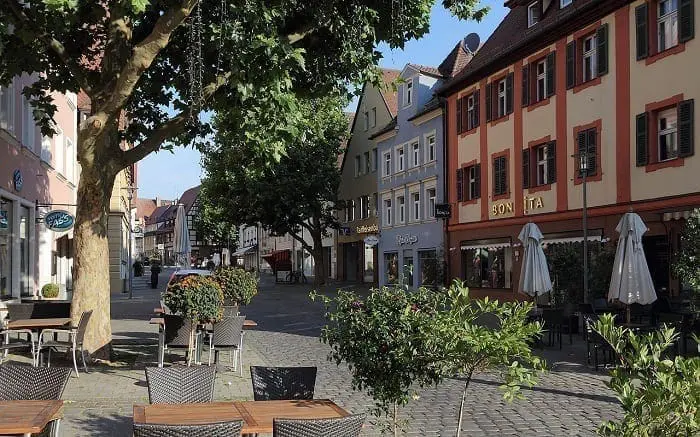 Running along the Schlossplatz is the Königstrasse (King Street), with shops and galleries lining Germany's longest pedestrian precinct. Needless to say, when you get tired of visiting shops, you can treat yourself to a nice drink or some food at one of cafes or restaurants. The area also features the main rail station (the Hauptbahnhof), with a huge Mercedes logo on its 58-meter tower, which makes it very difficult to miss.. 
Wilhelma Zoological and Botanical Garden
Travel all the way to Germany and visit the Zoo?? YES!! In fact, this is one of my favorite things to do in Stuttgart, Germany! This unique attraction features many hothouses, animal houses and an aquarium and attracts millions of visitors each year with good reason… it's absolutely beautiful.  There are giant aviaries filled with tropical birds… and Butterfly houses teeming with colorful insects. You can spend hours exploring the gardens and animals there, but you'll probably find the Ape House the most interesting, just like most other visitors do. Bring a picnic and enjoy the day. There are even playgrounds for the kids!
Killesberg Park- Stuttgarts Central Park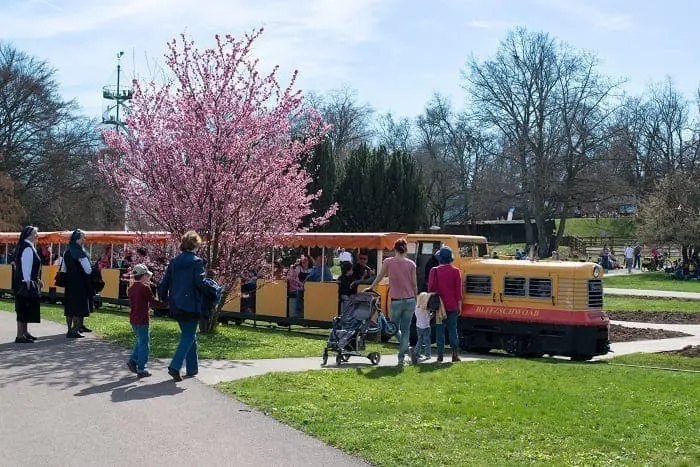 Sometimes referred to as the Central Park of Stuttgart, Killesberg Park is a lovely place to spend the day. Once an urban quarry, in 1939, the Park was transformed into an Oasis from city life for a horticultural show. Today, you will find play areas, acres of lawn, flower gardens, trees kiosks with food, an occasional carnival, water features and wildlife. There is even a narrow-gauge railway to enjoy. The Killesberg tower is a fairly easy and open climb, and from the top you can see all of Stuttgart! (Note- I swallowed my fear of heights and managed it, you can too!) The park is easy to get to on public transportation, and is suitable for visitors of all ages. 
Day trips from Stuttgart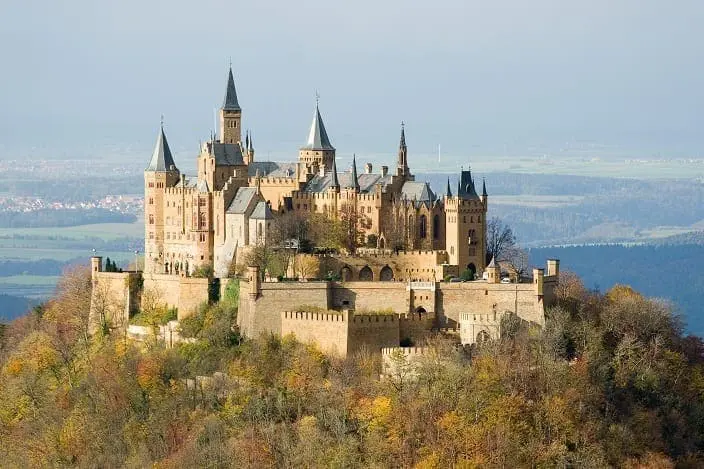 You can also use your time to explore the area around the city. The Baden-Württemberg region in southern Germany offers so much, that you're bound to find something to your liking. From Bad Urach Waterfall, Tübingen (a marvelous little university town), Hohenzollern Castle to hiking in the Black Forest (with a break for a piece of Schwarzwald, i.e. Black Forest cake), there's a type of activity for pretty much everyone, regardless of their interest and age.
Conclusion
If you prepare your trip well, do your research and find a way of financing your trip, so that you don't pay through the nose, Stuttgart can be an excellent choice, though it doesn't have the international fame of Paris, London or similar metropolises.
However, the whole region is one of the most beautiful ones in Germany, which we all know features some of the most breathtaking scenery in this part of the world. So, get ready and head off to Stuttgart for some amazing and unforgettable time!
Thanks again Dan for sharing these great tips on Things to do in Stuttgart, Germany. It's true, you can have a fabulous vacation without breaking the budget!
More about Stuttgart
Take a look at these Travel Guides for more Information
Journey Through Stuttgart (Journey Through series)
Stuttgart, Germany: Including its History, The State Museum of Natural History, The Old Castle, The Stuttgart Spring Festival, and More