Visit Neuschwanstein Castle in Germany- Plan Ahead for your Visit
When you talk to people about the things they REALLY want to see in Germany, Neuschwanstein Castle is often at the top of the list. The iconic structure built by King Ludwig II seems to symbolize Fairy Tale Germany to so many. It's on the cover of Tour Books, on Calendars, Tea Towels and Puzzles. Heck, even Walt Disney himself loved the castle so much he "copied" it to create Sleeping Beauty's castle at Disneyland (I also wonder if he copied the idea of the gift shop as you exit… but that's another story). However, because of the astonishing world wide popularity of Neuschwanstein, it can get CROWDED. Very crowded. But there are ways to make it less stressful. Let me share my tips to visit Neuschwanstein Castle in Germany without losing your mind.
Photos by Karen Lodder please do not use without permission
Visit Neuschwanstein Castle in Germany
To begin with, there is no "let's just drop by for an hour, see the castle, and walk back out". Tours are rigidly timed. How rigid? You get a ticket, and that ticket is good for a specific 5 minute block of time. You can't go in earlier… and once your time block has passed… you don't get in.
Just to make things more frustrating, if you do decide to spontaneously make the day trip from Munich, you will have to stand in line at the ticket center in Hohenschwangau for a while (a long while… calculate an hour minimum). The ticket you get from there, if they haven't sold out for the day, will be good a few hours after your purchase. So you have a few hours to do some shopping or hiking.
But! All is not lost! There is a way to enjoy a visit to Neuschwanstein Castle without standing in endless lines!! It just takes a little bit of advance planning.
Learn about the History of Schloss Neuschwanstein HERE–> History of Neuschwanstein Castle
What Does a Ticket to See Neuschwanstein Castle Get You?
I feel like I need to add this disclaimer, because I think I expected to get a bit more.
Your ticket to the Castle gets you inside the finished portion with a tour guide. 9 rooms, and a lot of stairs. There is very little furniture (except in the bedroom). There is also a cafe and two gift shops that you pass through on the way out after the guided tour.
Please Note!
You MAY NOT take photos INSIDE the castle. (That was disappointing to me)
And if you have a backpack, you must wear it on your front.
And you have to pay for a ride up to the Castle… either 2€ for a Shuttle bus (it's a bit like Mr Toad's Wild Ride the way the drivers take those corners…. HANG ON!). Or there are horse carriages.
Of course, you can take the 40 minute hike….uphill….
Disabled Access
This is a tricky one. The tour has over 300 stairs. Fortunately, there is access, but you MUST purchase tickets in advance. Here is the information–> Reduced Mobility Access to Neuschwanstein
Photographing Neuschwanstein Castle
Just going to see the OUTSIDE of Schloß Neuschwanstein is free, and you may take all the photos you like. (I personally liked the outside more than the inside…) You can hike all around it, and wander up to the Marian Brucke, Mary's Bridge, and get that perfect photo (fair warning… they allow up to 400 people at a time on the bridge, and the boards move). You may even wander into the courtyard of the castle, and up the steps on the left to get photos of the inner courtyard (where there are no people).

Marienbrücke… it can get crowded
You just can't use a camera or camera phone inside. They WILL see that you delete any photos you might try to sneak.
The Inner Courtyard – go up the stairs on the life from the courtyard to see this
The Easiest Way to Visit Neuschwanstein Castle
One way to avoid hassle is to purchase Skip-The-Line tickets for yourself. Cost is around $32. Yes, it costs a bit more than showing up and buying tickets there… but you won't have to wait in line. And that line can stretch for HOURS. This company basically buys tickets in advance, and you buy from them. Unfortunately, you don't get to pick the time for your tour, and you have to pick the tickets up from their office.
Find the perfect Tour of Neuschwanstein to fit your itinerary Here
Click here to order–>Neuschwanstein Castle Skip-the-Line Ticket
Take a Mike's Bikes Tour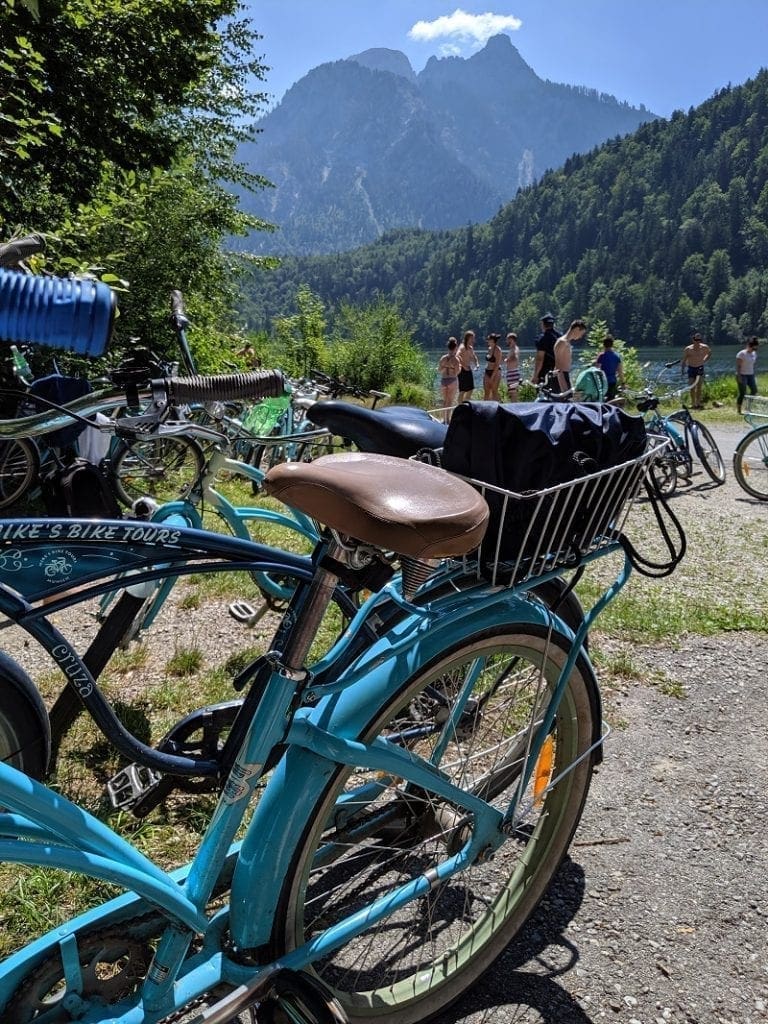 Most recently, I joined a group tour with Mike's Bikes in Munich. We were picked up near the Altstadt in Munich, and then taken by bus to the village near Hohenschwangau. On the way, we learned everything there is to know about King Ludwig II… and the mystery surrounding his life and death… except, of course, who did it! Our all-day tour included an easy bike ride to Schwannsee, where some of the group went for a swim (it was a very warm day). Then after lunch, we were taken to Hohenschwangau Village where we could either hike or shuttle up the hill. There was plenty of time to see the Marienbrucke, and also enough time to use the WC and eat an Eis. Ryan, our guide, made sure we had the tickets and went through the gates at just the right time. Then we were bused safely back to Munich. Note that the Castle admission and lunch were not included in the tour price… so if you just want to go out for a nice day of cycling in the Valley, and maybe a hike up to the Castle, you can.
I've taken two tours with Mike's Bikes, and was completely satisfied both times. The guides were knowledgeable and helpful. They also give plenty of alternatives, in case you don't feel like cycling or walking through castles.
Get more information about this tour HERE–> Mike's Bikes Tours
Join Small Group Guided Tour from Munich
The enchanting old-world town of Fussen lies in the foot hills of the Alps, framed by one of the most breathtaking natural settings in the world. Traveling by rail on small group guided tour from Munich, you'll tour the ethereal Neuschwanstein Castle, be taken to the best vantage points; the lake, the postcard-perfect aerial view of the equally beautiful Hohenschwangau Castle and to the waterfall gorge.

Neuschwanstein Castle Small-Group Day Tour from Munich – $48.29
from: Viator
Skip the Line!
Skip the line at Neuschwanstein Castle with a half day tour from Füssen. Transportation to Hohenschwangau village and skip the line ticket are included
Skip-the-Line Neuschwanstein Castle Half-Day Tour from Fuessen

Take a Rare PRIVATE TOUR of Neuschwanstein
Enter the fairytale kingdom of 19th-century Bavaria on this royal castle tour with an expert guide! Traveling from Munich by private vehicle, you'll visit two enchanted castles once inhabited by King Ludwig II – Hohenschwangau and Neuschwanstein. Take in the breathtaking alpine views with a leisurely lakeside stroll around the shores of Alpsee, or complete your magical day tour with a short stop at the magnificent Linderhof Castle on your return to the city.

Private Tour: Royal Castles of Neuschwanstein and Hohenschwangau from Munich – $160.97
from: Viator
Neuschwanstein Castle: An Exploring Castles Travel Guide
What will you see on your tour of Neuschwanstein?? This guide, available in paperback and on Kindle, will prepare you for your tour.
Neuschwanstein Castle: An Exploring Castles Travel Guide