Why YOU should Visit Schleswig Holstein – So MUCH to See and Do
The rather exotic-sounding Schleswig-Holstein is one of those places that, if you have heard of it at all, you are not quite sure where it is. (Actually, for most non-German speakers the name is quite a mouthful… lots of "sch" sounds.) So, where is Schleswig Holstein? It's Germany's northernmost area, bordering the Baltic Sea AND the North Sea… as well as Denmark. Although it is one of Germany's least-visited regions, it offers beautiful rolling countryside, medieval towns, secluded beaches, fishing villages and memories of a Viking past.
Where is Schleswig Holstein?
Because Schleswig Holstein is in the "cold north", it doesn't get a lot of tourist traffic. In fact, one of the biggest attractions here is simply the wide open spaces and the feeling of solitude. Outside of the few large towns, time seems to have stood still, and it is a great place to just lose yourself in for a few days. Throughout the area, even the smallest village has a church, usually dating back to medieval times, and sporting a distinctive red and white façade. Although the Friesians have a reputation for being a bit dour, the local people are friendly, and welcome visitors. Many speak in a regional Oldenburg Platt, a German dialect, unique to the area. But you should have no problems with language.
What to see in Schleswig Holstein
Visit Lübeck for the Marzipan!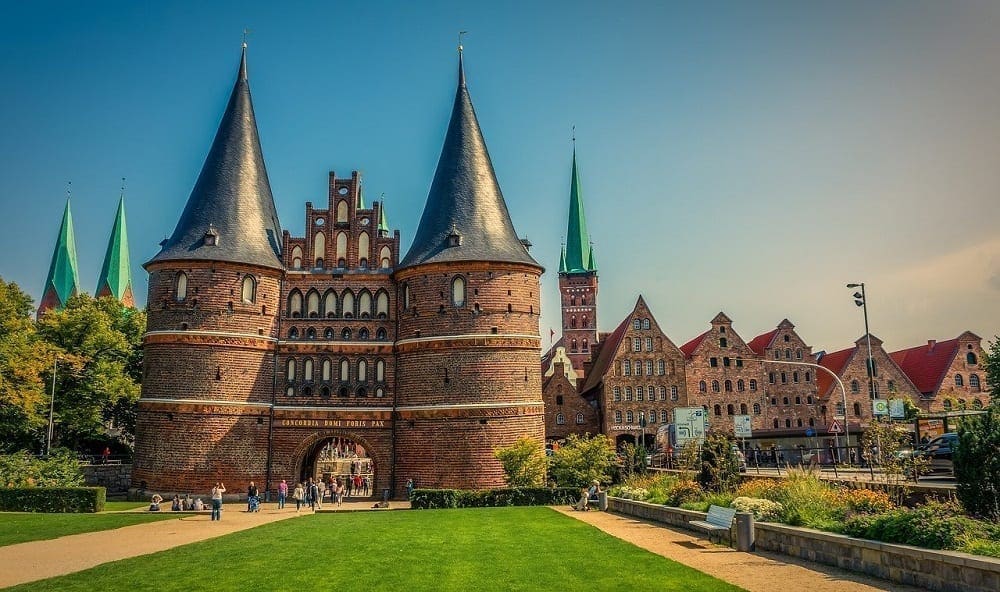 Lübeck, the largest town in Schleswig-Holstein, was once a vibrant trading port and today is one of the best-preserved medieval towns in Europe. Much of the historic city center is now a World Heritage Site, with many attractive buildings dating back as far as the 12th century. The beautiful market square is surrounded by the Rathaus, or town hall, and several churches, including St. Mary's, which has the highest brick nave in the world. The symbol of Lübeck is the Holstentor, a massive, 15th-century red-brick gate flanked by two stone towers.
Shopping is excellent in Lübeck, with many small antique and gift shops in the streets around the main square. One of the best things to buy here is marzipan; according to local legend, it originated in Lübeck during a famine which occurred during the middle ages. One of the best-known marzipan shops, Niedereggers, not only sells the sweet treat but has a small museum devoted to it as well. My favorite? the Nougat! (I leave the Marzipan for my sister).
Flensburg – Beer and Miles of Marshland

Flensburg is Germany's northernmost city, and as it is so close to Denmark, there is a mix of German and Danish culture reflected in the architecture and the food. The center of the town consists of a maze of medieval cobblestone streets, half-timbered houses, and picturesque churches. Flensburg is rich in museums, four of which are devoted to local arts and crafts, and there is an excellent maritime museum housed in the old customs warehouse. Flensburg is also famous for its distinctive local beer.  The water for the beer comes from an old well that taps into melting Ice Age water, and the bottles all have a distinctive flip-top that makes a plopp sound when it opens. There are miles of empty but atmospheric marshland surrounding the town. Perfect for romantics who love empty spaces.
Kiel – a Baltic Port City

 The capitol, and most populous city in Schleswig-Holstein, Kiel, is a major maritime center in Germany. It is known for its annual sailing regatta which attracts sailors from around the world each June. Kiel was also the major port for the dreaded German U-boats during World War I, and there is a small U-boat museum containing one of the actual submarines, U995. The town also has a marine memorial built after World War I, which German submarine personnel are required to salute when passing by. Kiel still serves as a gateway to Denmark, with regular ferry departures from its small but bustling port.
Schleswig- An old Viking Settlement
Schleswig Cathedral photo courtesy Wikipedia Commons
Schleswig is the area's oldest town and has a small museum documenting its first inhabitants, the Vikings. In fact, the name from the Schlei  (the name of the inlet) and "vig"  which is Bay in old Norse.   Schleswig is known for its rows of small houses painted in bright colors, which were once the homes of fishermen. The town lies at the edge of a landscape of marshlands and lakes, making it an excellent departure point for boat and bicycle trips.
Tolk-Schau Family Theme Park
Just outside Schleswig is the
Tolk-Schau Familienpark
. Do not go expecting loads of rides (although there are a few)… this German Erlebnis Park (experience park) is great for families with kids who need to burn off some energy! A train goes around the park and takes you to the various play and adventure areas to build sand castles, jump on giant trampolines, play on slides, towers and other structures. There is a dinosaur valley and an Animal Enclosure. You will also find food kiosks and even bar-b-que grill huts you can reserve to grill your own lunch.
Wadden Sea National Park- A Natural Wonder

Nationalpark Wattenmeer, mussels at low tide on the German North Sea coast
 In 2014 the Wadden Sea National Park was made a UNESCO Heritage site. This huge tidal flat, lying on the piece of land between Denmark and Germany is like nothing you've ever seen before. 4 times a day the tides change the look of the land completely. During low tide the water seems to vanish altogether, and you can even walk across mudflats to the small islands that dot the area. This is a fabulous area for seeing wildlife. Be aware, when the tide changes, the water can come fast. It's best to be aware of the tide schedule and the clock!
Halligen Insel- Little Islands in the Wadden Sea
Homes on Hallig Langeness
There are 10 Halligen Insel (Hallig Islands) left in the Nordfriesland. These little islands were once part of the mainland, but storms and erosion have left them isolated. Yet, people still choose to live on these islands, in houses built on mounds and surrounded by dikes to protect them from flooding. Narrow gauge railways connect them to each other and the mainland.  Some of the islands have Bed and Breakfasts for tourists who enjoy long walks in the nature reserves. A few of the islands are home to bird sanctuaries. See more of what it's like on the Halligen Islands in this video…
Sylt- A German Beach Resort Island


You don't usually think of Germany having beach resorts, but the small island of Sylt, just off the western coast of Schleswig-Holstein is famous for its miles of pristine beaches. The island attracts the wealthy and the famous, because of its very inaccessibility, who flock to the several resorts and restaurants scattered about the island. The other end of the narrow island is also a mecca for windsurfers, because of the constant sea breezes, and there is also a nature preserve for wild birds.
Wacken – Heavy Metal in a Small Town
Wacken Festival Photo Wikipedia Commons- By Andreas Lawen
It seems an unlikely place for a major festival, but the Schleswig-Holstein area hosts the Wacken music festival every August. Once a year the small village of Wacken is home to the largest heavy metal festival in the world. The Wacken Open Air festival attracts thousands of hard rockers to this ordinarily sleepy town. Interestingly enough, the relationship works. The locals don't seem all that put out by the August invasion…and despite their rough looks, the rockers are just there for the music and beer. Last year, a beer delivery system was installed underground to make the system more efficient. The big muddy mess lasts just a few days.

Food and Drink to try in Schleswig Holstein
Like all of Germany, Schleswig-Holstein is known for certain foods and drinks. Be sure to try them on your visit. You may notice a lot of RUM included in the drinks. Flensburg, the northernmost city in Germany is on the border of Denmark. The locals learned that their ships would pass through areas unmolested when flying under the Danish flag. Ships from the Dutch East Indies would bring the raw materials for Rum, which combined with the special clean water of Flensburg, made a very potent rum indeed.
Pharisäer-
A Pharisäer is similar to an Irish Coffee, but made with Rum. Take a mug of STRONG coffee, sweeten it with Sugar Cubes, add a good shot (1 1/3 oz) of Jamaican Rum… then top it off with a big hood of whipped cream. Don't stir! Drink it through the cream.That will warm your toes against the cold wind.
I love the legend behind the drink. A very strict pastor ran the church on the North Sea Friesian Island of Nordstrand, and he disapproved of any alcohol, so they never drank in his presence. However, at the baptism of his 7th child, a peasant decided he deserved a drink. So he poured the rum in his coffee, and covered the aroma with a thick topping of whipped cream. The pastor was given regular coffee. Somehow he found out, and called his parishioners "Pharisees" (hypocrites) , and the name of the drink stuck.
Eiergrog-
I Eiergrog found a few different variations for Eiergrog… all sound quite rich and potent. Made from Egg Yolk, Rum, Sugar and hot water, this was another way to keep warm against the cold. For 4 servings you need – 4 egg yolks, 1/4 cup sugar, 1 cup Rum and hot water. Beat the egg yolks and sugar until light and foamy. Here is the tricky part… you don't want to make scrambled eggs. Heat rum until hot (some suggest doing this over a double boiler). Slowly add the egg/sugar mixture… beating constantly. When the mixture is all together and warm, pour into 4 mugs. Add hot water to taste.
Ostfriesen Tee-

Ostfriesen Tee will put hair on your chest. It is quite strong. And the Tea culture surrounding this drink is very important to the region. Guests are generally offered Tea when they arrive. Ostfriesen Tee is typically served with Kluntje (a white or brown lump of candy sugar) and a schlag (spoonful) of whipped cream.
Teekanne Ostfriesen Gold 500g, 2er Pack (2 x 500 g)

Teekanne Ostfriesen Teefix 25er

Adjunct – Belgian Candi Sugar (Clear) (1 lb)

Lübeck Marzipan-
You can NOT go to Lübeck and NOT taste the Marzipan! In 1996 the EU placed this treat under a special Protected Geographical Indication. In short… Lübeck is THE place for Marzipan. Made from Almond Paste and sugar, then shaped into loaves, fruits, pigs, or covered in chocolate, you will see it all over the city. Take some home with you! The piggies are good luck.
Niederegger Chocolate Covered Marzipan Loaf, 2.6-Ounce (Pack of 5)

Niederegger Classic Marzipan Variations – 300 g/10.5 oz

Niederegger Marzipan 'Luebeck Holsten' Gate (Luebecker Holstentor) 125g

Cheese 
Schleswig-Holstein is dairy country, and that makes it a cheese lover's paradise. With over 120 local varieties of cheese made from cow, goat and Sheep's milk, you can have different cheeses every day of your visit, and still not come close to trying them all. You've heard of the Fairy Tale Road and the Romantic Road… It turns out that Schleswig-Holstein is famous for its CHEESE ROUTE! Read more about the Cheese Route here–> Schleswig Holstein Cheese Route  
Cabbage-
Believe it or not, Schleswig-Holstein is the "Cabbage Center" of Germany. (I read a funny statistic…If you laid all of the 80 million heads of cabbage grown in one year in Schleswig Holstein in a line, it would reach from the North to the South Pole.) Stuffed Cabbage, Kohlroladen, Sauerkraut….. the list goes on.
Seafood-

German menus are not known for being loaded with Seafood… until you go North. There you will find Matjas Herring, Smelt, Oysters and many other wonders from the sea. Try the Fisch Broetchen. (Think of it as German Sushi…)
Why visit Schleswig-Holstein?
This fascinating corner of Germany is not one to visit if you crave nightlife and the buzz of big cities. But as a destination that's just a little bit different and off the beaten path, it is one of Europe's travel secrets. This beautiful region is filled with wonders and friendly people. Give Schleswig-Holstein a try on your next visit to Germany.
Plan Fun Tours and Adventures here