Marzipan Pigs Good Luck -Marzipan Glückschwein
The Marzipan Pig Tradition is quite simple…. If you give Marzipan Pigs, good luck and delicious flavors will be spread to friends and family this Christmas! Many Germans like to include a Marzipan Glückschwein with  their Christmas gifts! Or as a special gift for the New Year. These sweet treats will make anyone feel lucky…. If only because they have a delicious candy to eat. (These are a huge favorite for my sister who LOVES Marzipan).These adorable piggies make a nice addition to your Holiday celebrations. And are a cute thing to put into a Bunter Teller. 
But WHY is a Marzipan Pig considered lucky? How did the Marzipan Pig Tradition get started? And… where can you buy Marzipan pigs… Take a look here to learn more…
&
&
What is Marzipan?
Marzipan is a confection made from ground Almonds and sugar. Sometimes a bit of honey or almond oil is added for more flavor. This mass is kneaded to smooth dough, and then it can be formed into any shape imaginable; fruits, animals or simple loaves. It can also be rolled smooth to cover cakes or tortes. But during the holidays season, everyone wants a Glückschwein! More about Marzipan here–> German Marzipan
(Scroll down to find a recipe for Marzipan… and molds to make your own Marzipan Pigs!)
Marzipan Pig Tradition… They bring Good Luck?
How did the German Marzipan Pig become a Lucky Pig?
In the Middle Ages, farmers survived the winter depending on what they could produce. If you were really lucky, they had a pig… which meant MEAT all winter long. "Ich habe Schwein gehabt" ("I had pig") became a common expression for being lucky…you were lucky to eat, and later, you were just lucky.
In the more recent years, the pig became a good luck symbol, like a four-leaf-clover. In fact, some Glückschweinchen come with a little clover on them.
A German Marzipan Pig (Glückschwein) as a gift helps to insure good luck for the New Year, so it is often given as a gift between Christmas and New Year.  Some children are lucky to find one of these delicious piggies in their shoes on St Nicholas Day!
Where to Buy Marzipan Pigs?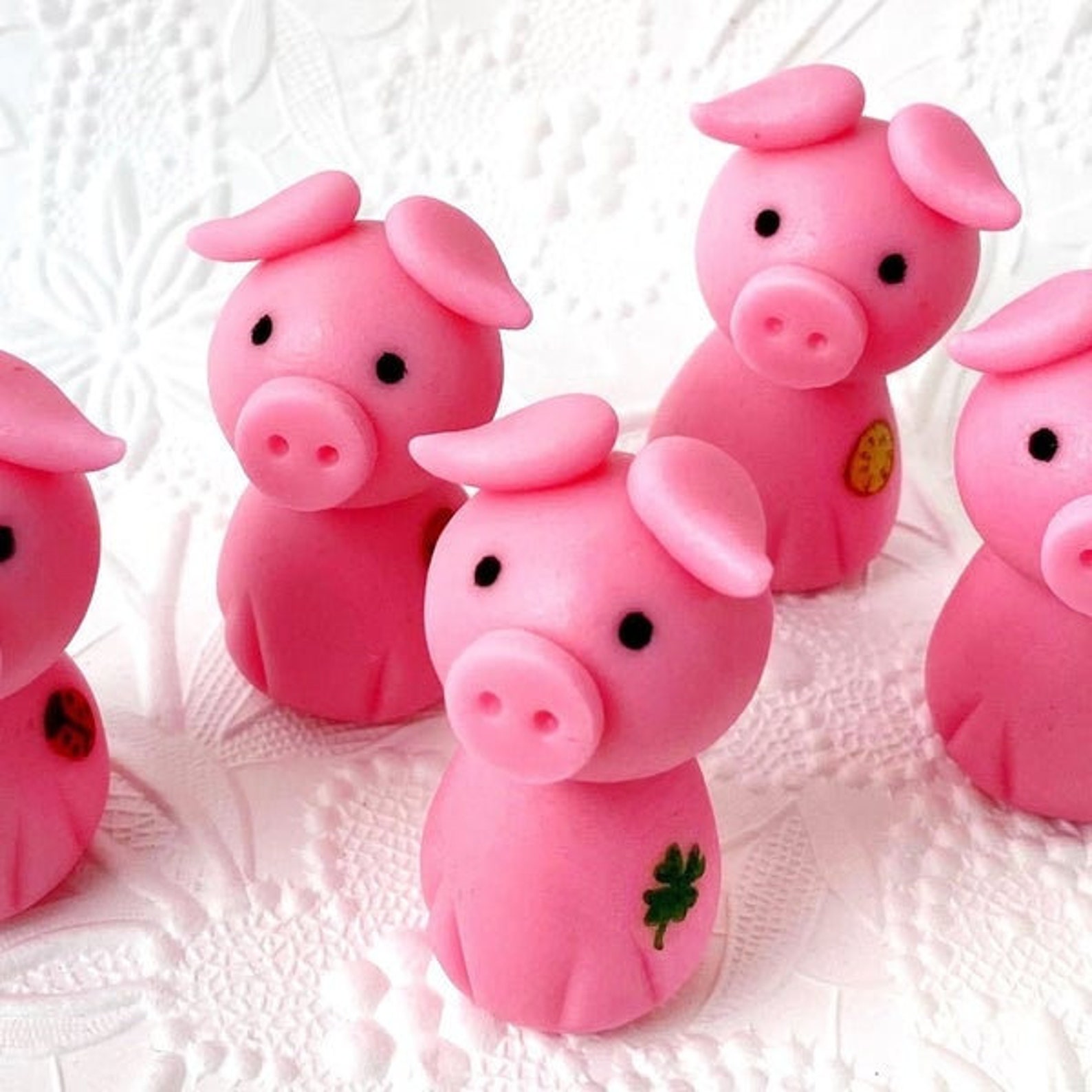 Marzipan Pigs – Gluckschwein Good Luck Pigs – Christmas marzipan candy – Edible marzipan gift sculptures for Christmas and New Year's

Funsch Marzipan Single Standing Mini Pig 0.63 oz

Funsch Marzipan Jolante Lucky Pig 1.23oz (35g)

Funsch Marzipan Lucky Pig 1.76oz (5-pack)

Funsch Marzipan Pig Assortment 0.88oz (5-pack)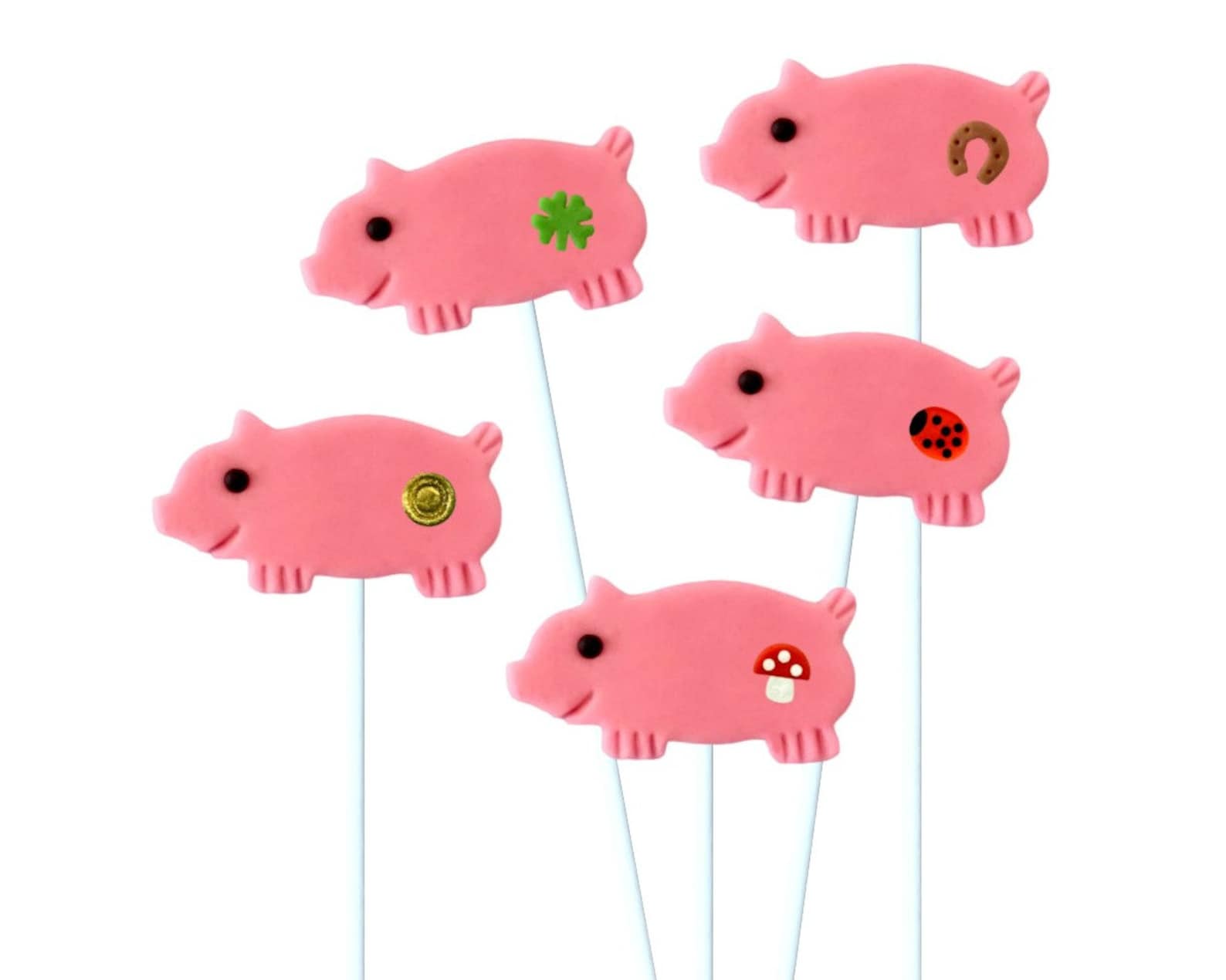 Gluckschwein! Good Luck Marzipan Christmas Pig Lollipops! Pass on Good Luck, or "Gluck", to your Friends and Family! Glucksschwein!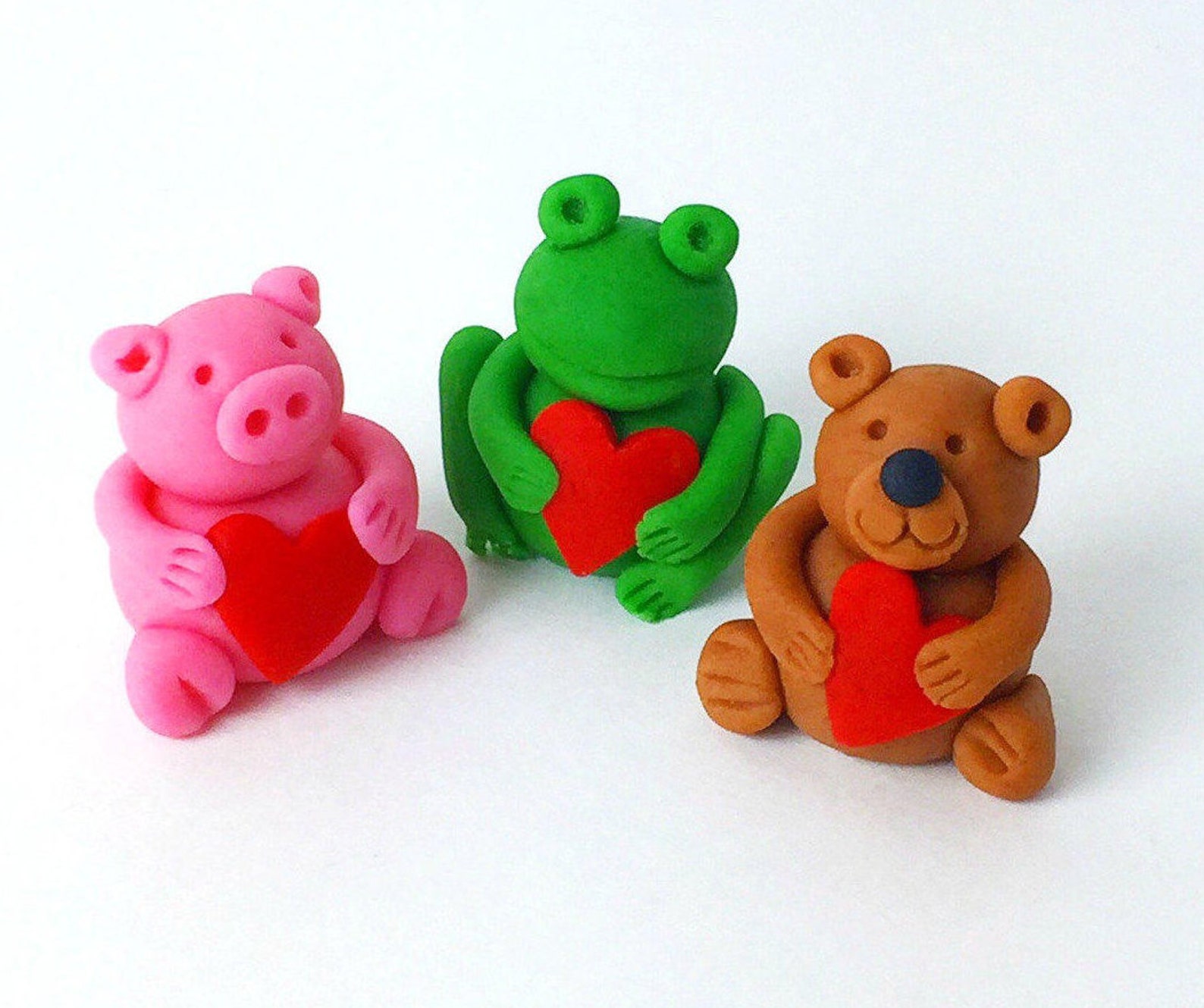 Teddy BEAR, FROG and PIG Valentine's Day candy – Edible marzipan gift sculptures – A Delicious Treat!

Marzipan Pig Recipe!
Many people feel that Home Made Marzipan tastes better than Store bought… (both are good!)
Home Made Marzipan Recipe
Home Made Marzipan
Ingredients
1

lb.

Almonds- blanched

peeled, ground

3

large Egg Whites- room temperature

use fresh eggs

4

tsp.

Almond Extract or 2 tsp Almond Extract plus 1 Tbl. Rosewater

3 to 4

cups

powdered sugar
Instructions
Grind the almonds in a food processor until they resemble a fine powder (Don't overgrind, it will turn into almond butter!). You can also buy

Ground Almonds

.

In a bowl, beat the egg whites until just frothy.

Add the Almond extract and rosewater (if desired).

Sift in 3 cups of powdered sugar, 1 cup at a time, kneading the mass in the bowl after each addition.

Then add just enough of the last cup of powdered sugar to form a smooth, pliable dough that isn't too sticky.

Divide the dough into portions and wrap tightly in plastic wrap.

Keep refrigerated in an airtight container up to 8 weeks.

You can shape this marzipan into any shape you want. Use a form or freehand!
Pig Shaped Candy Mold
To make your own Marzipan Pigs!~
CK Products 2-Inch Pig Chocolate Mold

Let'S Diy DIY Pig Shape Fondant Cake Mold Silicone Mold Cake Decorating Tools Chocolate Mould Bakeware Cooking Tools

Cybrtrayd Life of the Party A099 3D Sitting Pig Chocolate Candy Mold in Sealed Protective Poly Bag Imprinted with Copyrighted Cybrtrayd Molding Instructions