Where to Get a Beer in Munich… Munich Beer Halls, Beer Gardens and Oktoberfest
Paris has pavement cafes, London has pubs and Barcelona has tapas bars, but for beer lovers,  Munich is the  place to go for beer halls and beer gardens.  That is not to say that  beer is Munich's only attraction. Far from it. There is much to see in this elegant southern German town but it's beer for which Munich is really famous. But where to get a beer in Munich? Where is the best beer in Munich? Should you only go during Oktoberfest? Hopefully this beer drinker guide to Munich helps!
Where to Get a Beer in Munich?
The Munich Oktoberfest is a massive celebration of beer brewing, but for some it can be an over-the-top festival, with too many tourists, too much noise and far too much booze.  The Oktoberfest dates  from 1810 and since then it has become almost a place of pilgrimage for serious beer drinkers and a high octane venue for  revelers. Despite its name, Oktoberfest actually takes place in September. Getting a place in a tent can be difficult, but you can find tickets here–> Munich Oktoberfest Tickets and Tour.
Beer Halls and Beer Gardens in Munich
For those who prefer to enjoy a few steins of beer in quieter months, there is no lack of venues in which to enjoy Munich's traditional drink. In summer the beer gardens of Munich are a true taste of Bavaria, but in the autumn and winter tourists can still sample the same wide range of beers but  in  massive, celler-like  beer halls that are warm in both  temperature and ambiance .
Munich Beer Halls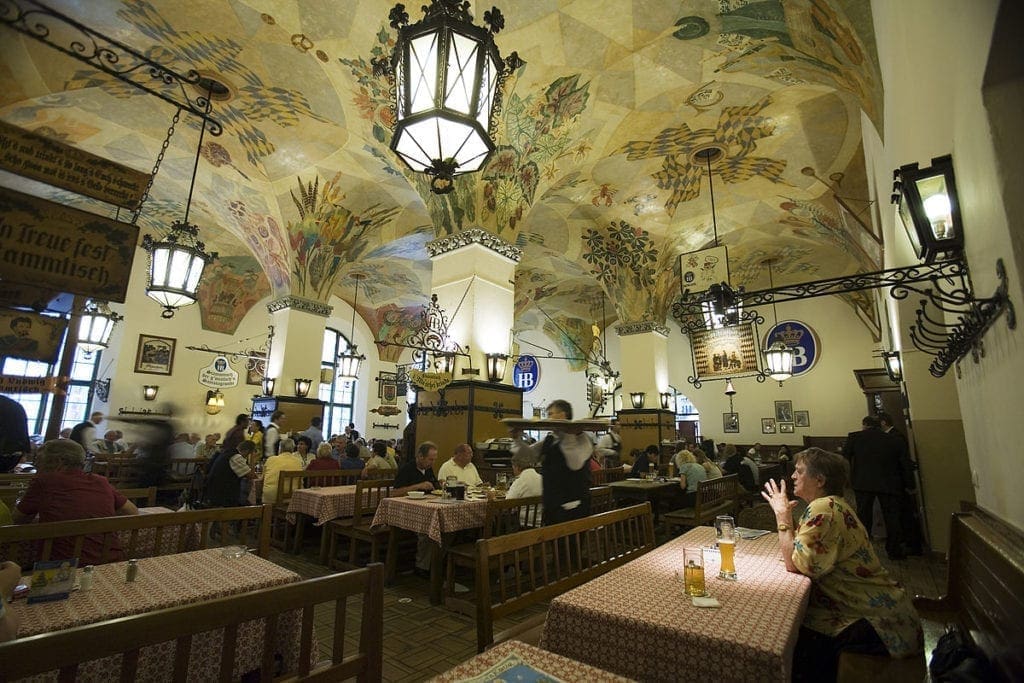 Top of the beer halls has to be the Hofbräuhaus. It  is also one of  the oldest breweries in the world, dating from 1598. The Hofbräuhaus is situated close to the Marienplatz, and it is huge – up to 5,000 people can be served here and believe it or not, it can be difficult  to find an empty table during the tourist season. The beer is sold by the litre or Maß, the food is hearty ( pork knuckle with potato dumplings for example), the staff wear tradtional Bavarian costumes and an oompah band plays boisterous  Bavarian folk songs.
If you like to converse with your companions over a quiet drink or avoid other tourists, the Hofbräuhaus may not be for you, but it certainly has plenty of atmosphere and energy.
Augustiner Keller, Munich
The Augustiner Keller, situated on the Arnulfstrasse is another LARGE Beer Hall, and an open air Beer Garden. Just as large as the Hofbräuhaus inside, and reputed to be  the largest city  beer garden in the world, the Augustiner Keller first appeared on the Munich city map in 1812, and was given permission ot serve food in 1842. By 1996, both the Hall and the Beergarten were in operation. The tables are arranged under shady chestnut trees and despite its size the Augustiner Keller has a  spacious, relaxing atmosphere and is an excellent example of a traditional  Bavarian beer garden.
The beer served here is pretty good too –  it's the brewers' own beer, Augustiner , and it  comes straight  from freshly tapped wooden barrels. It's a light beer which is  low in carbon dioxide and  the perfect drink for a hot day.  The  Augustiner Keller also serves great food, and some of the best pretzels in Munich.
Fair warning, the beergarten can be very crowded in the summer, but there is no better place to be on a warm Munich evening, with a stein of Edelstoff and a basket of salty, soft and crunchy pretzels.

Best Beer Gardens Munich
You can find a few  Beergartens in the Englischer Garten at the centre of  the old city. Called the 'English' Garden because of its informal landscape and Capability Brown (an English Landscape designer) style layout, the gardens cover 3.7sq.kms and provide a relaxing green space for Munich citizens and tourists. Among the many attractions are a Japanese garden and Tea House; an 86,000 sq metre lake – the Kleinhesseloher See, and the Schönfeld Meadow, a popular nudist area.
The Seehaus in the English Garden
The Seehaus is a 2500 seat Biergarten on the Kleinhesseloher See, an artificial lake in the middle of the English Garden. Popular with young people, as well as the older generation and tourists, the Seehause is the perfect stopping place on a walk through the garden. The beer and traditional Bavarian foods can be purchased from self-service from stands around the tables. Fair warning, the Paulaner beer served at this garden is a bit pricier than in other Beergartens…. you pay for the view.
Chinesischer Turm (Chinese Tower) Beer Garden Munich
An even more popular Englischer Garten attraction is the Chinese Tower (Chinesischer Turm) beer garden. The tower is actually a pagoda and was built in 1789, and extensively restored after being damaged by Allied fire bombs in WW2.  It is a 25 metre high, 5 storey wooden structure overlooking the beautiful gardens. The Chinese Tower beer garden can accommodate up to 7,000 beer drinkers on a mid- summer evening. It is a big tourist attraction and also a favorite meeting place for students from the university which is located close to the gardens. Brass bands play traditional Bavarian folk music at weekends, as the customers sit beneath the chestnut trees enjoying the Lowenbrau beer.
The Chinese Garden is the second largest Biergarten in Munich, seating with 7000 seats in the self-service area and another 500 in the full service area. Traditional food stalls serve Steckerlfisch and  Schweinshaxn, as well as Obatzda. And there is WiFi!
Outside the Englischer Garten… The Kugler Alm Beergarten
For a change of scene and pace, the Kugler Alm beer garden is a pleasant cycle ride out of Munich in the southern suburb of Deisenhofen, on the edge of the Perlacher Forest. It is (according to Münchners) the birthplace of the refreshing beer and lemonade drink known to the patrons of the Kugler Alm as a 'radler' (much like an English Shandy).  Apparently in 1922 the then owner, Franz Kugler, was confronted by several hundred cyclists and a temporary beer shortage. Rather than turn away custom, Herr Kugler diluted the beer with lemonade, and called it a Radler or bicycler's beer.  From then on Radler became a popular drink throughout Europe. (And it's one of my favorite drinks!)
The Kugler Alm has parking for 400 cycles in addition to the car parking, and seating for 3,000+ customers in either self- service or waitress – served areas. An in- house specialty is roasted suckling pig, but there are also plenty of fast-food stalls selling good quality Bavarian snacks. The best drinks are Radler (of course), Spaten Hell lager or a Masskrug of Franziskaner – Munich's famous wheat beer. A masskrug is a one- litre beer glass, and those in the know simply order a 'mass' of whatever beer they want.
There is a big screen for sporting events in the Kugler Alm as well as a newly opened play area for children, so there is plenty of entertainment for young and old.
Biergarten Food
Be they beer gardens or beer halls, most venues offer traditional Bavarian food such as roast pork, hearty beef stews, Munich's own special  wieswurst –  a veal and pork sausage  eaten with lashings of sweet mustard –  or sliced leberkaese ( a type of  sausagemeat  loaf )  topped with  a fried  egg. Perfect food  to accompany the beer.
And if you want to bring your own, you can. Just make up some of your favorite dishes, and bring them along!
Why Visit Munich? To See a Beautiful City while Enjoying the Beer
Munich is a beautiful city, but for beer lovers the beer halls and gardens are the main attraction, which some would say is a pity, but it is a genuine delight to be able to enjoy an evening at a beer garden after a hard day's sightseeing. Munich really offers the tourist the very best of both worlds.
Beer Tours Munich
There are many different Beer Tours in Munich… and they are all a great way to see and experience the beer and the city.
7 Day Tour

7-Day Beer and Breweries Tour by Bike and Train from Salzburg to Munich
from: Viator
Explore the breweries of the Salzburg and Munich areas on a 6-night tour that includes three days of independent biking. Especially designed for beer lovers, the self-guided cycling tour takes you along the Salzach and Inn rivers where you can taste the freshest and coldest pints at historical breweries located inside monasteries, as well as a few private breweries where you'll learn the art of making beer. Then, head from Austria to the German beer capital of Munich by train to further quench your thirst for good brews. If the dates coincide, you might have the chance to experience Munich's legendary Oktoberfest celebrations. This is a one-way tour, ending in Munich. Six nights of accommodation and breakfast are included, plus one dinner.
Hop on and Off Tour

Munich Super Saver: Brewery and Beer Tour plus Express Hop-On Hop-Off Tour – $45.21
from: Viator
Experience the best of Munich – from top attractions to its legendary beer – with this Munich Super Saver that combines two tours at a discounted price! Spend the first part of your day on a city hop-on hop-off tour to see sights like the National Theatre, the Viktualien market and the Marienplatz independently, and then enjoy a behind-the-scenes tour at a famous brewery in the afternoon.
Private Tour with Beer and Food

Private Tour: Bavarian Beer and Food Evening in Munich – $47.43
from: Viator
Experience Munich's world-famous beer and food scene on this 3.5-hour, private walking tour. Get familiar with the local beer culture during a tour of the Beer and Oktoberfest Museum. Once you're hip to the hops and techniques used to make Bavarian brews, soak up the convivial atmosphere at a local beer hall. Complete your quest for the best Bavarian beer at the celebrated Hofbräuhaus, where you'll end your tour with a stein in hand. Throughout the tour, your private guide provides personalized attention at every step.
Behind the Scenes Brewery and Beer Tour

Behind-the-Scenes Brewery and Beer Tour in Munich
from: Viator
Whether you're in Munich for Oktoberfest or just want to experience its famous beer scene, this behind-the-scenes beer tour will give you the inside scoop of one of the city's most renowned breweries. Beer brewing is an art in Germany, a centuries-old tradition that you'll learn about with an experienced guide. Tour several breweries, meet the master brewers and enjoy a beer sample accompanied by a fresh Bavarian pretzel.
Beer and Brewery Tour with SAMPLES

Munich Beer and Brewery Tour Including Samples
from: Viator
Beer aficionados will delight in a behind-the-scenes look at the world's beer capital during this 3.5-hour evening in Munich. Along with your beer-loving guide, take a tour of the city's historic beer halls and breweries. Enjoy a guided tour of a brewery to see how Bavarian beer is made, sample a variety of brews, and learn fun facts (and secrets) about Germany's "liquid bread." Cap off the evening at the world-famous Hofbräuhaus, where you'll have the option to purchase dinner — and of course, more beer.
Private Walking Tour

Private Munich Walking Tour: City of Beer
from: Viator
Enjoy a 3-hour beer tour in Munich and taste various types of the best Munich beers. This private walking tour will take you through the old city center, a famous food market and the Oktoberfest Museum. Beer samples are included and also a Bavarian food platter with delicious traditional appetizers.
Guided Oktobefest Tour and place in the Tent!

Guided Oktoberfest Tour and Evening at the Hofbräu Tent Including Beer and Oktoberfest Museum Tour
from: Viator
Enjoy a special tour on the last weekend of the festival, exclusive to 28 people in total – two groups of 14, each with their own guide. This all day experience will combine a visit to Munich's Beer and Oktoberfest Museum with evening table reservations in the famous Hofbräu tent in Oktoberfest. Your guide at the Beer and Oktoberfest Museum will give you an exclusive private tour of the museum, combined with food and beer tasting in the tavern below. Then it's off to the Oktoberfest festival itself for a brief guided tour of the grounds, followed by evening table reservations at the Hofbräu Tent from 6pm until closing.
Private Full Day Tour

Private Full-Day Munich History and Beer Culture Walking Tour Including Munich Old Town, Hofbraeuhaus or Beer & Oktoberfest Museum Visit and Weisswurst Breakfast
from: Viator
Combine a day of enjoying Munich's finest beers with the rich history of Munich. Start your 8 hour day at 10am with a traditional Weisswurst Frühstück and then take a stroll through the old town of Munich with a special focus on WWII history. You will see the Glockenspiel, Marienplatz, Odeonspltz and many of Munich's most important churches. Additionally, visit the famous Hofbräuhaus and optionally, a private tour of the Bier and Oktoberfest Museum. As you visit the most famous sites of the city, you'll also be treated to sampling the best beer in the most famous "Wirtschaften" in Munich.
More About Munich's Beer Halls and Beer Gardens
Find your way around Munich's Beer Gardens and Beer Halls… and learn a bit more history… with these great guides.
The Beer Drinker's Guide to Munich

Meet Me in Munich: A Beer Lover's Guide to Oktoberfest

The Beer Drinker's Guide to Munich

The Bavarian Beer Comic. The Story of Munich's Hofbrauhaus