Bike Tours Berlin Germany- Guided Tours, or Ride on Your Own
Sometimes, the best way to see a city is to get out of the car, or off the bus, and really SEE IT. Problem is, in a large city like Berlin, you can walk your feet off trying to get from one place to the other. Jobina Bardai has the perfect solution! She wrote up these fantastic Berlin Bicycle Tours that take you step by step (or pedal by pedal) on sightseeing tours through the streets of Berlin.
Berlin is an easy city to navigate by bicycle. You can even buy a ticket to take your bike on the train! And there are Berlin Bike Rental shops throughout the city, so it's easy to rent a bike in Berlin.
Prefer going with a guide? There are plenty of different guided Berlin Bicycle Tours available! Few hours or half day, group or private, loads of different itineraries, and there are even electric bikes! Scroll down to the bottom of the page for a list of just a few.

Berlin Bicycle Tours
Take a look at the different tours Jobina describes in her post… try one, or all of them!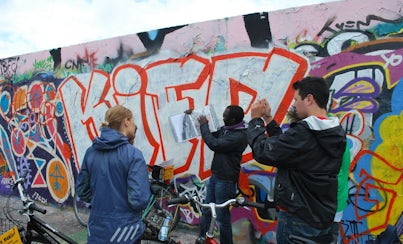 Alternative Berlin Bike Tour- Discover Kreuzberg, Prenzlauer Berg, Friedrichshain, alternative lifestyles, streetlife, markets, bars, diversity and the "real" Berlin

Freedom is a Bicycle in Berlin
By Jobina Bardai
There is no better way of getting under the skin of a city like Berlin than by bike – all the locals do it and the terrain is marvelously easy to handle. There are dedicated cycle lanes, plenty of green space and traffic is surprisingly sane for such a major capital city.
This city has seen it all – the Nazi regime, the Russians, Communism, the Cold War and the Berlin Wall. But despite the weight of its dark history, there is an air of energy and vitality in this new Berlin. An eclectic city brimming with art, architecture, film, theaters, cutting edge design and a raging nightlife, Berlin is emerging as a top European destination.
With that much history and sights to cover, jump on your own two wheels! Start on the Unter den Linden, the heart of the historical Mitte district and the grand avenue of East Berlin. Its wide tree-lined streets mix history, culture, memorials and sidewalk cafes. You'll find Berlin's most important buildings of Prussian and German history from the 18th century to the present.
Around the Brandenburg Gate
From here take a left at Frederichstrasse to Checkpoint Charlie, the former border crossing point between East and West Berlin. Stop in the museum and be inspired by the ways that East Berliners got to freedom in the West by hot air balloon, underground tunnels, and even in a kayak tied to the rooftop of a car.
Down the road is the Topography of Terror, where the headquarters of the Gestapo and the SS were during the Nazi regime of 1933 to 1945. The excavated interrogation rooms and the second-largest remaining segment of the Berlin Wall share this site, and the imposing Luftwaffe (Air Force) building is across the road. The site's history is told through an engaging pictorial display that also includes thrilling images of the Wall coming down.
Coast back westward along Unter den Linden, which will lead you to the famed Brandenberg Gate located in the middle of charming Pariser Platz. Twenty years ago when the Wall was going up, East Berliners frantically pedalled across the square towards freedom in West Berlin. Once the Wall was up, Brandenberg Gate was surrounded by barbed wire fencing and you'd likely have been shot trying to get through. Luckily, there is no longer fear or anxiety here now – just the careless freedom of being on two wheels, passing easily through this unified city.
Take a left out of Brandenberg Gate, and stop for a moment at the memorial for the murdered Jews of Europe. The large field of 6-foot steles commemorates the 6 million Jews and others who perished in the Nazi concentration camps. It's a silent and powerful tribute.
Continue in the same direction to Postdamer Platz, full of shiny highrises and the youth of Berlin. The newly-opened Dali Museum is in the glistening Sony Center. This is all a sharp contrast to the picture display showing the Postdamer Platz of post-WWII, when it was a no-mans land fenced off by terrifying barbed wire and armed guards.
Coast back the way you came and head towards the Reichstag, the seat of the German Parliament. This is another fantastic mesh of old and new, with the pre-war building topped by a stunning glass dome. From the lawn of the Reichstag, you can see the crowds walking along the spiral staircase of the dome, enjoying the expansive views of the city.
Pedal through Tiergarten
Next, lose yourself in the splendid woods of the Tiergarten. There are perfect bicycle paths, overhanging trees to shade you from sun and rain, and lovely pockets of flower gardens. The Café Am Neuen Seen, on the edge of the park's largest artificial lake, is Berlin's most popular beer garden, and also serves lovely warm meals and cooling ice creams for the weary bicyclist. Summer brings beach bars complete with sand, the locations of which you can find out from the tourist office.
Kurfurstendamm and the Shopping District
Pedal out of the park towards the Kurfurstendamm, the main street of West Berlin. You'll immediately notice the difference between capitalist West Berlin compared to the graceful architecture of Unter den Linden in the East. The Ku'damm, as it is known, is Berlin's longest avenue for strolling and a lively scene with street artists around Breischeldplatz. There are also chic boutiques and department stores like KaDeWe. Stop at the famous Kaiser Wilhem Church, destroyed by bombs during WWII, but preseverd as a memorial to the horrors of war. The new church next to it, with its dark blue mosaics, is lovely in the early evening.
Museum Island and the Spree
Another possible route, also starting from Unter den Linden, heads east instead. Museum Island is on your left, with five museums and over six thousand years of world history. Across the Spree river is Scheunenviertel, the former Jewish quarter and now a funky area with lots of bars, restaurants and outdoor terraces. On Oranienburger Strasse, you'll find the Neue Synagogue, which survived Kristallnacht (Crystal Night) of the Nazi regime. In true Berlin fashion, the same street is also home to Kunsthaus Tacheles, a bombed-out department store that now houses an arts center, a café, cinema, and performance and exhibition spaces.
Bicycling is a relaxing way to get around, more fun than a bus tour, cheaper than the metro, and you'll cover much more than on foot. Berlin also offers many bicycle tours with excellent guides, including the New Berlin Tour, the Inside Tour and the Fat Bike tour. If you decide to strike out on your own, most hostels offer bike hire, and the hotels can point you in the right direction for a bike shop. You can also take your bike on the U-Bahn and S-Bahn underground lines- you just need a ticket for the bike.
Berlin Wall Trail Cycling Guide: Cycling Guide
Guided Berlin Bicycle Tours
Want to ride, but want to go with a guide? There are quite a few reasonably priced bike tour packages to choose from…
Take a few hours, or a half day ride. Small group or private. Tours that hit Berlin's highlights… Berlin Wall Tours, even Alternative Berlin sites that are off the tourist path. Whatever suits you, you are certain to find the right tour. There is even an Electric Bike tour, so you don't have to work so hard!
Bike Tours in Berlin Germany

Berlin Wall and Cold War Bike Tour
from: Tours4Fun

Modern Berlin Bike Tour
from: Tours4Fun
these are just a few…

Berlin Bike Tour: Berlin Wall and Cold War – $30.04
from: Viator

Half-Day Alternative Berlin Bike Tour: Berlin Off the Beaten Tracks – $26.82
from: Viator

Private Half-Day Berlin Bike Tour: Berlin Wall and Cold War Sites – $213.55
from: Viator

Private 3-Hour Alternative Berlin Bike Tour

from: Viator
Berlin Electric Bike Tour – $52.58

See Berlin's famous sites in a fraction of the time on this half-day electric bike tour! Enjoy a fun, easy ride to top Berlin attractions including Brandenburg Gate, Potsdamer Platz, the Reichstag, the Holocaust Museum, Checkpoint Charlie and picturesque Tiergarten. Your knowledgeable guide will offer interesting commentary about the places you see and about Berlin's turbulent history. This small-group tour is limited to 15 people, ensuring a more personalized experience.

Kreuzberg And Spree Riverside Bike Tour – $22.53
from: Viator
Potsdam Day Bike Tour – $52.58

Take a day-trip from Berlin and discover UNESCO World Heritage listed Potsdam, all by the seat of your bike! From park lands to alleyways, you're English-speaking guide will recount historical anecdotes as you explore an array of Prussian and Cold War sites.

Guided Berlin Wall Trail Bike Tour – $21.46
from: Viator
Half-Day Guided Bike Tour of Central Berlin's Highlights – $28.97

Experience the main highlights of central Berlin with this guided bike tour. It includes the main highlights as: Brandenburg Gate, Museum Island, Alexanderplatz, Gendarmenmarkt, Bebelplatz, Unter den Linden, Memorial for the murdered Jews of Europe, Mauerpark, Government district, Reichstag, Tiergarten, Street of 17th June, Pariser Platz, Potsdamer Platz, State Opera, City Palace, Red City Hall, Nikolai district, Neptune´s Fountain ,TV Tower and many more.
Small-Group Bike Tour of Alternative Berlin – $22.53

Enjoy a 3.5-hour bike tour off the beaten tracks and discover the alternative side of Berlin. Focus will be everything that is beyond Berlin Wall and major touristic sights. The tour will be led by a knowledgeable bike guide and we are going to make sure you will have an unforgettable Berlin experience.

Modern Berlin Bike Tour Including Kreuzberg and Tempelhof Airport

from: Viator