Does Germany Celebrate Valentine's Day?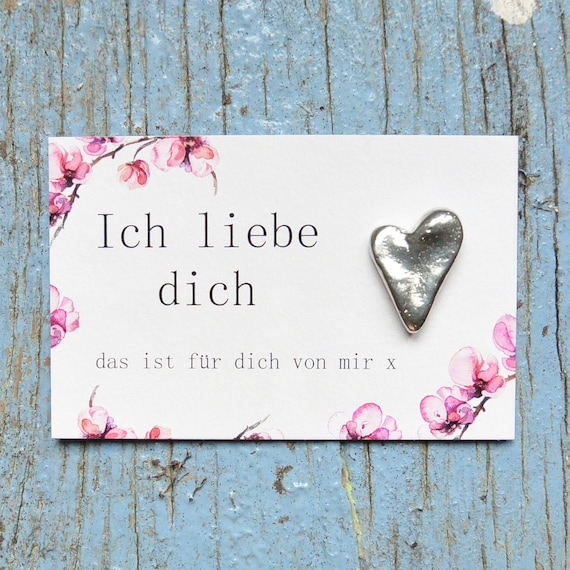 Ich Liebe Dich – German Card With Pewter Heart Token by William Sturt

It's that time of year when I get asked, "Does Germany celebrate Valentine's Day?" Now… I'm not sure if I'm getting the question by people who want to do something "German" for Valentine's Day… or because people want to use a negative to get OUT of celebrating Valentine's Day (yes, I'm looking at you…)
So let me clear things up a bit by saying… YES, some Germans do celebrate Valentine's Day… others don't.
Let me explain… The history of Valentine's day in Germany is a fairly recent… but like other "imported holidays" there is some acceptance (see my post on Halloween). Whether you want to celebrate or not is up to you (however, if your significant other wants to celebrate… I suggest you go along, and not make comments like "it's a Hallmark Holiday" or "the flower stores invented it"…I promise, your day will go a lot smoother).
History of Valentine's Day in Germany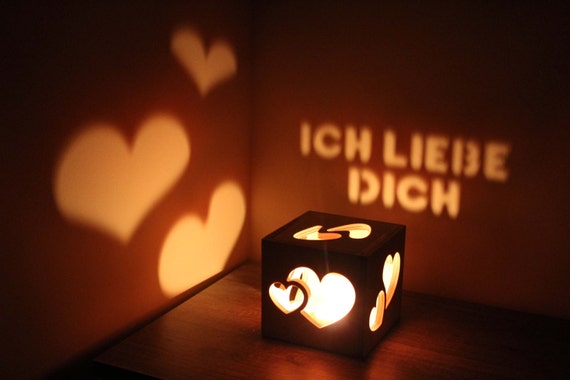 Ich Liebe Dich Valentines Day Gift

What we have come to know as Valentine's Day was originally a Pagan celebration called  Lupercalia. On February 15th, to celebrate Spring and Fertility, (presumably) single women would put their names in an Urn, and the men would choose their partner for the year by drawing names. Naturally, the Christian Church needed to put a stop to this. In order to Christianize the day, it was designated, St.Valentine's day, to commemorate the death of martyred St Valentinus. The confusing part is that there were actually 3 different Saints named Valentinus… but since all three did romantic things in the name of love…. it kind of works. The most famous Valentinus fell in love with his jailers daughter, and sent her notes signed "From your Valentine"…. and that's why we have cards with that sentiment. (Now, all of you who are pointing out the parallel between a man in jail writing notes, and men today forced to shop for cards can just stop!)
But what does that have to do with Germany?
Frankly, not much.
Valentine's Day, sending cards, and giving gifts of love became popular in France and England during the Middle Ages, but somehow it missed Germany.
At least, until after World War II. When the French, English and Americans occupied Germany, they brought along some of their traditions (a bit like Halloween). In fact, the first Valentine's Ball took place in Nuremburg in 1950. From there, things started to grow.
German Valentine Day Traditions
24 Long Stem Red Roses Hand-tied Bouquet -No Vase
So, Valentine's Day is not a HUGE German holiday… in fact, less than 40% of Germans will give their special someone a present. (Got to hand it to the Bavarians though, over 50% of them celebrate!).
One main difference between German and American Valentine's Day celebrations… it tends to be an adult holiday… which means no cartoon cards with a Necco Heart stuck onto it.
That's not to say that it isn't sweet… People do exchange cards, give flowers (flowers are always a favorite in Germany!), or go to dinner. Lebkuchen Hearts with loving sayings are hugely popular. Valentine's Day is a time for romance!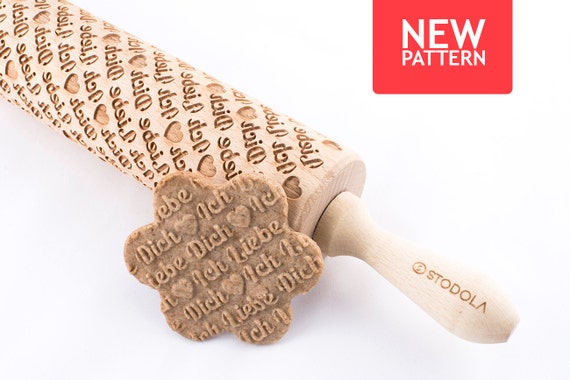 Ich liebe dich – Embossed, engraved rolling pin for cookies

&
German Valentine's Day Gifts
Looking for that perfect Valentine's Day gift for your favorite German girl or boy?
-Flowers are always appropriate (especially Roses!).
-Lately, good luck piggies, especially those holding hearts or 4 leaf clovers, have become popular gifts for your Valentine.
–Lebkuchen Hearts with romantic sayings
–German Chocolates in a heart shaped box
-A piece of jewelry
-A nice card
-A Romantic dinner… at home or in a nice restaurant.
Whatever you choose, be sure to include the words… "Ich liebe Dich"….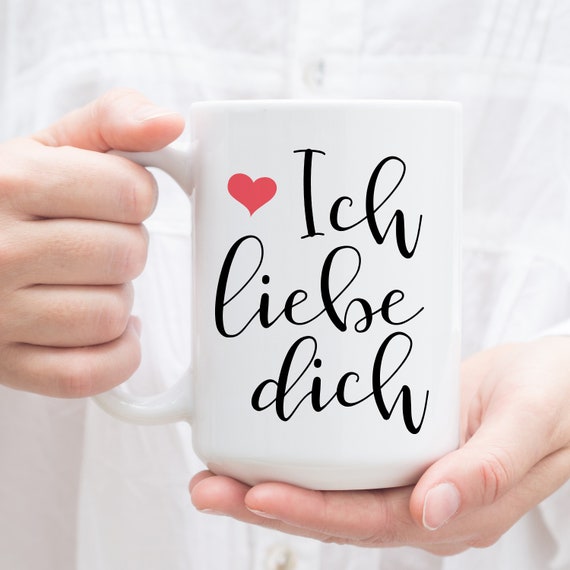 Ich Liebe Dich coffee mug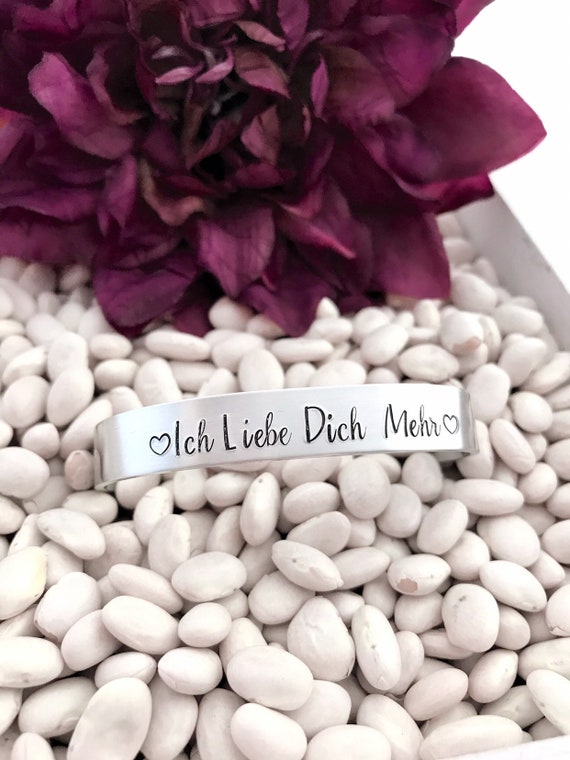 Ich Liebe Dich German I Love You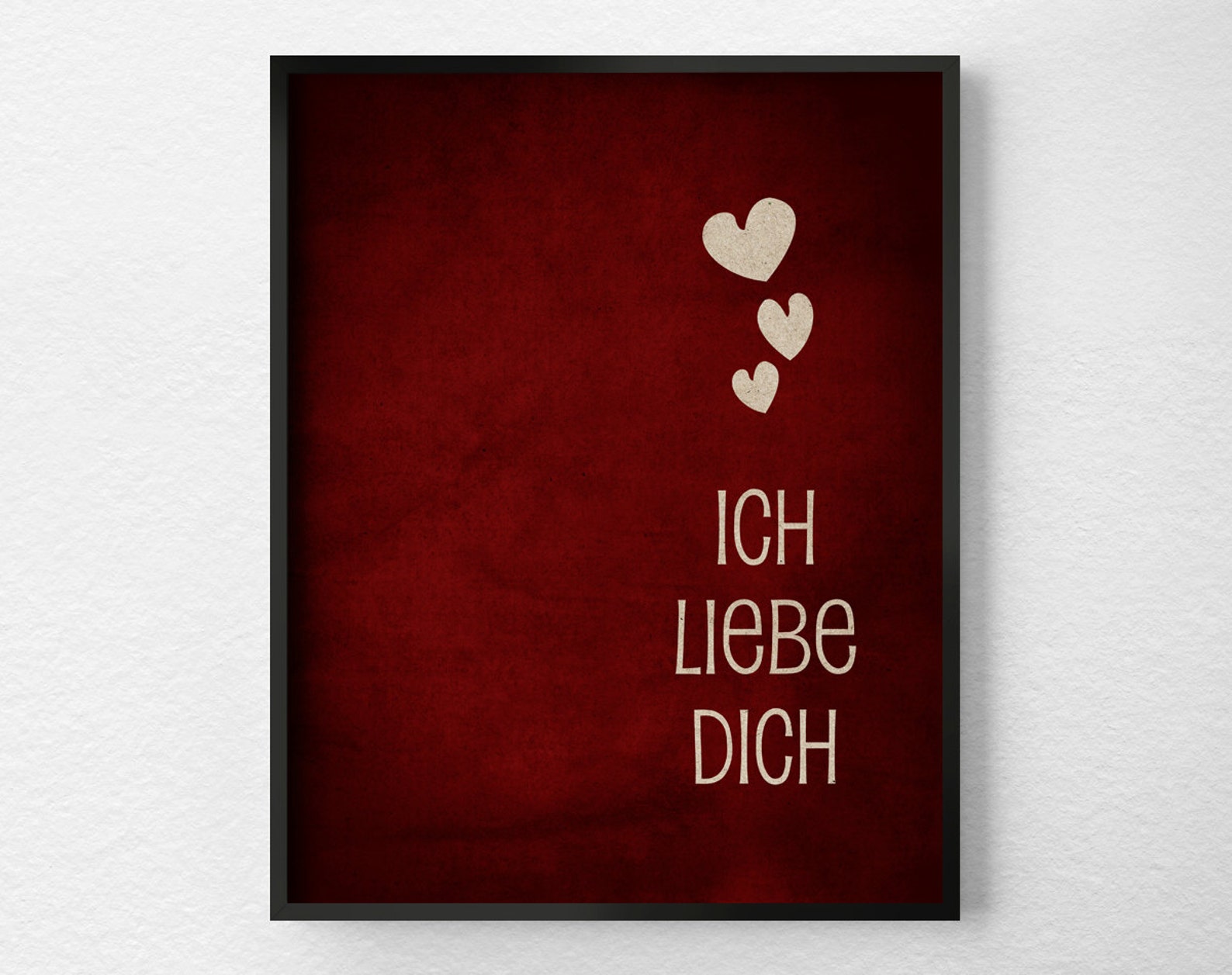 Ich Liebe Dich, I Love You German, Typography Poster, Valentines Day Decor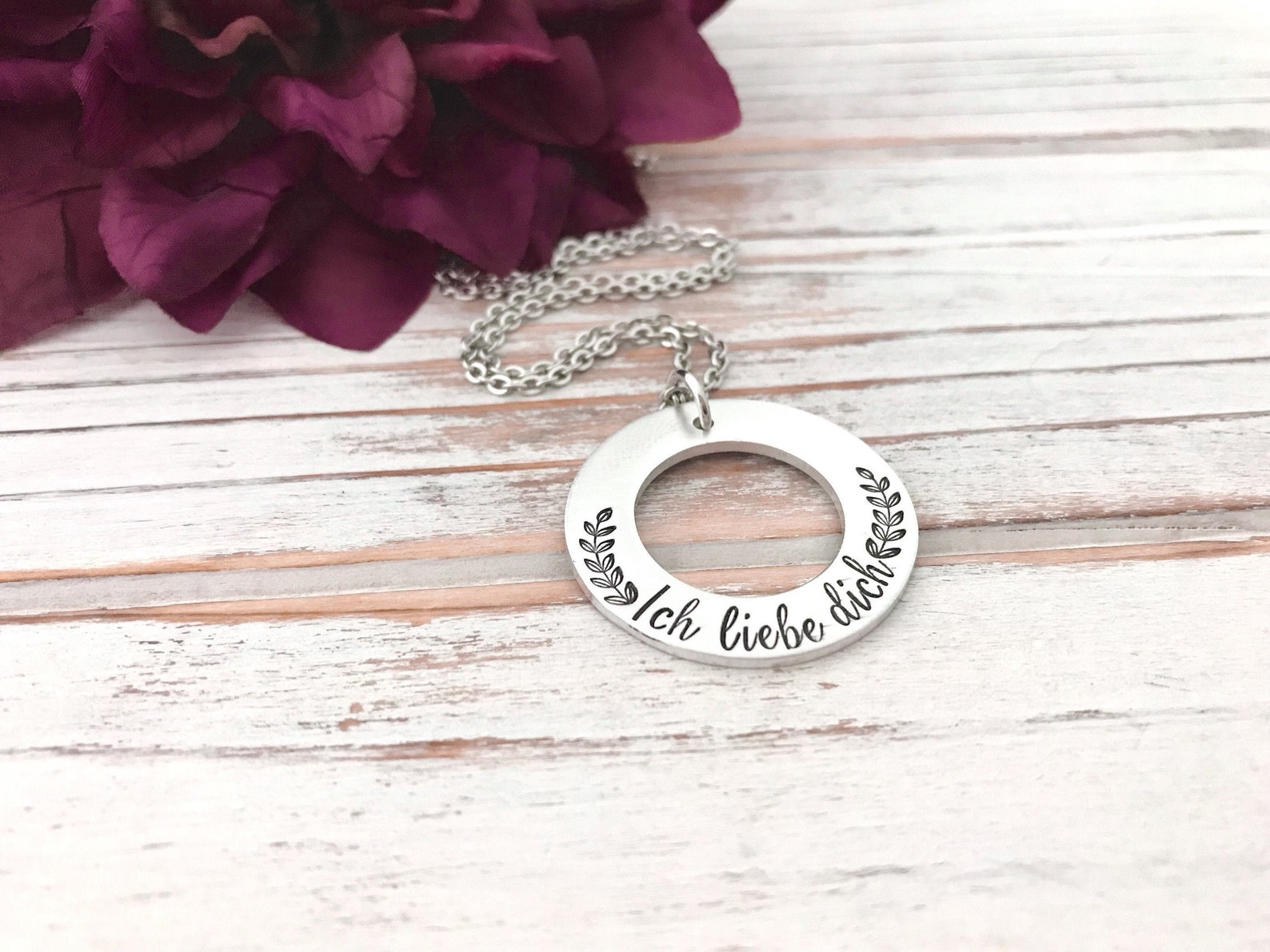 Ich Liebe Dich German Washer Pendant

&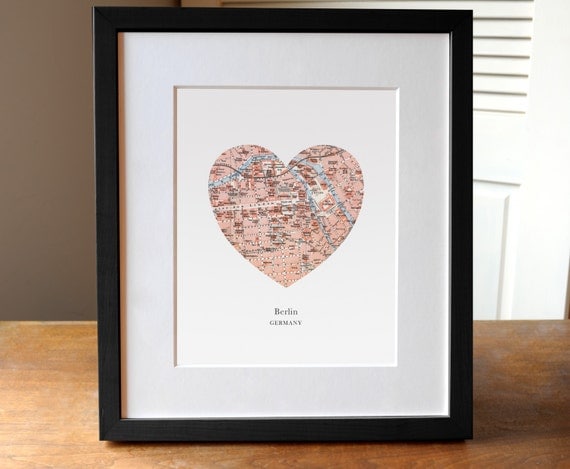 Berlin Heart Print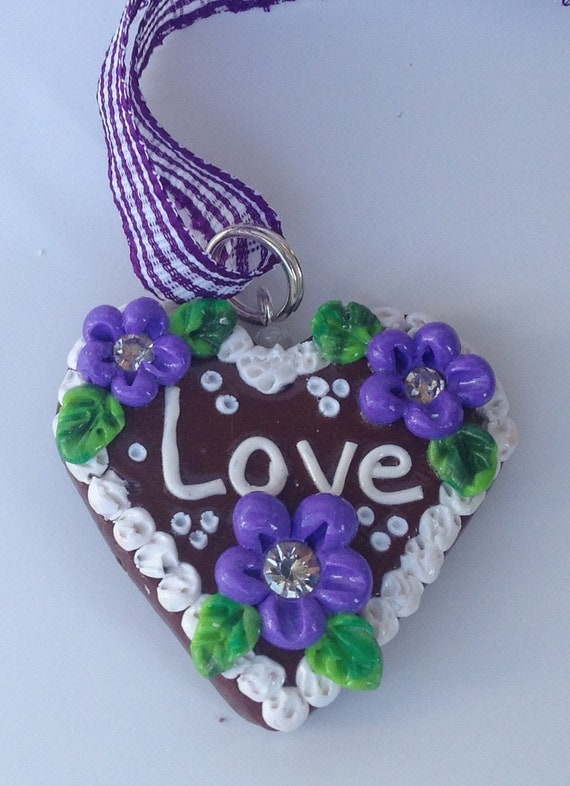 Necklace "Love" purple Oktoberfest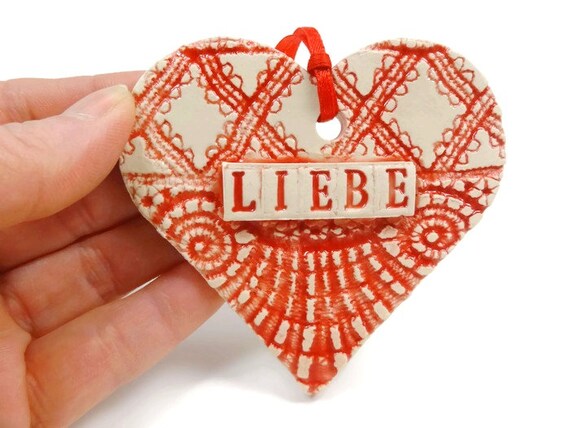 Liebe Ornament

&
German Lebkuchen Hearts for Valentine's Day
Sweets for you Liebchen…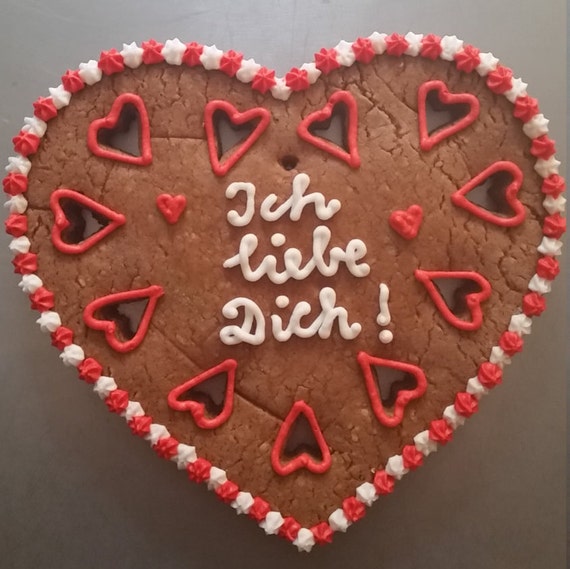 Customized Gingerbread Heart (Lebkuchen) – large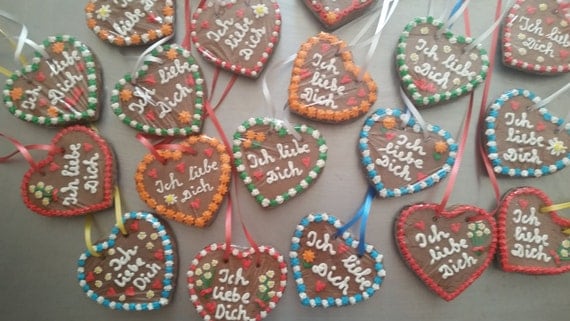 20 Gingerbread Hearts (customized) – Lebkuchen

&
German Valentines Sayings
Want to say I Love you like a German? Learn these sweet expressions and whisper them into your special someone's ear….
Valentine's Day= der Valentinstag  
"Alles Liebe zum Valentinstag" (all of my love for Valentine's Day)
Love= die Liebe
"Ich liebe Dich" (I love you)
Kiss= der Kuss
"Ich möchte dich küssen" (I want to kiss you)
Flower= die Blume
"Ich schenke dir Blumen,weil ich Dich mag/liebe." (I give you flowers, because I like/love you)
Heart= das Herz
"Du bist in meinem Herzen" ( You are in my heart)
Sweetie= Liebchen /Süße
Angel= Engel
Treasure= Schatz
German Valentine Day Cards
Because sometimes a card says it all… There are quite a few German Valentine Cards to choose from, you are certain to find the right one for you and your special someone.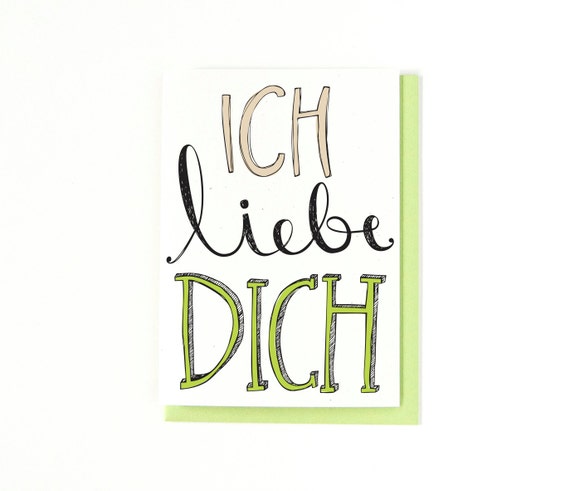 Love Card – I Love You – Ich Liebe Dich Card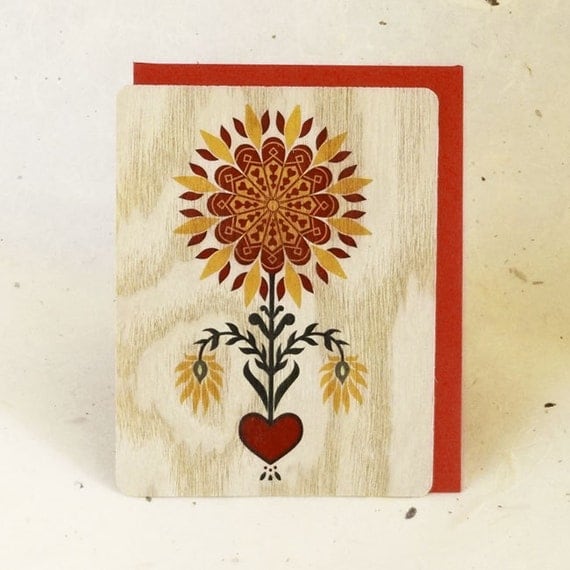 Valentine Eco-Friendly Fine Art Wood Greeting Card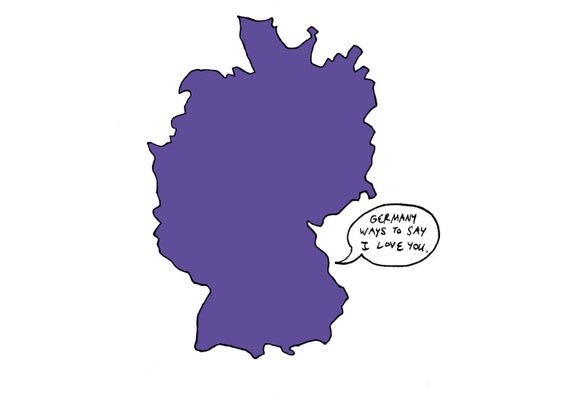 Germany ways to say I love you

&
I hope I answered the question Does Germany Celebrate Valentine's Day for you!
However you choose to celebrate… I wish you all  Alles Liebe zum Valentinstag!