German Applesauce Cake Recipe with Streusel
This German Applesauce Cake Recipe falls under the heading of "Pantry Cake"… meaning you probably have everything you need to bake this cake already on hand (if you are a regular baker). Flour, Sugar, Butter, applesauce. (you don't even need an EGG!)  Better yet… the cake is prepared, baked, and on the table in an hour. Perfect for any cake emergency…like a bad day at work, or a Tuesday. Before you know it, you are digging your fork into crunchy streusel and smooth applesauce. YUM!
It LOOKS like your average Apfelstreusel Kuchen (Apple Streusel Cake)… but the filling is Applesauce instead of Apple slices. (That's right, Apple SAUCE takes the place of Apples… no peeling, coring, or slicing.) I found the original for this recipe on a Dr Oetker site… but I made a few adjustments to make it eas.
What makes this German Applesauce cake recipe so easy?
Instead of a different recipe for top and bottom, it's just one recipe for the base and the streusel. I mixed it up in a food processor, so it zipped together! But a mixer or pastry fork and some elbow grease will work just as well. While the base is getting a pre-bake, just mix jarred/frozen/homemade applesauce with a few ingredients.  Pour it into the shell… top with the rest of the streusel… then tidy the kitchen while it bakes. Easy.
Let the cake cool enough to not burn your tongue before slicing into it!
German Applesauce Cake Recipe with Streusel
German Applesauce Streusel Cake Recipe
Crunchy Streusel covers a filling of tasty applesauce in this easy to make cake.
Ingredients
Base and Streusel
2 ½

Cups

Flour

350 gram

½

teaspoon

Baking Powder

1

Cup

Sugar

200 gram

1

Cup

Butter (room temperature)

220 gram
Applesauce Filling
24

ounces

Applesauce

approx. 680 gram

3

Tablespoons

Cornstarch

1

teaspoon

Vanilla

1

teaspoon

Cinnamon powder
Instructions
Preheat the oven to 350°F

In a mixer or food processor or bowl... combine the flour, baking powder, and sugar. Slowly add the butter 1 Tablespoon at a time. Pulse/mix/cut the butter into the dry ingredients. You want it to look like wet sand... and clump when you pinch it.

Divide this streusel mixture into ⅔ and ⅓. Press the ⅔ into the bottom and approximately 1 to 1½ inches up the side of a springform pan. You don't want it TOO thick in the corners, so press it in. Thickness should be about ¼ - ⅓ inch across bottom and sides.

While the shell is baking, combine the Applesauce, Cornstarch, Vanilla Extract, and Cinnamon in a medium bowl. Make sure not to leave any lumps of cinnamon or cornstarch.

Add the applesauce mixture to the pre-baked shell.

Crumble the rest of the streusel mixture over the applesauce evenly. Use your fist to squeeze it so you get bigger bits as well as just crumbs.

Remove from oven and let cool on a rack.
Notes
You can bake this cake in advance and refrigerate until needed. It also freezes well. 
But truly, it tastes best when it's fresh out of the oven...and it's amazing when it's still a little warm.
Easy German Cookbook
Looking for more easy German Recipes? Try my Easy German Cookbook! It's packed with 80 traditional recipes made simple for the American Kitchen.
Order from Amazon… or order a signed copy from my online shop.
Easy German Cookbook: 80 Classic Recipes Made Simple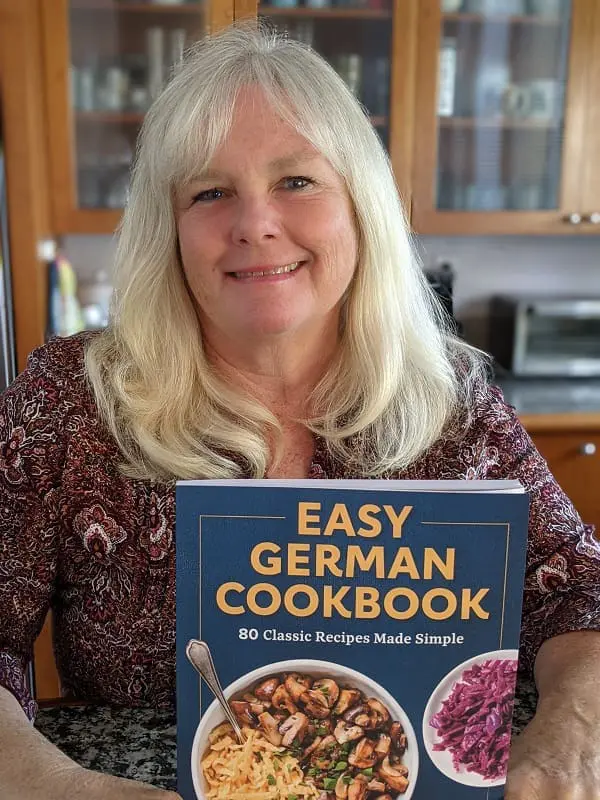 Easy German Cookbook SIGNEDGermanGirl Shop
How Many Apple Cake Recipes Do you NEED??
All of them!
There really is a German Apple Cake recipe for every occasion.
Gedeckter Apfelkuchen (Covered Apple Cake)

Apfel Streuselkuchen (Apple Streusel Cake in a Sheet Pan)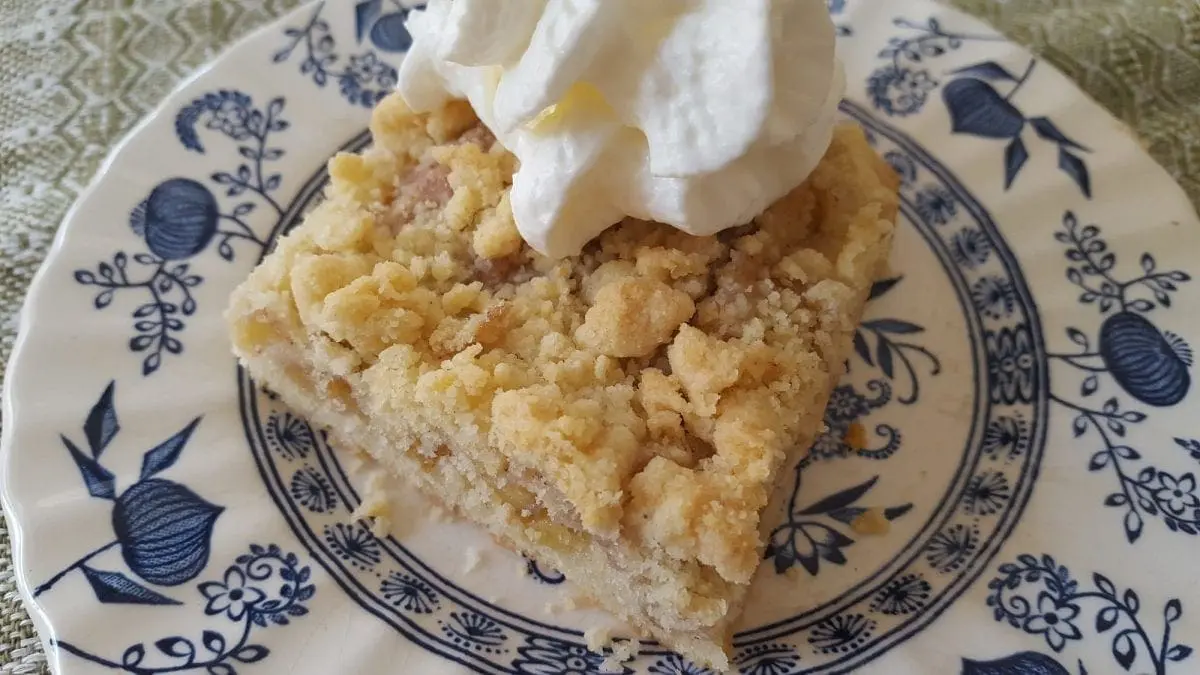 Versunkener Apfelkuchen (Sunken Apple Cake)

Step by Step German Applesauce Cake Recipe with Streusel
Combine the Streusel ingredients. Press 2/3 into the bottom and an inch up the sides of a 9 inch Springform Pan.
Bake 15 minutes.
DO NOT SKIP THIS!!! From personal experience, the bottom will fall out. 
Combine the Applesauce with cornstarch, vanilla extract, and cinnamon. 
Fill the Baked Shell
Crumble the rest of the Streusel mix over the Applesauce.
Squeeze it in your fist to get some bigger crumbs
Bake 35 minutes. Let cool for 5 minutes on a wire rack, then remove the sides.
Let cool until it's cool enough to eat without burning your mouth
Enjoy! with a cup of Kaffee!