German Cherry Streusel Cake Recipe (with CHOCOLATE Streusel!)
Flour, Sugar, Butter, Eggs. The basic building blocks of most cakes and pastries. The infinite variations, combined with a few flavorful additions, never cease to amaze me. Like this recipe for a Kirsch Streusel Kuchen (German Cherry Streusel Cake Recipe) with both CHOCOLATE and vanilla Streusel. Those four basic ingredients… with the addition of a few tablespoons of cocoa, some sour cherries, and a bit of vanilla… come together in a cake that my family requests over and over. Be aware that this cake is sweeter than your average German Cake recipe. And since there is quite a bit of butter, so it's RICH (and oh so yummy). Could be why the kids like it so much…. Fortunately, the fruit cuts some of the sweet (but not TOO much of the sweetness). There are no complaints in my house (or from the taste testers across the street).
German Cherry Streusel Cake (with chocolate!)
The cake comes together simply. First make the vanilla streusel…. then make the chocolate streusel. (This is different from a Marmorkuchen, where you make all of the batter, take off half, then add chocolate to the second half…. although, I guess you COULD do that here). Both the base and top of the cake are streusel (one pressed, one just sprinkled on). And of course, cherries in the middle. If you can't find cherries, you can substitute apricots. If you can't find either… just make it plain or use jam. (I've even tried it with some chocolate chips, but one piece was so rich, I had to lie down for a while). Making the cake doesn't even require a mixer! Just cut the butter into the dry ingredients! What could be simpler?
The "pattern" for the chocolate/vanilla streusel really isn't a set pattern… you can toss it together however you like. I can't imagine that it will ever look the same way twice, but that's half the fun!
German Cherry Streusel Cake (with CHOCOLATE!)
Cherries, Streusel, and Chocolate... what more can you want? 
This cake comes together easily, and bakes quickly. Perfect for when you find out someone plans to drop by... or when you want a weekday treat. Serve as it comes, or with some whipped cream. 
Ingredients
2

cups

pitted Sour or Morello Cherries

I used a 680 gr Jar, drained

Vanilla Streusel

2/3

cup

butter

10 Tablespoons

1 1/4

cup

Flour

1/2

cup

Sugar

1

Tablespoon

Vanilla Sugar

or 1 tsp Vanilla plus 2 tsp sugar

1

Egg Yolk

Chocolate Streusel

2/3

cup

butter

10 Tablespoons

1 1/4

cup

Flour

1/2

cup

Sugar

1

Tablespoon

Vanilla Sugar

or 1 tsp Vanilla plus 2 tsp sugar

1

Egg Yolk

3

Tablespoons

Cocoa Powder
Instructions
Preheat the oven for 390°F

Set a medium strainer over a bowl and strain the cherries… let them drip out while you get the streusel ready.

Vanilla Streusel

In a mixing bowl, combine the butter, flour, sugar, vanilla sugar, and egg yolk. I put all of the ingredients in my mixer and turn it on low. You can also use a pie cutter to bring all of the ingredients together. When the ingredients just come together. Put it in a bowl and set aside.

Chocolate Streusel

Repeat what you did for the Vanilla Streusel, only add Cocoa powder to the mix. So… in your mixing bowl, combine the butter, flour, sugar, vanilla sugar, cocoa powder, and egg yolk. Mix all the ingredients until they just come together.
Assembly:
This is the fun/creative part. Sprinkle in half of the vanilla streusel… then sprinkle in half of the chocolate streusel. You don't have to layer it, put some over here and some over there. (See the photos).

Press the streusel dough down to even it out.

Spread the drained cherries across the dough

Now grab a handful of Vanilla Streusel dough and squeeze it in your fist to make large crumbs, and then sprinkle them over the cherries. Grab a handful of chocolate streusel and do the same. Alternate until all of the streusel is used, and the cherries are covered. Be creative…

Bake the cake at 390°F for 30 minutes

Let cool 10 minutes on a rack, then remove the springform sides. Let cool completely before serving.

(Although it does taste divine while still warm)
Notes
I like the Springform because it's easier to get the cake out. If you only have a regular cake pan, it should work. I would line the bottom with parchment so you can flip the cake out


Like This Recipe? Check out my Easy German Cookbook!
It's full of 80 Classic German Recipes made SIMPLE for the American Kitchen.
Easy German Cookbook: 80 Classic Recipes Made Simple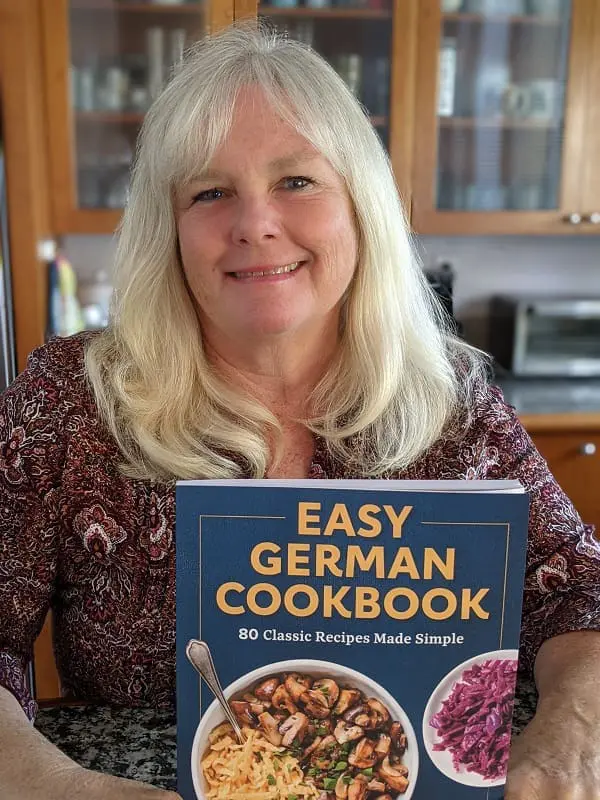 Easy German Cookbook SIGNEDGermanGirl Shop
See the German Cherry Streusel Cake Assembly here
Make the two Streusel doughs
Put half of the Vanilla Streusel into the Pan…

Top with half of the Chocolate Streusel into the Pan…
Then press them in to the base.
Top with Cherries (or apricots or jam)
Top with the rest of the Streusel…. alternate  chocolate and vanilla…
make a pattern if you like or go with random sprinkles
Bake 30 minutes at 390°F
Remove from oven… cool on a rack. After 10 minutes, remove the springform edge to let cool completely
Slice and enjoy!