German Pickle Ornament Story- How did the Green Pickle Ornament Tradition Start?
It's time to talk about the German Pickle Ornament Story, and shatter the myth once and for all…
Germans Don't Hang Pickles in their Christmas Tree. 
I know, I know… someone told you it's a REAL GERMAN TRADITION
And maybe your Oma hung a pickle in her tree….
But truth is, the Christmas Pickle Ornament Tradition is no more German than Fortune Cookies are Chinese (but that's another story). Germans do love pickles (I have 3 different types in my refrigerator at any given time)… but not in my Christmas trees.
German Green Pickle Ornament Tradition
For those of you who have never heard the German Green pickle ornament tradition, it goes something like this… every year when the Christmas Tree is decorated, the LAST ornament on the tree (hung by mom and dad) is a green glass pickle. On Christmas morning, the first child to find the Pickle Ornament on the Tree would get an extra gift.
Did anyone spot the red flag?? (hint… Christmas MORNING) In Germany, the tree is revealed, and presents are given on Christmas Eve.
German Pickle Ornament Story
The truth is not quite as magical… There are several pickle story theories, but the one that seems most valid goes like this.
In the 1890s German Immigrants were flooding into America, bringing with them customs and traditions, including, the Christmas Tree. Woolworths had loads of these new ornaments, and in among the blown glass vegetables were pickle ornaments that no one was buying (who wants a pickle ornament on their tree? It would scare the cat!). So, a marketing genius kicked his brain into high gear, and created a story about the Christmas Pickle… and the green glass pickles flew off the shelves. Suddenly, this German Tradition (which had never been heard of in Germany) was all the rage!
Other Christmas Pickle Stories
Believe it or not, there is a miracle pickle story, and oddly, it is Spanish, and not German. It seems that two Spanish boys were returning home from boarding room, when they stopped at an Inn for the night. The Innkeeper killed them, and stuffed their bodies in a pickle barrel. As luck would have it, St Nicholas happened to be staying at the very same Inn, found the boys, and brought them back to life. It doesn't explain why St. Nicholas was looking into the pickle barrel in the first place…but then, this is a miracle story. (And back in Sunday School, Mrs. Gherke, always told me to stop questioning miracle stories). (Also, the story was most likely changed a bit from the original, which says that the boys were put in a pickling vat for meats that would be turned into sausage… equally gruesome)
There is another story, about a Bavarian-born Civil War soldier, Private John C Lower,  who was captured and held in a Confederate Army prison camp. On Christmas Eve, the starving Private begged the guard for a pickle. He claimed it saved his life, and every year from then on he hid a pickle in his Christmas tree…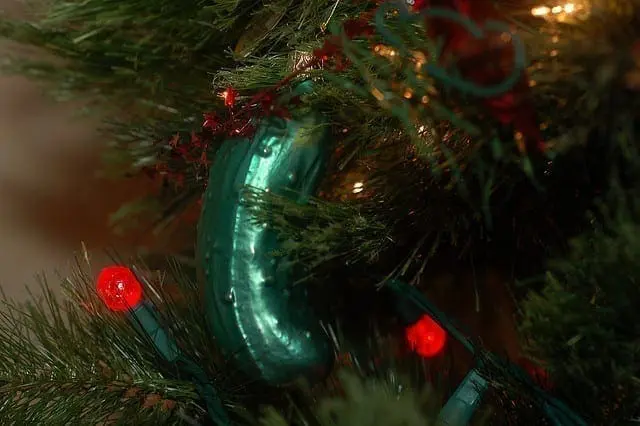 Pickle Story Takes a TURN!!
Thanks to Nick for sending me this curious update. He found a photo of a Pickle ornament in a German Christmas catalog with a note that says…
"Did you know?" "In the US it's a widely spread custom to add the Christmas Pickle to the tree last, and hide it in the branches. Whoever finds it first, and it's not necessarily easy, because the color camouflages it, receives an extra Christmas gift and lots of luck in the coming year!"
Apparently, Germans are spreading the rumor that it's an AMERICAN tradition to hang a Christmas Pickle in the tree!
And ironically… I took the photo of the pickle ornaments at the top of the page AT A GERMAN CHRISTMAS MARKET!

German Pickle Ornament Tradition
That said… Even though it's NOT an old German Tradition…you don't have to stop hiding a pickle.  Traditions and stories are what connect and entertain us. If you want to have a Pickle Ornament on your tree, PLEASE DO! The kids love it. Any tradition that brings the family closer and makes Christmas more fun for the kids is exactly right with me.

It doesn't matter where your pickle comes from! Frankly, I'm planning on getting a Yodeling Pickle, just to vex my mom!
Merry Christmas!
PS The city of Berrien Springs MI, aka The Christmas Pickle Capitol of the World actually held a Christmas Pickle Festival each year (I'm not seeing it in this year's calendar… Can anyone confirm that it still exists?) That sound like a lot of fun to me.
Find a Selection of Green Pickle Ornaments Here
Still want a pickle for your tree? There are lots or green pickle ornaments to choose from…
Kurt Adler Hand Blow Glass Pickle Christmas Ornament

Old World Christmas Ornaments: Pickle Glass Blown Ornaments for Christmas Tree

Ganz The Christmas Pickle Ornament,Green

Old World Christmas Ornaments: Pickle Chips Glass Blown Ornaments for Christmas Tree

Kurt Adler Noble Gems Collection Glass Pickle in Santa Hat Ornament

And my Personal Favorite! The Yodeling Pickle
It even has a motion sensor, so it will drive anyone who walks past the Christmas Tree CRAZY! (I just KNOW my mom will love it)
Lucky Yodelling Christmas Pickle Ornament