German Charm Bracelet – My Collection of Shield Charms
Some people collect spoons, other collect patches or post cards; still other people collect beer steins. I don't know when it began, but somewhere in my childhood I started collecting Shield Charms for a German Charm bracelet. These special little charms are all painted with a place name, and then enameled. I fasten mine on to a silver bracelet that I l enjoy wearing, especially when going to German Fests.
New towns, new cities, new places… all were a chance to add a new charm to my arm. Some of the charms were collected by friends and family who gave them to me as gifts, like the 1972 Munich Olympic charm (and I have no idea where the New Zealand charm came from….) Others I bought for myself on childhood trips.
These small enameled charms are shaped like shields. And despite being tiny, only about 1 cm across, they have very detailed artwork on them. I think my favorite will always be Schloss Buldern, since that castle holds a special place in my heart. (My father spent part of his childhood living there on the grounds).
The bracelet was put away into a jewelry box, and then forgotten for a few years. Two years ago I "re-discovered" it, and started wearing my shield bracelet again.
My German Charm Bracelet Holds Memories
Wearing the bracelet is like wearing a memory. Each tag represents a place or a person that I love. Hamburg, Bayern, Siegen, Aachen, Schwartzwald, Wuppertal (and somehow even one from Virginia? clearly an interloper!)
My daughter loves to flip through the charms admiring each one. She rubs the shields between her fingers and asks questions about the places on them. It's like story time.  Last time we were in Germany together, I decided to start a German Shield charm bracelet for my little one (and, of course, buy a few more for myself). At the time, we weren't able to find them in the shops…
(We did find charms for Walking Sticks though!)
Luckily, when we got home, I was able to find them on Online… so we are starting to make her a bracelet of her own.
German Shield Charms for Sale
I don't see as many of these little charms in my travels as I once did. Luckily, they are available online. Don't see the one you want… click through to search for more cities and towns!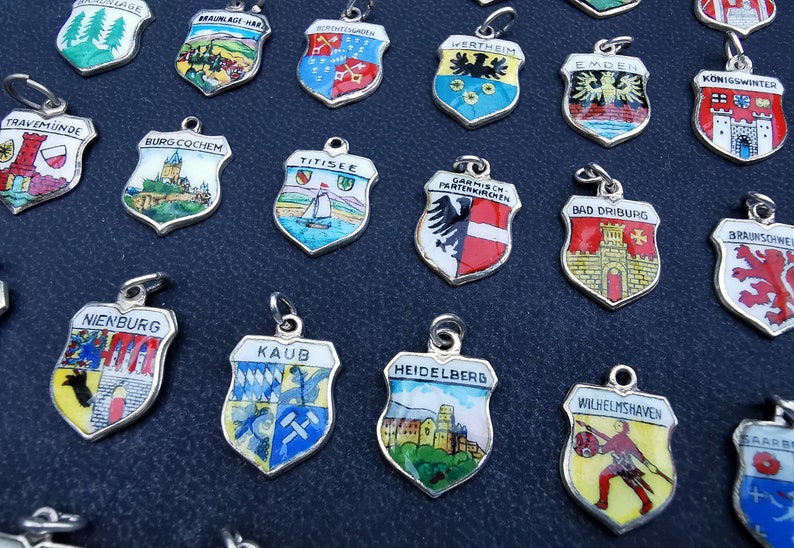 Vintage German Silver Enamel Travel Shield Charm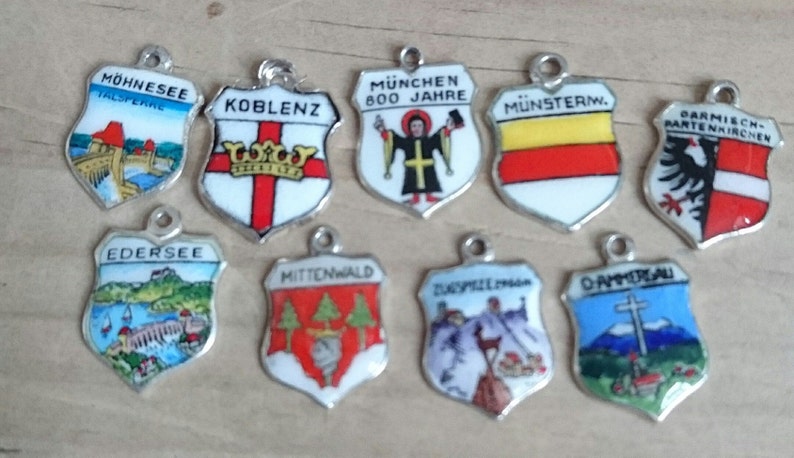 Nine German sterling silver enamel shield charms

Vintage 800 Silver REU Charm Enamel Shield Travel Berchtesgaden Germany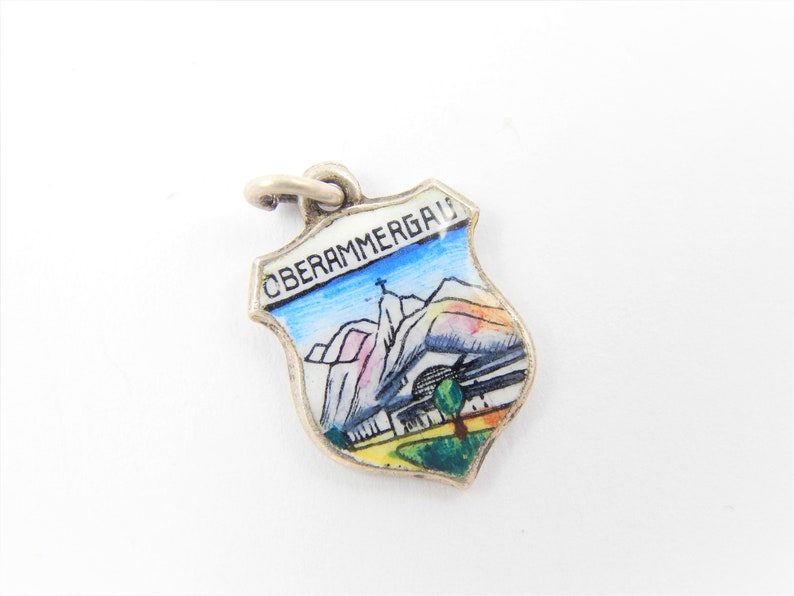 Vintage Oberammergau Germany Enamel Charm – Hand Painted Enamel Charm – Bracelet Travel Charms – German Shield Travel Pendant N48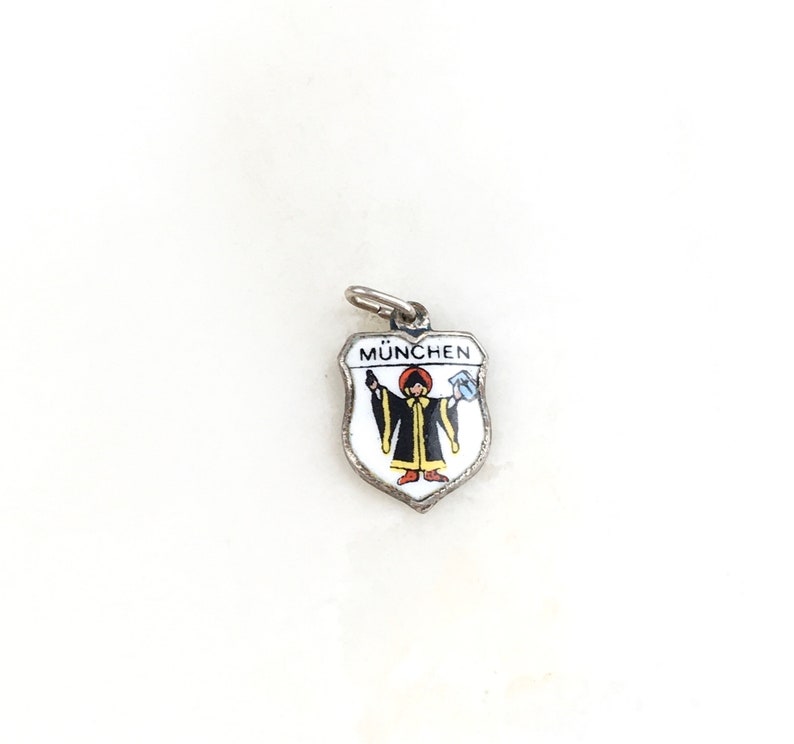 Vintage 800 Silver Enamel Munich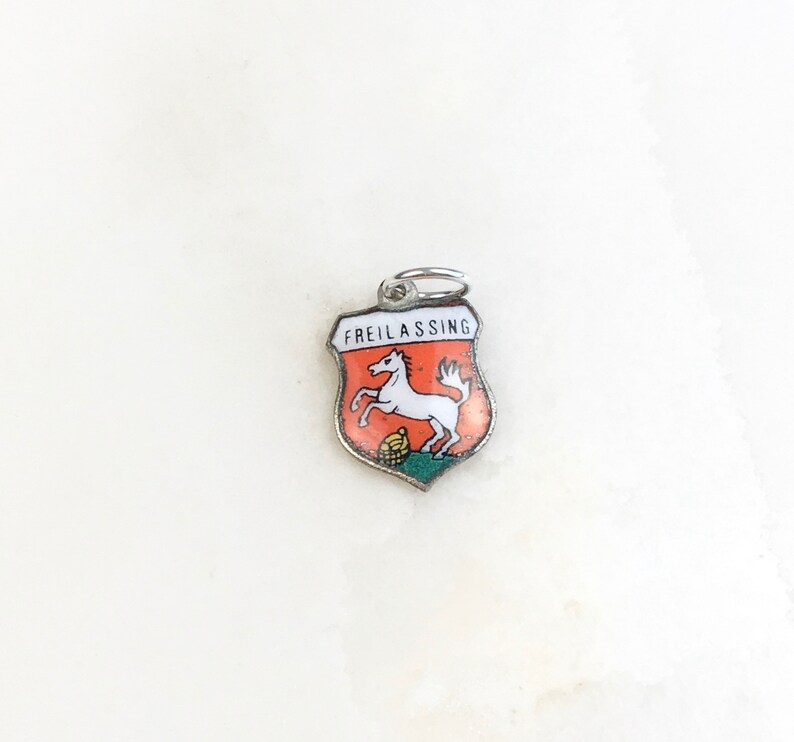 Vintage 100 Silver Enamel Freilassing Germany Shield Charm Pendant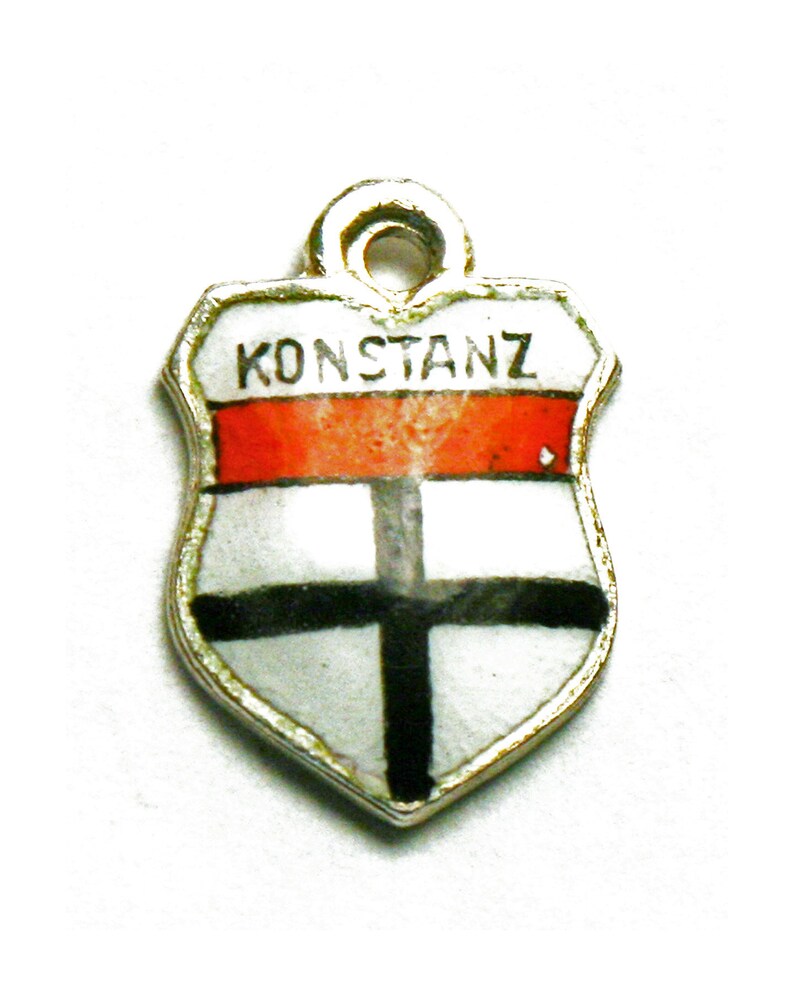 Konstanz Germany Coat of Arms Enamel Travel Shield 800 Silver Bracelet Charm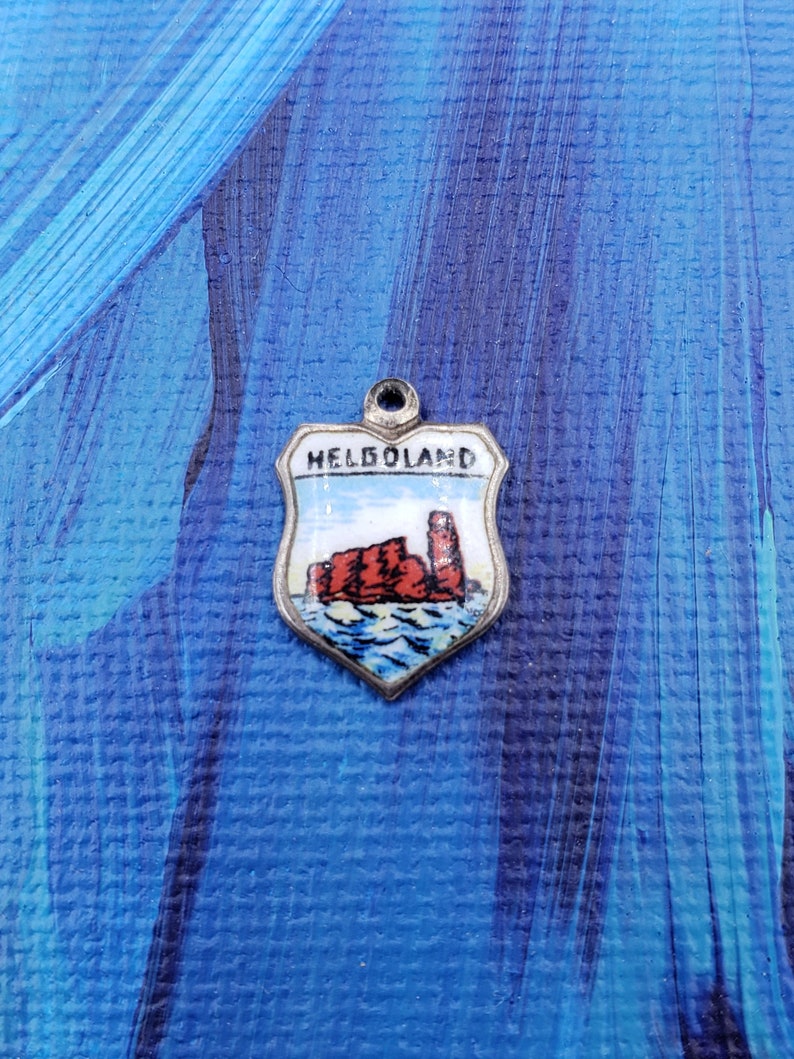 Helgoland Silver Travel Shield Charm from StoryTeller Charms 465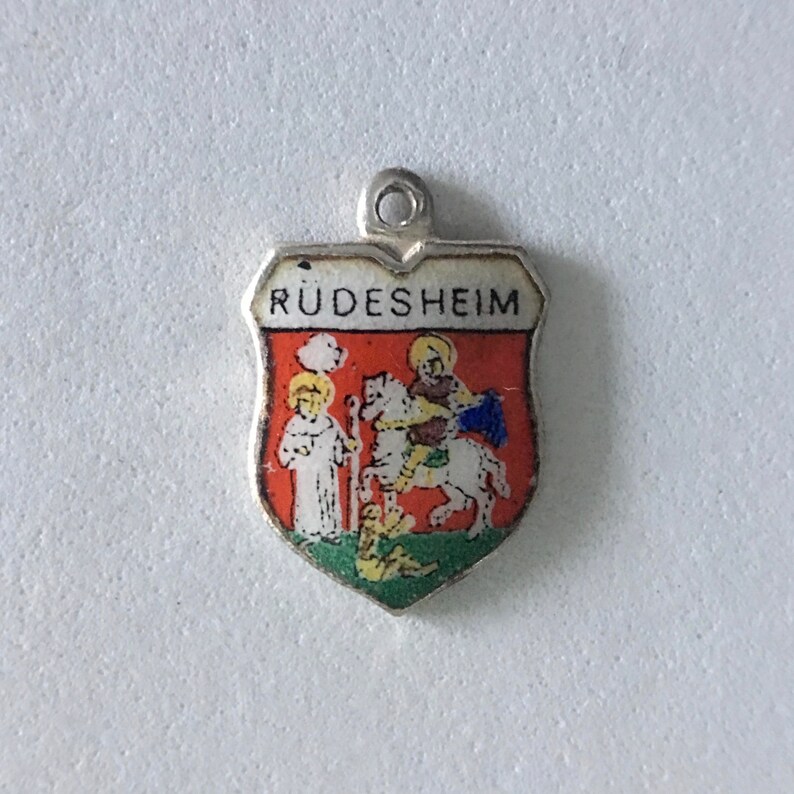 RUDESHEIM .800 Silver and Enamel Vintage REU Travel Shield Charm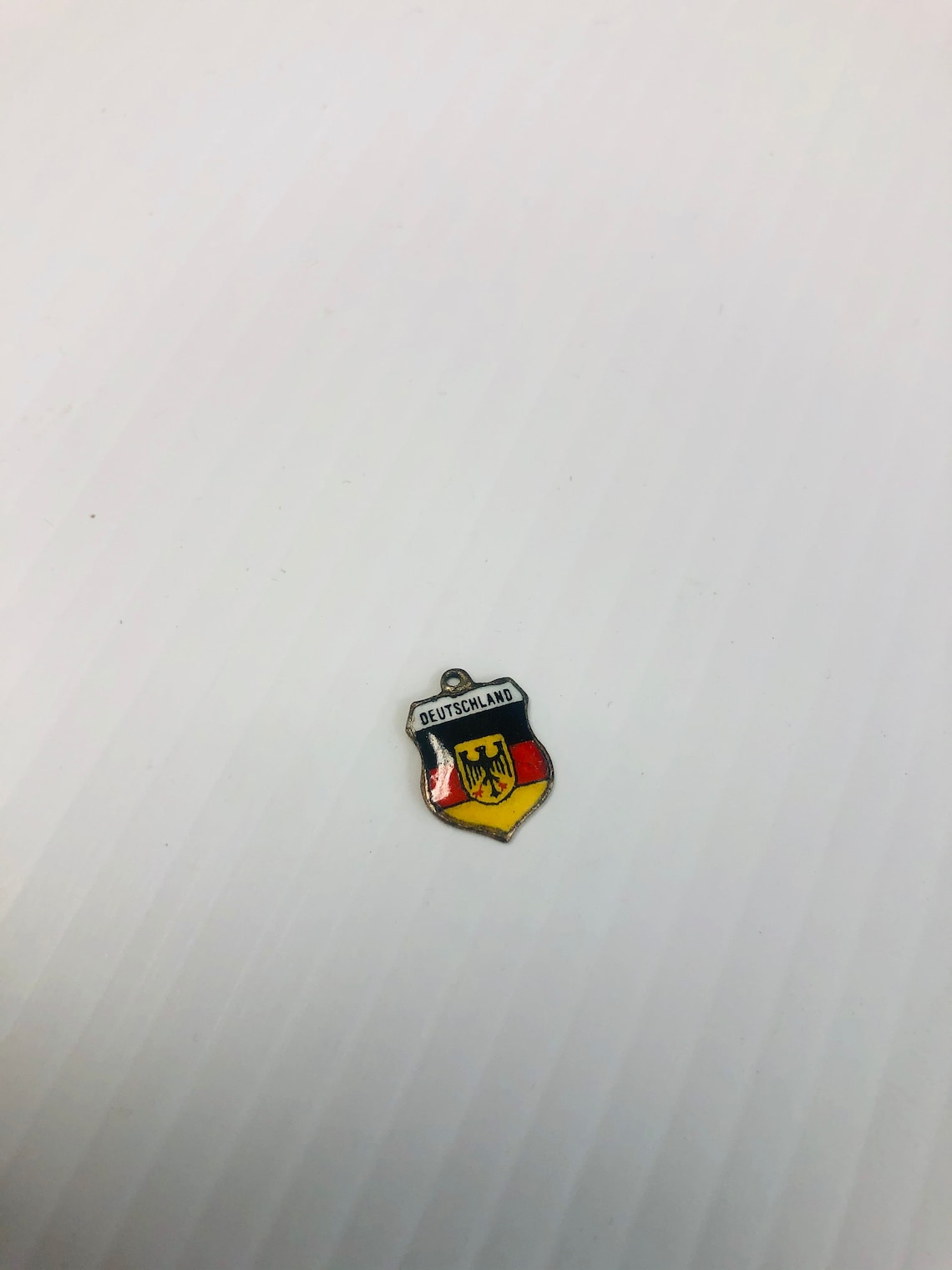 Vintage Deutschland Shield Travel Charm – Antiko 100 – Silver Enamel – Collectible Mini Souvenir – Germany Eclectic Jewelry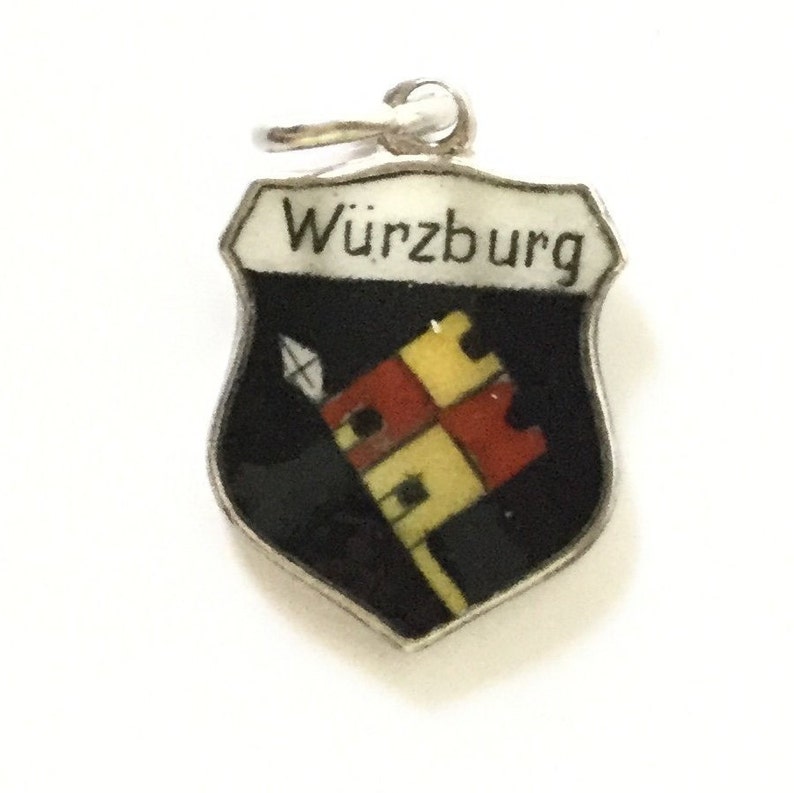 Wurzburg Germany – Vintage Enamel Souvenir Travel Shield Bracelet Charm – 800 Silver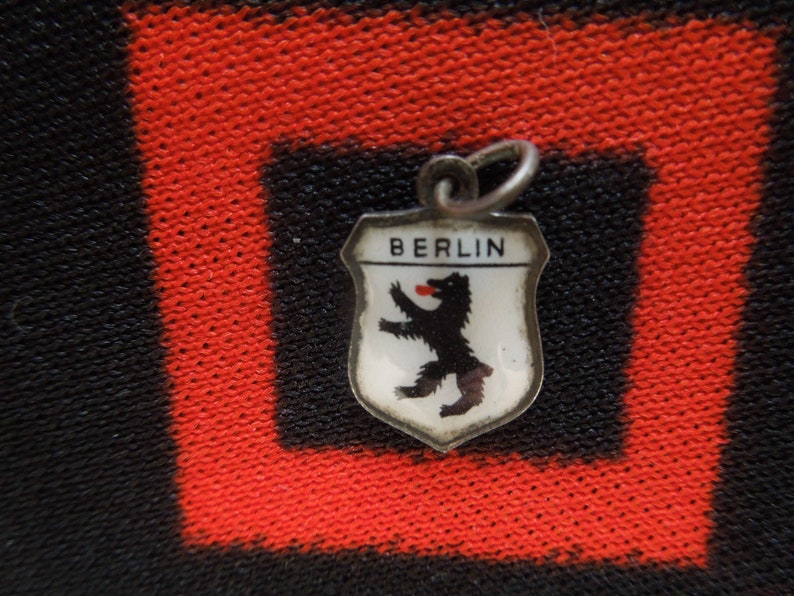 Enamel Silver Berlin Charm Coat of Arms Germany Travel Shield 800 Silver Charm for Bracelet

Shield Charm Bracelets
Skip ahead to a perfect collection! These wonderful vintage bracelets are great for Germanfests!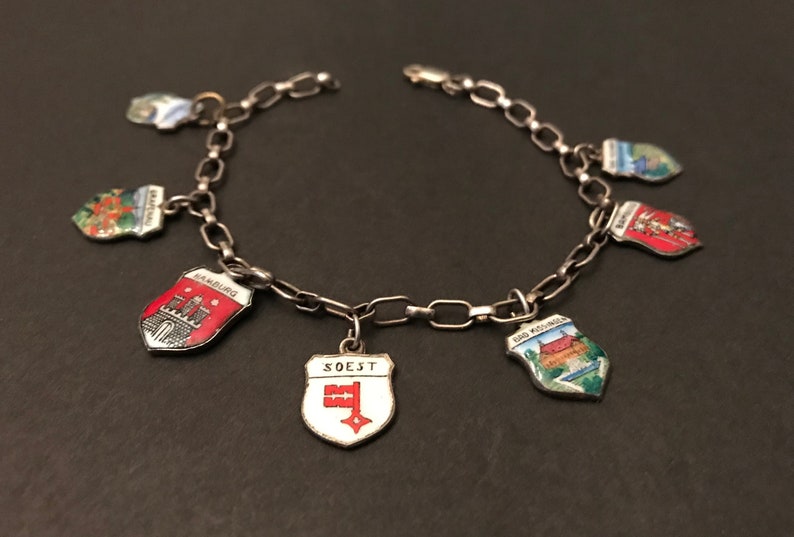 Vintage European Travel Souvenir Enamel Charm Bracelet Germany 800 Silver Shield Charms with 7 Towns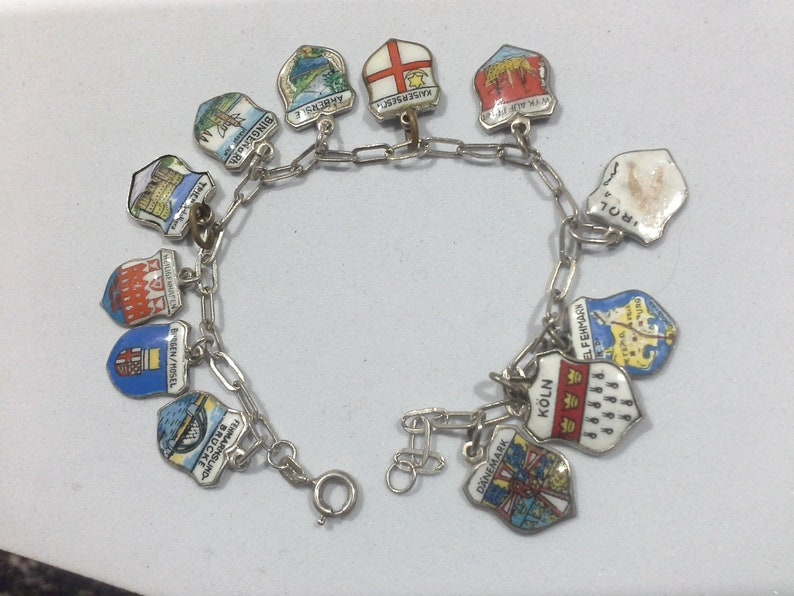 Vintage 12 Silver & Enamel Shield Charm Travel Bracelet Danemark Burgen Mosel Germany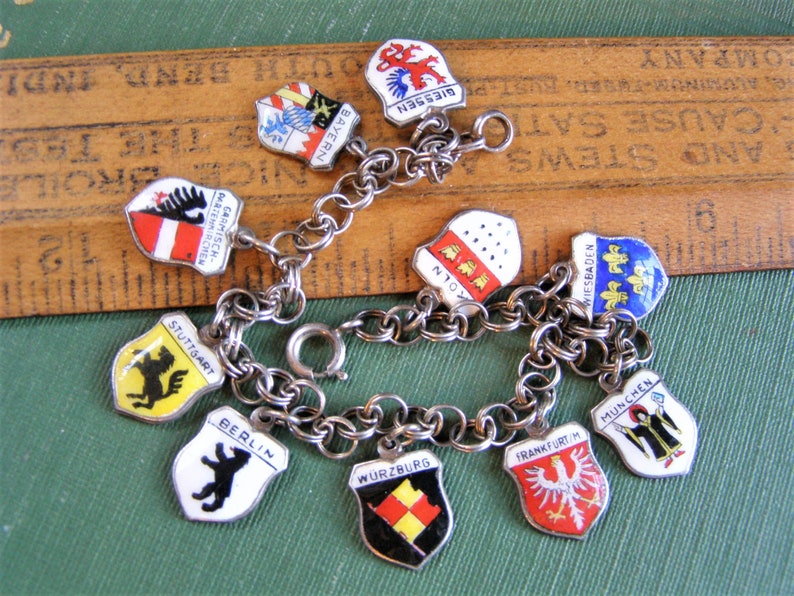 Sterling German travel charm bracelet vintage 10 enamel sterling silver shields German charm locations Germany souvenir bracelet gift her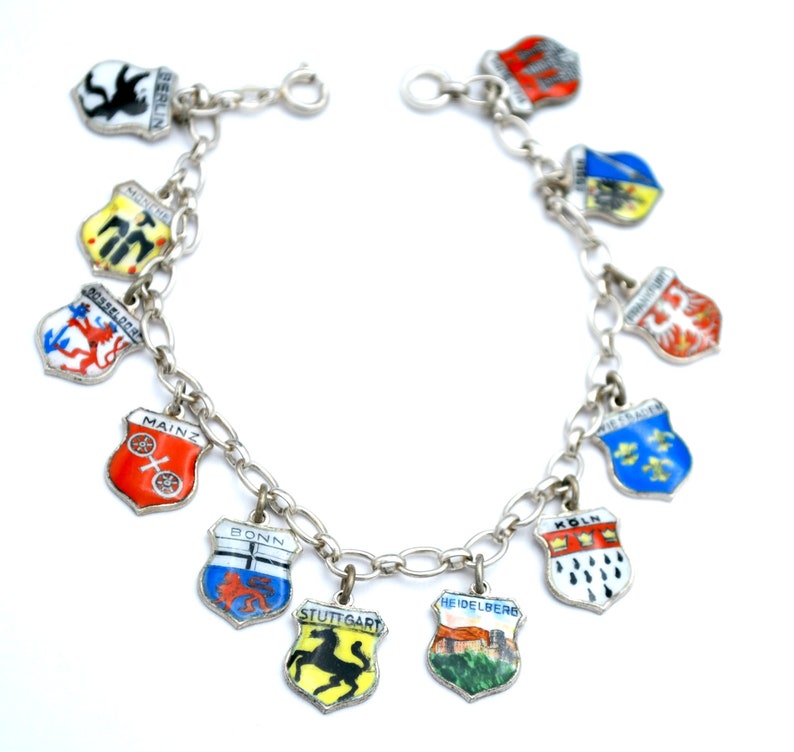 800 Silver travel Charm bracelet 12 enamel shield travel charms Germany cities Hamburg Essen Frankford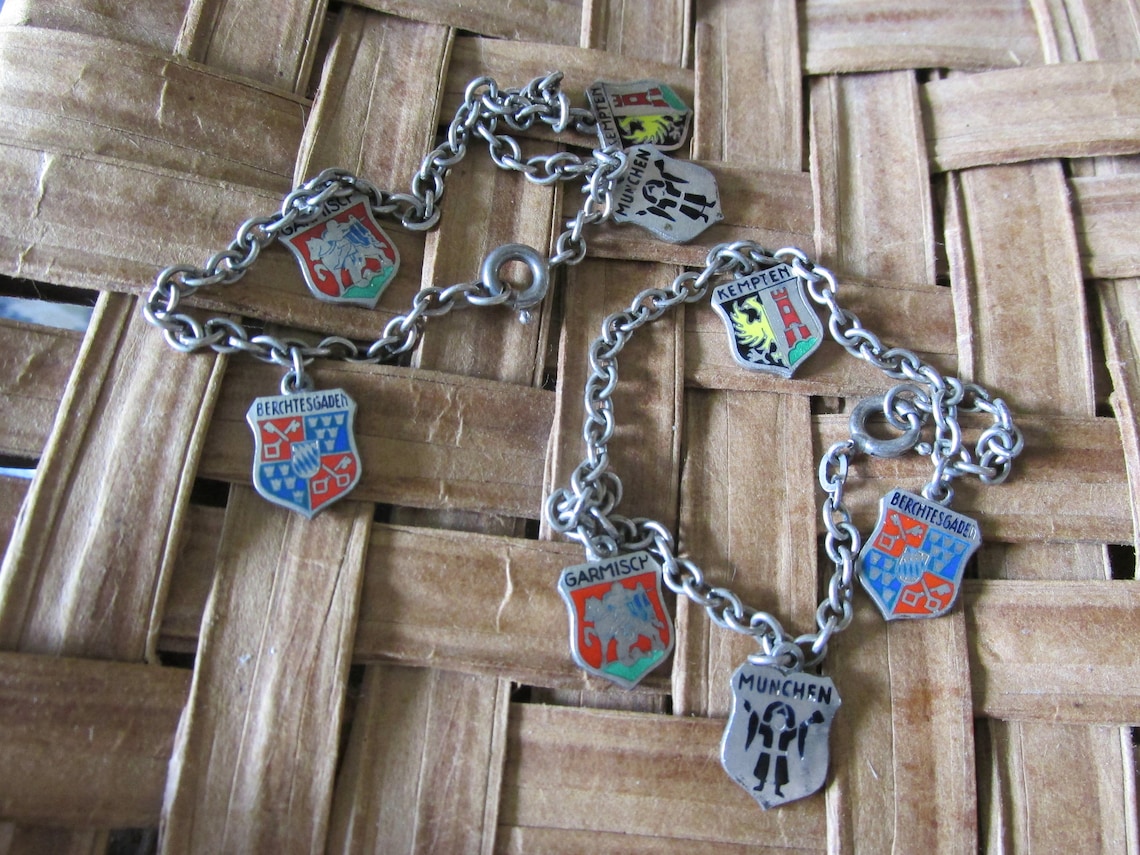 Vintage Silver European Shield Travel Bracelet Shields Marked 935 Ladies Collectible