German Towns in America- Where to Get Your Deutsch on in the US!




[no_toc]

One in five Americans identifies as having German heritage, for a while, it was one in FOUR, so it's no wonder there are so many German Towns in America. And since travel to Germany can be expensive (and is currently almost impossible because of the Covid-19 lockdown), I thought I'd try to list a few worth visiting here in the US (keep in mind, some of the towns in the US are on lockdown also… but the restaurants may deliver!). Now, "German Towns" run from the simple, with a few historic buildings and signs… to the Disney-like artificially-constructed, but really a lot of fun places to visit. (Some look more "German" than Germany!) Basically, there is something for everyone. Whether you love a quiet day walking through a museum and a cup of coffee in a German Bakery, or if you want to Polka down at a Hofbrauhaus! You will find it here in one of these places.
Keep in mind… this list is going to keep growing! It grew out of some personal experience, and the information I got from readers of the newsletter. I'm sure I've only scratched the surface. Feel free to send me information about your favorite German Town in America here–> [email protected]
German Towns in America
Backwoods Barnaby USA-Germany Crossed Flags Friendship Pin

Helen Georgia
"The charm of Bavaria in the heart of the Blue Ridge Mountains"
This tiny town in Georgia with a population of only 430 reinvented itself 50 years ago into a Bavarian Village. Today, 2 MILLION people a year visit Helen to enjoy the "authentic" atmosphere, complete with  more than 10  German Restaurants, a fabulous German Bakery, import gift shops, and fantastic German Festivals like Oktoberfest and Christmas Markets. The area around Helen is perfect for outdoor lovers with hiking trails that go on for mile after beautiful mile.
Learn more about Helen, Georgia–> Alpine Helen

Stay in Helen:
Hofbrau Riverfront Hotel
Black Forest Bed & Breakfast
 German Village.. Columbus, Ohio
 "In German Village, our mission is simple: preserve, protect and promote life among the bricks."


Just south of the downtown business area of Columbus, OH is a historic neighborhood called German Village. Between 1840 and 1914, one third of Columbus residents were German Immigrants, and most settled there. After the 1940s, many moved on, but in 1958, a move was made to preserve and rebuild the neighborhood. Beautiful brick buildings line the streets… there are even brick sidewalks! Today you will find several great German restaurants there, like a Hofbrauhaus.  Schmidt's is known for their sausage and all the side dishes that go with sausage. Also in the same area, is Juergens restaurant and bakery. You'll also find gift shops with imported specialties from Germany.
Learn more about German Village here–> German Village Historical Society
Oldenburg Indiana
""The Village of Spires"
Chris Flook / CC BY-SA (https://creativecommons.org/licenses/by-sa/4.0)
Oldenburg, Indiana (originally Neu Oldenburg) was settled in the early 1800s and named for the Duchy of Oldenburg in Germany. The town was populated by German immigrants who hung on to the language and culture for many years. Wander down Haubt Strasse (Main Street), to see the brick buildings and churches with tall spires reminded the immigrants of their homeland. Many of these buildings in the historic district are on the National Register of Historic Places. Do a little shopping for German clothes or gifts at Die Goldene Schildkröte, and at Carriage House Antiques. Swing by Kessing Haus Cafe for a coffee, but leave room for dinner at the Brau Haus!In July the town celebrates their heritage with a Festival called the Oldenburg Freudenfest! (sadly, cancelled for 2020 due to Covid-19)
Find out more about Oldenburg here–> Oldenburg Indiana
Leavenworth, WA.
"Bavarian authenticity and Northwest hospitality."
Leavenworth Washington started out as a mining and timber town, but by the 1960s both of these industries died, and threatened to take the town down with it. Luckily, local businessmen had a plan. Since the local mountains had an Bavarian Alps feel… why not remake the town in that image? The buildings all got a face lift, new businesses and restaurants were encouraged to move in, and German Festivals were planned for all seasons of the year. Today over a million people enjoy the Bavaria of the Northwest. There really is something for everyone… outdoor activities, wine tasting, German food and shopping… and best of all, you can get that feeling of a Bavarian Village. There's a Maibaum, a Morning Alp Horn Serenade, a Bier Wagon, and Bavarian Architecture. Feeling hungry? Choose from one of the many German Restaurants, bakeries and Breweries. And there is a long list of Festivals … Leavenworth Festivals
Find out more about Leavonworth here–> Leavenworth Washington, Everything Bavarian
Mt. Angel, OR
"Celebrating our German-Swiss-Bavarian heritage"
Doug Kerr / CC BY-SA (https://creativecommons.org/licenses/by-sa/2.0)
In 1881 a contingent of Benedictine Monks from Engleburg Switzerland decided that the area 18 miles Northeast of Salem, Oregon reminded them of home, so they built a sister house to their monastery. A number of Bavarian immigrants arrived in the area, and before you know it, the town was christened Mount Angel (Engelburg). Today, downtown is anchored by a  Four Story Glockenspiel which is on the corner of the Glockenspiel Restaurant (which sadly, has closed and is for sale) Luckily, you can still find delicious German food at the Mt. Angel Sausage Company. Mt Angel's downtown is lined with flowers, reflecting their Bavarian heritage. Be sure to take a walk on the recently completed  Heritage Trail., and stop to enjoy the Maibaum. Every year Mt Angel puts on one of the largest Oktoberfest Celebrations in the US, as well as a fantastic Volksfest in February, and a Christmas Market/Hazelnut Festival in December.
Find out more about Mt Angel here–> Mt Angel 
Guten Tag Y'all Prost German Texas Oktoberfest T-Shirt

Fredericksburg, Texas
"Die Stadt bleibt sehr Deutsch"
Fredericksburg Texas was settled by Germans in 1846, and has hung on tightly to its German roots right down to the cobblestoned Marktplatz. Unlike many immigrant towns in the US, Fredericksburg hung on tight to its heritage. Today you will still find people speaking the special Texas German dialect  (in fact, German was the town's primary language until WW2). Today, you still find a town proud of its history. The Verein's Kirche looks just like the church in Seiffen! Visit the Pioneer Museum to see how early settlers lived. Then stop in for a fantastic meal and beer at any of the MANY German Restaurants that , like the Auslander, the All New Altdorf Biergarten, Otto's German Bistro or the Old German Bakery and Restaurant. And of course, every year Fredericksburg hosts a huge Oktoberfest!
Find out more about Fredericksburg here–> Fredericksburg German Heritage
Hoffman Haus
Rarumpelpunzeldornaschenwittchen
Hermann, MO
" Little Germany on the Missouri River"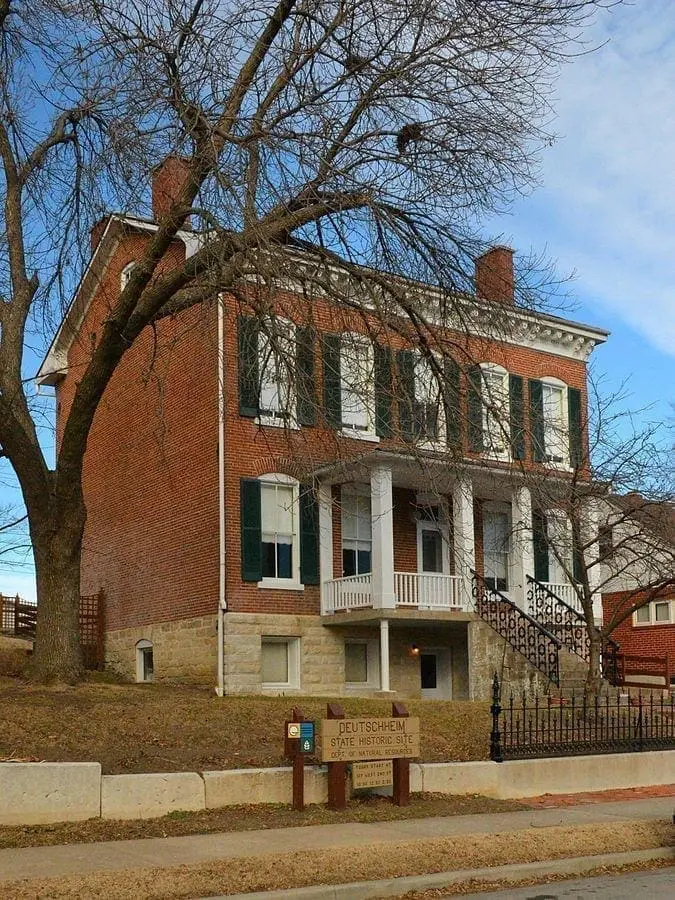 The Stark-Feldmann House, built 1882, is one of the buildings of the Deutschheim State Historic Site in Hermann, Missouri.
Thank you Tina (who is on the Maifest committee) for sharing this information with me! Hermann's " rich history started back in 1836 or a little earlier when Philadelphia Germans began witnessing the loss of their culture in their children. These Germans created a society where for certain sums of money you could buy into a new community to be found somewhere out "west." Long story short, they eventually arrived on the shores of the Missouri River in mid-December, getting off the last boat out of St. Louis which was several river miles to the east. The land was not developed and it was not what they envisioned. They stuck it out and made the German-like hillsides into farms and especially vineyards. They were able to establish German newspapers, businesses, schools, and their beloved German traditions. Fast forward to the 21st century and you will see a town that has maintained a lot of its beautiful German architecture and tries to resurrect some of the annual festivals, but the early history is very far removed and most of the younger generation don't see the reason to make the effort to maintain some of these traditions. And there are a lot of us who are transplants and didn't grow up here but see a great novelty in the German influences in the buildings and the tourist sites." Hermann has a number of German Restaurants and Breweries, and every year Hermann holds a Maifest (this year cancelled because of Covid-19) and an Oktoberfest (currently still on). 
Find out more about Hermann here-> About Hermann
Captain Wohlt Inn
Hermann Crown Suites
New Ulm, Minnesota
"The Most German City in America"

Martin Luther College Gustheeditor / CC BY-SA (https://creativecommons.org/licenses/by-sa/4.0)
An authentic city founded by Germans in 1854 with great influence from the Turner Society, who established a courthouse, schools, and social centers under German tradition. Today you will still see the German past in the towns's Glockenspiel, Schell's Brewery (since 1860), Domeier's German Store, the large statue of Herman the German, and the Turner Hall (since 1856). Every year there are festivals celebrating German Heritage: Oktoberfest & July's Bavarian Blast.
Find out more about Neu Ulm–> Visit Herman the German
Frankenmuth Michigan
"Michigan's Little Bavaria"

Frankenmuth Visitor's Center
"Take a trip to Germany with buttered spåtzle or traditional sauerbraten, no plane ticket required." Frankenmuth wears its German heritage proudly! Tour the charming town with its beautiful Franconian architecture, then have lunch or dinner in any of the amazing German Restaurants like the Bavarian Inn Restaurant and Oma's Restaurant.  Be sure to visit the Frankenmuth Historical Museum to get an idea of how the German Settlers lived, and stop for a beer at the Frankenmuth Brewery. And of course, enjoy one of the MANY German Festivals that happen throughout the year!
For more about Frankenmuth–> Little Bavaria in Michigan
Bavarian Inn Lodge
Marv Herzog Hotel
Harmony, PA
The tiny town of Harmony, PA was founded in 1804 by German Lutheran Separatists who were seeking religious freedom. They quickly became 19th century America's most successful communal group. The downtown Landmark District has 50 buildings, 9 of which are cared for by the Historic Preservation Society. You can tour the Museum, as well as the cemeteries. Harmony has a special pretzel bakery, Two Frau's Bakery, and also features a German-style Christmas market annually.
Learn more about Harmony Here–> Harmony
Amana Colonies in Amana, Iowa
"Explore the Unique Amana Culture"
They were originally a grouping of seven cooperative colonies started by German immigrants in the mid 19th century. Eventually Main Amana became a tourist destination. They do a multitude of festivals every year including a Christmas event, Maifest, Wurst Fest, and Oktoberfest. You'll find a brewery and a few wineries, plus some traditional German restaurants. The Brewery serves modern bar food but the more traditional restaurants serve delightful German food. Take some time to shop through the local stores,  including antique shops, a bakery, the Chocolate Haus, a Quilt shop, and a Wool mill. Amana also has an incredibly active history society and history museum. It doesn't necessarily look like Germany, it looks very much like mid-19th century in the Midwest, but its a beautiful town.
For more information–> Amana Colonies
Hotel Millwright
Freistadt Wisconsin
"Pommern in Wisconsin"

Most of Wisconsin is German (Check out German Fest Milwaukee)… but in 1839, a group of 20 German families from the Pommerania, Prussia settled in Freistadt (Free City) east of Mequon, WI and established the first Lutheran Church in the US. Today they still hold tight to their German heritage. Freistadt is home to my friends in the Freistadt Alte Kameraden Band, the Pommerische Verein Freistadt, as well as the Pommersche Tanzdeel Freistadt.
Find out more about Freistadt's German history here–> Freistadt
New Braunfels, Texas
"This town is unstoppably German"
More Germans in Texas! New Braunfels was settled by Germans on March 21, 1845, and has been one of the "most historic German communities" in the US. This west Texas town is home to Nagelin's Bakery the oldest German Bakery in Texas, a Schutzenverein, Museums, and the very active New Braunfels German American Society. Enjoy Restaurants like the River Hofbrau and Krause's Cafe and the annual world famous Wurstfest.
Find out more about New Braunfels here–> New Braunfels
The German Americans: 300 Years in the New Land

The German-American Experience (German Studies)

What are YOUR favorite German Towns in America??